We are familiar with the portable electric cooktops, but induction ones are still something new to us. It seems like the induction cooktop itself was introduced to the world quite recently, and there is already an upgraded version of it. But wait, let's slow down a little bit. Do you what to know what the difference between electric and induction cooktops? Check this article.
For those who don't know, the induction cooktop is an innovative type of cooktop which uses the electromagnetic field to heat up the meal. It works on electric power, but it is much more energy-saving than the first type.
It can heat up in seconds, and the burners of it always stay cool if you touch them. Induction cooktops always have the flat glossy surface and only special cookware is compatible with it. It is also much safer than gas or electric cooktops.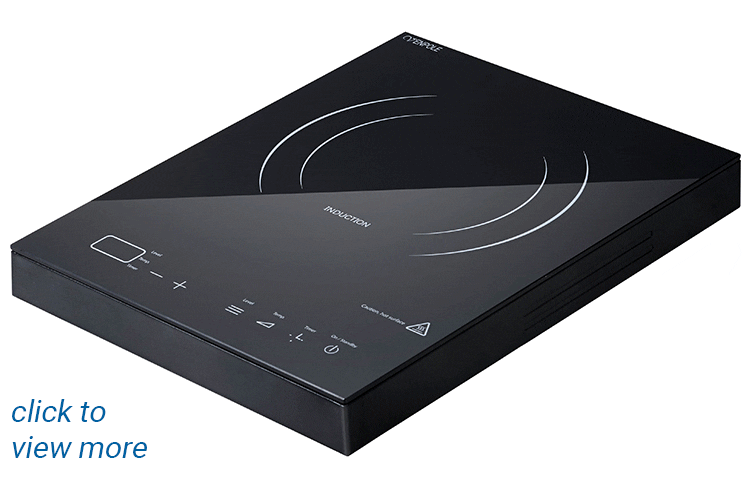 Logically, the induction portable cooktop is basically the same as the electric portable cooktop, with the only difference that it is more energy-efficient and heats up much faster.
It can turn out to be helpful for some people living in the areas where there can be outages of electric supply, for the construction workers, who have a base in the camp, for camping enthusiasts and students who rent their own apartment.
If you decided that you need one then you should also be ready that these cooktops are usually higher in price than electric ones. Nevertheless, in the list down below you can find out which models are the best on the market and find something more or less affordable and suitable for yourself.
Our Top Pick
NutriChef PKSTIND48 Double Induction Cooktop


Has 2 burners

Perfect for home usage, but also good to take with you

Has a digital LED display screen

Has multiple cooking modes

Has the perfect ranking on Amazon

Check Current Price
Image
Product
Deik 1800W Sensor Touch Induction Cooker


Compact cooktop
High setting
20 temperatures range from 140°F to 460°F
10 power levels from 200 watts to 1800 watts

Check current price

SUNAVO Portable Induction Cooktop




10 power settings between 100W to 1800W
Temperature settings from 100°F to 460°F
Low setting

Check current price
Tefal Everyday Induction Hob


6 pre-cooking functions
9 power levels: from 450W to 2100W

Check current price
Duxtop Portable Induction Cooktop


Requires 110/120V 15 amp electrical outlet
20 preset power levels: 100W to 1800W
20 preset temperature level settings: 100°F to 460°F

Check current price
NuWave Precision Induction Cooktop


2 different temperatures between 100°F and 575°F
6 different pre-programmed temperature settings
An automatic shutoff function

Check current price
Mini Duo MD-2B Portable Counter


Compact size
More suitable for house usage
Runs off a standard 110V outlet and has 1800 watts

Check current price
1.
Deik 1800W Sensor Touch Induction Cooker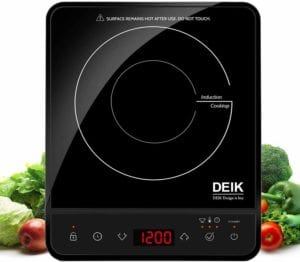 The Deik is a compact portable induction cooktop that is easy to use and easy to clean. This versatile and feature-rich cooktop is great for entertaining. It is also beautifully designed so you can even use it as a warming platform or extra cooking area at even the most stylish of events.
Let's start with the main and outstanding features this cooktop has. First of all, it has a digital LCD sensor-touch control panel with a child safety lock system. What you need to do is simply press and hold the Safety Lock Key for three seconds in order to activate.
Moreover, in this cooktops, you will find an additional timer just like in top-level induction stoves with one-minute increments (up to 3 hours), and 20 temperatures range from 140°F to 460°F. Besides, 10 power levels from 200 watts to 1800 watts for your selection.
Another cool feature of this cooktop is that if there is no cookware on the burner for more than 60 seconds, the auto-pan detection will shut the unit off automatically. And as it was mentioned before, all the induction cooktops require a specific type of cookware – in this case, the best variant is cast iron.
This cooktop has also a warning system in case the voltage in the socket is too high or too low. Moreover, it is equipped with the diagnostic error message system. The 7-blade fan inside of it rapidly dissipates heat to ensure the longer product life. This is a top-quality item that will serve you a long time.
It is easy to clean and because of its height, it is convenient to use even in smaller kitchens or in the space where you got no kitchen at all. Deik is an affordable and energy-efficient portable induction cooktop.
2. SUNAVO Portable Induction Cooktop, 1800W Sensor Touch Basic Induction Burner
This portable cooktop from SUNAVO is the opposite of the previous one. Maybe it doesn't have that many functions in its trunk but it makes an accent rather on its surface sturdiness and durability rather than on functionality which is also important for the portable cooktops.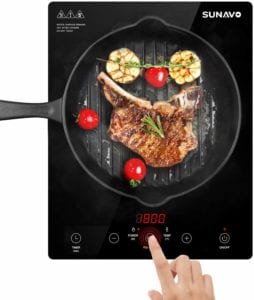 It has the LED display and simple digital controls, an induction plate with 10 power settings between 100W to 1800W, along with the 10 temperature settings from 100°F to 460°F that meet all your cooking needs. Along with that, it is lightweight and compact what makes it an easy-to-transport cooktop.
The unique technologies of this item will even let you melt down the chocolate without burning anything. But remember that this one also heats up pretty fast unlike the regular electric cooktop.
This appliance only works with specific cooking utensils made of the cast iron, enameled steel, and stainless steel. And just like the previous one, this portable induction cooktop by SUNAVO has a kids' safety system. In order to activate it, press and hold the +&- Key into lock system and press and hold the +&- Key 3 sec to unlock.
An interesting feature of this cooktop is that it comes with an induction cookware tester. If the magnet sticks to the bottom of the cookware, that means they are compatible.
In general, this model has extended safety functions, for example. when the internal temperature of the induction cooker exceeds the selected temperature, it automatically shuts down. Moreover, it has an automatic shutdown timer. The only thing is that it is better to be placed on some podium or higher surface since it is quite a flat model.
3. Tefal Everyday Induction Hob
Also one of the best options on the market. This brand is known for its high-quality appliances. In this induction cooktop, you will discover versatile high quality and easiness in usage. The price is also a pleasant bonus.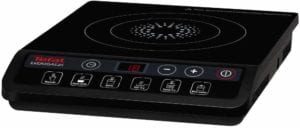 This model has 6 pre-cooking functions. It allows you to adjust the hob's heat perfectly to suit what's cooking, whether it's frying chicken, boiling or slow cooking a stew.
For example, you can use the manual mode and set up the level of the heat yourself. Or, you can choose heat milk mode and the cooktop will automatically heat milk in a saucepan to an ideal temperature of 85 degrees Celsius, ensuring it doesn't boil over.
There are some other modes of multi-cooking that you will make your cooking life easier. The plate of this item is made of ceramic, which makes the hob is highly durable and scratch-resistant. It is scratch-proof as well. This one also has a timer along with the ability to stop automatically at the end of the programmed cooking time.
It has 9 power levels: from 450W to 2100W and it is suitable for pots and pans with base size 12cm-25cm. In general, it is a good portable cooktop at a matching price.
Not that it is extra-functional, but those possibilities that you have are enough for daily cooking. The only drawback of this cooktop is that it may not work so effectively at the low-temperature programs, it starts to heat up with intervals, but for the high-temperature cooking, it is quite good.
4. Duxtop Portable Induction Cooktop with LCD Sensor Touch 1800 Watts
A sophisticated portable induction cooktop with LED display. Duxtop induction cooktop uses 110/120V 15 amp electrical outlet which is the standard in all North American homes. Multi-functional and fast, this is an option for those who want to have a more advanced gear in their kitchen (and not only there).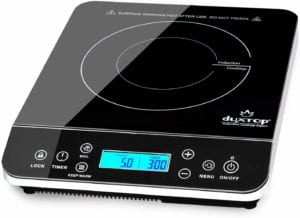 Like the best portable cooktops, it is lightweight and compact. It has a certain height so you don't always need a podium or the high surface to place it on to. It is a good option is perfect for dorm rooms, home kitchen, RV, boats, etc.
Considering the technical characteristics, here you can choose among 20 preset power levels (100W to 1800W) and 20 preset temperature level settings (100°F to 460°F). One additional fact is that this cooktop promises to be 83 percent more efficient than others.
This one includes a child safety lock as well. It keeps the cooking and timer settings from being accidentally changed once they have been set. An interesting function of this item is that it has a fast boil button and it also has the 10-hour timer button.
The cooktop has auto-pan detection. If there is no cookware standing on the burner, the cooktop will shut down in 60 seconds. It is compatible with induction cookware having a diameter of at least 5 inches, which ensures a large and uniform heated area.
By the way, about the LED panel of this item. It is easy to read even if you're standing far from the cooktop, because it has a perfect visual angle for reading, even from a distance. The surface here is made of glass, so it is not totally scratch-proof but it is easy to clean.
A little tip before using this cooktop: it is a frequent case that the heat of its burners is not distributed equally on its full surface, but it tends to concentrate in the middle of it.
To avoid the over-heating of the cookware, use the bigger than 8-inches pans on it. Also, the buttons on the display are super sensitive so don't push too hard when you use them.
5. NuWave Precision Induction Cooktop 1300 Watts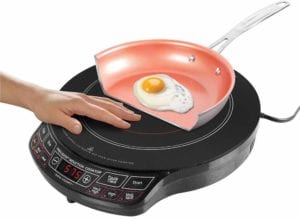 If you are looking for a portable induction cooktop that would not only be compact but would also have a fast pre-heat, this is the best option. The NuWave PIC has 6 different pre-programmed temperature settings. Along with that, it has the flexibility to cook at 52 different temperatures between 100°F and 575°F.
It's adjustable in 10-degree increments. Yes, even though this item is considerably smaller than the previous ones we had on our list, this cooktop is actually highly sophisticated. In its basement, you can see the variety of programming buttons.
A delay function allows you to initiate cooking when it's most convenient for you, including an automatic shutoff function when cooking time is completed. And despite the fact that this model can seem small because it is so compact, it is capable of fitting the 9-inches pan on it.
They will help you to set the right cooking mode you need, thus making the process more automatized with its 100 hours of program memory and performance. Apart from that, this cooktop uses 70 percent less energy than others. However, before buying this product you should check the source of power where you are going to use this portable cooktop.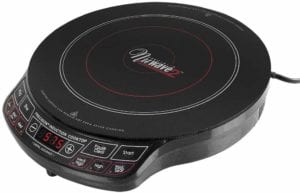 Even though it is claimed as 1800Watt gear, in cases when there is even a slight loss in the electricity supply it won't work as effectively as it's supposed to. So in order to avoid disappointment and time-wasting, better not to use this item with the low-power suppliers.
Besides, before buying, check out that this is not the cheapest item around. So make sure everything is compatible before investing in it. But if your power sources work well, you will truly get the top-speed cooking gear and won't regret it.
Here you can find the function when the cooktop shuts down automatically if there is no cookware on the burner as well. The product also comes with unrivaled customer support and value-added resources such as lifetime membership to the online Precision Cooking Club.
6. NutriChef PKSTIND48 Double Induction Cooktop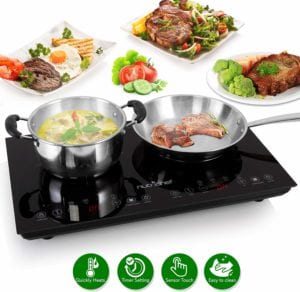 Moving on, let's explore portable cooktops with more than 1 burner. In this case, it can be even a good replacement for a traditional stove, especially if you have an intense lifestyle and don't have much time to cook. The fact that this cooktop is portable doesn't diminish its top-level quality and extended functionality.
It is equipped with 2 circular top panel heating zones that have an independent configurable temperature zone setting. The item also has a digital LED display screen. Just like the previous items on our list this cooktop has multiple cooking modes.
Traditionally, these modes include the automatic warming up suitable for the type of meal you want to prepare. In total, those modes are divided into 3 big sections: fry, steam, and water mode. Probably, there is no need to explain what they mean.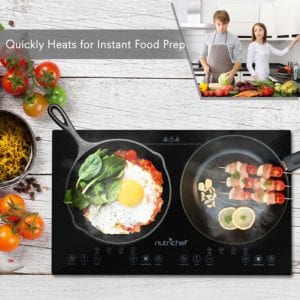 Another feature that any decent cooktop has is a child safety lock and we see one here. With the setting of this mode, it locks all the buttons so kinds cannot burn themselves.
It is possible to classify this cooktop as the heavy-duty one. Requiring the power supply of 120v, it is compatible with steel, cast iron, enameled iron, and stainless steel cookware. Remember that the pots or pans must be flat-bottomed and have a diameter of 12 to 26 cm.
The ceramic glass burner cooker also features the unique ready-to-serve "Keep Warm" function to plate warm food – perfect for any meal of the day. The heat-up time of this cooktop is extremely quick (so keep that in mind). Its timer can be set up to 4 hours.
Lastly, we can see that this is the portable induction cooktop with one of the best reputations on Amazon. If in the case with other gear of this type you can still find some negative reviews and drawbacks, then this one has totally positive feedback from customers.
7.
True Induction Mini Duo MD-2B Portable Counter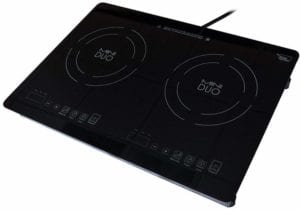 This portable cooktop with two burners is going to have a higher price than the previous one. The reason is its extended versatility and easiness in usage. If you are used to cooking at home, you may like induction cooktops that also have two burners.
At this smaller size (only 20 1/2 x 14 inches), the True Induction Mini Duo Portable Counter Inset Induction Cooktop is the perfect addition for a small house, mobile home, or as a normal household appliance. Moreover, it doesn't even have to be literally portable. You can always insert into your kitchen furniture and use it as a regular cooktop.
A distinctive feature of this item is that the burner starts cooling down right after a pan was removed from its surface. The pan detection feature will shut the unit off if it does not detect cookware, or compatible cookware, on the burner. If the pot is not induction compatible the display will show 'E1' and then shut down.
The unit model cycles on and off after it has reached the desired temperature which means the cookware pot will remain at the set temperature (and not get too hot). Considering other tech aspects, this model runs off a standard 110V outlet and has 1800 watts.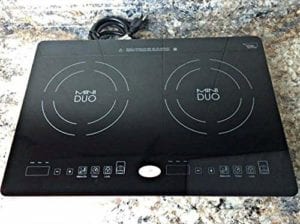 The face of this stovetop was created from a seamless ceramic glass. Another distinctive feature of it is that the sensors are located underneath and that's what makes this unit so easy to clean.
Remember, how many times you had to be careful during this process, trying not to damage all the buttons and fragile zones. This cooktop you can just wipe down with a damp cloth.
As this is a double burner cooktop, the Mini Duo uses the True Induction's patented power sharing technology. It means that both burners use the same plug and divide the power when they are both in use.
If you see this item in real life, you will immediately notice that it is more compact than other two-burner portable induction cooktops. However, as you can see it doesn't make it less functional and moreover, it is perfect for small kitchens.
In general, it is more an alternative to the traditional induction stove for small families, than a portable cooktop. It requires less time for cooking, it is easy to clean and it fits smaller spaces. However, because of its smaller size, you still can take it somewhere with you, maybe to your friends' house for an outdoor party.
And one more essential aspect to remember. Try no to damage or break this cooktop because, according to consumers' feedback, the tech support service of this brand doesn't always work well and getting a refund can be a problem.
FAQ for portable induction cooktops buyers
1. Can I use a portable induction cooktop instead of a classic stove at my house?
Of course, you can, it was stated in the article. Some brands as Mini Duo or NutriChef are making the two-burner portable cooktops, which are even more suitable to be used only in the kitchen, rather than somewhere else.
2. What is the power supply that I got at my house/socket is not enough for a cooktop? Should I still use it?
Definitely not recommended. It can cause a number of problems, starting with that you can simply burn your cooktop and ending with the black-out. Always make sure that electricity is enough to run the gear.
3. How to install a portable induction cooktop?
In most cases, it is just enough to plug it into the socket. Then the screen of a cooktop (if there is one) will light up and you can start using it.
4. How to repair a portable induction cooktop?
In order to fix your induction cooktop, you should find induction cooker repair services close to your house. However, occasional issues may arise in your cooktop during daily use and many of these problems may be resolved by yourself. And before calling for service, just review your problems first as it may save you both time and expense.
5. How much power does a portable induction cooktop use?
These induction cooktops are 90% efficient with their power use and induction stoves are cheaper than gas though people tend to believe otherwise. The only issue is with the power supply and how much cheaper will depend upon your power tariff and the duration of cooking time (how many times you cook and for how many people).