Barbecue is a great way to spend time with friends and family on the weekends. Demand for the grill is growing every year and almost everyone would like to have it.
However, in addition to the grill itself, you will need other special devices that will also make grilling easier and more convenient. We are not talking about grill blades and tongs, but about tables!
Can you imagine that there is room in your backyard for a wonderful time outdoors? You put the grill and chairs in there for the guests. But what do you do with ready meats? Where do you place the kitchen appliances or plates?
Carrying everything to the dining table is inconvenient and time-consuming. For this purpose, there are special kitchen stations on sale that will be your work surface for the duration of grilling. But you have to choose them as carefully as you do with the BBQ grill itself.
Here are a few things we recommend you take into account when choosing your grilling table
The material of the grill table.
If you want a portable table, you should pay attention to lightweight materials, such as thin steel sheets. If you are going to leave it outside for a long time, wooden models will be more suitable for you.
In the event of rain or high humidity, this table will not be affected, as wood is treated with water-repellent mixtures. Metal kitchen stations can become covered with rust.
The size of the table.
There are many models of completely different sizes on the market. Some of them are quite small and are similar in size to coffee tables – it is convenient to stack kitchen utensils on them and no more.
If you plan to hold a whole party in the backyard, it is worth paying attention to the large tables – they can easily place both ready-made dishes and preparations for frying.
Adjustable legs.
An excellent indicator is the ability to adjust the height of the table. You have to admit that all people have different height and it would be convenient to adjust the worktop individually.
This makes it easy for you to cook without leaning against the table or raising your hands too high. The convenience of a kitchen station depends not only on its size but also on its height.
Our Top Pick
GCI Outdoor Slim-Fold Outdoor Cook Station



Portable folding device
Easy to use and easy to assemble
Heat-resistant worktop

Check Current Price
Other great BBQ tables:
IMAGE
PRODUCT

Camco 57293

Comfortable table with sturdy cover included.




Check current price

Keter Unity Portable Outdoor Table

Stylish coffee table with airtight space.



Check current price

Blackstone Signature Accessories - 36 Inch Griddle Surround Table Accessory

Lightly assembled picnic table.


Check current price

Cuisinart CFGS-222

Table with possibility to use in partial assembly.


Check current price

GCI Outdoor Compact Camp 20 Outdoor Folding Table

Compact table with telescopic legs.


Check current price

Royal Gourmet Double-Shelf Movable Dining Cart Table

Table with wheels for easy movement.


Check current price
1. GCI Outdoor Slim-Fold Outdoor Cook Station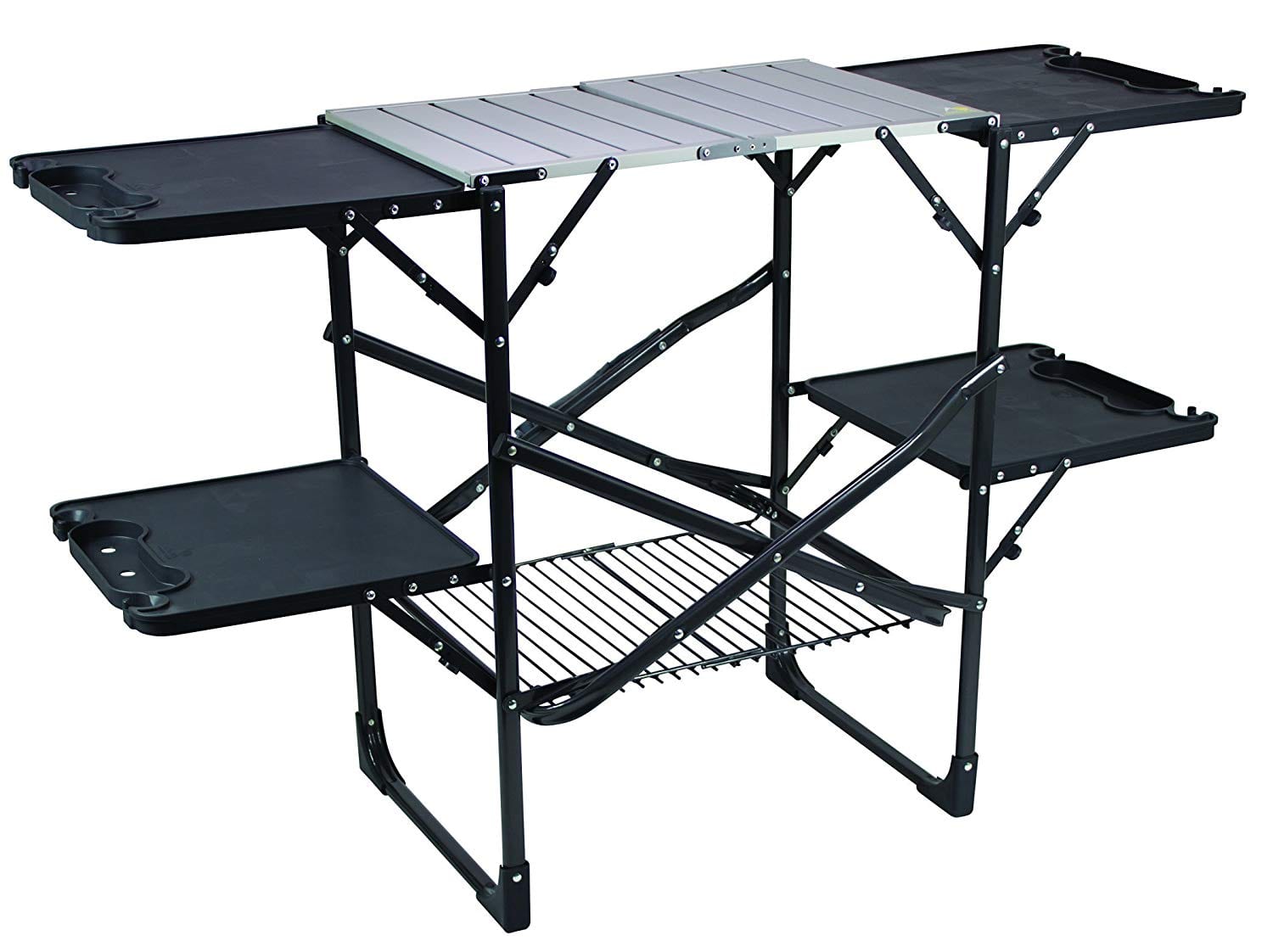 GCI Outdoor Slim-Fold is our favorite among all grilling tables for a reason. It can be stored comfortably, folding and taking up minimal space.
Despite its portability and small size, GCI Outdoor Slim-Fold has an aluminum top surface, a bottom rack on which you can store things and even beverage racks. There are only 4 such small tables, each of which can hold up to 30 pounds.
The top tabletop is made of heat-resistant aluminum, so you can stack even fiery hot dishes there. The GCI Outdoor Slim-Fold can be placed in just 2 minutes, and its functionality will help you in cooking.
Its rugged and sturdy construction withstands around 300 pounds in total, and its individual sections allow you to even organize your food. Of course, it's not the lightest table model, but its design and functionality justify its weight. Once you've used this barbecue table, it's unlikely you'll be able to use anything else.
You may also like: 7 Best Tabletops Grills On The Market
2. Camco 57293 Deluxe Folding Grill Table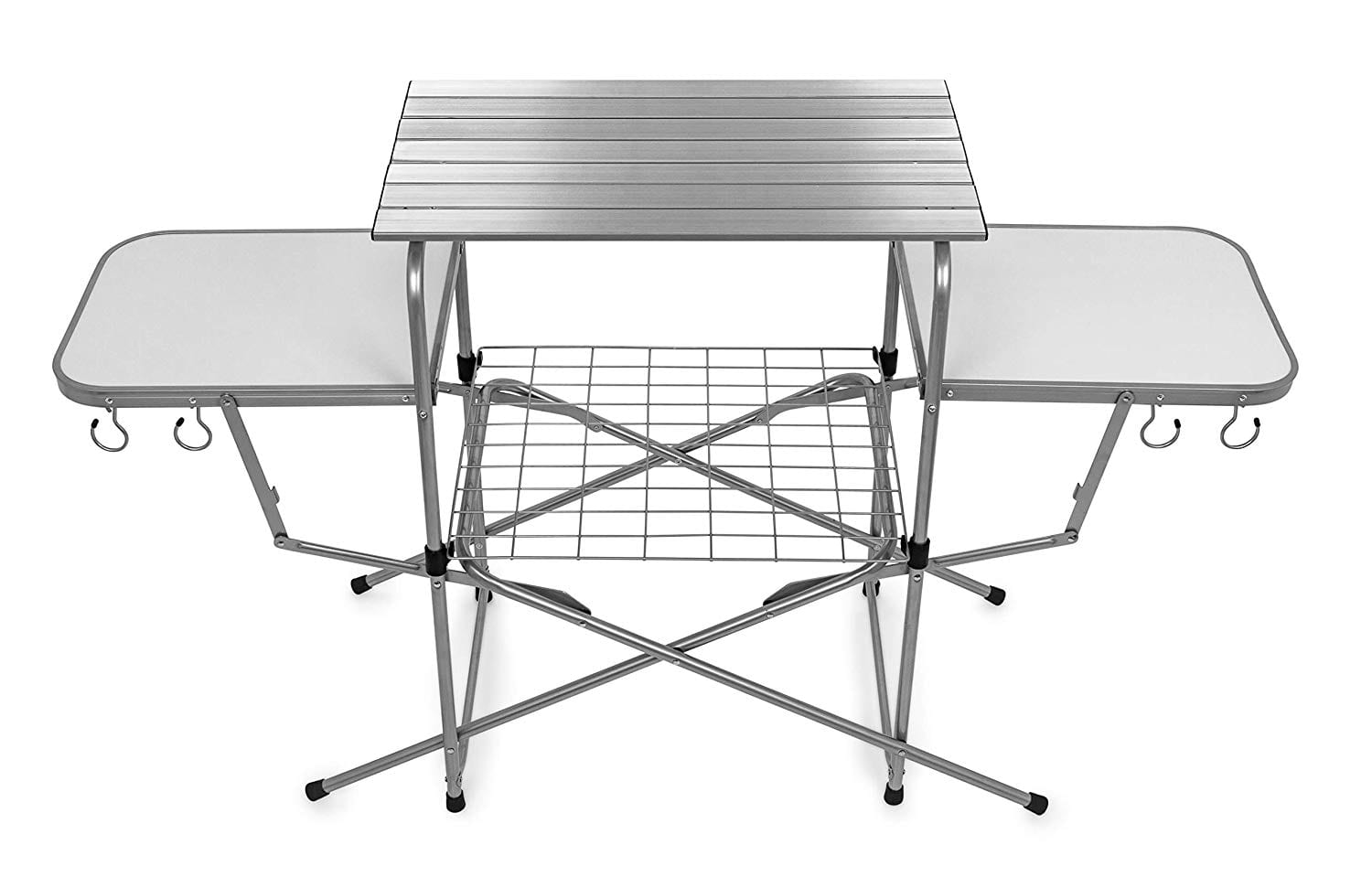 A sturdy metal table is an excellent option for a barbecue. The Camco 57293 Deluxe Folding Grill Table has ample space for all kitchen tools and accessories as well as a lower shelf for storage.
No party, grilled meat or camping site goes without a comfortable table, and this model is suitable for tourism and even sporting activities.
The Camco 57293 Deluxe Folding Grill Table is considered a high-quality table. The set consists of 2 side tables, a bottom shelf for storage and the main tabletop made of durable material. On the sides, there are additional hooks and holders that you can use for towels and paper napkins.
The set also includes a convenient carrying case, where the table can be folded in a few seconds. With the Camco 57293 Deluxe Folding Grill Table, you will be able to mark the grill and all the necessary elements for cooking, and it does not weigh much – only 16 pounds.
The only downside is that the surface of the table is not designed for use in the rain – so you should coat it with waterproof paint or simply avoid exposing it to moisture.
3. Keter Unity Portable Outdoor Table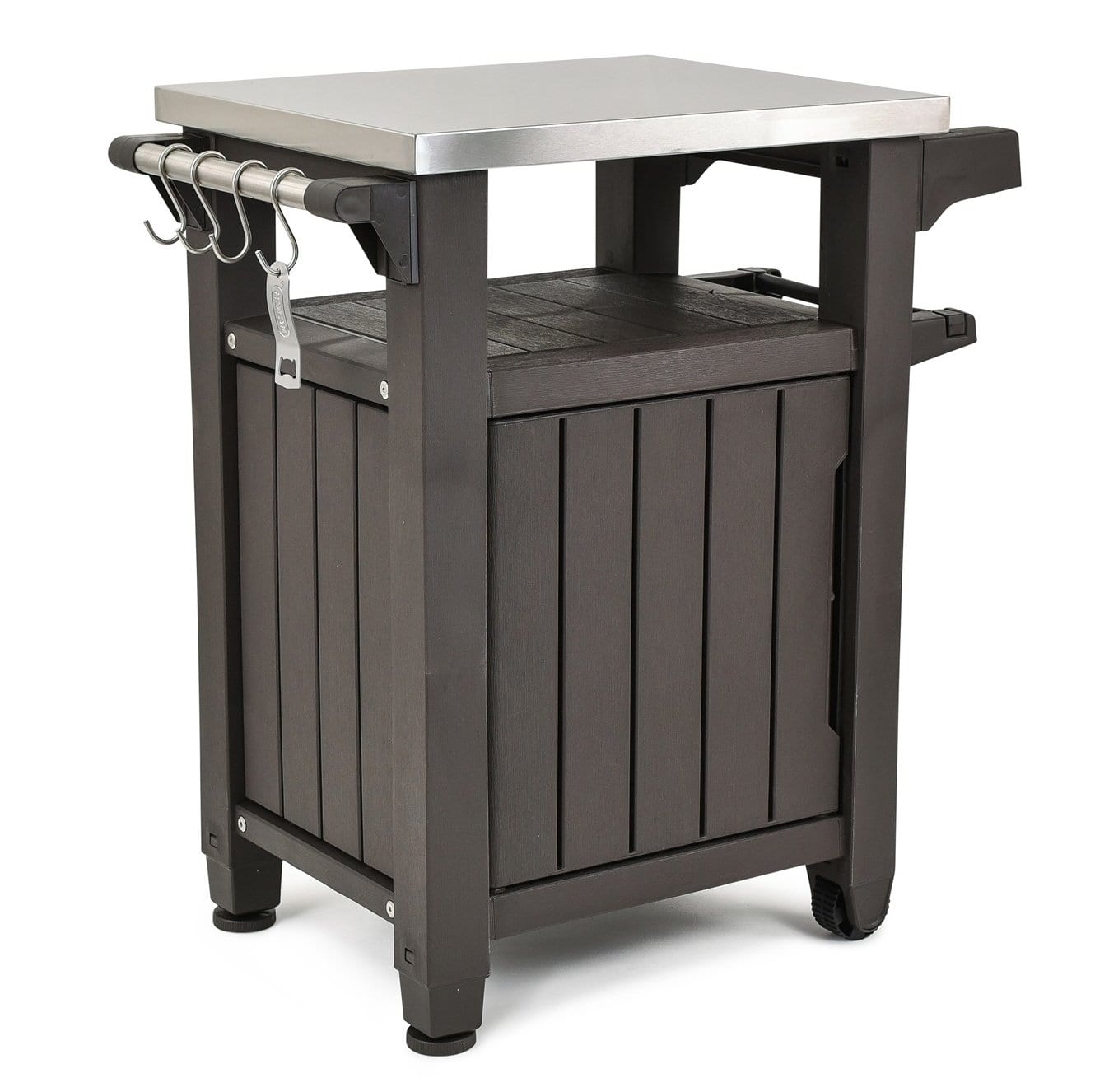 The stylish coffee-colored table will fit perfectly into the interior of your terrace or backyard. There is no need to be afraid that the table is made of wood – in fact, the material is a resistant resin, which resembles wood only in pattern and appearance.
The Keter Unity Portable Outdoor Table has a stainless steel top, as well as several side strips and holders for accessories, for example, spatulas.
The Keter Unity Portable Outdoor Table can be transformed into a grill table for other activities as well. Inside an enclosed cavity you can store garden accessories or kitchen appliances for cooking.
The sealed space inside the Keter Unity Portable Outdoor Table can accommodate paper napkins and towels, soda cans or other items. To place the table in a stable position, you can adjust the legs as needed.
Unfortunately, you will not be able to carry the Keter Unity Portable Outdoor Table with you in the trunk – this model is designed for stationary use and can be stored in the garage.
4. Blackstone Signature Accessories – 36 Inch Griddle Surround Table Accessory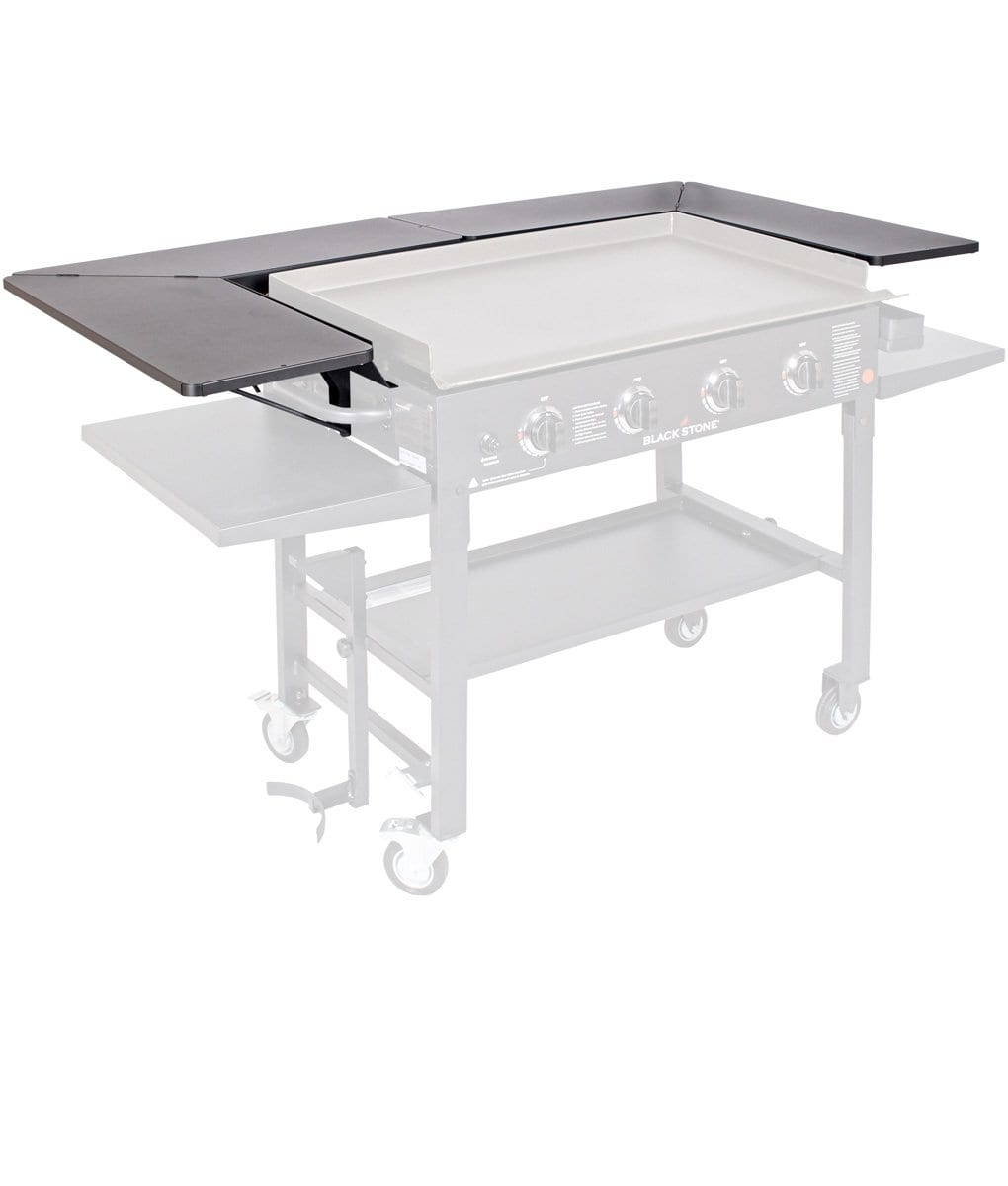 Blackstone is another folding barbecue table that's easy to carry, as well as transporting to campsites and picnics.
Lightweight and quick to assemble, it's easy to use, and its slim design allows it to be stored even in the smallest of car trunks. The table can be disassembled to the exact condition you need so that everything fits in one case.
The cooking station is designed for a 36-inch grill. The table comes immediately with a carrying bag to protect it from moisture and damage. Since the coating is made of powder-coated steel, you will need to take care of the surface and protect it from external influences.
To do this, Blackstone has a special cover that prevents the surface from spoiling. Some people may be scared away by the price, but this is not a good reason to reject the purchase.
Blackstone helps you increase cooking space without taking up space on the main dining table. All shelves in the kitchen station are strong enough to withstand heavy loads. You will need some training to assemble quickly, but after a couple of uses, you will be assembling Blackstone in less than a minute.
5. Cuisinart CFGS-222 Take Along Grill Stand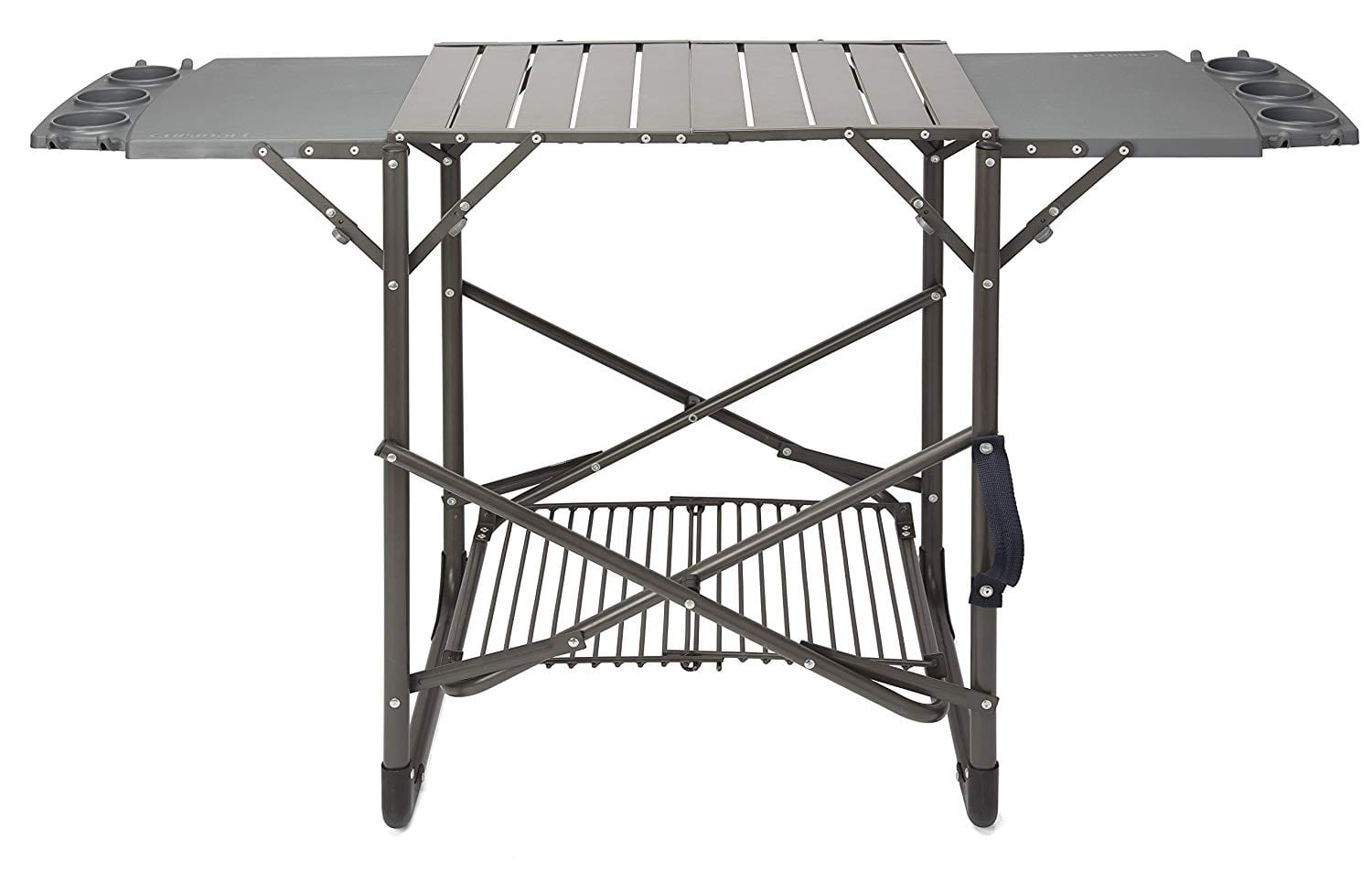 If you do not always need a lot of space, you can pay attention to the Cuisinart CFGS-222. This table can be used either fully assembled or partially assembled.
It has 2 side tables, which do not have to be extended and used, so you will only have room for the grill itself. You don't need any additional tools for installation, you can turn the table around without them.
In order to start grilling, you will need to choose a flat and stable place where the Cuisinart CFGS-222 will not wobble. All you have to do is install the grill and, if necessary, turn and lock the side surfaces. There's also a special storage shelf at the bottom that can hold up to 35 pounds.
The Cuisinart CFGS-222 is a great option for tourists or picnic lovers, because it is easy to carry with you, and if necessary, it turns into a real kitchen installation. The downside is that you can pinch your fingers if the table is not assembled correctly. It is necessary to be more careful because the folding process is almost automatic.
6. GCI Outdoor Compact Camp 20 Outdoor Folding Table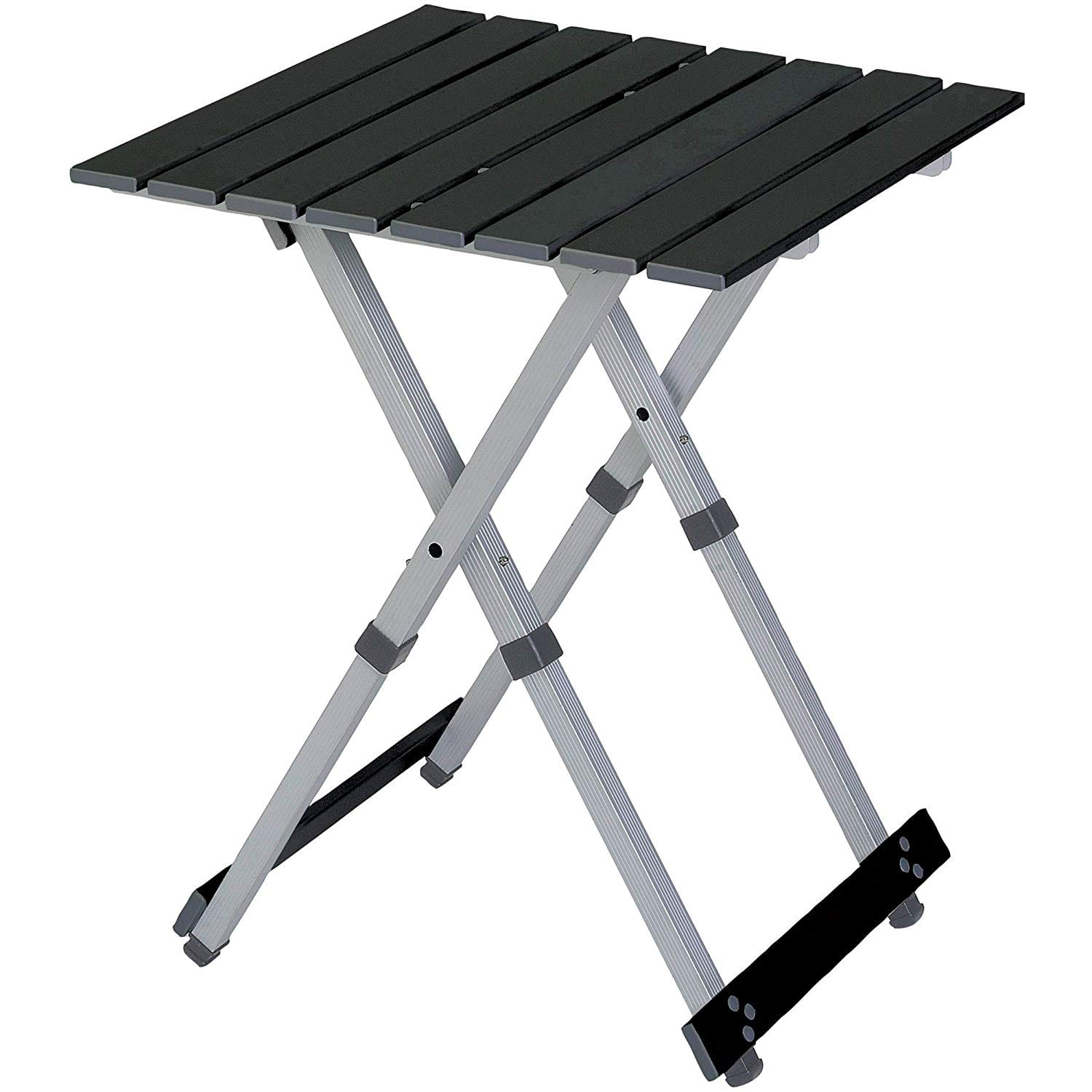 Another GCI product that deserves your attention. A lightweight and foldable aluminum table will be a great alternative to our favorite and is ideal for road travel and fishing.
You can use it not only for grilling but also as a picnic dining table. Thanks to its size, the GCI Outdoor Folding Table is compact and easy to fold.
The tabletop is made of aluminum and the legs are telescopic. This means that you just need to push them upwards to store them – the table is an example of a "flat" look. Despite its lightweight – only 4 pounds -, the GCI Outdoor Folding Table can handle up to 60 pounds perfectly.
Some users have even sat on it (although we strongly discourage such use). The good quality of the product guarantees you a long table life. So if you like fishing or often go out with your family to the countryside with a grill, the GCI Outdoor Folding Table will be a profitable and convenient purchase.
You can also check: 7 Best Raclette Grills Reviews
7. Royal Gourmet Double-Shelf Movable Dining Cart Table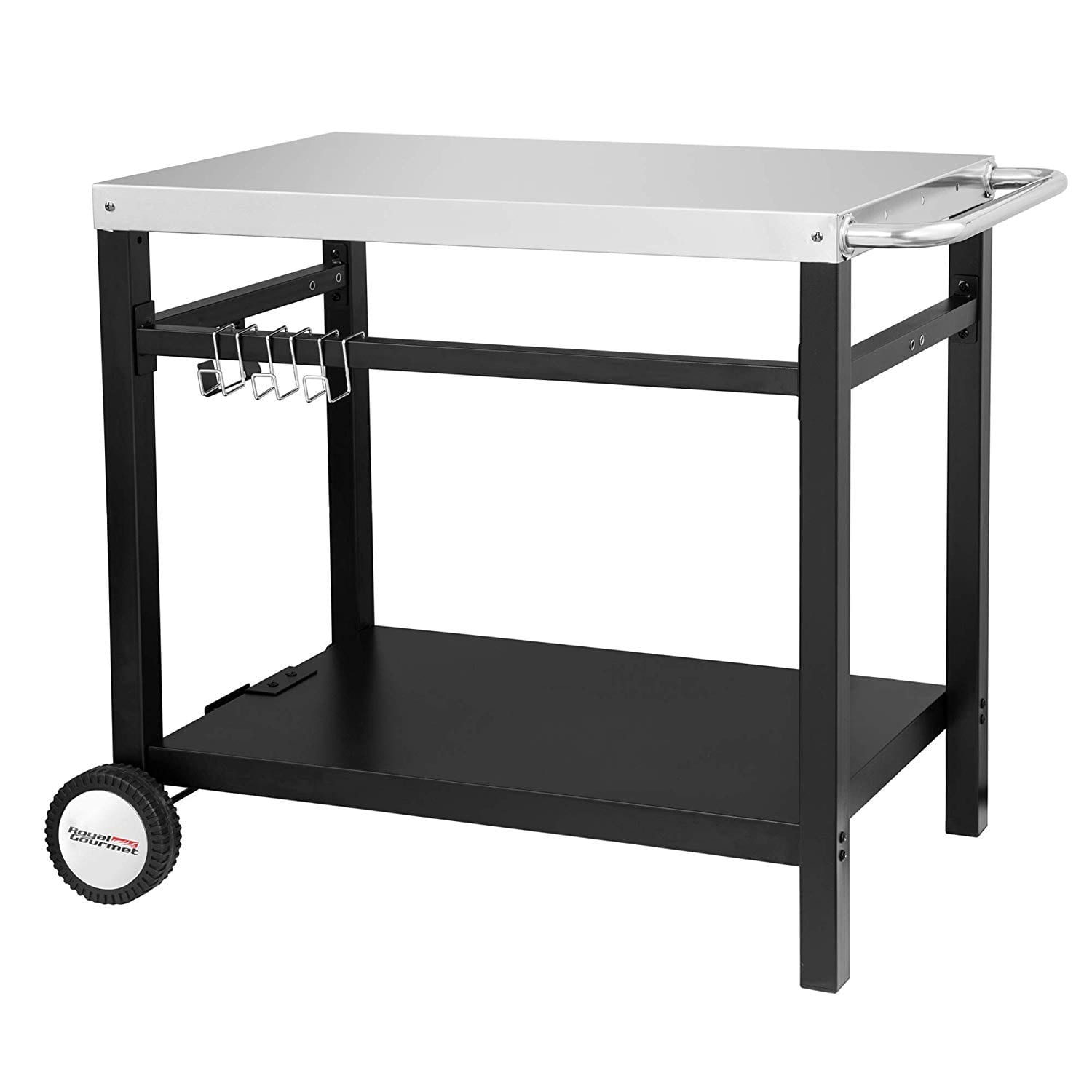 A spacious workstation is a must for outdoor cooking. If you can use many countertops and shelves in your home kitchen, you'll need something like this in the backyard of your home. The Royal Gourmet Double-Shelf Movable Dining Cart Table will allow you to place the grill, extra tools and many other things to use comfortably.
This table will not break or rust if you take care of it at least a little. It can be easily transferred to the terrace and the Royal Gourmet Double-Shelf Movable Dining Cart Table can be stored anywhere you like. It comes with several handy hooks and a bottom shelf for storage.
On one side, the table has wheels that allow you to move it freely. The table is covered in black and easy to clean – just wipe with a damp cloth. The tubular feet give it stability even in the most uneven terrain. It's worth noting that you need to use the surface carefully as it scratches easily.
We have tried to collect for you the best and highest quality products that you can buy for your home. A barbecue table does not necessarily limit its use to grilling and meat only – you can cook snacks or other food that you make outdoors.
In the backyard you'll definitely need a small cooking station – and buying one will be another reason to take out the grill and make incredibly tasty steaks and burgers.
FAQ for BBQ table buyers
1.
Do I have to bring a table into the house? Do they withstand the weather conditions?
The durability of your barbecue table will depend solely on the materials you choose. It is best to use them for hiking or weekends, only when you grill. Rain, cold and temperature extremes can be tolerated by the cooking stations without any problems if you take care of them properly.
2.
Do I need a BBQ table cover?
Buying a cover is individual. If you plan to take your table with you – for example, to campsites or country houses – it is still worth finding a case for it to protect against damage.
If you only use the kitchen station at home, you can simply store it in your garage. You can buy a grill cover so that the surface of your table is not covered with dirt or dust.
3.
Some tables are equipped with side nightstands. Can I use them as seats for eating?
It should be noted that each table has certain weight limitations for the main surface and folding nightstands. The number of limits can be impressive, but measurements are made at evenly distributed loads.
We do not recommend that you sit on the side tables, as they are usually designed exclusively for auxiliary tools and drinks. If you wish, you can simply place a stool or folding chair against the nightstand and eat near the table.
4.
Can I place the grill not only on the main surface but also on the side tables?
This criterion depends only on the weight limit for side tables. Even if the side tables are strong enough, the main load is designed for the main surface. Moreover, each grill has its own dimensions, which are used to produce tables. So your BBQ unit is likely to fit only the main part of the counter.