Smoothies and ice cocktails are among the most important components of summer or hot weather. You can quickly crush the ice and add it to your coke, make cocktails, mix healthy smoothies, and simply create something new every day.
Blenders take smoothies to the next level – you get perfect texture and uniformity of the product. All you have to do is define the right proportions of the products and mix them together.
You may also watch the following video to see how to make 12 Healthy Smoothies:
Although all blenders are similar enough in functionality, not all of them can work with ice. We decided to tell you what you should consider when choosing a blender for your kitchen.
Power.
If we talk about fresh components and liquid components – for example, a smoothie made of banana and milk – even a low-power blender can cope with such a task.
But if you are using frozen food, ice, or nuts, you will need a really powerful device. It is worth considering how often you will make such cold smoothies – but it is better to choose a model with high power, at least 600 W.
The material of the blades.
For quick and precise grinding of ice, the blades should be made of hard metal or an alloy. In most models, the blades are made of stainless steel or titanium, which is enough for a long time to work. Any blender nozzles must be robust and be resistant to chemicals.
Control.
Each blender must have several safety features that are automatically activated. The cooking process is controlled by a person. It can be different speeds, nozzles, or the addition of ingredients. Depending on the models, the control can be represented on the stand or on the unit itself.
Volume.
Depending on whether you drink smoothies alone or make a meal for the whole family, it is worth choosing either a jug or a bowl of a blender.
In large families, the volume can be up to 2.5 liters, while a smoothie portion is usually 400 ml. The most optimal size is considered 1 liter.
Rotation speed.
In order to obtain a homogeneous smoothie of high quality, you will need to use different rotational speeds. Normally, 2 to 5 different modes will suffice, each of which has its own speed. For a smoothie with ice, it is better to use the turbo mode, where the grinding is as fast as possible.
Once you have seen all the main criteria for you, you can choose a really good smoothie blender. We have selected 7 best blender models for you which can shred even ice for you.
Our Top Pick
Ninja Professional Countertop Blender BL660 with 1100-Watt Base


Large capacity for family-size portions
Ability to cook single serving
Affordable price

Check Current Price
Other great Blenders for Smoothies with Ice
IMAGE
PRODUCT

Margaritaville Key West Frozen Concoction Maker

Unusual shape for complete shredding.

Check current price

Nostalgia FBS400RETRORED Retro 40-Ounce Frozen Beverage Station

The convenient blender in retro style.

Check current price

Ninja Professional 72oz Countertop Blender BL610

Crushing ice and frozen ingredients in a couple of seconds.


Check current price

Hamilton Beach Personal Blender for Shakes and Smoothies

Compact size for individual smoothies.


Check current price

La Reveuse Smoothies Blender Personal Size 300 Watts

Portable blender for permanent use.


Check current price

Instant Ace Nova Blender

Blender with control panel for precise settings.


Check current price
1. Ninja Professional Countertop Blender BL660 with 1100-Watt Base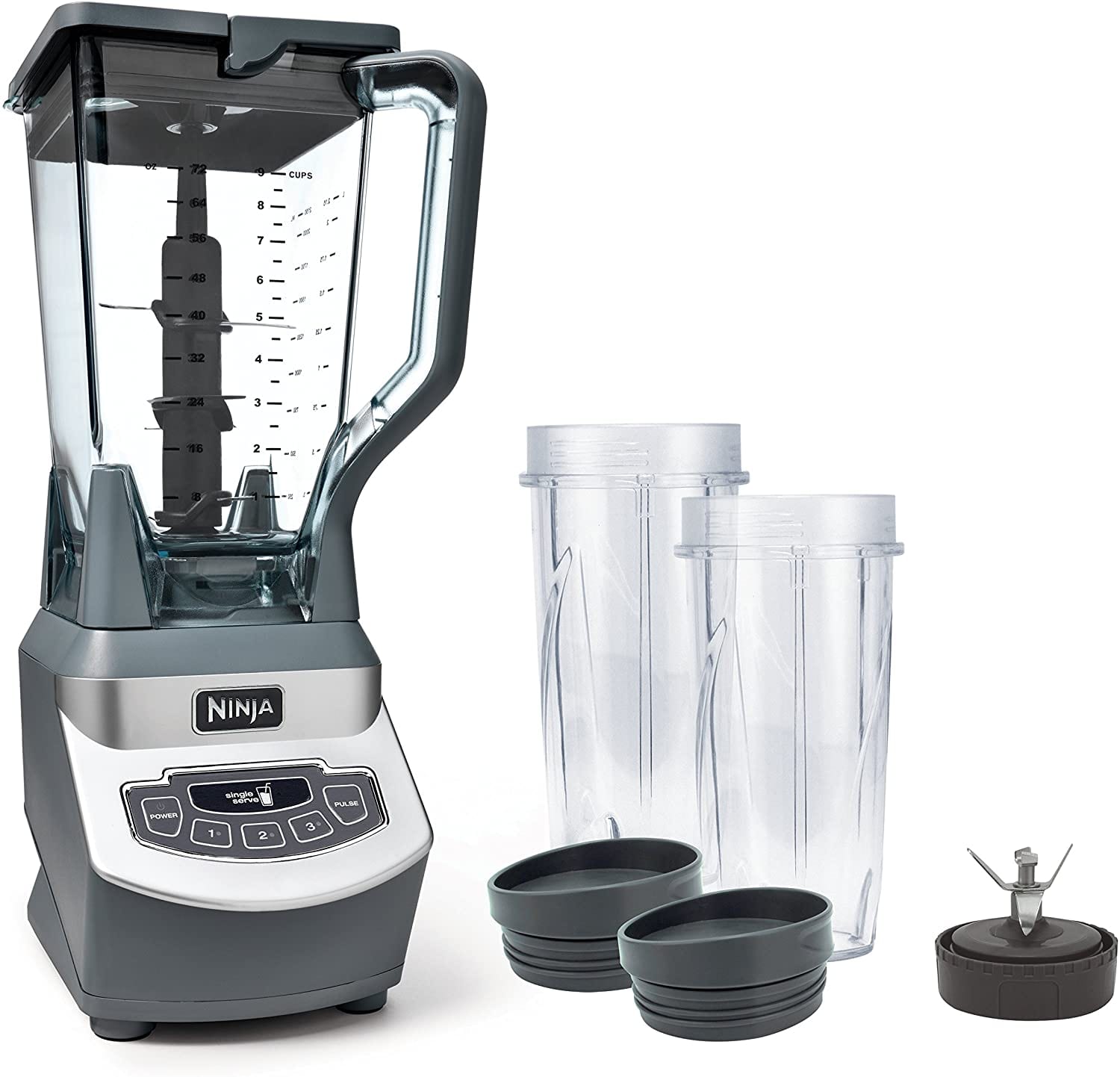 If you are looking for a really professional powerful blender, Ninja Professional Countertop Blender can be your regular kitchen helper. This powerful blender has 1100 watts of performance and can easily break the ice.
The pieces of ice will turn into snow in just a few seconds, and it will take only a tiny amount of time to prepare a smoothie. The ingredients are crushed completely and the nutrients are stored inside your drink.
The container that was originally installed on Ninja Professional Countertop Blender is XL because it is 72 oz. There are also separate cups for 16 oz, which can hold 1 serving of smoothies or cocktails.
The bowl and blades are easy to clean in the dishwasher – the main thing is to disassemble the device itself before washing. You can quickly prepare yourself a portion of the cocktail and immediately take it with you as a snack.
2. Margaritaville Key West Frozen Concoction Maker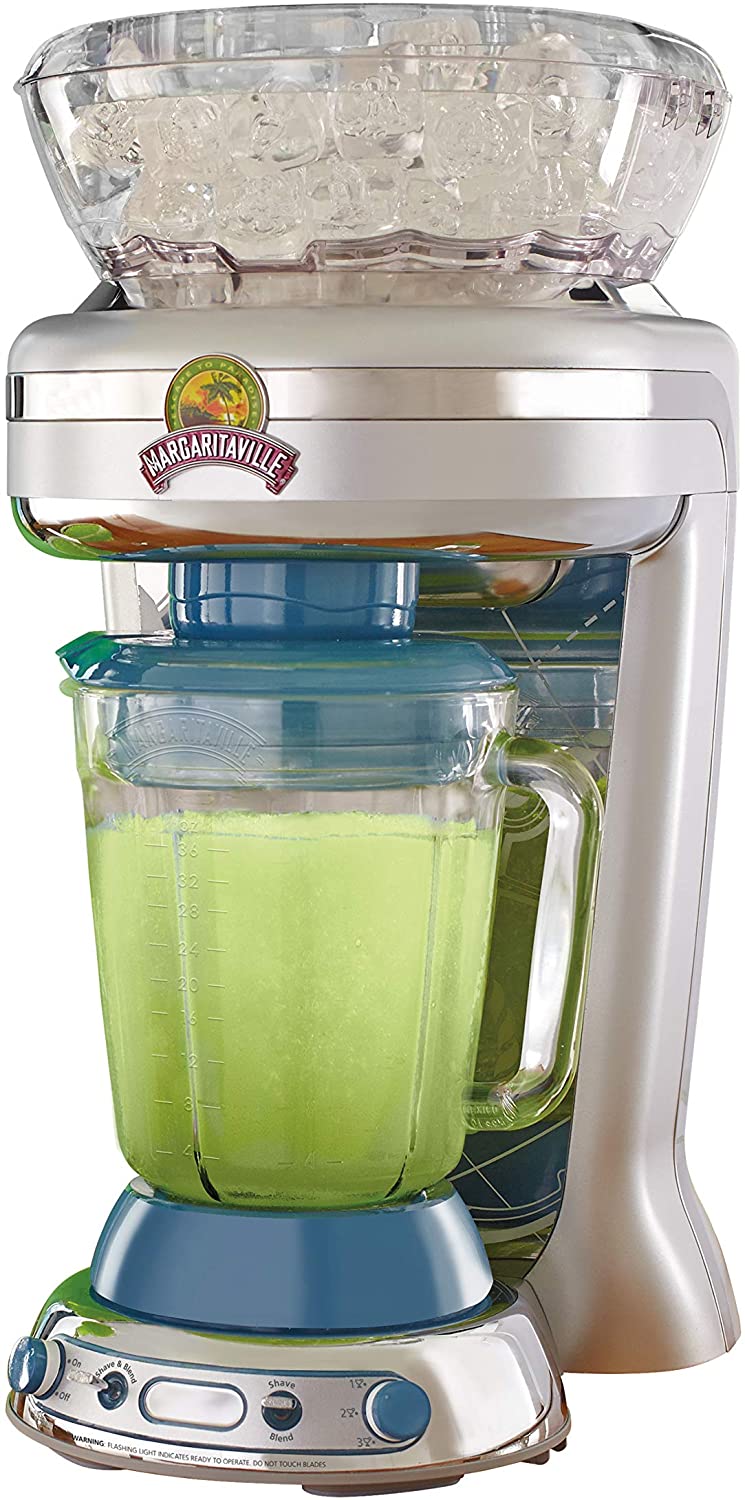 Margaritaville Key West Frozen Concoction Maker is a great way to diversify your usual cocktails and smoothies, making them more illuminating and cool.
Instead of shredding ice like a standard blender, this device produces broken pieces of ice for a full party. So if you want to cool your cocktail or juice, just place it in the Margaritaville Key West Frozen Concoction Maker.
It has 4 separate settings for drinks, as well as a separate ice-related cycle. Thanks to the fact that the blender does not need to break the ice, it has less power – only 450 Watts.
That's enough power to mix ingredients with the finished ice. Margaritaville Key West Frozen Concoction Maker will break the ice for you – even when you just need ice chips, not a full smoothie.
3. Nostalgia FBS400RETRORED Retro 40-Ounce Frozen Beverage Station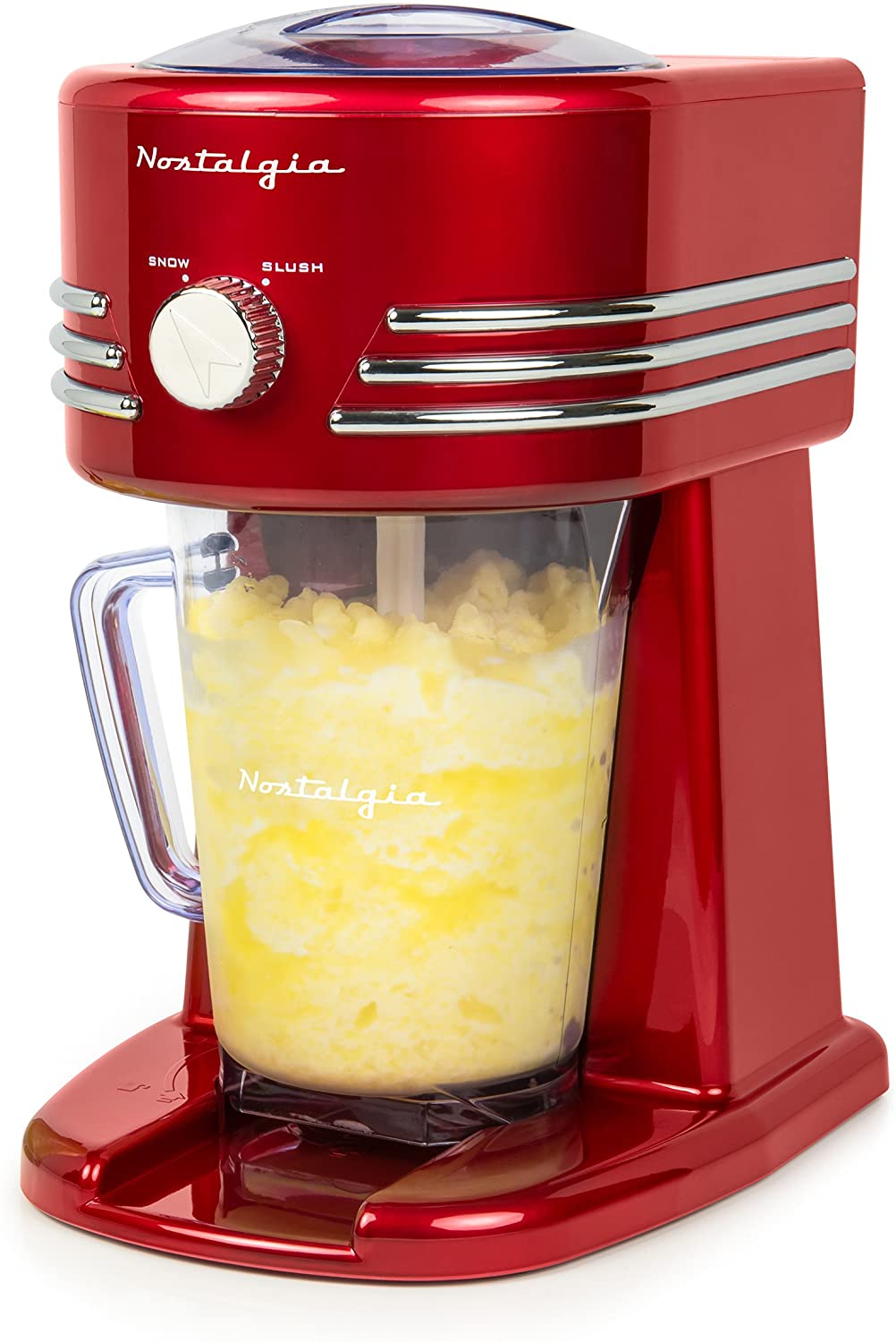 If you follow the style in your kitchen or bar, Nostalgia is a good solution for retro lovers. The spacious 40 oz jug will be ideal for several drinks, while the inner spatula will stir your drink to homogeneity.
As with the previous model, Nostalgia shaves the ice on its own, rather than splitting it with blades along with other ingredients. This is why there is a separate chip chamber for ice chips.
You will need to load ice cubes into this chamber, and then the device will do everything for you. It won't take you long to prepare a cocktail or smoothie – just a couple of minutes and you'll get several servings at once.
It is worth noting that the process of crushing the ice and ingredients is much quieter than in a standard blender.
Moreover, the appearance of Nostalgia makes you close your eyes to all its shortcomings – after all, a blender will look so beautiful on a tabletop or bar counter!
4. Ninja Professional 72oz Countertop Blender BL610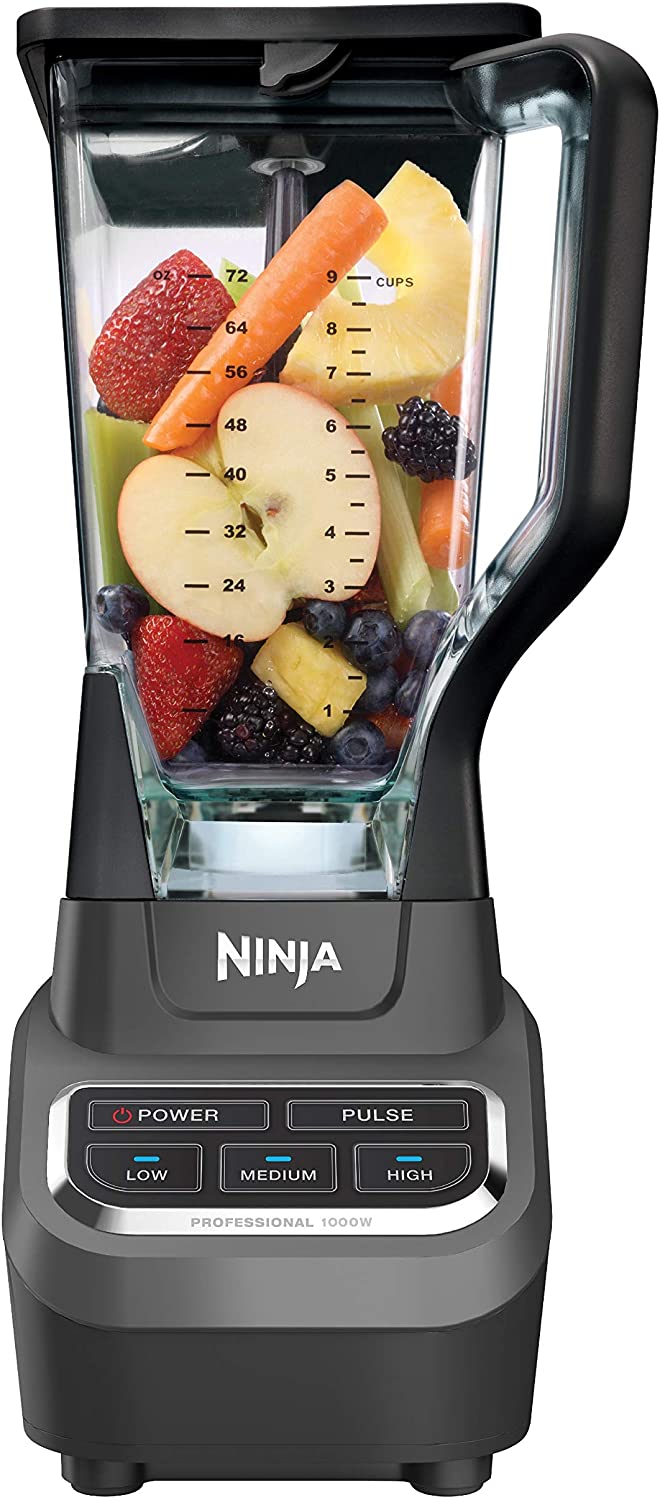 We want to tell you about another blender model from Ninja. It has a high output of 1000 watts, which reduces your waiting time for your drink.
In a large container of more than 60 oz, you just need to load all the ingredients and press a button – Ninja Professional will perfectly shred them to a homogenous consistency. Even crushing ice takes seconds, not to mention regular fruits and vegetables.
With a total of 6 blades, you can mix all the ingredients to a perfect smoothness. The result is an ice smoothie, the perfect sauce or even a smoothie – depending on what you put in the blender.
Cleaning requires just washing the bowl itself, and rubbing the body with a damp cloth or sponge. It should be noted that in the preparation of smoothies Ninja Professional can leave a little texture of the product itself, which will please fans of fruits and vegetables.
5. Hamilton Beach Personal Blender for Shakes and Smoothies

If you drink smoothies a couple of times a week, you do not need to buy professional equipment for their preparation. For example, Hamilton Beach Personal Blender is a great option for individual drinks.
Compact and stylish, this blender is suitable for both home use and travel. All you have to do is push one button and the smoothie preparation process will start!
For a perfectly smooth texture, this blender crushes ice as well. But it's worth noting that with 175 Watt power, Hamilton Beach Personal Blender can only work with small pieces of ice. But if you want to make smoothies with ice, you better avoid giant pieces.
The main advantage of this device is its portability and small size, allowing you to make only 1 smoothie or cocktail at a time. With Hamilton Beach Personal Blender you can provide a healthy breakfast even if you've already left home and don't have enough time.
6. La Reveuse Smoothies Blender Personal Size 300 Watts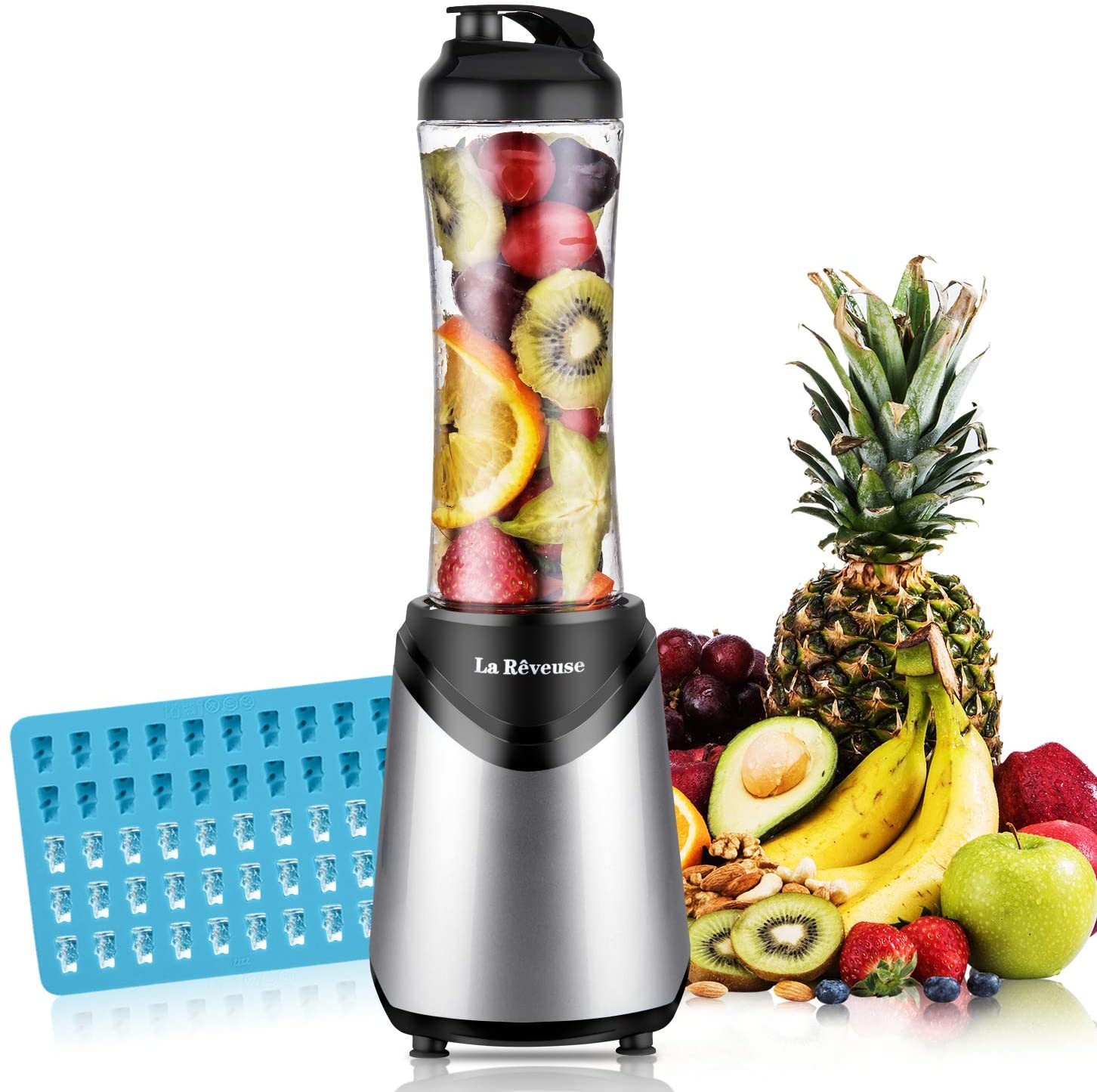 La Reveuse Smoothies Blender is another blender model, which is designed to cook only 1 serving. The volume of the bowl is 550 ml, which is enough for one person.
You can prepare in it a protein cocktail, fruit and vegetable smoothies, a base for cocktails, and much more. Such a small blender can even crush the ice to additionally cool all your favorite drinks.
The control is very simple – you just need to screw the bottle into the base of the blender and start the cooking process. You can take the blender on a trip or use the bowl as a smoothie bottle with you.
It is worth saying right away that if you drink exclusively with ice, it is better to pay attention to other models. La Reveuse Smoothies Blender is more designed for making smoothies from fresh vegetables and food. 300 watts of power is enough for ice cutting occasionally, along with other ingredients.
7. Instant Ace Nova Blender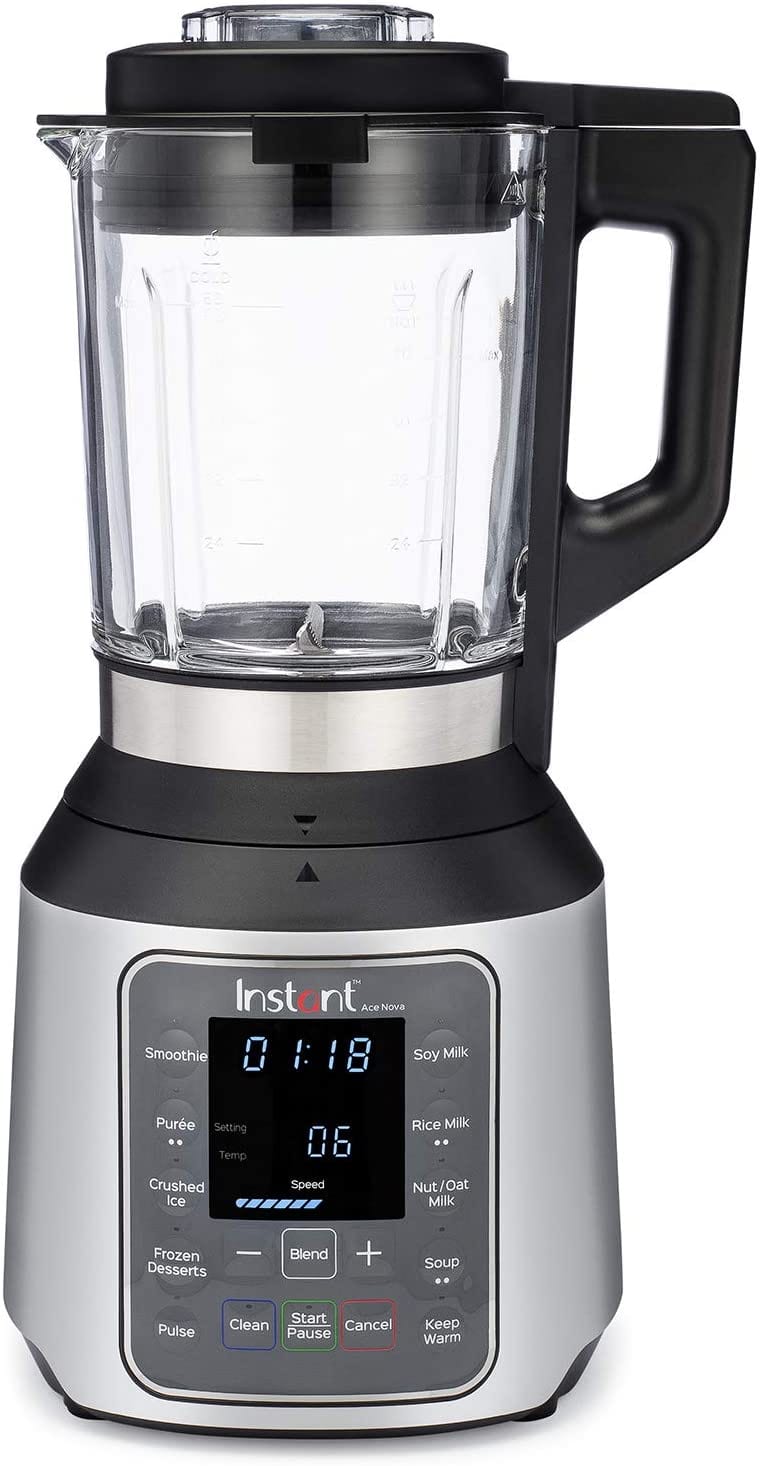 If you like vegetable nut milk, the Instant Ace Nova Blender will help you prepare a natural drink almost instantly. This blender can work with ice, nuts, frozen berries, and other solid products.
All ingredients are blended to a smooth and homogeneous texture, and when preparing hot dishes, the blender can even heat up to maintain the same temperature.
The Instant Ace Nova Blender has a self-cleaning mode that is very convenient for frequent use. By the way, if you have exhausted all ideas for smoothies, the blender will also help you!
The company has a separate application, where you can find a huge number of recipes for smoothies and dishes, which can be prepared with the help of a blender.
For those people who love nut milk, the set even comes with a special bag for filtering. With these bags, you will get a perfectly clean product with a natural flavor.
When choosing a blender, you should think several times – for what purpose do you purchase the device? It will be much easier to make your choice and choose a specific model.
All the blenders we've talked about in this article are great for working with ice, making smoothies, grinding frozen or hard food, and much more.
You will be able to control the whole process of cooking, each stage – and no longer need to go for fresh smoothies in the nearest cafe. We hope we were able to help you and now you will definitely choose the most suitable blender model for your kitchen.
FAQ for Blender buyers
1.
What is the difference between a professional smoothie blender and a regular one?
If you want to make smoothies from frozen fruits, berries, or with the addition of ice, you need a powerful model. It is usually the professional blender models that have enough power to crush the ice.
They have sturdy blades for shredding, fast cooking speed and work with even the densest products. With a professional blender, you can not only make smoothies in the morning but also grind coffee beans, make homemade peanut paste, and just crush the ice for cocktails.
2.
Can a blender make fresh juices?
The way blenders and juicers work is very different. Juicers leave all rind, pulp, and other by-products in a separate bowl, so the user gets only fresh juice. A blender does not separate the product, mixing everything into a single mass or mash.
So the blender is designed to make smoothies from fruits and vegetables and will not replace your juicer. If you want the juice, the resulting mixture can be filtered through a sieve – the result is only fresh juice.
3.
Is it possible to use an immersion blender for cutting ice and smoothies?
The immersion blender is designed to create a consistency of mash and can sometimes replace a standard stationary blender. But if we talk about a smoothie or even more about working with ice, such a device can not give you quality consistency.
It will most likely take you a long time to try to break the ice with it. Mostly smoothies are made of frozen large pieces of fruit, vegetables, and berries, so your device may just not be able to withstand such a density of ingredients. The immersion blender won't make a homogeneous smoothie consistency.
4.
Which jug or bowl material is best for a smoothie?
It should be noted that plastic jars are quite durable and you can use them for a long time. However, you will soon be able to notice some scratches on the body that are formed when you hit the walls with frozen food.
Glass jars are more resistant to this type of damage, but they are easy to break. If we talk about functionality, plastic and glass jars are almost equal and their only difference is such an insignificant detail as scratches.