Microwave ovens have long ceased to be a sign of luxury and have become a common attribute in every kitchen. It allows you to defrost meat, prepare simple dishes, heat up ready meals and much more.
The whole process usually takes seconds and minutes and you get a hot, complete meal or speed up the thawing up of a piece of meat. There are now many different models and manufacturers on the market that are trying to impress customers with their functions.
What is really important when choosing a microwave oven? The most important thing is its positioning. The most affordable and popular option is a free-standing microwave, which you can place anywhere. Usually, they are placed on tops or on special wall mounts.
You will also need to select the features you need. Now there are models with grilling, convection, and many more functions. We've found the 7 best microwave ovens for you to choose from that will surely not disappoint you.
1. AmazonBasics Microwave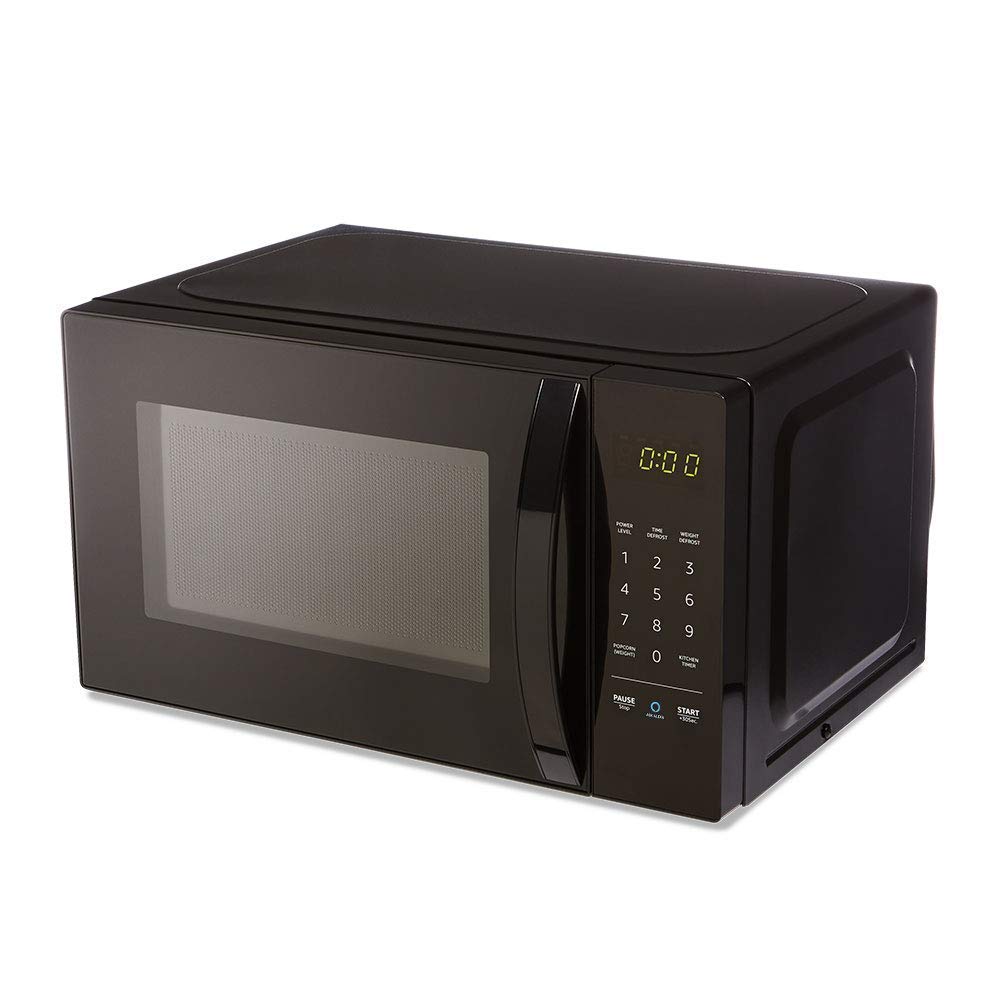 If you have Alexa from Amazon living in your house for a long time, now she can heat up your coffee or defrost your vegetables! AmazonBasics Microwave is a microwave that can interact with and even control your voice assistant Alexa.
It has an "Ask Alex" button on the device itself which allows you to set the cooking time or product. For example, if you press a button and say "frozen burrito", Alexa will set the necessary time and defrost parameters herself.
It is also worth noting that AmazonBasics Microwave takes up much less space than standard microwave models. It has a great inside space for a plate of food or a small bowl of vegetables, so it's a great option for a small family or bachelors.
In its functionality, AmazonBasics Microwave has 10 power levels that you control yourself, a cooking timer and even a baby lock. By the way, you won't be able to set unreal cooking times with Alexa – for example, your microwave will not work for several hours in a row.
You may also like: How to remove an over the range microwave fast
2. Panasonic Microwave Oven NN-SN686S Stainless Steel Countertop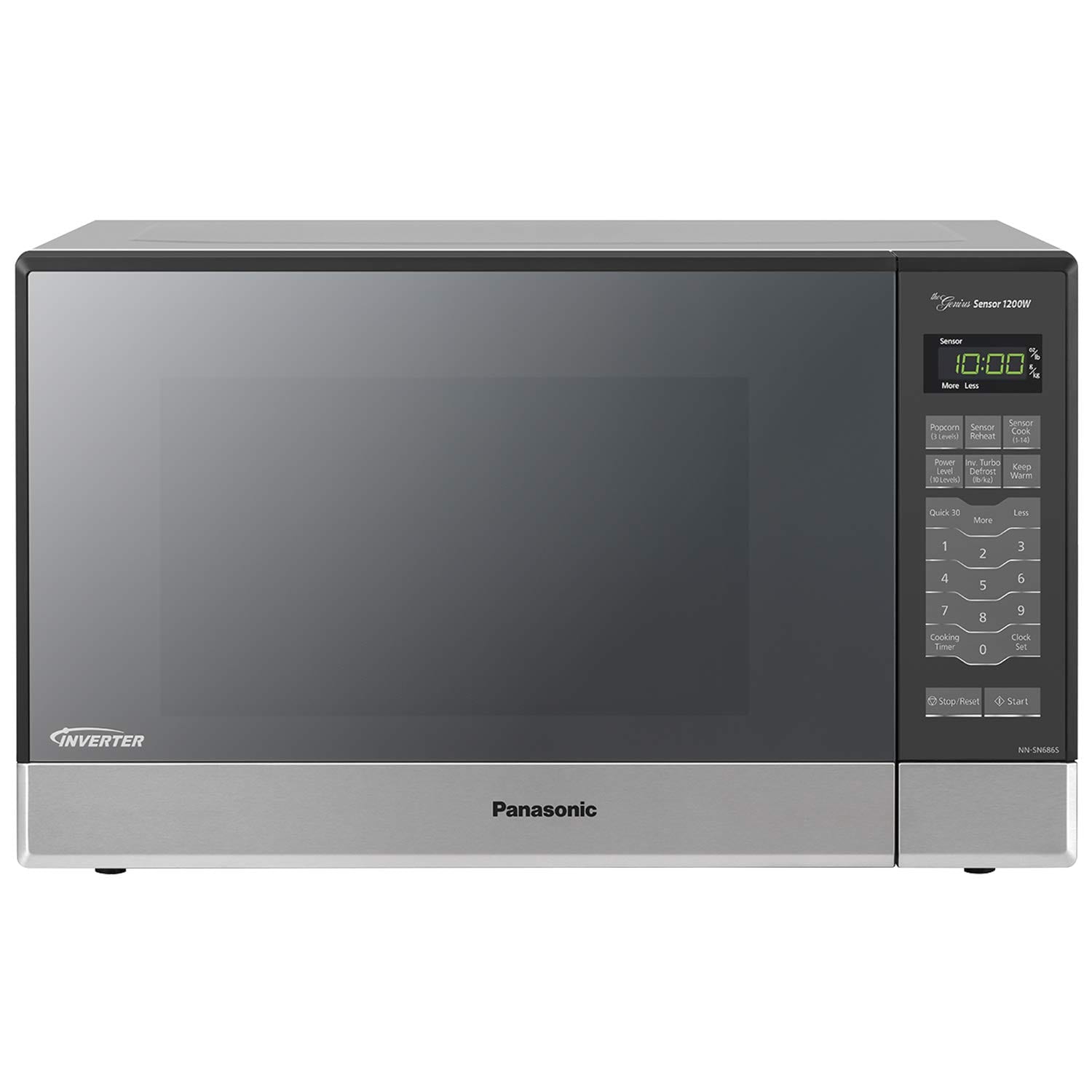 The largest company Panasonic is a world-famous manufacturer of various equipment. Home appliances do not stand aside and you can watch one of the best and most popular models Panasonic Microwave Oven NN-SN686S.
This microwave oven can both cook your food and emit delicious flavors, and quickly defrost products in turbo mode.
The microwave's excellent design is worth noting – it will fit perfectly into any interior. Despite its small external size, Panasonic Microwave Oven NN-SN686S is incredibly spacious. Check this article to find out the difference between small and big microwaves.
As with the multicooker, you can program this model for a delayed cooking start or set a specific cooking program. In total, Panasonic Microwave Oven NN-SN686S can cook 14 dishes that you can try. It also keeps your food warm for as long as you need it – so you'll always enjoy hot food.
3. Toshiba EM925A5A-BS Microwave Oven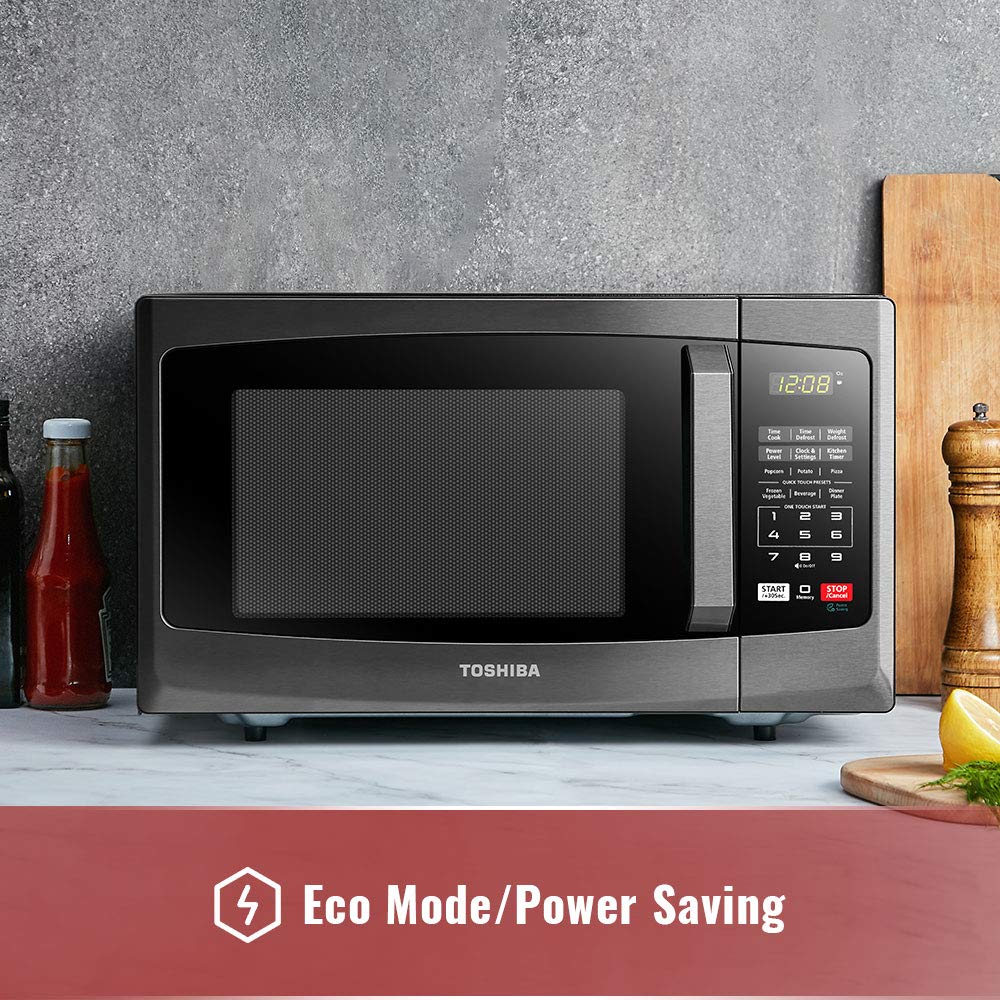 Toshiba is another leader among home appliance manufacturers. Toshiba EM925A5A-BS has a stylish modern design and a bright digital display.
The case material is black stainless steel, which extends the life of the device and increases resistance to temperatures. This microwave oven does not have a huge number of functions, but it perfectly fulfills all your heating and cooking needs.
The Toshiba EM925A5A-BS has 6 pre-installed cooking programs that include popcorn, drinks, pizza and more. A bright LED screen allows you to start the unit even in the dark, while the mute function ensures that you don't wake up any of your households.
Now you can safely warm your sandwiches at midnight and no one will see you there! You set the standard heating time and power yourself, along with the defrosting time for your food.
4. Panasonic Microwave Oven NN-SN936B Black Countertop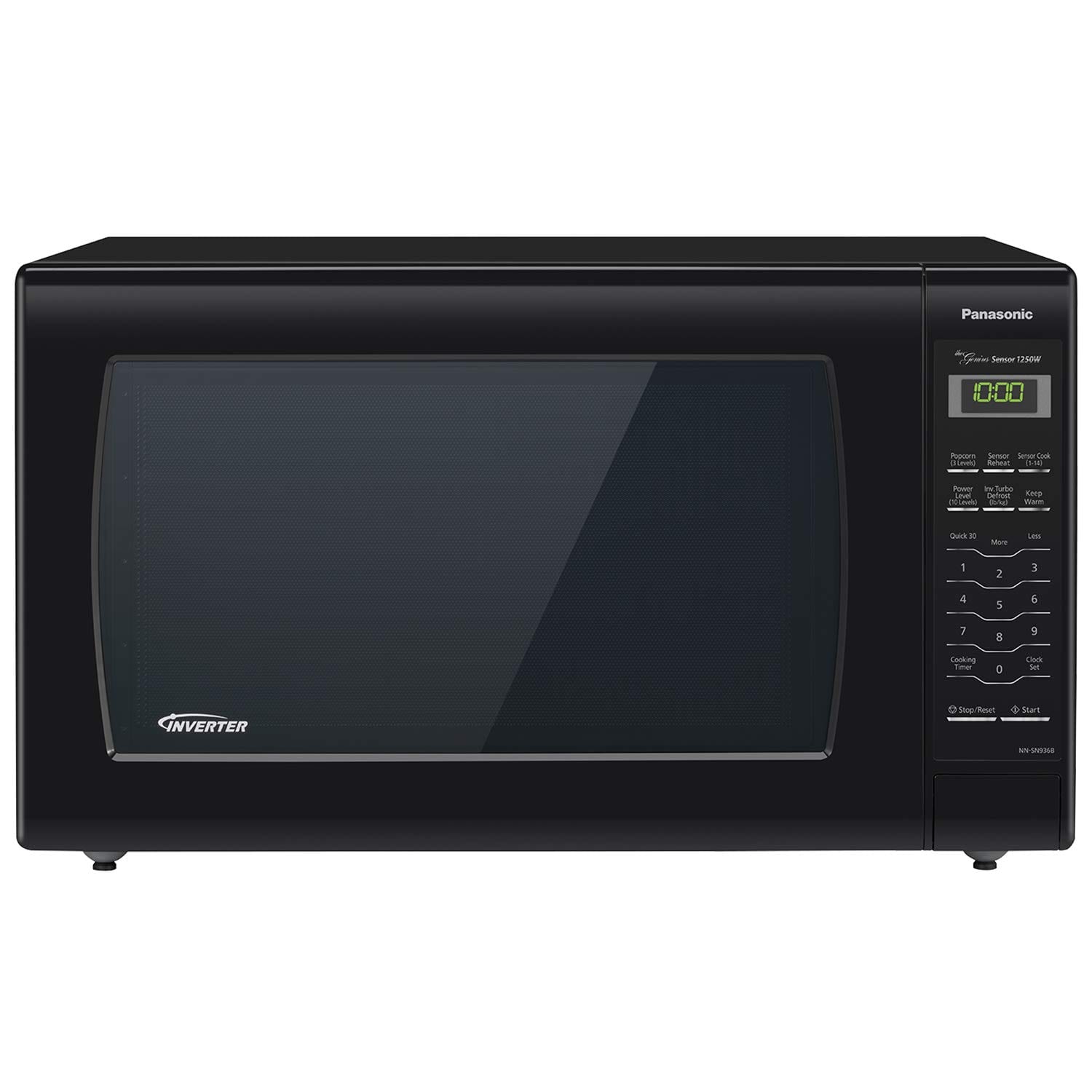 Another Panasonic microwave we want to tell you about. It's big enough and has a capacity of 2.2 cubic pounds – enough for even large meals. Despite this large volume, it doesn't look massive and doesn't take up too much space on the countertops.
By the way, if you don't know how to cook a certain dish or don't want to dry it out, Panasonic Microwave Oven NN-SN936B will help you and adjust the power and cooking time.
The microwave settings have 14 programs that are designed to cook different dishes (just like another Panasonic microwave). The stylish design with stainless steel inserts looks beautiful, but you'll need to keep them clean – as they often leave fingerprints on them.
Thanks to the lighting inside, you can watch your food preparation or control the process. We recommend that you avoid foods that are too wet for long periods of time – condensation can form inside the door and on the walls.
5. BLACK+DECKER EM925AB9 Digital Microwave Oven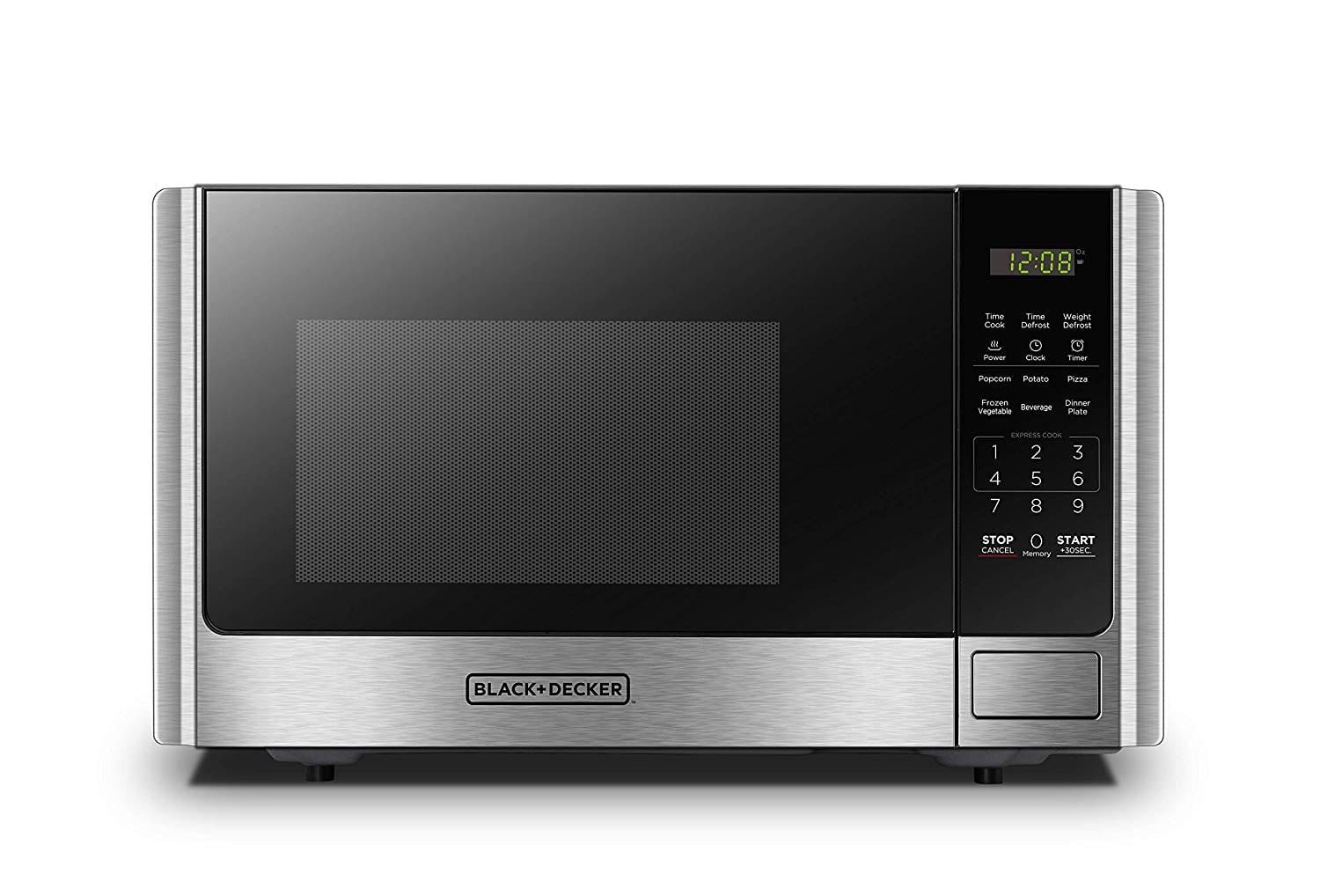 If you were looking for a compact microwave oven that is smaller than the standard size, we found the BLACK+DECKER EM925AB9 Digital Microwave Oven for you.
This device is about a third smaller than a conventional microwave and takes up less space in your kitchen. Despite its size, it has all the features of standard devices and is as functional as any other.
With a maximum power of 900 watts, you can switch on the express cooking mode. There are also 10 power levels and a kitchen timer that allows you to start the cooking process and get distracted. Defrosting is done in the standard way – by weight or by the necessary defrosting time.
There are also a small number of cooking programs. It's worth noting that if you have young children, the BLACK+DECKER EM925AB9 Digital Microwave Oven will not be the best option – it works loud enough to the standards of modern devices.
6. Farberware FMO11AHTBKB 1.1 Cu. Ft. Stainless Steel Countertop Microwave Oven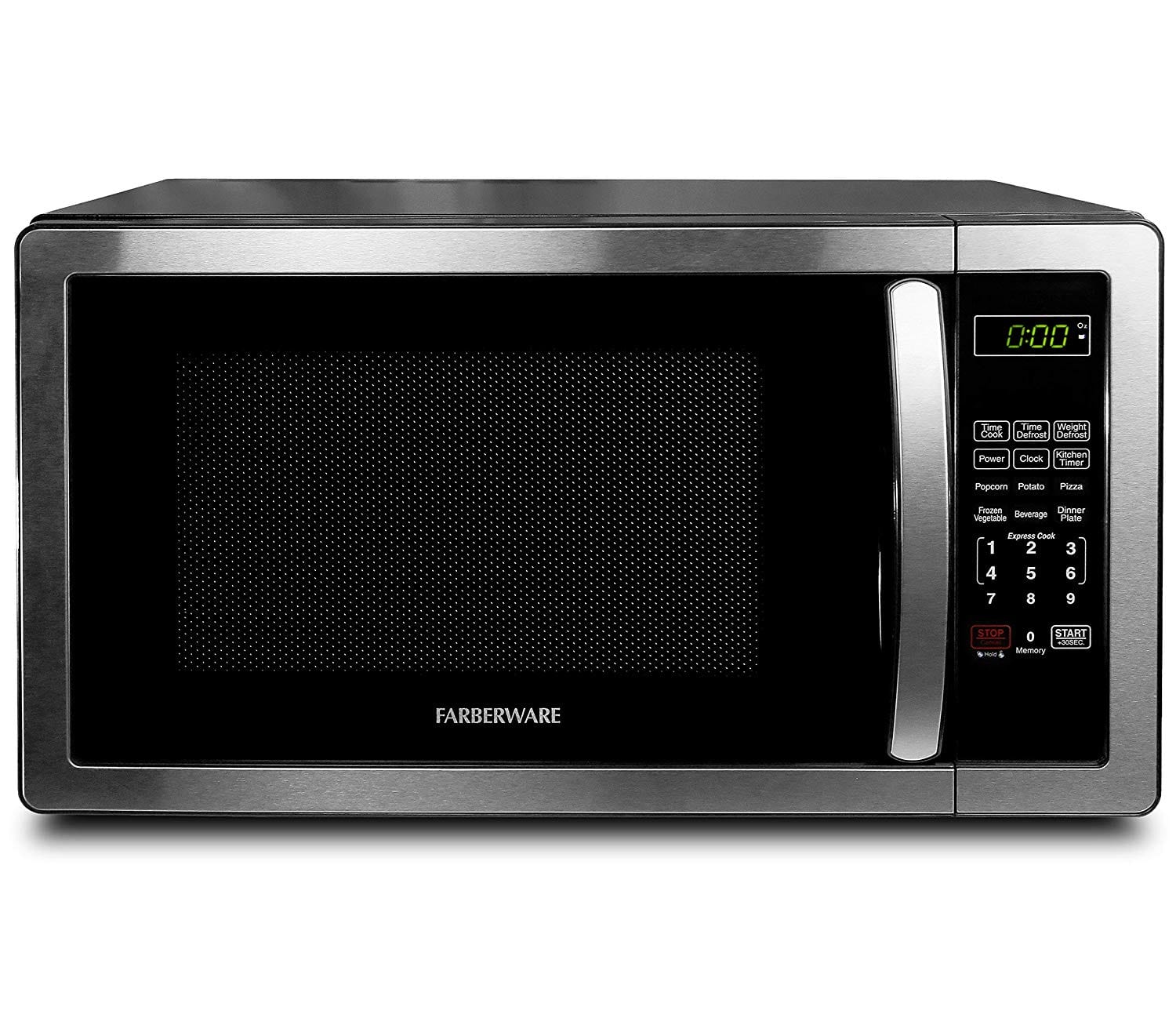 Farberware FMO11AHTBKB can be called the most standard microwave model. It has 10 standard power levels adjustable by the user, as well as several programs for cooking ready-made meals – such as popcorn or frozen vegetables.
The digital clock displays both the current time and the timer that is set for cooking. All defrosted food can be loaded and the defrosting time can be adjusted by weight.
With full power on, you will need literally 1 minute or even less to prepare food. The settings are very simple and everything can be adjusted on the touch panel. Buttons from 1 to 6 immediately switch Farberware FMO11AHTBKB on for 1 to 6 minutes respectively.
Otherwise, you can choose your own power and running time. If you would like to save space in your kitchen, we recommend you buy Farberware FMO11AHTBKB. Of course, there is not as much space inside as there could be, but the microwave will be conveniently placed in your kitchen.
You can also check: How to cook rice in microwave fast & safe
7. Kenmore 70923 0.9 cu. ft Small Compact 900 Watts Countertop Microwave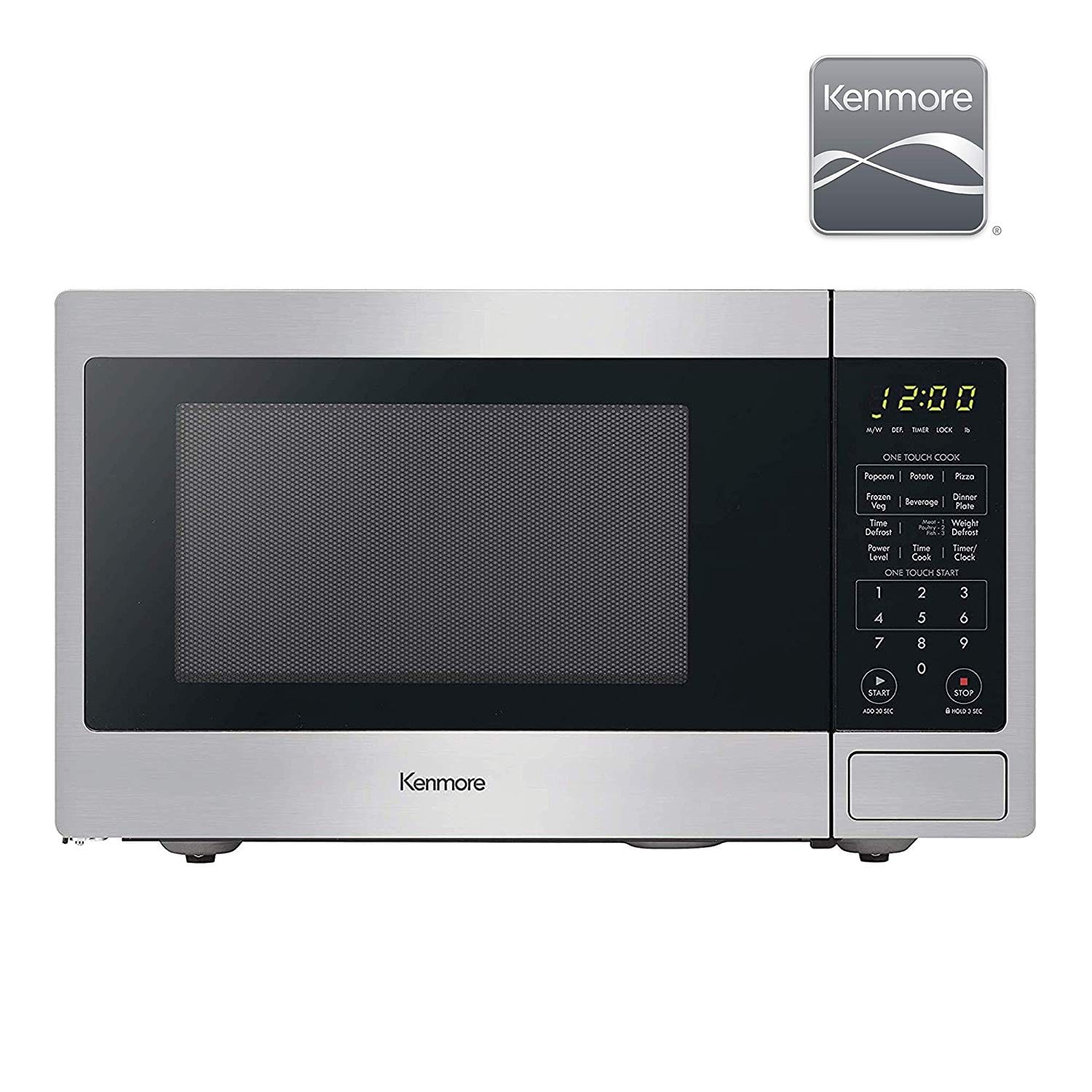 Power and convenience are the two most important parameters that guided the Kenmore 70923 manufacturers.
The convenience lies in its compact size – this microwave oven has a capacity of only 0.9 cubic feet. This size is enough even for trailers and small apartments. Even if you have children, you won't have to worry – it has a special lock program.
With one touch, you can start the cooking program, all set in advance on the unit. If you really need a small microwave oven, this is a good option.
Of course, it doesn't have all the functionality of a full-size oven and it will rarely cook, but if all you need is to make popcorn and heat up coffee, Kenmore 70923 will be a bargain purchase. You can defrost, heat food, but we do not recommend cooking in it, as the result may not please you.
You should always pay attention to the power and temperature levels supported by the device when making your purchase. These power and temperature levels will determine what you can cook with your new device.
If you think that microwave ovens are completely useless and not needed by you, we would like to change your mind.
Microwave ovens make the cooking process much faster and you can always eat the hot leftovers of yesterday's food, so it will be tastier and more pleasant.
You can even cook popcorn or make mug cakes for breakfast, which will make your meals much more varied.
FAQ for microwave oven buyers
1. I
s it harmful to eat food heated in a microwave oven? Is it harmful because of radiation?
There's a myth in the world about the harm of microwave ovens for a long time. You may have heard that the radiation that warms up food is basically radiation and X-rays. No, no and no again! In 2008, the World Health Organization issued a verdict that microwave ovens do not harm human health or food.
The only danger that comes from a functioning microwave oven is for people with pacemakers. Some stimulants are sensitive to microwaves, so people who have to wear them are advised not to use microwave ovens.
2.
Which microwave material is best for microwave use?
The best choice is the ceramic coating – as it is strong and not subject to severe scratching damage. It is also easy to clean, unlike stainless steel. However, in favor of steel, it is worth saying that it is resistant to high temperatures – which is very important for microwave ovens.
The enameled coating, on the other hand, is less heat-resistant, which makes it the most inexpensive material. But if you are not going to use your microwave for a long time (for example, 40 minutes or more), it will not be a problem for you.
3.
Which type of microwave control is the most convenient?
There are 3 types – mechanical, push-button and touch control. Of course, the most convenient and familiar for modern people is touch control – as we are already used to using all techniques with sensors.
In fact, the buttons located underneath the protective film act as sensors. But then they are incredibly difficult to clean, which is not the case with mechanical or push-button designs.
The simplest way is to operate them mechanically – you set everything up with the switches. Usually, there are 2 – one is responsible for the operating time, the other for temperature.
4.
Where is the best place to place a countertop microwave?
If you are going to install the microwave in a cabinet, we strongly recommend against doing so. Microwave ovens always have a fan with which the air exits and it should never be shut off. It is best to place the microwave oven on a worktop or special brackets that will fit the size of your microwave.