Ice is essential for making all kinds of cocktails, smoothies, and even for cooling drinks. But we don't always have the option of freezing more ice at once – for example, for a party or an evening in a big company.
In such cases, you immediately begin to dream about a special device that could prepare for you ice in large quantities. Just like in hotels or restaurants! Not everybody knows, but you can make ice in this way at home just by purchasing an ice machine.
Crushed ice is a great basis for your drink, and solid pieces of ice will help to cool the soda. We decided to find out what you should pay attention to when choosing Ice Makers.
The volume of the ice bowl.
This parameter in your crushed ice maker is crucial for ice production. If you buy a device for large parties or for making smoothies, it is best to take a device with a large bowl. This way you will never find yourself in a situation where there isn't enough ice for a few cocktails.
You may also like: Best blenders for smoothies
Performance.
Depending on their performance, size, and other factors, ice generators can produce different amounts of ice over a certain period of time. If you are ready to wait for the time when your ice maker will make cherished ice cubes, you can ignore this factor. Powerful enough models can produce a whole batch in 10-15 minutes.
The shape of the ice produced.
There are different shapes of ice that your device can produce. The most popular ones are ice chips, standard cubes, nuggets, and many others. If you are going to use ice to cool your drinks, you should choose the shape of nugget or cube. In the case of making cocktails is better suited to the ice crumb.
You may also watch the following video to see different types of ice:
Portability.
Ice generators can be built into a fridge or other appliances, be a separate unit in the kitchen, or easily transported on the move.
Portable models are most often chosen for home and personal use and can be cleaned when not in use or moved from home to the terrace. We have tried to present to you in this article exactly these options.
You may also like: Best potato chip slicers
Price.
Before you start buying the device, determine for yourself the amount you are willing to spend. Prices for ice makers may vary depending on the purpose, functionality, size of ice, and even the volume of the bowl.
After you know the basic parameters (or maybe you have known them before), we are ready to present you with the 7 best Crushed ice makers.
Our Top Pick
GE Profile Opal | Countertop Nugget Ice Maker


The stylish case made of metal and plastic
Remote control and start-up capability
Big ice bowl

Check Current Price
Other great Crushed Ice Makers
IMAGE
PRODUCT

MANBA Ice Shaver and Snow Cone Machine

Easy to use manual device.

Check current price

Prime Home Portable Ice Machine for Countertop

Unbelievably fast ice production.

Check current price

VBENLEM 55LBS 24H Snowflake Ice Maker

Massive ice maker for home parties or cafes.


Check current price

Portable Hand Crank Ice Crusher by VICTORIO VKP1126

Ice crusher with manual operation and easy storage.


Check current price

Euhomy Ice Maker Machine Countertop

Display with clear management and user-friendly workflow.


Check current price

Igloo ICEB26AQ Automatic Portable Electric Countertop Ice Maker Machine

Portable ice maker for convenient use.


Check current price
1. GE Profile Opal | Countertop Nugget Ice Maker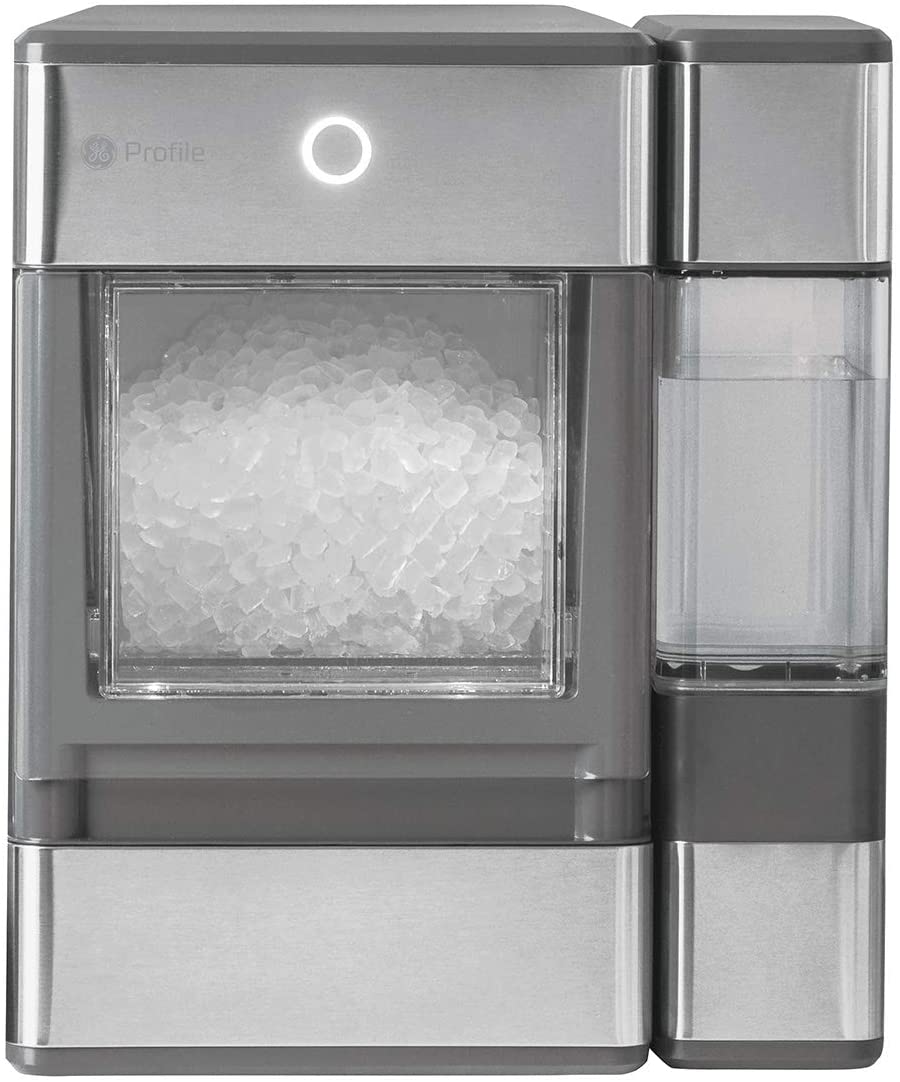 GE Profile Opal is a stylish device in a metal case that will provide you with a constant and regular supply of ice. It will look great on your kitchen countertop.
The ice you get will be soft and crisp – just like in your favorite bar or restaurant. You don't even need to connect water to it – you control the liquid level inside the unit and refill it yourself.
Before you start using GE Profile Opal, please read the instructions carefully. This way, you will avoid breakage and immediately get a good result in practice.
GE Profile Opal also includes an additional water tank, which can be useful in case of a breakage of the old one for replacement. You will get the first cubes after 20 minutes of maker work.
By the way, you can even start the process via your smartphone – with Bluetooth function you can easily connect to it and set all the settings.
2. MANBA Ice Shaver and Snow Cone Machine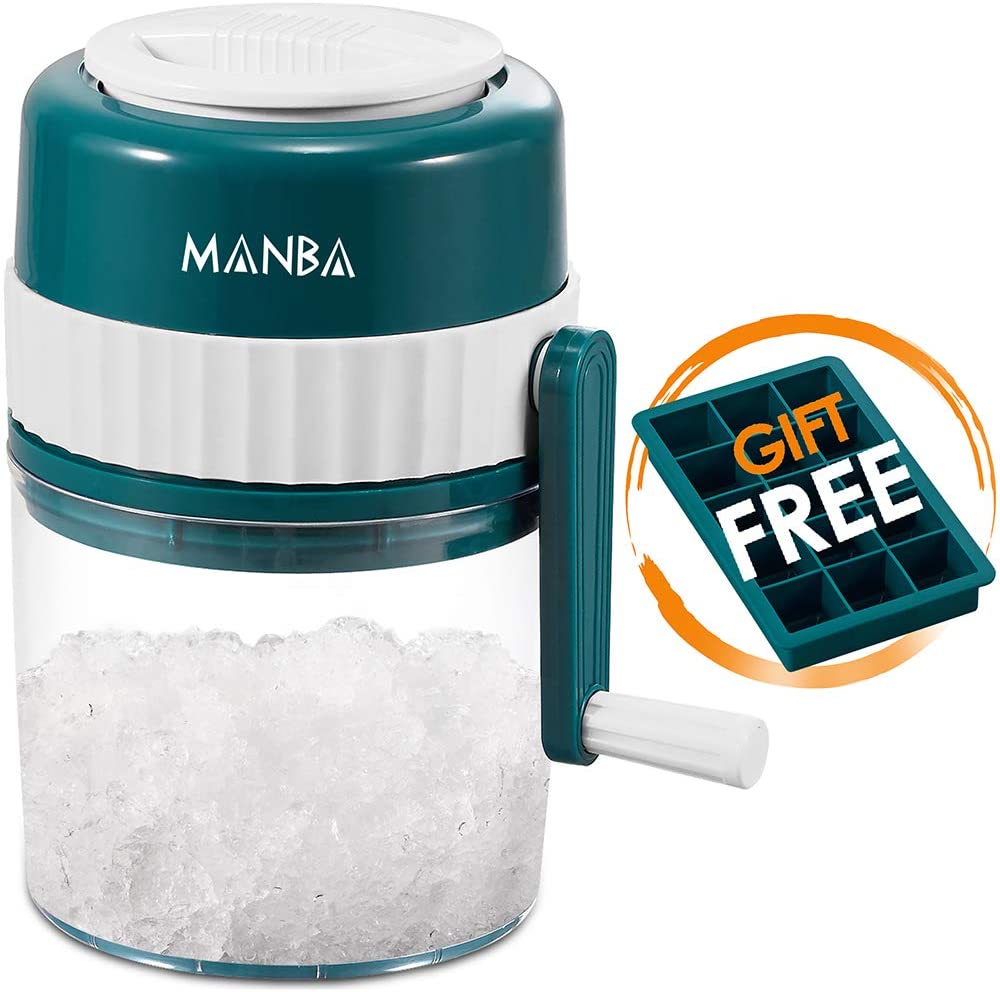 If you want to take part in the production of ice chips yourself, there is a budget option for you in the form of MANBA. You can use it for ice cubes, snow cones, and other ice forms for drinks and sweets.
This device is not automatic – you make the right shape of ice by hand, shredding it further. It comes with a mold that is used for freezing. In this case, the process of ice preparation will certainly take more time.
You can easily wash MANBA in the dishwasher after use. By the way, it's worth mentioning the use: you crush the ice with a crushed ice maker and control the process with your own hands.
The blades inside the MANBA can quickly shave ice into cones or crumbs to fit any cocktail. Some of the things that come with the set can be used separately – for example, an ice cube tray or crumb bowl as a plate for serving drinks.
3. Prime Home Portable Ice Machine for Countertop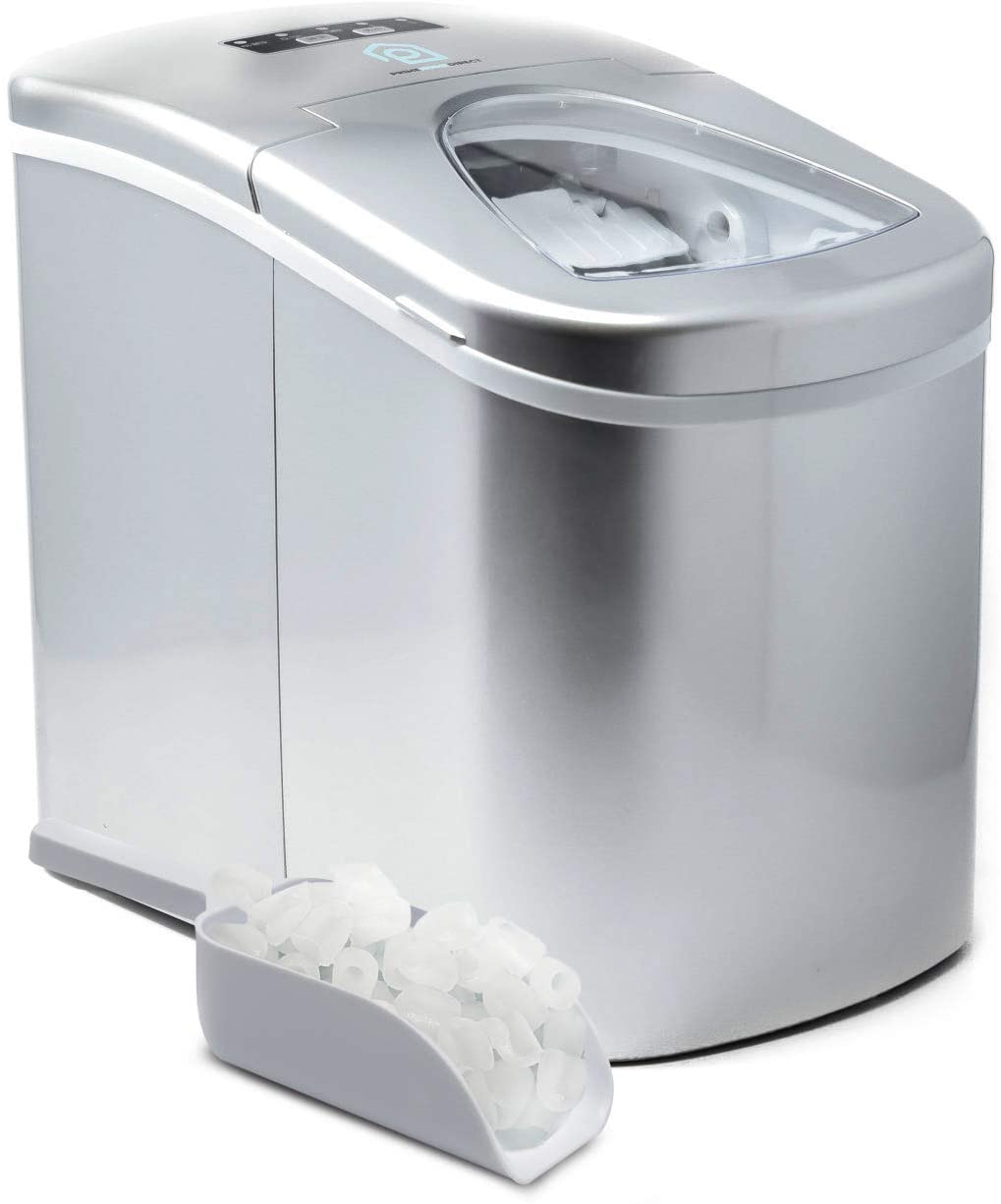 If you were looking for a quiet ice machine, we would like to tell you about the Prime Home Portable Ice Machine. This stylish crushed ice maker is made of stainless steel and will let you cool your drinks anywhere – the main thing is to have access to electricity.
You won't need to monitor the process – it automatically prevents the bowl from overflowing and turns off when there's no room for new ice. You can use it both outside and at home.
After you pour water into a separate tank, you will get the first batch of ice in 6-8 minutes. At the same time, the Prime Home Portable Ice Machine consumes relatively small amounts of electricity and makes no noise when working.
It comes with a separate bowl for ready-made ice and the scoops you need for parties. It is worth noting that the device is best kept in the kitchen as well as other appliances – just leaving it on the tabletop. The Prime Home Portable Ice Machine does not require a separate rack or additional equipment.
4. VBENLEM 55LBS 24H Snowflake Ice Maker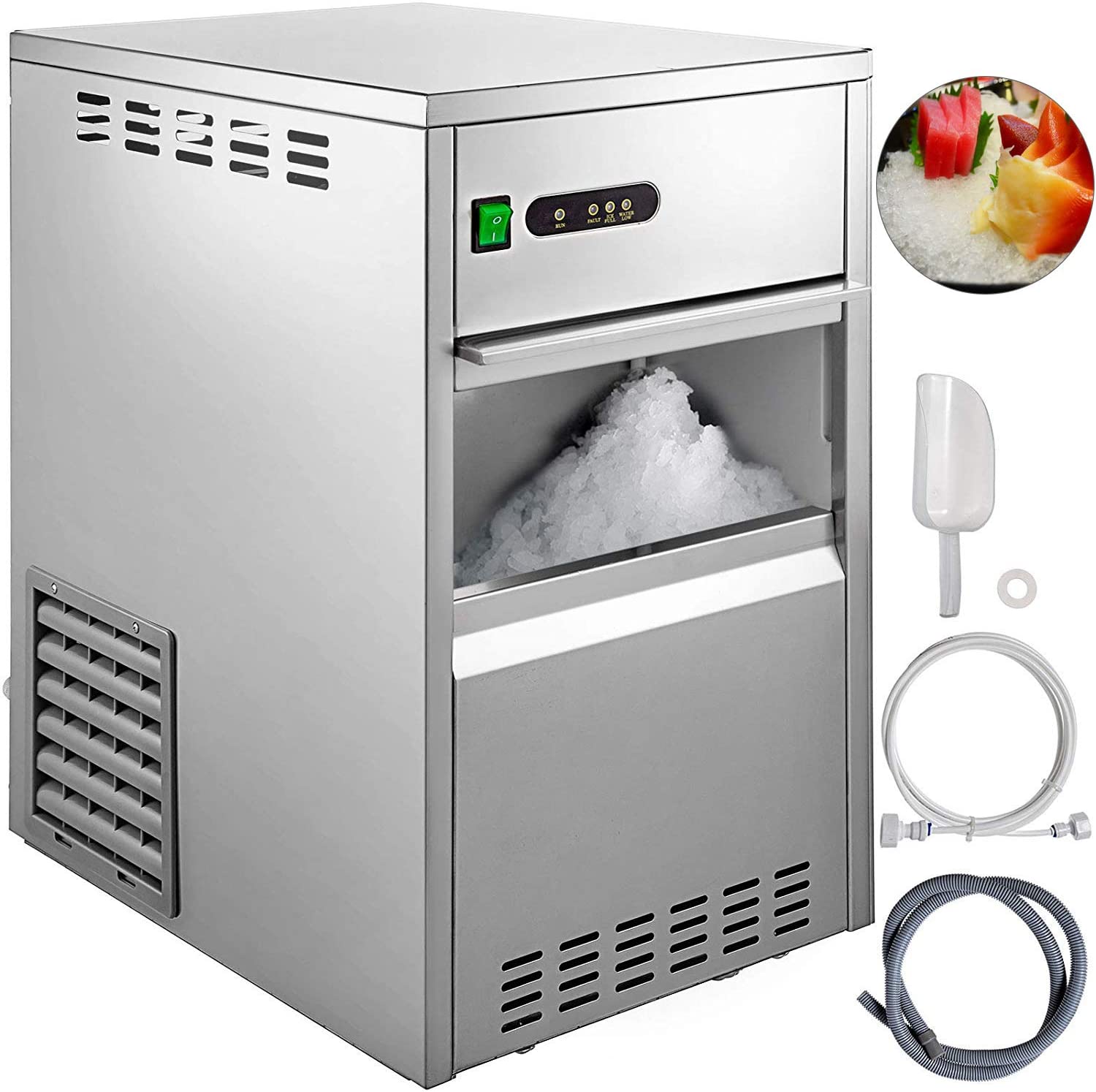 Commercial establishments – such as small bars, cafes, or coffee shops – also require constant ice availability. If you are looking for a device to produce large quantities of ice chips or ice cubes, VBENLEM can be the perfect solution.
The device has a smooth and minimalistic appearance that fits into almost any space. It will not rust and will work for a long time, and all this time you will get ice.
For quick and easy use, there is a special bucket, which manufacturers offer to put on ice. VBENLEM can be found in hotels, supermarkets, and cafes – so many people trust their quality.
The inside surface is automatically cleaned and you regularly get fresh ice. You operate the device on a separate panel, which has light indicators. A lifting cover helps you open VBENLEM easily for another piece of ice.
5. Portable Hand Crank Ice Crusher by VICTORIO VKP1126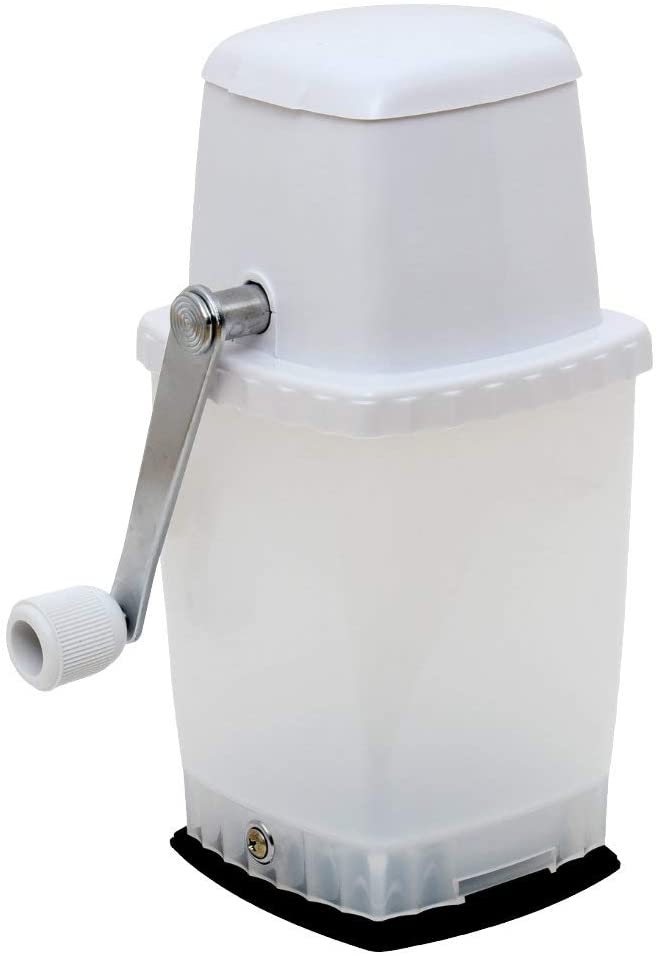 According to the name, the Portable Hand Crank Ice Crusher by VICTORIO is another handheld device that works with finished ice. In other words, you need to freeze the amount of ice beforehand, and then you can crush it with a special ice crusher.
Such a device is perfect for home use in the kitchen, as it takes up little space and can be easily stored in a closet. It is worth noting the sturdy suction base, which prevents the device from moving while working.
In order to start using the Portable Hand Crank Ice Crusher by VICTORIO, you will need to load the ice into the bunker. You firmly attach the crushed ice maker to the worktop or table and simply start turning the handle.
The blades on the inside will crush all the ice to the size you need – for example, ice chip for cocktails. It is worth noting that this design is not suitable for permanent crushing of ice in large sizes – rather, it is for rare parties or evening cocktails.
6. Euhomy Ice Maker Machine Countertop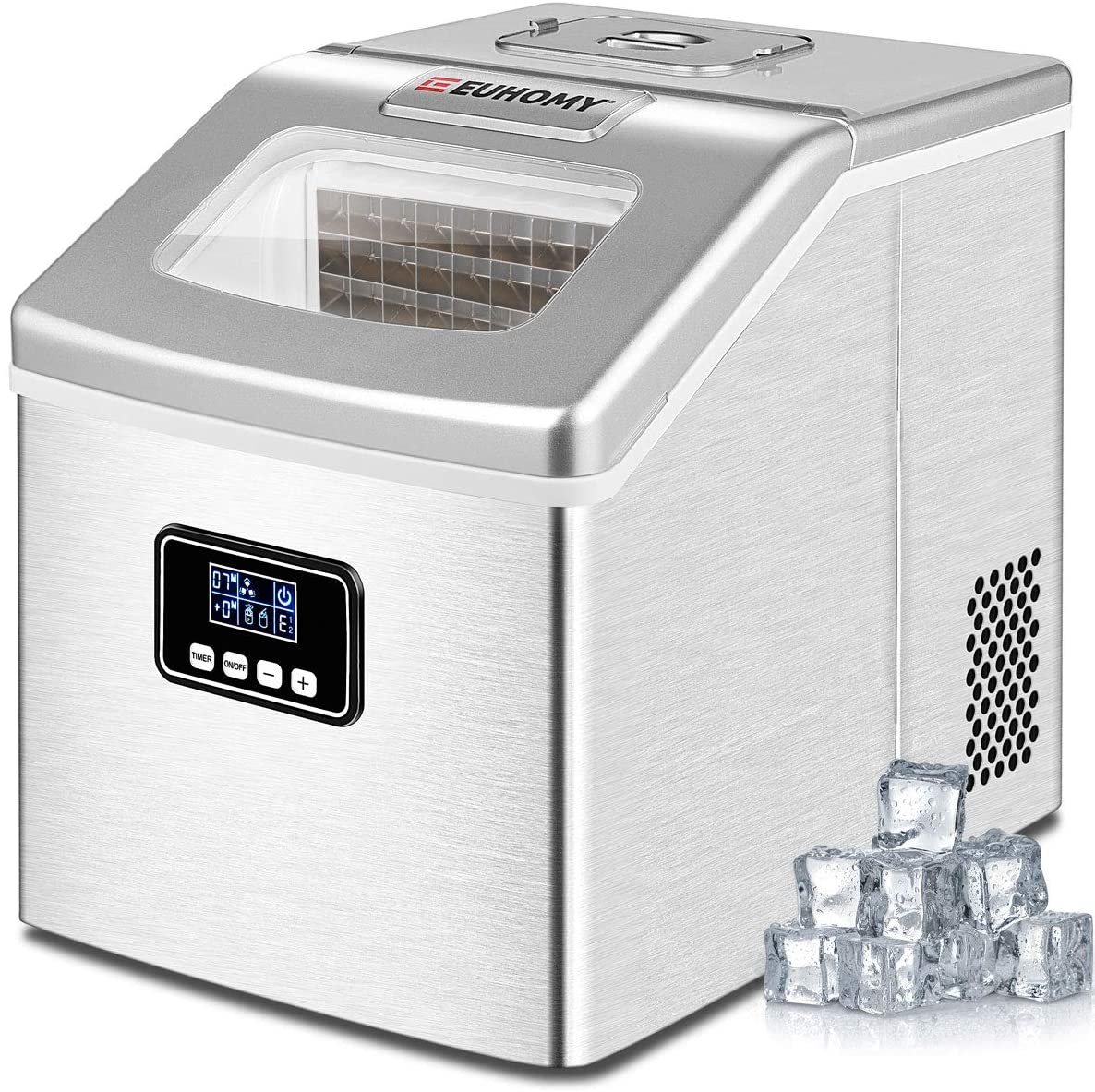 The Euhomy Ice Maker Machine is a complete desktop machine that will quickly make you ice when you need it. In one cycle (which is about 12-15 minutes), 24 ice cubes are produced. That means you get a complete ice basket in a short time.
Plus, of course, you can adjust the thickness and size of the cubes according to the beverages you are going to prepare. In order to adjust it, the device has a special display with electronic control.
The water volume can be up to 2.2 liters and you have to refill it yourself. The Euhomy Ice Maker Machine is quiet enough so it won't interfere with your cube production process.
Through a special window in the casing, you will be able to observe the whole process, checking occasionally that everything is in order. If you don't open the lid, the inside of the Euhomy Ice Maker Machine will remain at a temperature that will keep the cubes from melting and keep them in the same condition.
7. Igloo ICEB26AQ Automatic Portable Electric Countertop Ice Maker Machine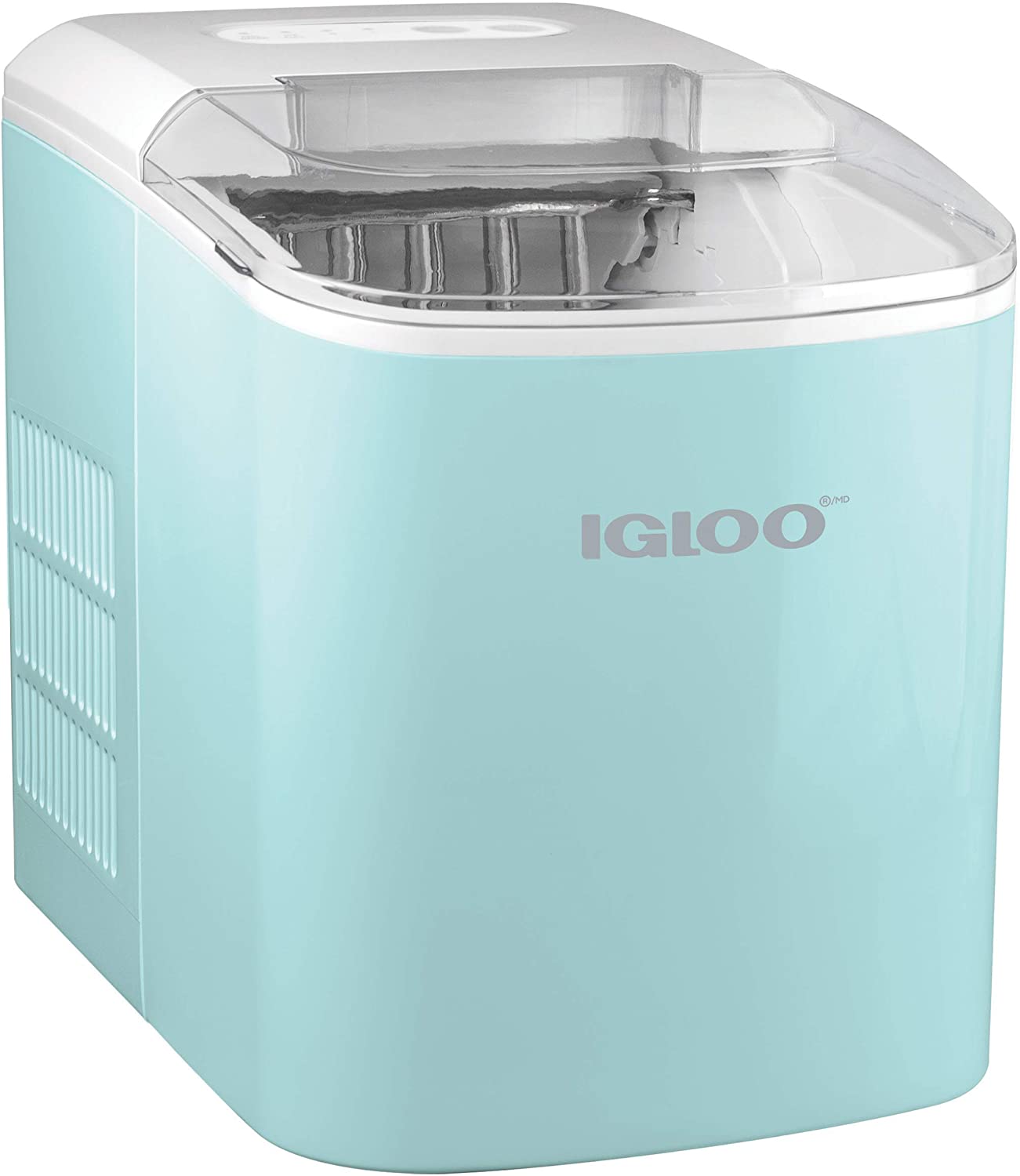 If you like stylish technique, as well as always prefer colorful and bright options, you may like ice maker Igloo. It looks great on the worktops, and the model can be matched to the color scheme of your kitchen – there are 4 different colors in total.
All controls are in a separate panel, which is also equipped with indicator lamps. They give you complete information about what the device is currently doing.
The first batch of ice is obtained in just 7 minutes – as a result, Igloo will give you 9 cubes. Once you have enough ice, you can open the basket and take it with the bucket to where you need it.
It's worth noting that Igloo fits perfectly with all drinks – like cold coffee and lemonades. You should immediately note that the ice maker is designed for home use, so if you plan to install it in your cafe, it is not a good idea.
You can't say with certainty that crushed ice maker is the most necessary purchase in your life. But such devices significantly simplify the process of preparation of various drinks and cocktails, reducing the time spent on them.
Especially in hot weather, ice generators will provide you with cold drinks and pleasant smoothies, which you can prepare in a few minutes.
Having a crushed ice maker is useful especially on hot days, as portable models can be taken outside or to the terrace. We hope that we were able to help you choose and now you will definitely always have a stock of cold drinks.
FAQ for Crushed Ice Maker buyers
1.
Can I crush ice without crushed ice maker?
You do not need any special skills or equipment to crush ice. Some people just use a blender for such purposes, while others can crush ice even with a knife. But if you need to get more than 10 small ice cubes, the task here becomes more difficult.
So if you need a really big amount of ice chips, the best thing is to make it with a special device, which also produces ice. In this case, you will immediately get ready-made ice snow, which can be used to make several drinks at once.
2.
Do I need to buy a crushed ice maker if I already have an ice generator in my fridge?
One of the main advantages of a separate ice maker is its portability. Many of today's models are mostly small and can easily be moved around in the kitchen or in the van.
So you can take the ice maker with you on a trip or to the beach to have cold drinks with friends. Travelers will particularly enjoy this feature, as we can set up our own bar anywhere and anytime on our route.
3.
How do you take care of an ice maker?
Since any ice shredder works with water and ice, it is possible that mold may form inside the unit. To avoid this problem, it is best to disassemble and rinse the device regularly.
The user manual usually describes all the cleaning steps that you will have to perform. It is also worth noting that any water tray needs to be emptied regularly, otherwise ice cubes may get stuck in the device.
4.
How do I know how much ice I need and how big the device should be?
Depending on how many big parties you have at home, the volume of your device may also vary. For example, if you occasionally go out for a Margarita drink with your friends in the garden, you will need a small, perhaps even hand-held, ice shredder.
Some people say it's enough for them to use even ordinary ice forms. But for more convenience, you should still use an ice maker. If you are a fan of noisy and crowded parties, it is better to pay attention to powerful models.