Many people love and look forward to the arrival of guests or relatives. But if you don't have time to stand by the stove and you want to surprise your relatives, we advise you to think about a fondue set.
Fondue is a dish of Swiss cuisine, which is cooked on the fire in a heat-resistant kettle called caquelon. The traditional cooking was made from a mixture of melted Swiss cheese with the addition of various spices.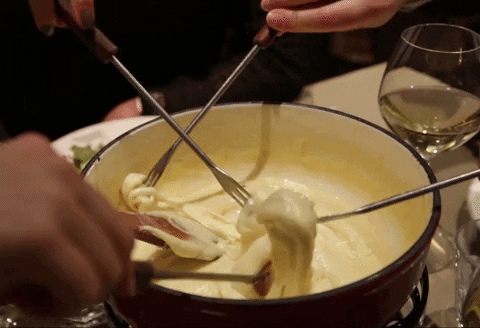 Modern fondue recipes offer you a choice of meat, fish, vegetable and sweet recipes that are perfect as snacks or as a dessert.
Consumption of food from a single dish brings you closer, unites and promotes relaxed conversation. Perhaps fondue is the most delicious and pleasant process for warm meetings with friends and relatives.
The first place to start choosing fondue is its type. All fondue sets can be divided into two categories:
Burners
In these models, the role of the hearth is played by a candle or burner. The candle will not give a strong heat, so it is better for chocolate fondue.
Cheese and meat dishes are better dealt with by a burner with a lid, with which you can adjust the flame level.
The fuel in these models is special gel, which does not emit smells of burning and smoke during burning. Such appliances can be taken outdoors, picnics.
Electric
These fondue sticks are comfortable and safe for home, especially if there are small children in it.
There is no open flame in the appliances, eating a mini tile. It is thermoregulated with a power regulator.
The advantage is that you can adjust the temperature for different dishes. The downside is that you have an attachment to the power grid.
Fondue species
Once you have decided on the type, it is important to know which products you will cook most often and on that basis to choose the material of the bowl. The bowl is the most basic element.
The material for it can be steel, ceramics, cast iron. For dishes made of cheese and chocolate, the ceramic model is the best choice. Besides, ceramic is a popular material for cookware. Due to the fact that it does not get too hot, the food will not burn.
For the preparation of meat, fish dishes and vegetables need dishes that can withstand high temperatures, metal or cast iron is better. You can also try cast iron skillets.
If you are undecided with the dishes and want to cook everything little by little, buy a fondue set of quality stainless steel. Also do not forget about the volume. Capacitive models are better for meat and fish, small fondue – for cheese, chocolate, fruit.
Package
Mandatory devices in fondue sets are skewers or forks with which it is necessary to prick products. Make sure that they have wooden handles so as not to get burned accidentally.
Manufacturers also mark each skewer in a specific color so that during the tasting guests do not mix up their appliances. In addition to forks, the set may also include bowls designed for sauces and other ingredients.
Features
These were the most basic parameters for choosing fondue. All the rest are features that affect usability. For example, the bowl can be equipped with handles that are not heated and allow you to easily carry the fondue.
With a lid, the contents can be melted more quickly. Sauces bowls can be rotated on a special stand around the bowl, and the forks can be telescopic.
This is the best model that is characterized by good feedback from the buyers:
Our Top Pick

MÄSER 931229

This fondue set consists of a stainless steel fondue pot 14.2 cm, a splash guard, rotating carousel made of beech wood.

Check Current Price
There are some more high-quality models:
IMAGE
PRODUCT

Cuisinart CFO-3SS

Electric fondue set suitable for chocolate, cheese, broth or oil. Electric fondue set suitable for chocolate, cheese, broth or oil.




Check Current Price

Oster Fondue Pot Black FPSTFN7700W-TECO

Unique, innovative titanium infused DuraCeramic non-stick ceramic coating, lasts 8 times longer.

Check Current Price

Excellent Ceramic Fondue Set

This beautiful fondue set has four forks and a place for heating candle. It will make your kitchen place more pleasant.


Check Current Price

BOSKA 320400

This fondue set comes with 2 ceramic cups, a stainless base, 2 fondue forks and a tea light

Check Current Price

Artestia Electric Fondue Set

Elegant designed stainless steel outer pot, removable ceramic inner pot and 8 stainless steel forks with heat resistant handles.


Check Current Price

ExcelSteel 527 Fondue Set

This fondue set is perfect in any setting for anyone experienced or novice. Gel burner and cover are easily in your reach while you cook. 

Check Current Price
MÄSER 931229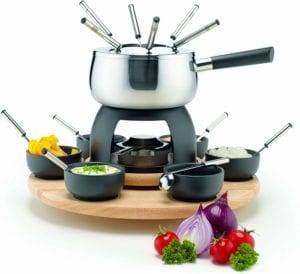 Many of you have heard of fondue more than once, and some of you have even tasted it. If you're thinking about buying one, we recommend this set.
It's a great set for a big party, which will be your new friend in the kitchen.
With minimal time and effort, you can surprise your loved ones and friends with special delicacies.
This fondue set is made of high-quality stainless steel, including the pot stand. It is designed for a company of 6 people and has everything you need.
The large 2-liter cauldron will allow you to comfortably dip your food into its contents. Each fork has its own markings so guests don't get confused.
Thanks to a special ring holder, they will always be in their seats. Fondue set is versatile and will be suitable for all the products you would like to prepare.
Steel withstands heat well and does not allow the ingredients to burn. You will be able to cook desserts with chocolate on low heat as well as dishes with lots of cheese, butter and even boiled broth at high temperatures.
After use, you can wash the appliances in the dishwasher. Spoons and forks are best washed manually.
For a home party, a fondue set is the right thing to do. It's interesting, it's delicious, it's cheap and it's stylish. The quality of materials is very high, the steel is scratch-resistant and will not climb over time.
The only thing is that frequent washing in the dishwasher can crack the wooden handles on the bowl.
In addition to basic appliances, bowls, forks, stands, and burners, the set boasts extra bowls for sauces and ingredients. There is also a separate spoon for each bowl. And most impressively, these bowls are mounted on a special rotating holder.
This allows everyone at the table to conveniently and easily accessible to any sauce.
The fondue bowl is installed on a special stand also made of steel. In this stand, there is an opening in which the burner is located. The burner is a small bowl in which a special gel for ignition or dry alcohol is placed.
With the lid, you can easily adjust the flame level by covering or removing it completely. For chocolate, for example, you can make a smaller flame, but for meat dishes and broths the opposite is true.
Note that the bowl has two non-heating handles made of wood. With this simple solution, you can easily lift a rather heavy bowl full of hot ingredients to replace the burner or remove it completely.
Also, the forks with spoons have wooden handles for more convenient use.
You may also like: 7 Best Cooking Creme Brulee Torches Reviews
Cuisinart CFO-3SS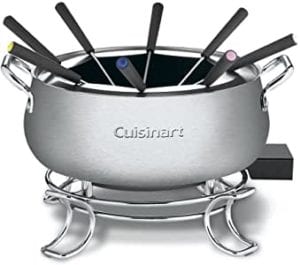 For a long time, it has been considered that feasts, dinners, holidays in the circle of friends and relatives unite, dispose of people to each other.
All this can be said about fondue. This family of dishes is popular on different continents and in different countries among millions of people.
For those who have encountered fondue, it is difficult to imagine that such a dish can be eaten alone. Fondue is something that can unite you.
This set will allow you to spoil and surprise your loved ones and friends with gourmet dishes from fairly simple and affordable products.
Made of stainless steel, the set is considered universal.
You can prepare desserts by melting chocolate or ice cream, make butter fondue like fries, cook broth for Chinese dishes. A high-quality steel bowl withstands high temperature and at the same time does not allow products to burn.
The optimal set of devices and a capacitive bowl will comfortably treat all guests.
The appliances can be washed in the dishwasher. Thanks to the mirrored finish, the set looks very stylish. It is a good buy for yourself or as a gift.
Any party with fondue is doomed to success, and most importantly, you do not have to stand by the stove for long.
When cooking complex dishes such as boiling oil, broth, or a mixture of cheeses, you need high temperatures. To heat up much faster, a lid is included with the delivery.
If you cover a bowl with it, the contents will heat up and boil much faster. This is not how the heat will disperse. Do not forget to adjust the flame of the burner.
The delivery set is the easiest and the best way to start cooking fondue. A large pot of 2 liters is placed on a sturdy steel stand and the burner at the bottom.
There are 8 forks in the set, which will allow you to assemble a small company. It is also worth noting the presence of the holder forks. A special ring with holes is inserted in the bowl.
On each fork, there are locks, which will allow you to conveniently place them in the pot. The forks are also equipped with non-heating handles for convenience and safety.
Extra appliances in the form of saws or bowls for ingredients can be purchased separately.
A burner with a lid is also included, with which you can adjust the intensity of the flame. If you are going to prepare desserts and melt ice cream or chocolate, you can use a regular round candle, as its heat will be enough.
For dishes made of cheese, butter, or broth it is better to put special gel for ignition or dry alcohol in the burner. The ignition is not included in the scope of delivery.
Oster Fondue Pot Black FPSTFN7700W-TECO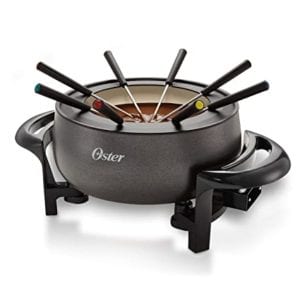 We offer you a set for fondue from Oster.
If you are tired of treating your guests to banal dishes, looking for recipes, and standing by the stove for hours, then fondue is what you need.
Your family and guests will now be able to be a bit of a cook for themselves and cook the food they like best.
This set is best for making cheese, chocolate, or ice cream fondue. If you an ice cream lover, then a special scoop will be a perfect choice for you. This is due to the pottery bowl. This material is not as resistant to heat as steel or cast iron.
So it is best to place a candle under it and use products that melt quickly. The set is designed for 8 people, as the set includes 8 forks.
Of course, you can always use a regular fork, put the product on it and dip in the fondue set. But, of course, all the aesthetic perception and special ritual of eating fondue dishes will be broken.
The fondue bowl is made of ceramics and the stainless steel stand. The base is quite wide and stable, which makes it comfortable and safe on your table.
Besides, this combination of materials harmonizes well and fits into the kitchen interior. Its walls are thick enough not to crack from high temperatures.
For a ceramic bowl, you should not use a strong flame. In it, the products do not stick and melt rather quickly. Thus, like a hearth, you can use a normal round candle.
To create a more intimate or festive atmosphere, candles are often placed not in the burner, but the peel of orange or tangerine.
This not only looks beautiful but also adds a pleasant fragrance. You can also put dry alcohol or a small amount of special ignition gel into the burner.
Among the features of the fondue set, we would like to highlight the presence of handles on the bowl, with which it is easy to remove or move. To do this, use kitchen mittens or a towel so as not to burn your hands.
Pay attention to the forks, each of them has plastic non-slip handles for convenience and has its own markings so that guests do not get mixed up. All appliances are washable in the dishwasher without exception.
Excellent Ceramic Fondue Set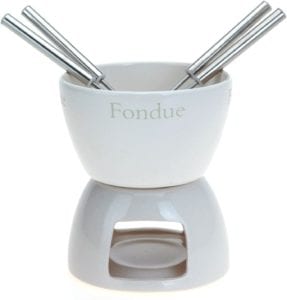 Dinner with friends, family, or loved one will be unforgettable and enjoyable if you surprise them with this fondue set.
This set is designed for the largest of 4 people. It is best suited for cheese or dessert dishes.
In it, you can cook sausages in cheese, slices of bread, shrimp, or fish. Chocolate will be deliciously combined with fruit or marshmallows.
The bowl of the set is made of ceramics, and around the small candle is used as the hearth. There will not be a lot of flames, and it is not necessary for such dishes.
But, melt cheese, ice cream, or chocolate may be quite fast. Using more efficient ignition such as dry alcohol or gel can damage the dishes.
The ceramic fondue set is of high quality, good density, and can be washed in the dishwasher.
The exquisite shape of the fondue set, pleasant red color combined with candles will create a good mood, warm atmosphere. Besides, delicious hot snacks or desserts will leave no one indifferent.
Cut the fruit, pour the pre-melted chocolate into a bowl and keep it warm with a candle.
Thanks to its compact size and easily removable parts, fondue dishes can be cooked anywhere. The set can be taken with you on a picnic or any outdoor trip. The bowl has a volume of 450 ml. This makes it easy to pack everything in a bag or backpack.
Pre-wrap everything in paper or film to avoid chips and cracks. The package includes 4 skewers with plastic handles for convenience and safety, which also do not take up much space.
We would like to draw your attention to the ceramic stand. Thanks to the wide and flat base, it provides good stability and safety for the frondescence. Also, note that the distance from the candle to the bowl is not too long.
This will allow you to melt the contents faster if you have not before poured already melted chocolate or cheese. So that you or your guests do not mix up your skewers, each of them is marked with colorful markings on the handle.
BOSKA 320400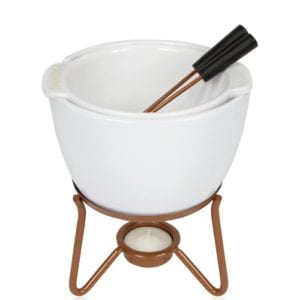 The manufacturer positions this model as a set of fondue for chocolate.
This is partly true because ceramic fondue is not designed for high heat. To maintain the temperature of molten chocolate will be enough flame of one small candle.
You can also pour melted cheese or other hot sauce into the bowl. Soft cheeses are the best choice. The method of making desserts is very simple.
You and your loved ones will be interested to try something to cook yourself.
Especially children will enjoy the process of immersion in the chocolate of others, no less delicious products.
The set is relatively small and does not take up much space on the table. The volume of the bowl is about 700 ml.
It is quite enough for 3-4 people. The delivery set includes 2 skewers with plastic handles for convenient use.
This is the easiest fondue for chocolate or cheese. It is made in light tones and has a peculiar design. Sophisticated steel stand with a candle bowl and ceramic roaster perfectly complement each other.
With this acquisition, delicious dishes will be cooked more easily and faster than you could have imagined.
Special attention should be paid to the stand under the cup of fondue. It is made of steel and has a sophisticated design. In the middle of the stand, there is a special bowl for a round candle.
This will securely fix the candle and avoid accidental tipping over. The stand has three points of support, so it is best to install the fondue set on flat surfaces.
It is not difficult to prepare a chocolate fondue. All you have to do is buy good quality chocolate. Break it into small pieces and place it in a plate suitable for microwave use or melt it in a steam bath.
Add milk, cream or liqueur in advance. When stirring, melt the chocolate completely and then pour it over a bowl of the fondue set over the candle.
Otherwise, the flame of the candle will not be enough to melt it. Then, based on your taste, dip whatever you want in the chocolate. Like fruit, berries, marshmallows, cookies and more.
Artestia Electric Fondue Set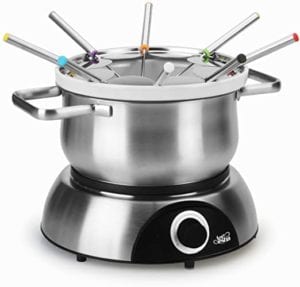 It's a stainless steel product for a lot of people. The volume of the pot of this fondue set – 2 liters.
The material of the bowl allows you to cook in it a variety of products. Heating element – adjustable with a burner cover.
The kettle is equipped with a large number of wooden handles. This method makes the use of fondue set very convenient.
This design allows you to easily carry the appliance without risk of scalding. The equipment of this model is quite extensive.
In addition to the main components, the set includes 6 forks, 6 bowls, 6 spoons, a ring holder for skewers and a rotating disc for fondue.
This product has no negative feedback from consumers.
A large company of sweet tooth and by the way will have this fondue set. Its bowl withstands a temperature ideal for melting chocolate.
The manufacturer has also taken care of the functional spring stand. It ensures the correct position of the container above the fire, as well as a cast-iron stand, which protects the table from hot drops.
The reviews note another important advantage of this fondue set – it can be washed in the dishwasher.
Its most important advantage – the presence of a capsule bottom of 3 layers, metal, aluminum and another metal. This design ensures uniform heating and heat transfer to the entire surface of the metal bowl.
Heat transfer is slow, so there is no need to constantly burn fuel from the burner.
ExcelSteel 527 Fondue Set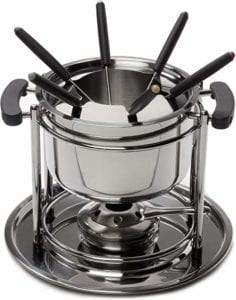 This product is made of high-quality stainless steel. It is a universal fondant for all kinds of products.
It uses an adjustable burner to heat the pot. This fondue set has a lid. This allows you to speed up the sauces preparation process.
Another advantage of this fondue set is a stylish modern design with a mirror coating. Users of this model note one drawback: metal fondue set handles are very hot.
The volume of the bowl – 2 liters. In addition to the basic elements, the set includes 6 forks and a holder for them.
All skewers are also made of high-quality stainless steel. Handles at skewers are made of durable plastic, which is not heated during use.
Each skewer is also equipped with special multi-color markings. With their help, you will not confuse forks in a large company.
The feature of this model is special protection, which is located at the top of the bowl. For example, when cooking, the drops will not fly out of the fondue set.
Also, this bowl has two comfortable handles, which are protected by heat-resistant plastic. You can move the bowl at any time as you like. But, the manufacturer recommends the use of special tackles so as not to get burned.
At the base of this fondue set, there is a special place for placing a candle, which will heat the bowl. Thanks to the thin walls, heating will happen very quickly. But, this factor also indicates that you need to keep a close eye on the heating of the container.
Specialists recommend preparing cheese fondue in a dish with a lid at the lowest temperature. This way, the cheese does not overheat and retains its full flavor but does not freeze for a long time.
You may also like: 5 Best Fat Free Butter Substitutes Reviews
FAQ for fondue sets buyers
Is the flame of a small candle enough to melt hard cheese or a bar of chocolate?
If your fondue sauce is not with a burner but with a candle, it is best to preheat or melt the sauce in a bowl in a microwave oven or bar. This will save you a lot of time, and the candle will just keep the temperature. If you're on a picnic and don't have a stove at your fingertips, then be patient as the food will melt for a long time on a small flame. And note, this is more suitable for chocolate and cheese fondue.
Can the burner make fondue for meat dishes, boil broth, or butter?
The fondue sets equipped with a burner are more productive. If you use dry alcohol or special ignition, the flame may be enough to melt hard cheeses, boil broth or butter. Again, note that this takes much longer than boiling sauces on a stove.
Is it possible to put a bowl of the fondue set on an open fire while you are outdoors?
If you want to boil the sauce on an open fire or a campfire for a quick process, you should follow special rules. First, any steel or cast iron bowl is resistant to high temperatures and can be over a large fire. The main thing is to figure out how to hold this bowl. Secondly, the sauce will have to be stirred more often so that it does not burn.
How do you take care of a ceramic bowl?
First of all, you should not expose the ceramic dishes to sharp temperature drops. After cooking, do not immerse the bowl in cold water, wait until it cools down. Secondly, even the tightest and most comfortable handles become hot during long cooking, so use kitchen tackles.
How reliable are the powder-coated or paint-coated fondue sets?
As with all metal appliances, steel fondue sets are quite robust and reliable. It is best to consider stainless steel models, which are most suitable for use with food. It is desirable that the appliances do not have any spraying. Over time, it can climb in and out of the body.
What do the steel markings on dishes 18/10, 18/8, and similar numbers mean?
The first number at 18/10 means the percentage of chromium in the alloy. The higher it is, the thicker the protective layer on the surface. The second number is the percentage of nickel in dishes. Thus, the numbers state that cookware is resistant to rust, stain formation, and keeps its natural appearance longer.