The toaster is one of the most popular kitchen appliances in the world. The first electric toaster was invented in 1893 by Alan MacMasters in Scotland. This early toaster was reinvented in 1909 in the U.S. when Frank Shailor patented his idea for the "D-12" toaster and since then it gained the shape as we know it today.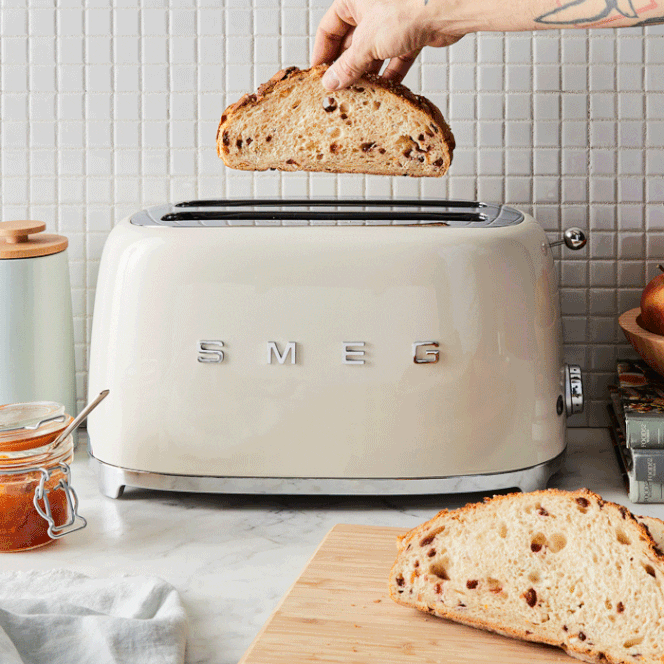 Nothing makes a good morning like a fresh roaster toast with a cooked egg, cottage cheese and avocado and, a cup of coffee. Or, a toast with hummus, avocado, and salmon can make a good dinner option. Toasts are getting more popular as there are more and more kinds of healthy bread.
Unlike other tools in the kitchen, the toaster doesn't really have a number of versions, like, for example, mixers. The main feature that differs from one toaster from another is the number of pieces of bread that you can roast at once. In case you have a big family (or maybe you're just a toaster lover) you probably have the four slice toaster at home. If you live alone, try two slice toaster.
In case you're only planning to get one, here is the list of the best 4 slice toasters on Amazon.
Our Top Pick 4 Slice Toaster
| Cuisinart CPT-435 | | |
| --- | --- | --- |
| | A multi-functional and powerful toaster. Has a cancel, deforst and reheat options with 2 LED displays. The price is average. | Check Current Price |
Other great 4 slice toasters
Image
Product
Dualit 4 Slice Toaster


Has defrost and bagel functions
Mechanical timer
Productive
Easy to clean

Check Current Price
Breville BTA830XL


Compact
"A bit more", "Lift & Look", "Defrost" and "Bagel" functions
Has a sound signal
Affordable

Check Current Price
KitchenAid KMT4116CU


Compact
"Keep warm" function
Has a sound signal
Comes in 3 colors

Check Current Price
KitchenAid Kmt4115cu


6 heat levels
Cancel function 
Affordable

Check Current Price
Oster TSSTTRWF4S-SHP


7 heat levels
Frozen, bagel and reheat functions
Easy to clean

Check Current Price
Russell Hobbs TR9450BR


Retro-style toaster
Affordable
6 heat levels

Check Current Price
1.
Cuisinart CPT-435 Countdown 4-Slice Stainless Steel Toaster
From the first sight, you can see what a cool appliance this is. The Cuisinart CPT-435 is a leading-edge piece of kitchen technology. It is an example of a product where advanced technologies are combined with a nice outer design. Here you get to press buttons and the electronics will do all the work for you.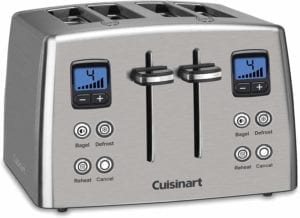 This toaster has a professional brushed stainless-steel housing that comes with a Blue backlit LED function display that features an LCD countdown. The model also has an integrated enhanced bagel toasting program. The motorized lift is completely controlled with Cancel, Defrost, Re-Heat options.
With these modes the number of actions upon a toast increases significantly – now you don't have to think how to better reheat your toast – you can just place it into Cuisinart CPT-435 and press "Re-Heat". The device is also suitable if you want to make toasts of different sizes and shapes – maybe muffins and thin toasts, for instance.
Cuisineart toaster roasts the bread in such a way that it is nice and crispy from the inside, but it's still not overroasted on the outside, which is a feature of a high-class appliance. Under each hole for a toast, there is an independent carriage, which is extremely easy to take out and clean. It solves an everlasting problem of "how to clean all these crumbs from there".
The shade of an LED screen changes as you go from one level to another. The stronger the level is, the darker is the shade. And by the way, the "defrost" function is useful in case you are going to roast some bagel, for example. They often sold frozen. The screen will show you when the product is defrosted and it's time to take it out.
In general, it is a great and multi-functional toaster. It can be useful not only for making toast but for other cooking purposes as well. Of course, all that technical advantage is justified by a high price, but there are lots of sales where you can buy this item with a 20-30 percent discount.
You may also like: 7 Best Omelette Maker Reviews
2. Dualit 4 Slice Toaster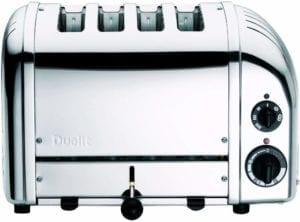 Dualit is an English company that has been crafting handmade toasters for many decades already. Their 4 slice toaster is the new version of this classical appliance, which is a perfect combo of style and technology. It has the slots of 28 mm width each, which is very convenient if you want to make a sandwich.
The toaster also has a built-in drip tray and can be used to make grilled cheese sandwiches and other toasties with no effort. One distinctive feature of this toaster is that it could be great not only for family usage but also for serving large groups of people, for example, in the canteen.
Just like the previous item, this toaster by Dualit has defrost and bagel functions, and also a mechanical timer and ejector lever of the Dualit's classic styling. Here you can use different slots at the same time even if they work on different modes.
For those who are interested in the inner quality of the machinery, the ProHeat elements, used in this toaster, have been awarded by their quality standards. Another distinctive feature of the Dualit company is that it uses its patented elements that are exclusively presented only in this toaster.
There is also a removable crumb tray and the rear foot of the toaster can be adjusted without any trouble. Moreover, there is a warming rack that fits any of the Dualit classic toasters. An interesting part is that the user doesn't have to place the items inside the toaster if they want to reheat them.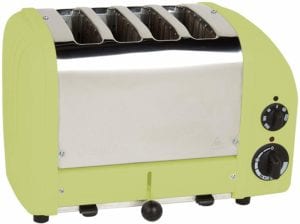 Dualit is known worldwide also for selling one sandwich cage and a warming rack with every toaster bought. Another cool bonus that this toaster is available in multiple colors, such as white, black, pink, yellow, red, copper and even more. It has a stainless steel body and flaunts a ProHeat system which is capable of toasting the slices of bread evenly.
As it was stated before, because the crumb tray is removable, the cleaning here is quite easy. Apart from that, this toaster displays a switch-system which helps the user control the desired degree of browning.
A disadvantage of this item is that in real life it does have the warranty, but when it's sold via Amazon, it's not valid. However, this appliance is known for its durability so in this case, you have rather nothing to fear. Well, the price is far from affordable here so the risk is up to you.
According to the statistics, the toaster can make up to 130 toasts per hour. There are special buttons helping to regulate the level of the bread's browning. All in all, it is one of the best toasters on the market which will justify your expectations.
3. Breville BTA830XL Smart Toaster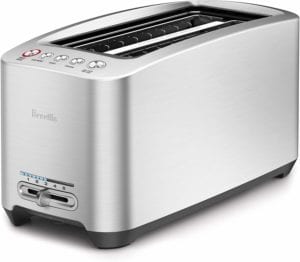 This is a more compact toaster by Breville and it is almost as effective as the previous one. Comparing these two items, this one would definitely win in terms of the design.
The Breville BTA830XL die-cast 4-slice long toaster proudly displays a cool-touch brushed metal case. It has been crafted with the user-friendly slide-out crumb tray and the cord can be stored without being seen. This toaster has the wider and deeper slots so it can fit any type and size of the bread.
The material of which the outer design is made is the die-cast metal. It works on 120 volts and 1600 watt power element. It weighs around 8.25 lbs. There are also dual independent controls which pamper the user with achieving the various level of brownness. It has also an LED indicator so you could measure the toasting level.
When the toast is ready you will get a sound alert. But don't worry it's going to get annoying over time. The sound alert is customizable and you can make it quieter or simply mute it. The appliance also has an intelligent one-touch auto lowering feature.
There are different modes of toasting, such as "A bit more", "Lift & Look", "Defrost" and "Bagel". In total it has the 12 browning modes. To set the timer, slide the leverage in the lower part of the toaster. A cool feature here is that you can press the auto mode button even if you already set up the toaster manually.
The toaster has a motorized carriage with push-button controls which includes both a Bagel and a Frozen setting. Breville BTA830XL has a one-year warranty. Its price if more affordable than Dualit's and probably matches the quality of this product.
4. KitchenAid KMT4116CU 4 Slice Long Slot Toaster with High Lift Lever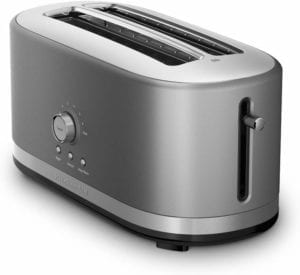 This amazing long slot design toaster is one of the top 4-slice models. It has an adjustable 7 shade setting to make your toasts look and taste perfect. It is easy and convenient to clean and convenient to control because this model has a sliding removable tray and high lift lever they allow you to check the progress any time you want during toasting.
This toaster also has automatic preset modes, such as reheat, for example. Even and simple start-to-finish toasting on both sides is complemented by a bagel toasting function. By selecting which you get a perfect toasted bagels toasted right where they need to be, saving typically used toppings like sesame or other seeds from heat.
The defrost function is included as well. There is a "keep warm" function that keeps your toasts warm 3 minutes more after they're ready. When the toasts are ready, the beeper will give you a signal (here you're unable to mute it). The design of the item is compact and neat so probably you'll have no problems fitting it into your kitchen.
It also has an under base cord storage to keep the cord safe and clean when the device is not used. This KitchenAid KMT4116CU toaster has almost the same price as the previous Breville toaster. The possible disadvantage of this model may be the fact, that its slots can fit not all the sizes of bread to roast. It comes in 3 various colors – silver, red and black.
5. KitchenAid Kmt4115cu 4-Slice Toaster with Manual High-Lift Lever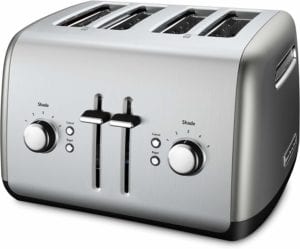 Another cool toaster that is similar to the one by Cuisinart. And maybe it's not as compact as two previous toasters, but it is still capable of making delicious crunchy toasts for you and your family. Moreover, it looks a little bit old-fashioned, so those who appreciate this style should check this out.
It has almost all the functions that the previous models have; it comes with 4 slots, including a high-lift lever for safe toast removal, completion alert delicate beeper which beeps only once, toasting light, removable crumble tray, cords storage under the device, wide 1.5 inches slots, cancel/shutting off function.
Apart from that, here you can choose between 5 levels of browning. It also comes with back-light illuminated chrome buttons. Its slots are divided into two sections and there is one leverage that controls one pair of slots. Thus, you can use 4 slots at once or just two if you don't need that many toasts.
6. Oster 4-Slice Toaster, Brushed Metal (TSSTTRWF4S-SHP)
For those who are looking for more affordable and simple options of 4 slice toasters, there is a great variant – Oster TSSTTRWF4S-SHP. It is made of stainless steel and it has 7 heat levels to roast the bread.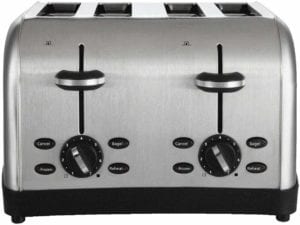 Because it is cheaper than previous models doesn't mean that it is less functional – it still has frozen, bagel and reheat functions. Moreover, it has a useful cancel button, so you can stop roasting at any time. This model comes with a convenient retractable cord.
You can see that the control panel of this toaster is easy to use and it provides you with a high-lift lever to raise smaller items for a more secure withdrawal. An interesting feature of this model is that it's dishwasher safe. Underneath the slots, it has the crumbs tray which is easy to clean.
This model would be suitable both for families or young people who would like to make toasts for themselves or treat their friends when they're coming over. It's affordable price and advanced functionality make it a nice budget model for any occasions.
However, you should remember that this is the budget model so try to pay more effort to its maintenance. Check if the power of the socket is enough, otherwise, the heating may not work equally on the whole surface of the bread. Also, try not to push on the leverages too hard, or they can break over time.
You can also check: 5 Best Parmesan Cheese Grater Reviews
7. Russell Hobbs TR9450BR Coventry 4-Slice Toaster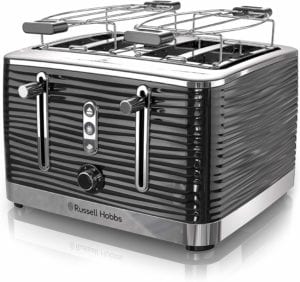 Here we have an outstanding model in terms of design. For those who prefer the retro style in things, would probably appreciate it. It has a black finish with stainless steel edges. There are two levers and a warming rack which can be removed when it's not used.
This toaster needs an 1150 watts and 120 volts power supply to work, so keep that in mind before buying. The overall materials that it is made of are highly durable. This 4-slice toaster contains extra-wide toast and bagel slots – the feature that can be found not in each of the previous models.
In total, there are three main functions: bagel function, frozen setting, and a cancel button. The bagel function toasts the cut side and gently warms the bottom side of the bagels. The frozen system adjusts the toasting level to convert the frozen bread onto one that is identical to fresh bread. Cancel ends the toasting process.
Like in each toaster, here you can find the heat control, where you can choose the level of crispiness from 1 to 6. The Lift&Look option allows you to evaluate the state of the bread without interrupting the interruption of the heating cycle.
This toaster comes with removable warming racks that quickly heats buns, pastries, and rolls. Plus, the removable crumb tray ensures easy cleanup. By the way, this toaster is just a part of a big set of kitchen appliances of the same style. If you have assets, you can acquire the whole set so your kitchen looks more beautiful and stylish.
Considering the disadvantages, there are some consumers who note that the quality of this toaster is not enough for such price. Well, they may be right since it's hard to be called affordable, and in case something is going not so well you should try to appeal to the warranty to get a refund.
FAQ for four slice toaster buyers
1. Will the fact that my toaster is 4 slice instead of 2 slice impact the quality of its work? 
If it's a toaster of good quality – no way. 4 slice toasters are engineered in a way that the electric supply is spread equally to each slot and each slot is heated in accordance with the chosen mode.
2. What does the defrost button do? 
The defrost button allows you to defrost your bread and automatically allows extra cooking time for the toast to cook.
3. How do I maintain and clean my toaster? 
Before cleaning, maintaining or storing it, unplug the toaster and leave it to cool down. To clean the outside of the toaster and the power cord, use a soft cloth or a slightly damp sponge and detergent, then dry it all over. To clean the crumb tray, remove it and wipe with a damp cloth. Do not put it in the dishwasher. To maintain the toaster, never use harsh detergents, metal utensils or abrasive scouring pads. And never touch the heating element.
4. Is it possible to reheat and toast at the same time? 
No, the appliance can only be used for one function at a time.
5. What do I do if the bread gets stuck? 
Switch off the appliance and leave it to cool. Unplug the appliance before attempting to remove the bread. You can then remove the slice without the risk of touching a hot element. Remember never to leave a toaster unattended whilst in operation.