Iced tea has been one of the most popular drinks in the world for many years now. And it seems like it's not going anywhere – people are still consuming great amounts of this product. Of course, the demand is higher in the summertime, but for true lovers, it's typical to drink it all year round.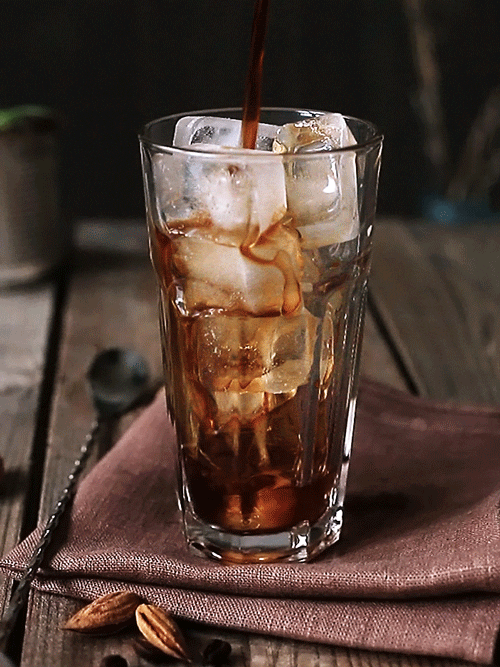 As a consequence, we have a great variety of those teas on the market today with even more variety of flavors. But in most cases, if you look at the ingredients of which those drinks are made, you will see a lot of harmful preservatives and elements.
That's why people say that iced tea is one of the harshest drinks for your digestive system, when in fact, in its original condition, it's completely harmless and even good for your health. So what to do in that case?
There is an obvious solution – just get your own iced tea maker! Make your own homemade iced tea with nutritive elements and all-natural ingredients. Moreover, this is much cheaper than buying canned drinks each time. You can explore new recipes and invite your friends for a cup of iced tea. You can also use the ice maker to make your drinks cold.
By the way, there is a great variety of iced tea makers as well. Some have a larger capacity, additional functions, various sizes. The article below will help you to come to a conclusion which device would suit your needs best and make the right choice.
Our Top Pick Iced Tea Maker
Mr. Coffee Iced Tea Brewing System

Respectable brand
Easy to use
Makes average amounts of tea
Digital intuitive control

Check Current Price
Other great iced tea makers
Image
Product
Takeya Iced Tea Maker


"Flash Chill" technology
Lightweight
Robust materials

Check Current Price
Breville BTM800XL


Doesn't transfer the odors of different sorts of tea
Makes big amounts of tea
Digital intuitive control

Check Current Price
Mr. Coffee 3-Quart Iced Tea and Iced Coffee Maker


Lightweight
Portable
3 different designs

Check Current Price
Capresso 624.02


Sleek design
Easy to use
Fragile carafe

Check Current Price
Nostalgia CI3BK


Sleek design
Easy to use
Makes big amounts of tea

Check Current Price
Airtight Cold Brew Iced Coffee Maker and Tea Infuser


Has measuring system
Makes big amounts of tea
Qualitative materials

Check Current Price
1. Mr. Coffee 2-in-1 Iced Tea Brewing System with Glass Pitcher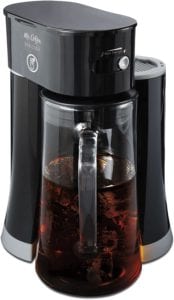 Maybe you heard of this brand before. Mr. Coffee is a famous and reliable company that has been making kitchen appliances for more than 45 years now. It's known for its innovative decisions and top-quality brewing elements. All of that means that with buying this brewer you will get an excellent tool for making the best iced tea.
The outer design is sleek and compact which makes this device both perfect for home and office usage. Moreover, it brings a great amount of flexibility in what flavor of tea you want to have since it can be used to make iced tea with loose tea leaves or tea bags.
All you need to do is to put the tea leaves or bags in the filter of this machine, fill up the machine's tank, turn it on, and you will have 2.5 quarts of freshly brewed tea in a few minutes.
The filter here has the form of the basket. You can easily fit it into the machine as well as to lift it out.  It is a permanent kind of filter that can be washed and reused. Buying separate one single-usage paper filter is much more inconvenient.
The water tank that has to be filled with water for making the tea has a semi-transparent window, through which you can see how much water there is in the tank.
Thus it's preventing the risk of overflows. The stylish glass pitcher with a secure lid that comes with the machine can be safely washed in the dishwasher, which is another bonus of this machine.
Moreover, sometimes it's the case that iced tea makers make the huge mess on your countertop and the whole effort is not an eventually worthy hassle.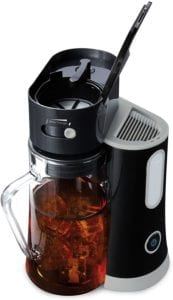 With this machine by Mr. Coffee, it won't happen, since the source where the tea comes from can be pivoted to perfectly align with the mouth of the pitcher, ensuring that there is not a single drop that is dripped outside the pitcher.
Another cool feature of this device is that here you can choose how strong you want your tea to be. By adjusting the dial of the Brew Strength Selector you can alter between light, medium or strong. An even better feature here is the possibility not to wait until the machine will end its brewing process.
Unlike other iced tea brewers, this machine will shut down automatically when it's finished. Apart from that, it is a really affordable item which brings you lots of conveniences. You just need to plug it into the socket because it works on the electricity.
It is quite a big machine that is capable of producing big amounts of tea, so it's not very easy to move it from place to place. So if you're looking for a brewer which is portable and lightweight this one is not the choice for you.
And lastly, as the extra bonus, with this device by Mr. Coffee you're able to brew not only iced tea but also a regular and iced coffee. In other words, enjoy all the benefits of this machine!
You may also like: 7 Best Compact Refigerators Reviews
2. Takeya Iced Tea Maker with Patented Flash Chill Technology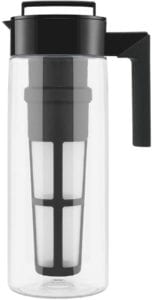 Continuing the topic of portable iced tea makers, here we have a great example of such an item. It is maybe not as powerful as the previous one, but it still does the job. The distinctive feature of this tea maker is that it has its own patented technology "Flash Chill" which chills freshly brewed tea in 30 seconds.
This iced tea maker by Takeya also has an airtight lid that can lock in the flavor and nutrients which would evaporate is another technology would be used. This brewer is convenient in the sense that you can take it out with you to a garden on a hot summer day, to a picnic or journey.
It doesn't require any electricity supply, but it can make the iced tea as effectively as the power-supplied machines. In order to make iced tea here, all you need to do, is to fill up the infuser with your favorite blend of tea, which can be in bags or as loose leaves, half fill the pitcher with hot water, let the tea brew, remove the infuser easily, fill it up with ice and let it chill. to ensure that water for tea is clean, use special filters.
The pitcher is made of a special plastic called Tritan, which is highly durable, shatter-resistant, is able to withstand high and low temperatures, is free of odor, staining or clouding, and what is more, is BPA-free.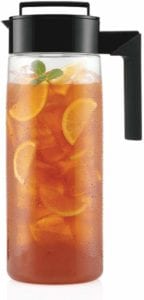 Moreover, in this cup, you can store the tea for longer periods of time, because of the well-crafted lid that was described before.  The lid has a handle that is made of silicone to provide you with a secure and comfortable grip. The lid of the pitcher also has a handle at its top, which makes it easy for you to remove it.
Together in the set with this item, you will get an infuser holder where you can place your infuser after the brewing process is complete. It will help to avoid the mess in your kitchen after the process. By the way, this iced tea maker by Takeya is easier to clean compared to electric machines, All its components are dishwasher safe.
The only disadvantage of this item again, in comparison to electric brewers, is that it has almost the same price, even though it underestimates much more of manual work. But its high portability can compensate that.
3. Breville BTM800XL One-Touch Tea Maker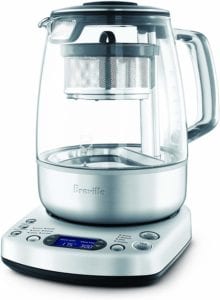 Breville is a famous company and its tea maker is one of the most popular iced tea makers in the industry. You are probably familiar with this brand and know that it truly manufactures high-quality home appliances. This time we have an iced tea maker which is perfect for true fans of this drink because one of its main features is its large capacity.
Yes, this machine allows you to make liters of iced tea. If you know that you have lots of sorts of tea at home and you like to blend and experiment, and you know that each sort of the tea has to be brewed for different periods of time at different temperatures, then this machine will give you a possibility to have all of that.
What you need to do here is put the amount of water you desire into the carafe, add the tea leaves into the infuser, place the carafe on the base of the machine and choose different settings according to your preferences.
The machine will bring you the best product possible by automatically lowering and raising the infuser into the water, which allows a precise brewing according to the type of tea you are using. By the way, here you can play with settings, for example, by choosing the different modes for black, green, white, fruit and other types of tea.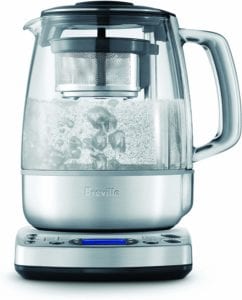 You can choose how strong you want it to be, monitor the brewing time and temperature. This all can be done with the help of the LCD display. Another bonus of this device by Breville is that it can make not only iced one but the hot tea as well.
The iced tea maker also has an auto start and keep warm functions, which give you more free time instead of watching the machine. Just set the timer and wake up to your favorite brew, steeped and waiting for you. In addition to that, who said that you cannot just boil the water in this device?
The disadvantage of this model consists of the fact that if you want to make the iced tea then the content has to be moved to a different pitcher and ice has to be added to it. Also, you will need to clean its carafe carefully in order not to make its bottom wet, because it has some electrical elements.
4. Mr. Coffee 3-Quart Iced Tea and Iced Coffee Maker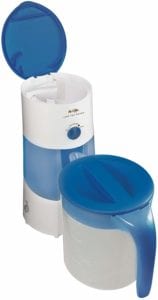 Here we have another product from Mr. Coffee but this time it is more portable and compact. If you like the manufacturer but you didn't like the previous device, you can go for this one – it comes at almost the same price. By the way, it has quite a big capacity, being able to make 3 quarts of iced tea at a time.
Mainly, this is a device for those who want to make the iced tea quickly without the extra hassle. Its pitcher has clear calibrations for both the amount of ice and water so you can know for sure which amount of the tea you are going to get each time, without having to go through trial and error.
Another advantage of this iced tea maker is its flexibility in making the amount of the product. You can also choose to make 1 quart or 2 quarts. ​The heating unit has a reservoir with a window so that you can monitor how much water it has.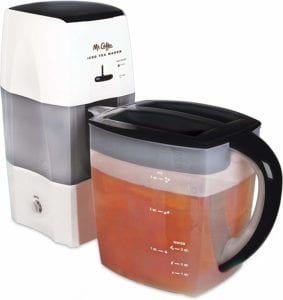 Moreover, there is a filter basket where you can put the tea leaves or tea bags that you like and start the brewing process by a single push on the start button.
There is also a simple LED indicator that lets you know whether the machine on or off. Another cool feature here is that the device will turn itself off once the tea is ready giving you, once again, more free time. Moreover, another bonus feature of it is that it includes the cleaning cycle where it cleans itself up.
It releases you from the task of cleaning the heating unit which is so difficult to clean, but it has to be because it provides the normal state of work.
Another interesting aspect here that the design of the original iced tea maker is not very attractive, it looks a little bit cheap. However, there are two other versions in brown and purple colors with different shapes, which look way better. Even though they are more difficult to get.
5. Capresso 624.02 Ice Tea Maker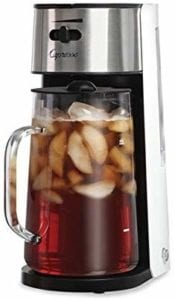 Another great iced tea maker that is marked as "Amazon's choice". This is an electric device with a compact and elegant design. It doesn't only looks good, but it makes high-quality iced tea.
The mix of silver and black colors, stainless steel materials makes it look neat and modern, making it just like an electric iced tea maker by Mr. Coffee, a perfect solution for home and office usage.
The water tank here can be removed. Thus, you do not have to carry the water all the way to the machine or take the whole machine near your sink. All you need to do is to take out the tank, fill it up with water from your tap and then put it back. This machine will make you iced tea in minutes.
Just like the previous item, it has the filter basket, which you can remove when you want to clean the device. In addition to that, it has the permanent filter inside, which means you do not have to buy separate paper filters for your tea maker.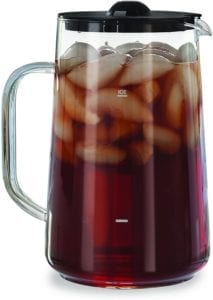 You can fill the filter basket with your favorite sort of tea or tea bags – thanks to this basket your choice is unlimited. Moreover, choosing how strong your tea will be is possible here as well. Use the sliding button on this machine to control the strength of the tea that is going to be brewed.
The stylish glass pitcher that this iced tea maker has can hold up to 2.5 quarts of iced tea and can also be conveniently stored in the fridge. It comes together with a lid to prevent spilling, and, to make the pouring of the tea is even more secure, with a mouth.
The machine is available in 3 colors – in total silver, total black or the mix of silver and black. The price is higher than for other models and this is probably because of the materials. Moreover, keep in mind that the mug is made of glass so you need to be careful with it. The item comes with a recipe book.
6. Nostalgia CI3BK Iced Coffee Maker and Tea Brewing System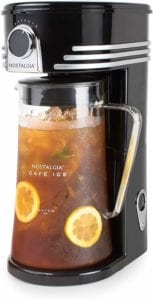 Another item on our list is marked as "Amazon's choice" and which received the approval of many users. It is a versatile tool that allows you to make not only iced tea but also coffee and other hot drinks. Choose the type of coffee grinder and enjoy your favorite drink. Just like the previous item, it has a design that would decorate any interior, with an excellent and big glass pitcher.
Considering the working capacity, it can make 3 quarts of iced tea in a matter of minutes. A great advantage of this item is that it also can make iced coffee, iced latte, and many more drinks.
All you have to do is to add loose tea bags, tea leaves, or ground coffee into its removable filter basket, fill up the water tank and then turn it on with a single push on a button.
And for those who like experimenting and creating new drinks, this machine enables you to add different ingredients to the filter basket along with the tea or coffee to enhance taste and flavor. For instance, those could be herbs, pieces of apple, cinnamon sticks and so on.
And just like in the case with the previous model, here you can adjust the strength of iced tea or coffee flavor. There is a dial at the front, which lets you select the strength from a range of 1 to 8.
The machine also has a showerhead at the filter compartment which makes the extraction process highly efficient bringing out the best flavors from the tea leaves you have chosen.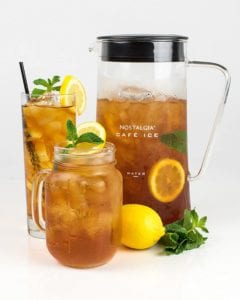 The pitcher that comes with the machine has a lid that can be set in 3 different ways in the way you like. You can set it to allow pouring the contents into your glass including the ice cubes, to pour tea into your glass excluding the ice cubes, or to keep the lid tightly closed to prevent any spilling.
When the brewing process is over, the machine will shut down automatically. But this feature can be found in almost all the previous models. The distinctive aspect of this iced tea maker is its built-in compartment for neatly storing the power cable inside the machine, which is adding another point to the convenience of using this device.
This iced tea maker by Nostalgia comes in two colors – classic black and turquoise. It has a normal price for a machine like this. And just like in the case with the previous model by Capresso, here you have a pitcher made of glass, so be careful with it. It is the main disadvantage of this item and many costumers complain about it.
You can also check: 7 Best Nut Milk Maker Reviews
7. Airtight Cold Brew Iced Coffee Maker and Tea Infuser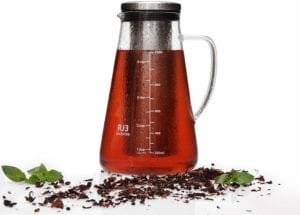 And last but not least comes this portable iced tea and coffee maker by Airtight. If you don't want to buy an electric maker and try to be more environmentally friendly by having less plastic in your life in general, this is an excellent choice.
The carafe here is made of borosilicate glass, the infuser is made of food-grade stainless steel, and the seal is silicone. One of the first advantages that come with this model is it's super easy to clean – you can put it into the dishwasher.
Moreover, the particles won't retain odors, so you can be sure that your newly made tea is going to taste like itself and not like the coffee you made in this brewer last time.
The glass is heat-resistant, so don't be afraid to mix the hot tea with ice in it or leave the pitch in the refrigerator overnight. Moreover, you can store tea or coffee in the brewer like this up for two weeks and they will remain fresh.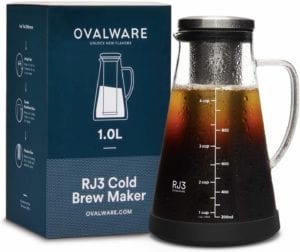 The seal is airtight and leakproof, ensuring your brew will stay fresh in the refrigerator and you don't need to worry about spills if it tips. This also means that this item by Airtight is easy to take with you on the road. Considering the filter, feel free to place there either the tea leaves or tea bags or coffee.
Another cool feature here is that the carafe is easy to grip thanks to the large handle. The spouts make pouring easy, while the beaker design looks sleek and modern. This brewer allows you to truly make the large portions of iced tea. With the measuring system that it has on the side, it is even more convenient in usage.
The glass of this carafe is more robust than in the previous item by Nostalgia, but it's still not perfect. Be careful when you use it and even when you wash it in the dishwasher.
And by the way, when you are making coffee, make sure that you put enough amount of product into the container because it has the tendency to make a drink not strong enough.
FAQ for iced tea makers buyers
1. Is it better to buy a portable iced tea maker or an electric one? 
It depends on the purposes of usage. For the office, the electric one would be the best, since it takes fewer efforts and time to make the iced tea or coffee. Of course, it is more difficult to maintain, but it's not a great problem. But the regular portable iced tea makers allow making much bigger amounts of drink plus it is easier to wash.
The portable iced tea maker would be a good choice for home usage, where you have the time to leave the drink in the fridge overnight to give it some time to get into a necessary condition. Plus, they don't consume electricity and have a more durable construction.
2. How many tea bags or spoons of the loose tea should I put into the brewer?
Usually, it's 5-7 tea bags and 2-3 spoons of the loose tea.
3. How many tea bags do I need for 2 quarts?
There's around 1g of tea in a teabag or half a tablespoon by volume. Please note that this amount can actually vary based on the brand of tea you are buying. Based on that ratio, and the volume of water of 2 quarts or 8 cups, you should use 6 to 8 tea bags of tea at near-boiling water (for black tea).
4. Is it possible to make iced coffee using an iced tea maker?
In most cases, the iced tea makers are also suitable for making iced coffee. In the case with portable iced tea makers, you can do that with no problem. But just check the type of the filter in advance to be sure.
5. Is it true that iced tea or iced coffee can be bad for your health? 
If you are making your own natural and organic iced tea, then the risk for the health is minimal. The only thing to be concerned about here is not to keep the drink in the fridge for too long, otherwise, it loses its nutritive properties and anti-oxidants. In the case of the iced coffee it's a little bit worse.
Iced coffee can be bad for your digestive system because it contains lots of calories almost 200 bigger than the normal one. Moreover, there are usually lots of sugar or syrups added so it makes the drinks even more harmful.
6. What are the best types of tea to make the iced tea? 
Earl Grey (can be with Bergamot), Peppermint Tea, Hibiscus Tea, White Tea, Chamomile Lemongrass Tea, Oolong Tea.