Induction cooking is an innovative way of cooking and reheating meals. It is incredibly versatile and fast. Have you already thought of getting one to your kitchen? Choosing an induction range can be tricky in terms of budget. But still, you need one which will fit all your needs.
Is it possible to find a compromise? How to choose an induction range which would be reliable, safe, durable, and not too expensive at the same time? Read this article and find out that there are options for each of those needs.
Image
Product

GE PHP9030DJBB




Versatile
Easy to use
Average price

Check current price
GE Cafe CHS950P2MS1


Made for professional use
Multi-tasking
Two ovens
High price

Check current price
Frigidaire FFIF3054TS


Self-cleaning function
Multi-tasking
Affordable price

Check current price
Samsung NE58K9560WS


Stylish design
Connects to WiFi
Smart Cooking
Warming drawer
High price

Check current price
Bosch HII8046U


11 cooking modes
Fast preheat
Timer
High price

Check current price
Fisher Paykel OR36SDI6X1


Features Aerotech Convection Cooking System
Warming drawer
9 oven functions
High price

Check current price
Verona VEFSIE304PSS


Made in Europe
Self-cleaning function
Hot surface indicator light
Average price

Check current price
1. GE PHP9030DJBB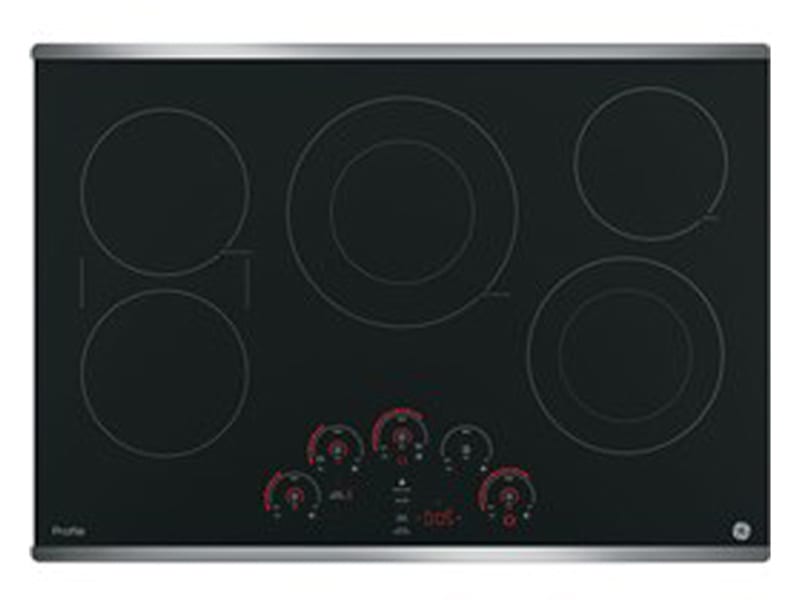 This is probably the leader among all the induction ranges, especially in terms of customers' reviews. For starters, this is a slide-in range that is meant to be able to replace a pre-existing freestanding range. Unlike some slide-in ranges, this one has finished sides meaning it has a finished look even if it's exposed on one side.
And, unlike other slide-ins, the range doesn't have an overhanging lip around the edge. It gives you a possibility to install this induction range close to a wall on either side. You can see from the picture that it has 4 burners, and one additional burner which can be used as a warming area.
If you're often cooking for a big number of people or you just love cooking you probably familiar with this problem when large pans and pots simply don't fit the burners.
In the case with this induction range, it is possible to bridge two burner zones together so you can accommodate larger pots and pans like a griddle or fish pan, making for a more versatile stovetop.
You may also like: 7 Best Portable Induction Cooktop Reviews
2. GE Cafe CHS950P2MS1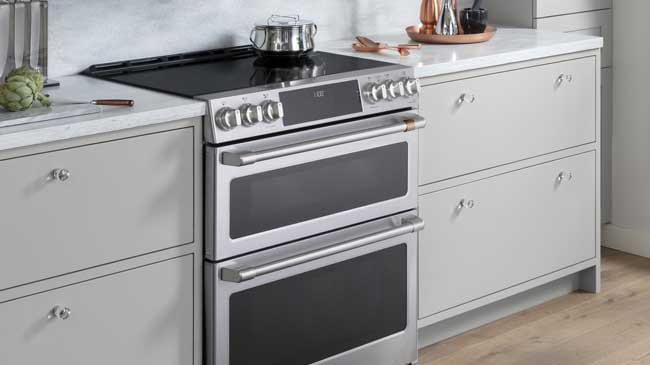 This item is similar to the previous one in terms of functionality, but if you are the person who prefers classic style knobs instead of sensor buttons then this is the option for you. The Cafe line is also manufactured by GE. It is an upgrade to their GE Profile lineup.
This line is made for the customer who would like to have a more intricate design of their induction range and chef-inspired cooking features. All the features of the previous model can be also found here as well as the additional ones.
The range is designed like it would belong to a professional chef with control knobs to control the burner elements instead of electronic controls, making it more intuitive to quickly change temperature settings.
Another distinctive feature that you will probably pay attention to – its heavy handles, giving a feeling like they're made for heavy-duty commercial usage.
Instead of just one, you get two ovens, which makes you able to prepare two different meals at the same time. It is very convenient if you are, for example, cooking dishes for a big dinner.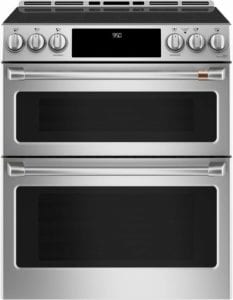 From a technology standpoint, this range is fully loaded. It features Hestan Cue technology, which when connected to a Hestan Cue enabled pan, allowing you to set and keep the pan temperature as it is exactly required.
And one of the main distinctive features of this induction range is probably its possibility to connect to WiFi. You may ask why does the range even needs to do that. The thing is there is a special app which is called "gourmet cooking app with access to hundreds of different videos with guided recipes.
And because the app will be connected to a range via WiFi, it will make the latter able to automatically follow the chosen recipe along with you. For example, you won't even need to heat up the burner to a certain temperature – it will do that for you! It will also adjust the time. Less hassle, more productivity.
Just imagine how your cooking possibilities will widen when you already have two ovens in this range and such automatized settings. The Cafe induction range features WiFi connect technology allowing you to control your oven with your smart device or simply your voice using WiFi Connect technology.
Apart from that, you can acquire a separate cooking probe allowing you to cook via Sous Vide. And, logically, this item is one of the most expensive ones on our list. Make sure you need all those cooking possibilities and you are ready to pay that much money for the power consumption. Obviously, this is not the option for the people who cook rare.
3. Frigidaire FFIF3054TS
So in order not to shock all our readers on the budget, here is an excellent inexpensive choice. And this desire not to pay more is totally justified here – why pay several thousands of dollars for the function of an induction range that you are never going to use?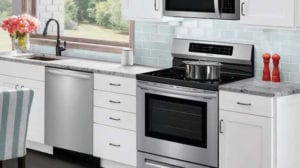 The FFIF3054TS by Frigidaire is the industry standard when it comes to induction technology. It provides the precise heating of the cookware (and the meal inside of it) while its burners stay cool to the touch all the time.
With its basic feature set and temperature control settings, you won't be disappointed with its even heat cooking whether you want to sear a steak or simmer sauces. As for the oven, here you will get 5.3 cu ft capacity which will easily fit multiple large casserole dishes which you want to bake or broil.
Another curious feature of this induction range is its self-cleaning function. When you are done with cooking, select the 20-minute self-cleaning from the user-friendly control panel. Besides, the range is designed in a way that it will fit the multiple kitchen styles since it's available in regular stainless steel or black stainless steel.
One more feature worth attention here is that this range has an extra drawer underneath where you can store all your induction cookware.
4. Samsung Appliance NE58K9560WS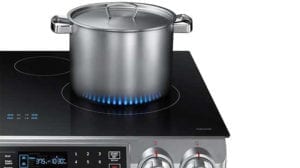 For those who are into the beautiful design and stylish looks, this induction range is the choice to go for. Especially, if you have the high-tech styled kitchen, this item will fit it perfectly. This 30-inch slide-in induction range is a great mid-range option for different kitchens and budgets.
To start with, this item can also connect to WiFi. It brings the ultimate modern cooking experience, with the possibility to monitor the cooking process remotely (including oven), as long as you got your smartphone close to you.
There is the number of actions that you can make using the remote control: turning the unit on or off, start preheating, adjusting temperatures or setting a timer.
You'll also get peace of mind with its unique virtual flame technology giving you the illusion of gas cooking with a brilliant blue virtual flame on the bottom of your pots and pans. It gives you the possibility to always know which burners are still on.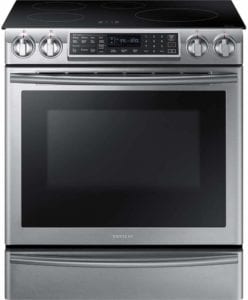 Down below features a 5.8 cu ft cavity with not one but two fans for even convection cooking, which is also great for baking. For all those cooking lovers out there, if you want to get a whole new experience like a professional chef, then Samsung offers you a few specialized options such as proofing, dehydrate and slow cooking.
Its three adjustable racks give you maximum flexibility for example if you want to bake several sheets of cookies or a 30 lb holiday turkey. This induction range also includes a convenient warming drawer. It is extremely useful in case you need to keep your prepared meal fresh until your friends or family coming over for dinner.
The design of this range comes with 4 large premium glass knobs that are easy to handle and electronically adjust the level of heat to ensure precise control to its easy-to-use control panel. The price of this induction range is definitely not the budget one, but those who are ready to pay for the last technologies in cooking won't be disappointed for sure.
5. Bosch HII8046U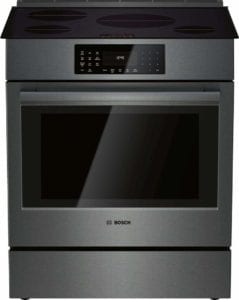 Bosch is the famous brand of home appliances and it would be weird not to find it among the list of the nest induction ranges. It is both fine to accomplish the preparation of some intricate dishes as well as everyday family meals.
This range has two cooking zones. It is a top-level range made of stainless steel. Here you will be free to cook actually any kind of meal you want since this range provides enough space both on the cooktop and in the oven. It has 11 specialized cooking modes along with the 17 setting levels.
This range also has temperature conversion for convection cooking. The preheat of this range is fast, so when you actually start preparing the meal you won't need to wait any time for your cookware to get hot.
The control panel has the sensor buttons. By the way, here each cooking zone has a separate countdown timer along with the smart function "safe start" which makes sure that only one element is activated if suitable.
And unlike, for example, GE Cafe CHS950P2MS1, this induction range by Bosch has light handles which makes it easy to open it. The design of it is executed in darker tones and will fit the interior of the light-colored kitchen.
6. Fisher Paykel OR36SDI6X1
The further we get, the more impressive induction ranges we have. This is definitely an option for those for whom money isn't a real problem. It is a super powerful range with the latest cooking technologies costing more than 5 thousand dollars.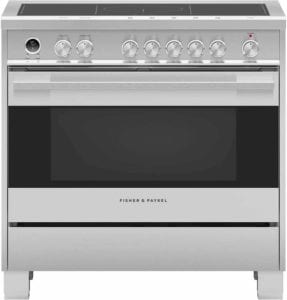 It comes with an induction cooktop and an electric oven in attractive stainless steel and black glass combo. This induction range by Fisher Paykel has just been released to the market. The cooktop has nuanced cooking features – Powerboost and Gentleheat which does what it says on the box – provide either very high or low heat.
Logically, for such a price, here you will find some exclusive functions which can be found in no other cooktop – for example, searing meat and melting chocolate.
The oven is a spacious 4.7 cu. ft. Inside of it, you'll find features including an Aerotech Convection Cooking System which circulates air providing an even heat distribution. It has eight oven functions to suit any dish. Two telescopic racks allow for easy access. There is also a warming drawer.
This range also has a self-cleaning mode, which is available for the oven as well. You will see that the top-quality of this product is noticeable in every detail – the door closes smoothly, but tightly, the surface of the cooktop is smooth and polished. Your cooktop simply needs a quick wipe to keep it looking good as new.
This induction range has 5 cooking zones and 9 oven functions. The company Fisher Paykel is founded in New Zeland which is quite unusual or the tach world. However, this doesn't diminish the highest quality of this product.
7. V
erona VEFSIE304PSS
A little tip: if you want to find a real diversity of induction ranges and have a wide choice to pick up from, you should look to other websites than Amazon. Many trendy and high-quality ranger is now unavailable there, while other websites provide a wide choice with free delivery.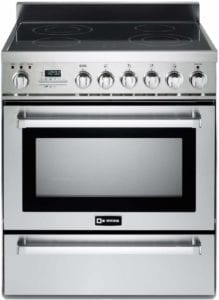 But let's get back to the subject. This is an induction range by an Italian manufacturer which is maybe not so famous on the market, but still effective enough to compete with the best of the bests. It has a bearable price comparing to the previous item and great functionality.
An interesting feature of this model is that it has a digital clock on it. Thus, you can set the timer for your cooking. The 30″ self-cleaning induction range is a full-feature appliance that's ideal for a small or large kitchen alike. The cooktop is equipped with four vitro ceramic induction zones that can handle a variety of cooking tasks big or small.
The European convection oven can take on the most demanding baking and broiling tasks, and the versatile warming drawer has a broad range of settings that can keep food warm, proof dough, dehydrate, or even slow cook a variety of dishes.
This induction range has knobs instead of a sensor panel. With 4 cooking zones and hot surface indicator light, it will be easy for you to manipulate the cooking process.
You might probably ask for what this item cost that more than other ones which seem to have similar characteristics? Well, a small part of its price is explained by European manufacturing.
Also, the oven possibilities and self-cleaning mode contribute to the price. However, there are cheaper options on this list suggesting similar characteristics.
FAQ for induction range buyers
1. Are induction ranges safe?
Yes, definitely, these induction ranges are the safest kitchen appliances that you will ever use.
What makes these ranges safe refers to the fact that the cooking surface does never get hot, only the pan and this is possible thanks to the electromagnetic fields that are created by the induction cooktops.
2. Do induction ranges save energy?
Although you may believe or not, you can save energy with an induction range. There is no wasted heat as the provided heat does not flow up from the burner around the outside of the pot.
The induction ranges are energy efficient as they use up to 90% of the electric energy converted to heat, while gas ranges lost up to 60% of the cooking heat and this means that those appliances are as low as 40% efficient.
3. Are induction ranges easy to clean?
Yes, induction ranges are easy to clean because food or liquid does not spill onto the cooktop or in the oven; as you already know, the only part of the appliance that heats up is the part in contact with the pot or pan. For a great looking and functioning all the time, you should clean your induction range regularly.
4. Is it bad for health if eating food cooked in induction ranges?
The induction range creates electromagnetic waves, but this does not mean that it may cause any harm to human health.
The level of radiation emitted is very low and as these cooktops do not emit heat, there is no possibility to release CO, CO2 or to burn O2.
So, if there is any negative effect of an induction cooktop, it is insignificant.
5. Can the induction range cause a fire?
No, this is not possible; although the elements themselves do not heat up, you should consider that it is possible that unattended oils catch fire.