We see and hear every day about the benefits of fruits, vegetables, greens and other products rich in fiber and useful micronutrients. How many times have you bought a whole basket of herbs at home and then just threw them away because they were spoiled and you didn't have time to cook anything?
We think that's why many people refuse to eat greens and vegetables in their diet. The solution to this situation is a juicer for greens, fruits, and vegetables!
This device allows you to eat much more useful green juice, and do it yourself. Of course, you won't be able to eat a kilo of nutritious and wholesome greenery in a day – but you can still drink it for the same good.
You no longer need to buy freshly squeezed juice in shops or cafes – so you will also save some money by creating it yourself. Of course, for a quality product, you'll need a good juicer that meets all your needs. So, what should you pay attention to when buying?
The type of juicer.
Before you buy a machine, you need to understand the products with which you will use it. For greenery, a masticating juicer is the best choice – it handles hard vegetables, herbs, and fruits perfectly.
The process itself consists of grinding the product into porridge and juicing it. Liquid and cake are taken out into separate containers.
A centrifugal juicer, despite its speed and convenience, is not suitable. In juice production, this type of juice heats up, oxidizing and depriving the greenery of its useful properties.
Frequency of use and production volumes.
All juicers, regardless of type, are divided into 3 types – domestic, professional and industrial. Most people need a household device – it is quite enough to produce juice for 3-4 people.
The size of household juicers can be different – and even mini-format can be used. Professional juicers are best suited for cafes and restaurants that offer fresh juices to visitors.
Industrial juicers are used with huge amounts of greenery and fruits, and also oversized.
If you are used to drinking a glass of juice a day, a household juicer will do a great job.
Universality.
If you aim to get juice from herbs and greens, then you will need to be careful when choosing the device. Most juicers are designed to produce juice from fruits and vegetables of different hardness and juiciness.
Orange and citrus juicers, for example, perform worse in producing juice from hard carrots. The function of producing green juice is rarely found at all, as it requires some features.
If you are used to variety, it is worth choosing more versatile models – they will allow you to enjoy both green juice and carrot frescoes.
Our Top Pick
Omega J8006HDS Nutrition Center Quiet Dual-Stage Slow Speed Masticating Juicer


Dual-stage wringing system
Adjustable juice yield level
More than just a juicer

Check Current Price
Other great juicers for greens
IMAGE
PRODUCT

Juicer Machines, Aicok Slow Masticating Juicer

Easy cleaning and washing of details.




Check current price

KOIOS Juicer, Masticating Juicer Machine

The ideal slow juicer for fibrous products.

Check current price

Omega NC900HDC Juicer

Long warranty period for your confidence.


Check current price

Tribest GSE-5000 Greenstar Elite Cold Press Complete Masticating Juicer

Environmentally friendly production materials for healthy beverages.


Check current price

Aobosi Slow Masticating juicer Extractor

Handles all kinds of greens, vegetables and fruits.


Check current price

KOIOS Slow Masticating Juicer Extractor

Compact juicer for vitamins.


Check current price
1. Omega J8006HDS Nutrition Center Quiet Dual-Stage Slow Speed Masticating Juicer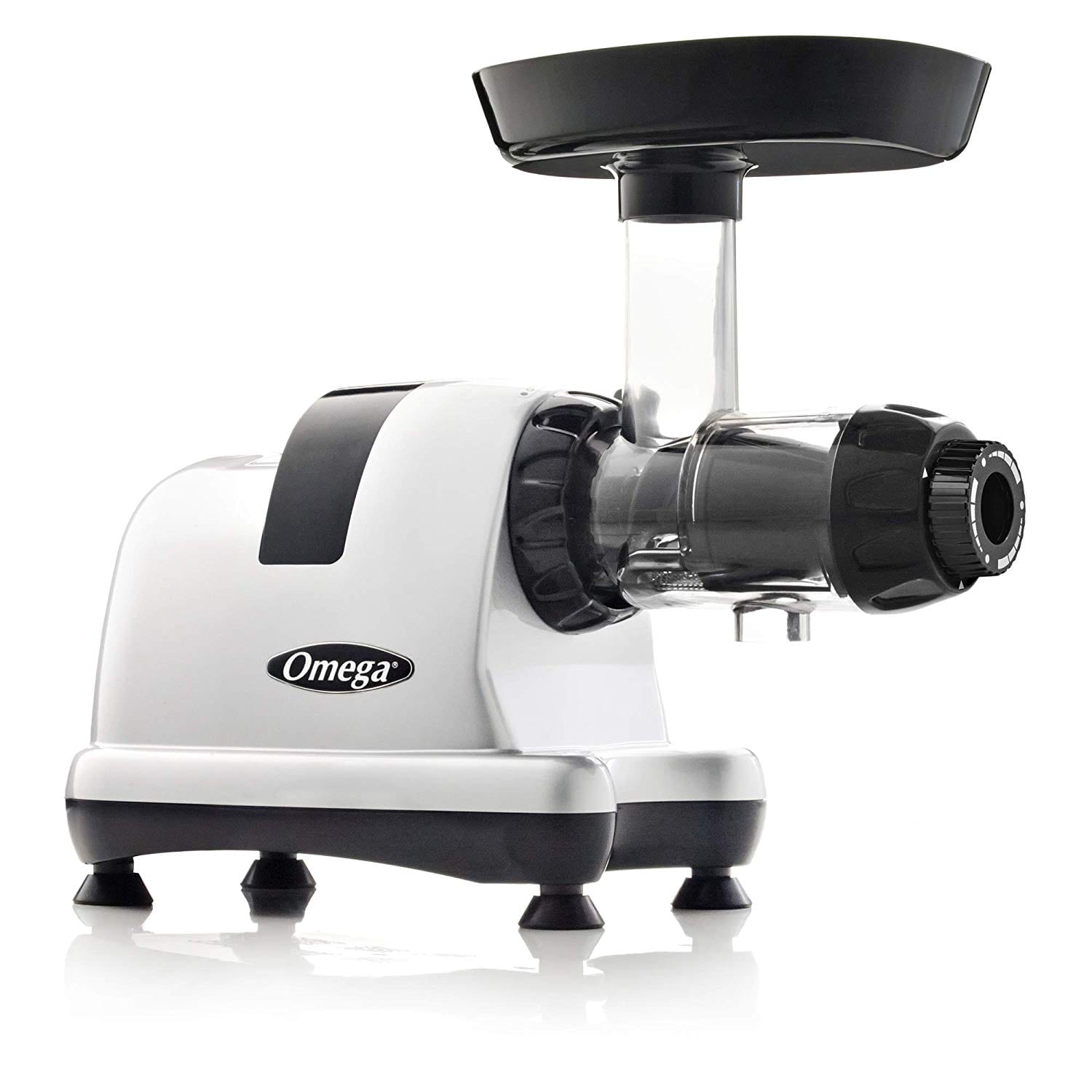 The Omega J8006HDS Nutrition Center has deservedly become our favorite among all green juicers. The result is tasty juices that are full of trace elements and vitamins.
Thanks to its low speed of processing, it heats up minimally and squeezes out all possible enzymes and liquids from herbs and greens.
For good reason, the Omega J8006HDS Nutrition Center is more than just a juicer. You can use it to make peanut paste without adding sugar or preservatives, turn beans into ground coffee, just like in a coffee grinder, make smoothies and nice cream.
All this is done literally with your hands, providing you with fresh and healthy dishes. There's no way you're going to see pieces of fruit and greens that are left intact after the machine – you always get dry residues and concentrated juice.
You can fully enjoy what nature has to offer – and the green juices from the Omega J8006HDS Nutrition Center will only help you do so.
You may also like: 7 Best Food Processors Reviews
2. Juicer Machines, Aicok Slow Masticating Juicer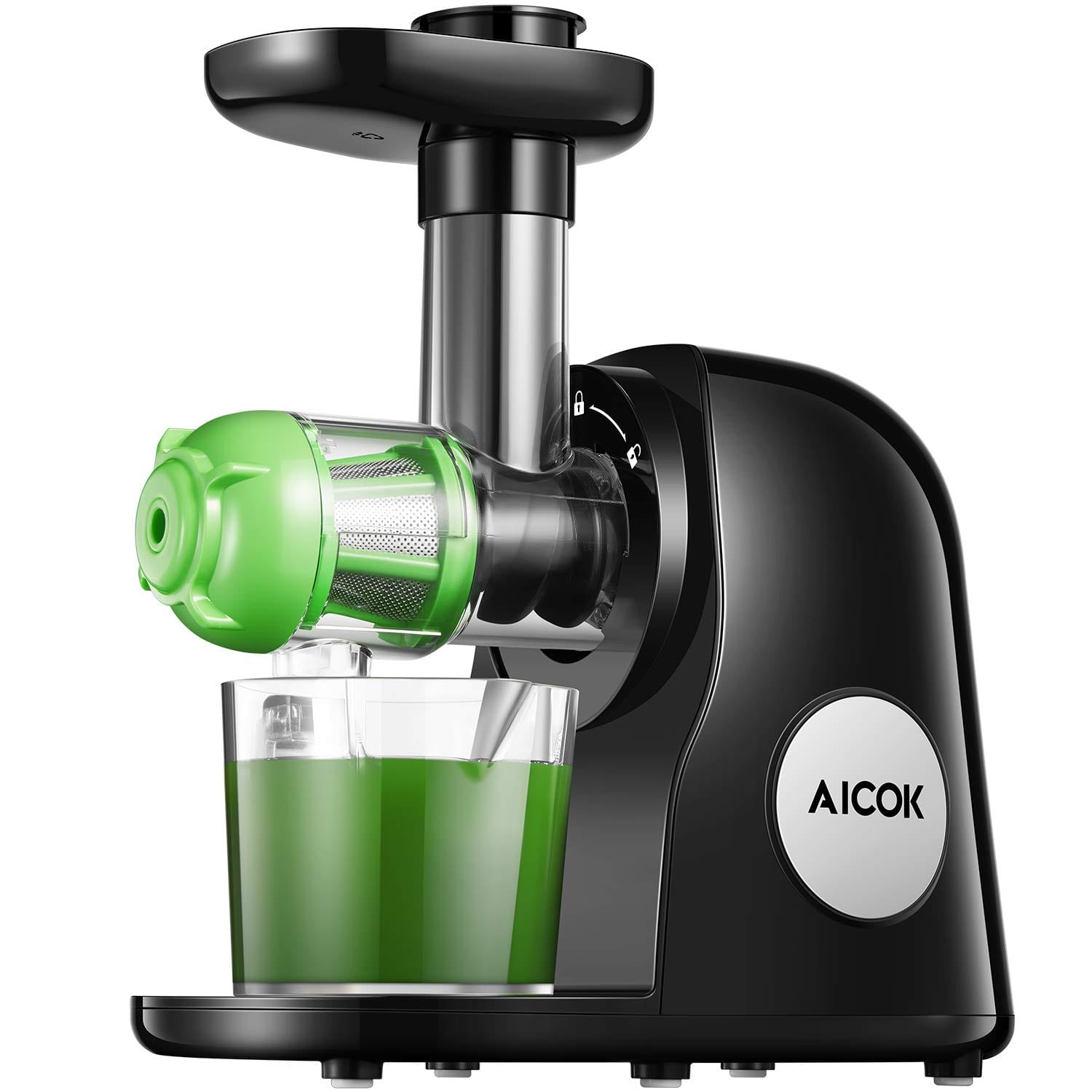 If you're worried about too much noise during the operation of the juicer, it's no surprise. A masticating juicer's long working time is accompanied by sounds that can interfere – for example, if you have young children or a family member is sleeping.
The Aicok Slow Masticating Juicer is one of the quietest models for greens and herbs that you can now find on the market. In the morning you can even surprise them with a vitamin cocktail!
Thanks to a system of 7 spiral segments, the juice will preserve all the useful properties of the ingredients and will not oxidize. All residual products are perfectly separated from the total mass. Even if you are going to make a large volume of juice, all roots and peel from the fruit will be in a separate container.
The simple cleaning process of the Aicok Slow Masticating Juicer is also worth noting. All you have to do is run the reverse process, which pulls all the ingredients out of the juicer cavity. If you want to rinse the parts, they're easy to remove and start an effective cleaning process.
3. KOIOS Juicer, Masticating Juicer Machine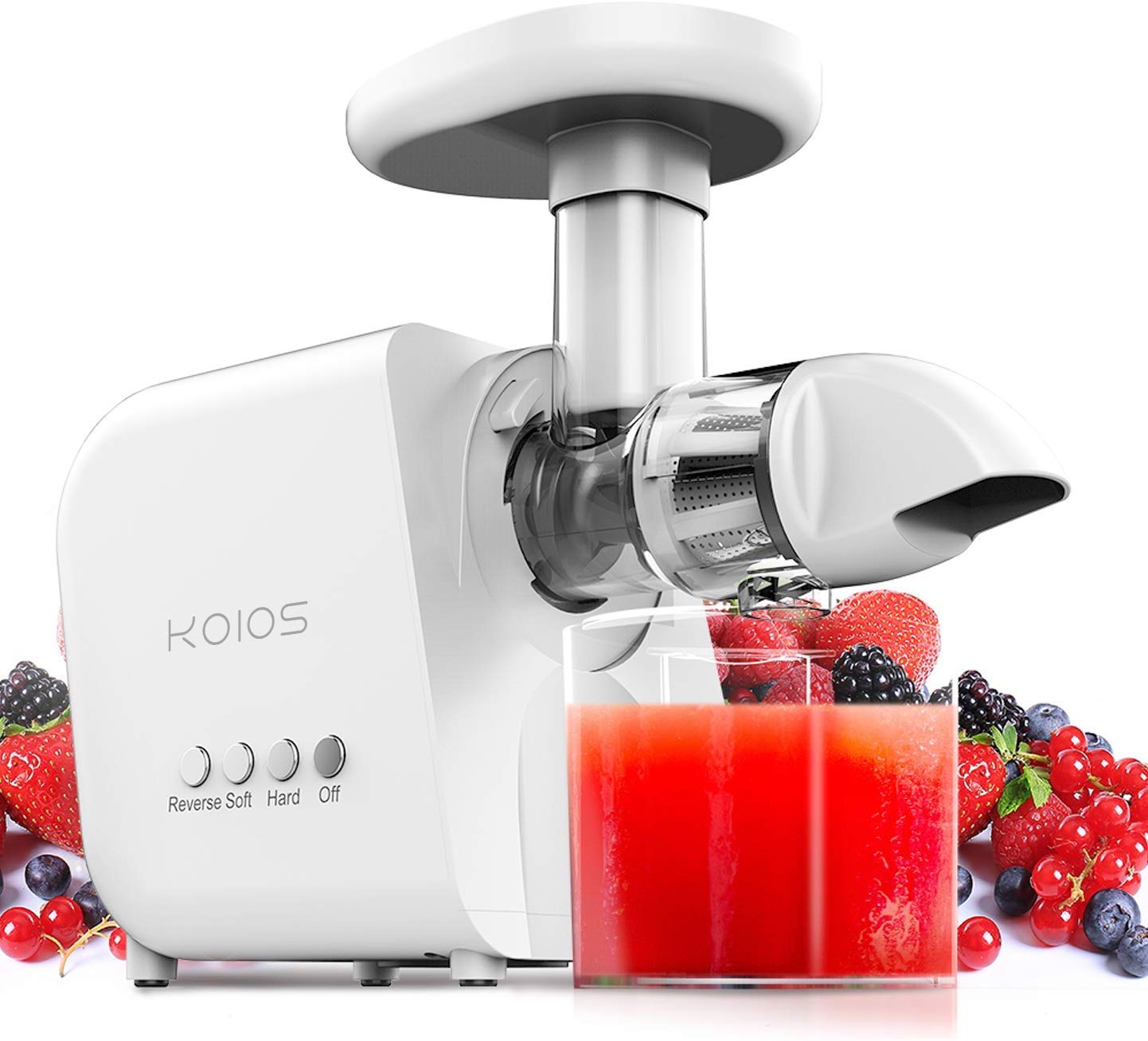 Unless you immediately pour the juice into the bottle and put it in the fridge, then the good news is that KOIOS Juicer can store the finished product for up to 72 hours.
This way you can start the juice preparation process in the morning and enjoy the fresh products in the evening after work. Slow crushing and long spin cycles will give you more juice than standard juicers.
The simple assembly of KOIOS Juicer allows users to wash out all the details themselves each time. This way you have no mess anywhere and the Juicer KOIOS will work for even longer.
When it comes to longevity, it is worth noting that this device does indeed squeeze out the juice over a long period of time. For example, in a day it can make any product perfectly dry, leaving all the juice in a special tank.
If you have previously used a centrifugal device, you will immediately notice the amount of the end product. With less greenery and fewer vegetables, you will get a much more impressive result.
4. Omega NC900HDC Juicer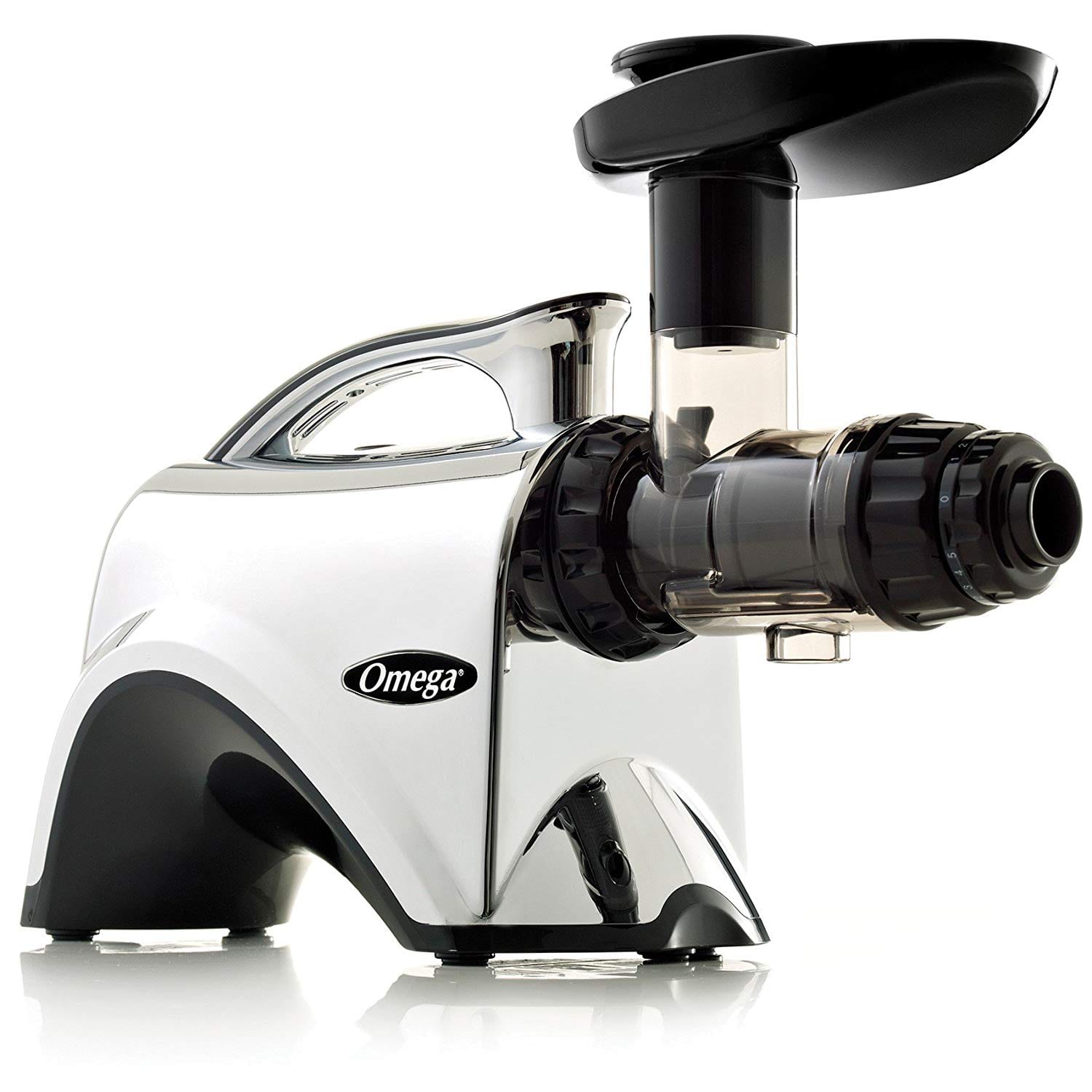 There are people who pay special attention to the warranty period that is given to the product. If the equipment has a long warranty period, it means that the manufacturer is confident in quality – like it happened with Omega NC900HDC Juicer.
This juicer has a 15-year warranty on all parts and performance. Since the Omega NC900HDC Juicer operates at almost no heat – the process itself runs at 80 rpm – all parts will not overheat and will not fail.
In addition to herbal juices, you can also get other vegetarian and vegan delicious dishes such as nut pasta or nut milk. If you have not yet tasted Omega NC900HDC Juicer as a producer of unusual milk, you will be surprised at the result and its taste.
You can't help but notice that wheat herbal juices are powerful sources of vitamins, but not all devices can cope with them. Omega NC900HDC Juicer does not heat the ingredients and makes healthy bombs out of them.
5. Tribest GSE-5000 Greenstar Elite Cold Press Complete Masticating Juicer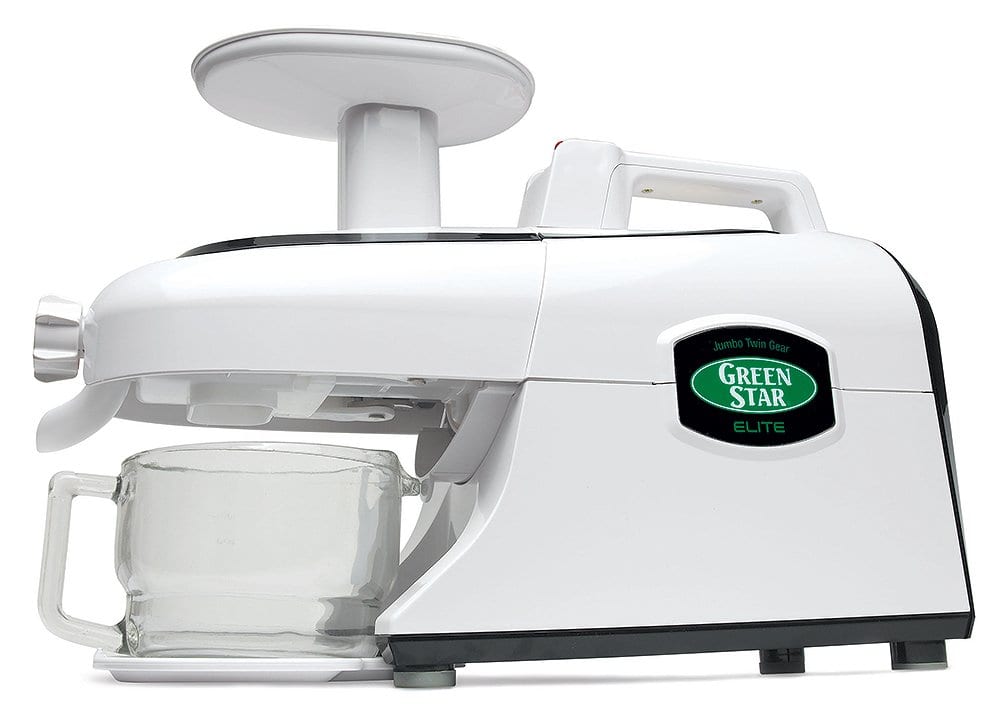 To make your juicer more versatile, the Tribest GSE-5000 Greenstar Elite Cold Press Complete Masticating Juicer includes several accessories for frozen foods, sorbets and nut pastes.
If you make juice, the device will squeeze it out as much as possible. Tribest GSE-5000 Greenstar Elite Cold Press Complete Masticating Juicer cuts, rubs, crush products for better juice yield and preserves all their nutrients.
To make green juice, you will no longer have to throw away a huge amount of waste. The Tribest GSE-5000 Greenstar Elite Cold Press Complete Masticating Juicer minimizes the amount of peel and fibers that are left behind and you get the purest vitamin juice.
To ensure that your device is in perfect condition for a long time, you can clean it each time with a small amount of lemon, passing it through the device.
6. Aobosi Slow Masticating juicer Extractor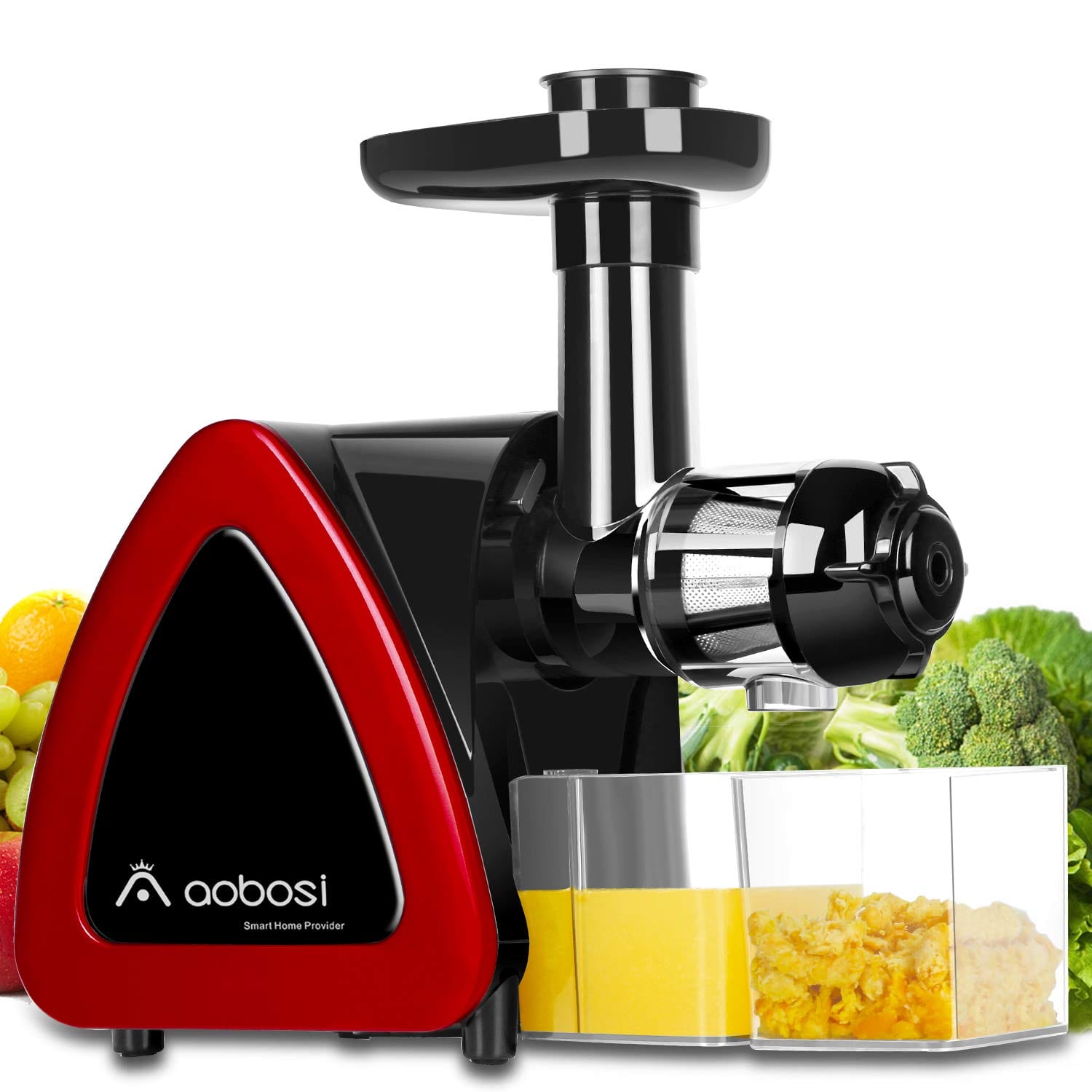 All you need in the morning is a glass of fresh juice, which will give you the mood for the whole day. Aobosi Slow Masticating juicer Extractor can give you such a pleasure for a lifetime, and you will get fresh product every morning in a few minutes.
Fresh fruit pulp and greenery, small foam and a bright fragrance are achieved with the help of home juicers.
The separation of cellulose from liquid takes a long time. Aobosi Slow Masticating juicer Extractor takes just this whole time, getting the maximum amount of juice from the product. Thanks to the fact that the parts of the device do not absorb odors, you will each time get a unique and original fragrance of greenery.
If you still want to take care of the juicer yourself, you can easily disassemble it and assemble it back. If you have any questions, the company's support service is available 24 hours a day and always has a solution.
You can also check: 7 Best Lemon Zesters Reviews
7. KOIOS Slow Masticating Juicer Extractor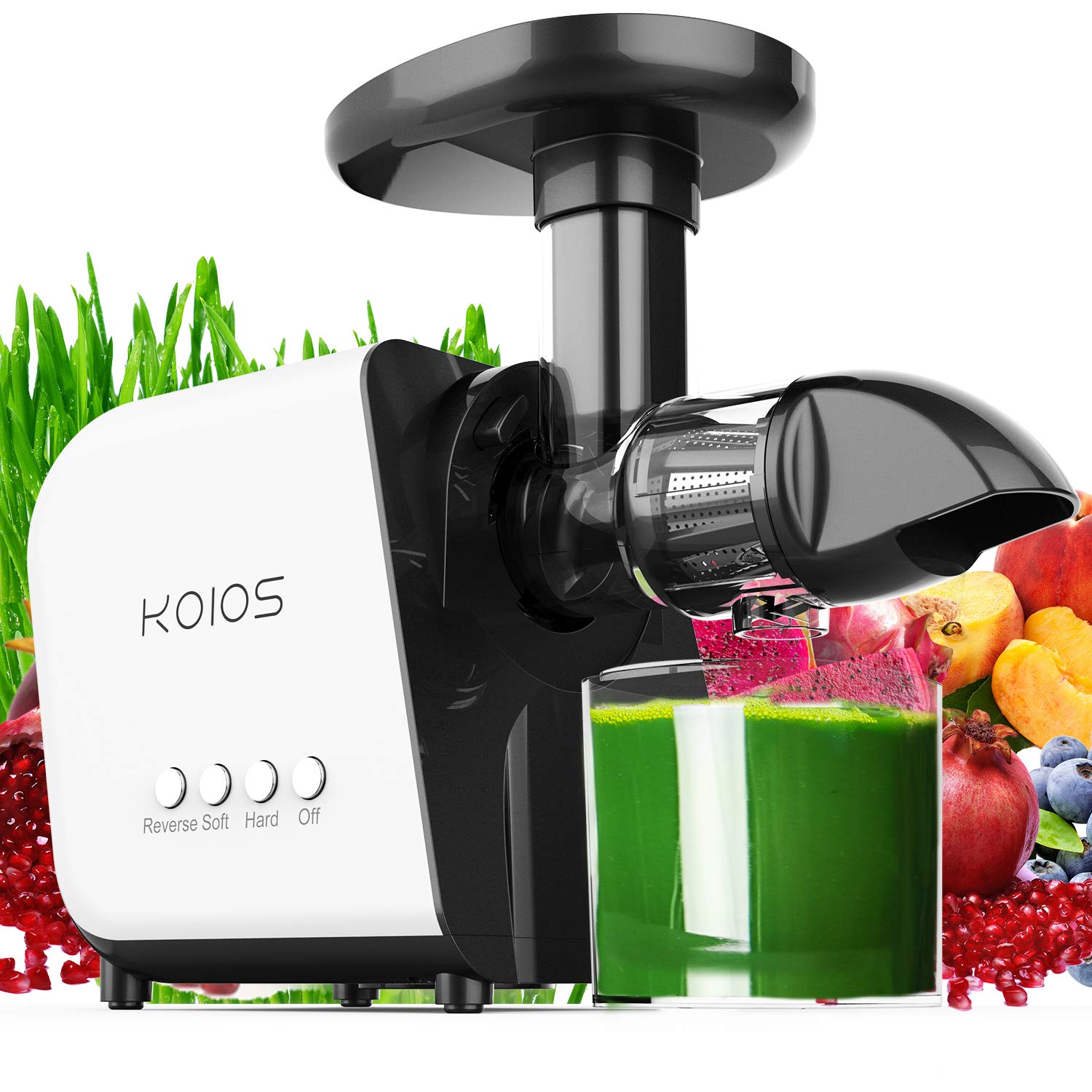 Many good juicers are large enough to fit in the kitchen. KOIOS Slow Masticating Juicer Extractor has created a compact enough device that will not interfere with you, and you can enjoy fresh juices and delight your family every day.
The machine does extract the juice completely and leaves almost no waste. You just need to slice the food so that it fits into the food hole.
The KOIOS Slow Masticating Juicer Extractor is easy to maintain and requires little care. To clean the entire unit, you use the same button as to start work. It's worth noting that you still need to be careful at this point.
KOIOS Slow Masticating Juicer Extractor is designed for universal operation, but you will need to choose a mode – hard or soft, for example. If you can't understand this criterion, it's best to use the hard product mode to avoid breakdowns.
If your family is used to freshly squeezed juices, we do not recommend you to save money on buying a juicer. It is much cheaper to make healthy green juices at home than to buy a finished product.
Don't forget the benefits as well – by consuming more greenery, you can improve your health. Herbs and greens juices will be a great addition to your standard diet – especially if they have not lost their beneficial properties and have retained all the vitamins.
We hope that our article has helped you make your choice and that green juice will soon become a must-have part of your diet.
FAQ for greens juicers buyers
1.
What percentage of juice can you get from the greens? How can I get the best result?
The quantity of the final product depends directly on the ingredients you use and the capacity of the juicer itself. High-quality models of screw juicers can bring you up to 60% of the finished juice from the ingredients you use.
Greens are not as juicy as citrus fruits, so be prepared for fairly modest results. To get as much juice as possible, we recommend soaking your greens in cold water 30-50 minutes before juicing. This way, the amount of juice you prepare will increase without compromising the quality.
2.
If it is not possible to use a masticating juicer, is it possible to get juice from the greens using a centrifugal model?
We have already mentioned the fact that the centrifugal models do not work well with greens. Of course, if you already have a juicer, you will not want to buy another one. Unfortunately, the disadvantage of centrifugal models when working with greens does not stop at the loss of useful properties.
Due to the principle of their work, they will make a bunch of spinach porridge, which is heated from the work and speed of the device. There will be no juice as a result – you just get porridge, which will not have any useful properties. For those who like green juice, you need only a masticating juicer.
3.
Do I need to dilute the ready juices?
Due to its principle of operation, masticating juicers provide a very concentrated and most useful product. Since you won't be able to get large quantities of juice from greenery (you will simply need too many ingredients), you can consume it purely in small quantities.
If you want to enjoy the flavor, we recommend diluting them with water or less concentrated juices from fruits and vegetables. The ideal is to prepare juice from several ingredients at once – including greens.
4.
How long can a green juicer be used without interruptions?
Productivity depends on the device and the manufacturer who produced it. Since green juicers are often also suitable for solid fruits and vegetables, they have high capacity.
Also, the type in which you load the ingredients – finely chopped or whole – depends on performance. Usually, the recommended working time is not more than 10-15 minutes – after that, you should give the device a break so that all the parts cool down and there is no overheating during the work.