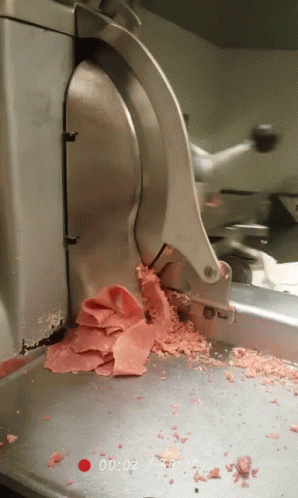 Despite all the controversy that has been happening lately meat is still insanely popular around the world. There is no country that wouldn't use meat in its cuisine. That's why there are hundreds of thousands of ways how you can cook it and which kind of meat you can cook.
In the case of the poultry, it often happens that you take the whole body and simply roast it. However, with pork or even beef, you will need to cut the meat first. And that's usually the part that stops many people from cooking the meat at home – because cutting it seems like an unbreakable task.
However, everything can be easy if you use the latest kitchen technologies. There are special meat slivers on the market nowadays that will help you to cut any piece in seconds. There are 3 types of meat slicers, so you can choose the best one.
Moreover, it is possible to say that the meat slicer is a must-have kitchen appliance that will help you to cut not only meat but also firm vegetables, hard cheese and a lot more in no time.
What is more, cutting the meat with the regular knife you are risking to ruin its texture and the ultimate dish will look unaesthetic. It doesn't happen if you have a meat slicer. In the article down below you will find a comprehensive review of the best meat slicer and will be able to choose the one that suits your needs the most.
Our Top Pick Meat Slicer
Cuisinart FS-75

130 Watts motor
Slice control knob
Top-quality stainless steel

Check Current Price
Other great meat slicers
Image
Product
Chef'sChoice 615A000


Versatile
7-inch blade
Easy to clean

Check Current Price
Elite Platinum EMT-503B


Electric
User-friendly
Adjustable thickness of slices

Check Current Price
NESCO FS-250


Stainless steel food carriage
Versatile
Adjustable thickness of slices

Check Current Price
Commercial Meat Slicer Electric Deli


Suitable for home and restaurant usage
Easy to clean
Electric

Check Current Price
Valley Sportsman 1AFS205Q


Heavy-duty stainless steel materials
Secure non-slip feet
Easy to clean

Check Current Price
BESWOOD Electric Deli Food Slicer


Sharp blade
Versatile
Perfect for the home kitchen

Check Current Price
1. Chef'sChoice 615A000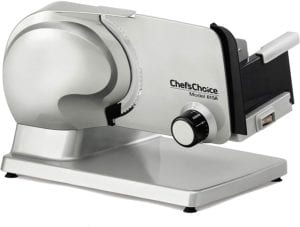 One of the best-engineered slicers on the market, made of stainless steel and cast aluminum. Besides, it is highly versatile and allows you to cut not only meat. It has the 7-inch blade which is made of stainless steel as well.
There is a special button that secures the food carriage lock position for limiting access to the blade when you don't use the slicer. The design here is rather compact with no extra feature so the item will be suitable even for small kitchens. Moreover, the whole construction is easy to clean – for example, the blade is removable. Thus, you can make in sharpener at home with a special stone.
Meat slivers can be very expensive but this one comes at a quite affordable price. Moreover, it boasts of an impressive power rating of 120 watts. This meat slicer by Chef'sChoice features a smooth gear drive and high torque motor for delivering continuous operation.
You may also like: 7 Best Cutting Boards For Raw Meat
2. Elite Platinum EMT-503B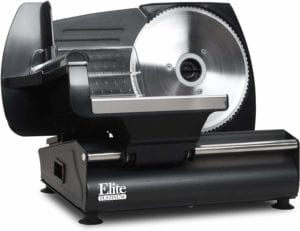 The first thing that catches your attention in this meat slicer is its unusual design. But despite the fact that it looks eccentric, it is extremely easy to use. This slicer is a gem for cutting the sausages, and you can easily cut pepperoni, ham, salami, and cheese with it.
One of the main goals of the manufacturer was to create a slice that would safe both money, effort and time. Just like in the previous item by Chef'sChoice, the blade is removable and the whole unit is actually easy to clean. You know, you need constant cleaning for meat slicers' right?
The material of which this slicer is made is the top-quality die-cast aluminum and this fact guarantees the long life and reliability of the machine. Moreover, it's highly versatile. It can be used as a food slicer for firm vegetables, bread, cheddar, salamis, beef pastrami, ham, pepperoni, turkey breast and more.
The thickness can be adjusted from razor-thin slices to ½ inch thick slices. You can tailor the settings as per your requirements with much ease. This professional-grade slicer is sturdy, safe and stable. It offers a large slicing platform and comes with non-slip rubber feet for maximum safety and stability.
3. NESCO FS-250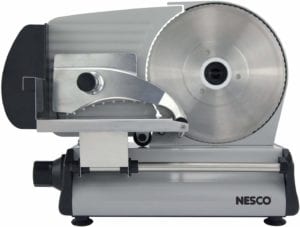 This meat slicer by Nesco has a full stainless steel food carriage. You can see from the picture that it has a large, detachable blade, which is also made of hardened stainless steel. This item is even more versatile and it is suitable for cutting more harsh pieces of meat. It can handle a variety of shapes and sizes.
The dual safety features make this item easier to use. Moreover, for better convenience, there is a control knob that allows adjusting the thickness of slices from 9 to 15 inches. It is equipped with a 180W engine.
By the way, if you want to slice a lot of cheese, you should opt for a motor of 130 watts or more as it can result in a lot of blade drag. In general, this is a great slicer, which is able to perform all the main tasks required and even more.
4. Cuisinart FS-75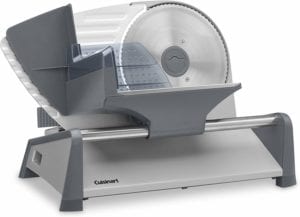 This meat slicer is similar to the previous one, and, actually. possesses similar properties. The only difference is the price – this one is even more affordable. This machine features a heavy-duty motor of 130 watts. The blade here is removable is well with a length of 7.5 inches.
When you want to adjust the thickness you can simply press the knob and choose the size you need. This quality slicer can be adjusted from 1/32 inch to ½ inch in no time. And just like in the case with the previous slicer, here you can also cut everything – starting with vegetables ending with beef.
The tool itself is made of die-cast aluminum and premium coated steel. It has a stainless steel carriage and a food guide. Together with the blade, they can all be detached and placed into a dishwasher.
The only drawback of this item is that it has the tendency to move when you slice, so it's not very comfortable to cut bread or cheese with it. Well, you can but the effort is just not worth the time. In other aspects this meat slicer by Cuisinart so one of the best in its category.
5. Commercial Meat Slicer Electric Deli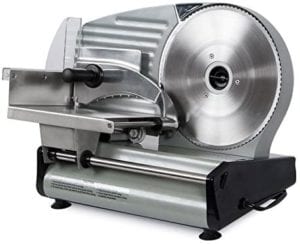 For those who want to have a more serious and powerful tool for their home kitchen (or maybe a restaurant), this is the best option to go for. Apart from very nice design, this item is also easy to clean. Considering the slicing possibilities, it comes with a built-in sharpener for retaining optimal sharpness.
The meat carriage here is sliding and it provides the precise and perfect slices each time. The thick steel blade ensures that it cuts through tough meat with much ease. Moreover, this item can not only cut the beef or pork, but it will also be suitable for cutting the roasted turkey, fought meat and many more.
Of course, all the features mentioned above mean that this slicer is going to cost a little bit more than the rest ones. By the way, remember, that since it is an electric slicer you can't use it non-stop all the time. Take a break and let it cool down for 10-15 minutes before a new attempt.
6. Valley Sportsman 1AFS205Q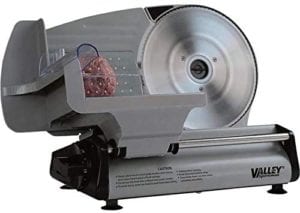 When you take this slicer you can fell that this is a really heavy-duty stainless steel slicer. It is able to cut the meat into slices of width 9/16 inches and it comes with secure non-slip feet. The carriage here is made of stainless steel as well and it is easy to remove and clean.
So basically, if you want to slice cheeses, meats, and other foods, then this heavy-duty 8.7-inch Electric Food and Meat Slicer is what you need. Its motor works at the power of 190 watts which is quite impressive. With such heavy materials, this slicer truly cuts everything effortlessly, even though not very precisely.
Moreover, it was noted that the more slices it makes, the worse is the quality. It probably has to deal with the fact that this is an electric slicer, so take it a little break after some time. But here you can find another bonus – it is cheaper than the previous item, for example.
You can also check this: 7 Best Cheese Slicer Reviews
7. BESWOOD Electric Deli Food Slicer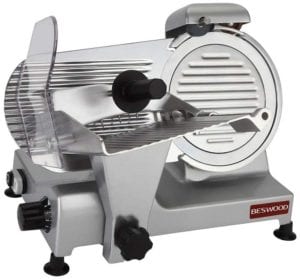 This food slicer is market as "Amazon's choice". One of its distinctive features is its chromium-plated carbon steel blade. And unlike in the case as with the most blades, this is one of very decent quality so you don't need to sharpen it too often.
Since this slicer works on the electricity, you will face no barriers in cutting has, meat, vegetables, poultry and so on. It is a perfect tool for home kitchens. It consists of a powerful 240-watt motor that lets you complete your task in the shortest span possible.
By the way, be careful since this machine works quite rapidly. Don't try to move it from place to place too often because it's not the most lightweight machine on our list. And also not the most budget one.
FAQ for meat slicers buyers
1. What should I look for when buying a meat slicer?
First of all, look for an optimal design. If you have a small kitchen, it makes no sense to buy a giant slicer. Also, you need to decide whether you want to have a manual or electric slicer. If you prefer the latter, determine the power of the engine you need to have.
The length and capacity of the blade are also important. It depends on, if you want to cut the meat only or various foods.
2. What can you slice with a meat slicer?
You can create perfectly uniform onion slices, pepper rings, etc. Anything you can cut with a mandoline, you can cut with a meat slicer. It works great for anything you want to cut ultra-thin – much better than a knife. From lettuce to bread and cheese, a meat slicer can slice all kinds of food.
3. How thick can a meat slicer cut?
Some meat slicers can cut up to a 1-inch thickness.