There are just a few people you can surprise with a microwave anymore. But the oven with the logo of one of the popular brands is still able to impress guests.
But how do you know if the devices produced by world-renowned companies are worth their money? Do expensive microwave ovens really have more options than budget models?
The first thing to do is to figure out what kinds of microwave ovens are available. Usually, they are divided into three groups, which depend on the functionality of the devices:
These microwave ovens are only designed to heat up ready-made dishes or to defrost food.
This part not only allows you to heat food but also to prepare certain dishes such as roasted chicken.
Thanks to convection, which involves the forced injection of hot air. These models can almost completely replace the oven.
The world's brands produce all three types of microwave ovens. But, to understand which manufacturer's microwave oven is better, it is useful to read this overview.
Beko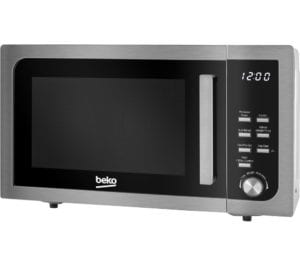 The Beko brand is part of a Turkish concern that takes the issue of product quality seriously. The fact that the company is on the 2nd place in Western Europe among corporations producing large home appliances confirms this.
This approach is also applicable to microwave ovens of this brand.
Beko microwave ovens are available in four models and are popular due to these advantages:
reasonable price
easy control
reliable assembly
elegant appearance
The manufacturer focuses on the needs of customers. It takes into account their wishes. For example, some models with built-in grill are sold at the price of mono-furnaces. This causes only positive emotions among customers.
Although supporters of technological innovations simple controls of Beko microwave ovens may not be to their liking, the vast majority of buyers will appreciate the simple and clear interface of this brand of ovens.
You may also like: Small microwave vs big microwave compared
Bosch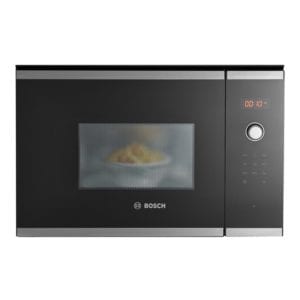 The German concern Bosch offers high-quality microwave ovens. All models, which, by the way, are more than ten, are designed with the pedantry inherent to the residents of Germany.
Although some microwave ovens are assembled in China, the other models are manufactured in Europe.
Bosch microwave ovens have these "pluses":
eye-catching design
many automatic modes
intuitive operation
fiscal sustainability
The Bosch brand is associated with reliability and durability. This reputation is the result of time-tested customer relationships.
Candy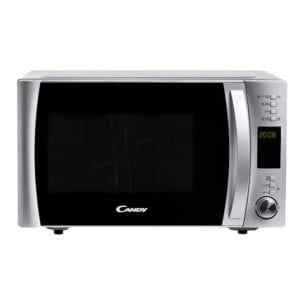 One Candy microwave oven model was included in the top 10 most popular microwave ovens rating. It is based on comprehensive search statistics. This indicates the trust that the products of this brand.
Advantages of microwave ovens of Italian brand Candy:
more than twenty models for all tastes
low cost
uniform heating of food
good illumination
stylish design
Small Candy appliances, including microwave ovens, have a good ratio of reliability, quality, and moderate cost. For this reason, it is chosen by many customers who focus on the budget segment.
Thanks to ergonomic control, this manufacturer's microwave ovens are very easy to use. There is no need to study complicated instructions for this. All modes are easy and clear to use.
Elenberg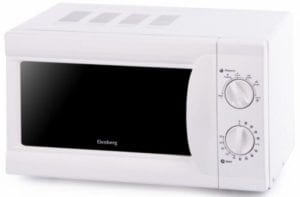 Elenberg brand products are widely represented in the budget segment of microwave ovens. The design and assembly of devices of this brand take place in Russia, Turkey, and China. For many customers, the key advantage of this manufacturer is its attractive cost.
Other advantages of Elenberg microwave ovens include:
user-friendliness and ease of operation
quiet operation
quick food heating
durability
even heat distribution in the chamber
attractive price
Some models are equipped with antibacterial wall-coated cameras. They are also easy to clean. Microwave ovens of this brand are not inferior to more expensive analogs of popular brands.
The low cost of Elenberg microwave ovens, as well as the decent quality of assembly, will be important factors in making a decision about buying.
Gorenje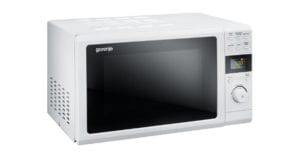 The Gorenje brand comes from Slovenia, but most products, including microwave ovens, are manufactured in China. So the price tags for microwave ovens of this brand are quite moderate.
But that doesn't mean that Gorenje products are of poor quality. It also confirms that the Gorenje brand is among the TOP 10 kitchen stove manufacturers.
The obvious advantages of this manufacturer's microwave ovens include:
attractive price
unconventional design
assembly reliability
material and electronics quality
Gorenje produces microwave ovens (the range of which almost "reaches" 20 models) in different price segments. At the same time, the company does not save on quality. For example, the manufacturer has ensured that the enameled coating has antibacterial properties.
The models of convector type use a stainless steel chamber made by Innox Terior technology. This provides better circulation of microwaves. It allows you to achieve the almost perfect taste of the prepared dish.
Most Gorenje models use a quartz grill. Thanks to its compact design, this part does not take up too much space.
Kaiser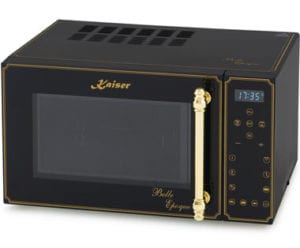 German brand Kaiser microwave ovens are available in all price categories. The manufacturer is especially popular due to the availability of quality models in the budget segment.
But, the company also has models with an exclusive design for premium customers. In total, the brand has eight models of microwave ovens.
"Kaiser's microwave ovens have the following advantages:
high-quality assembly
unconventional design
comfort of use
easy camera cleaning
Microwave ovens from this manufacturer are characterized by a great variety of colors and plenty of functions. For example, they have 6 built-in cooking modes that are suitable for different dishes. At the same time, the price of budget models remains at an affordable level.
LG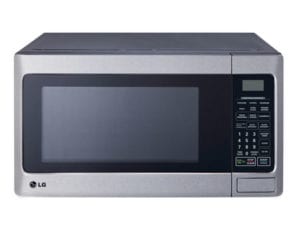 In terms of total sales, Korea's LG Corporation is confidently at the top of the list. This also applies to the popularity of the brand. Such popular love is well deserved.
LG company is known for its passion for new copyright technologies, which bring the quality of products to a new level.
To "pluses" of microwave ovens LG refers:
reasonable cost
innovative techniques
quick and easy cleaning
quartz grill
Distinctive features of LG microwave ovens include the I-wave technology. Its application allows heating food more evenly, preventing cold spots.
Korean microwave ovens are also equipped with a special smooth EasyClean coating. It has antibacterial properties and makes the cleaning process more convenient.
Panasonic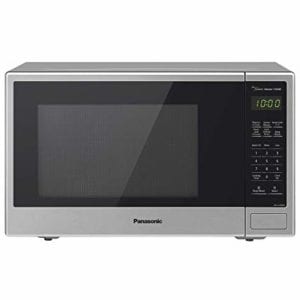 Panasonic is a leading "player" in the production of inverter microwave systems. The engineers of the Japanese corporation have brought this technology almost to perfection.
The electronic control unit is much smaller than the transformer. It is used in conventional microwave ovens. This frees up extra useful camera space.
The advantages of Panasonic inverter ovens are also included:
lighter and more compact than conventional microwave ovens
cheap power consumption
rapid defrost mode
Stainless steel and an enameled layer are used as the inner coating material for the chamber.
Samsung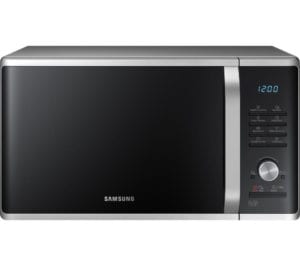 Microwave ovens of South Korean company Samsung have a large number of built-in programs with recipes. It is enough to prepare the necessary products and press the button.
The microwave will automatically select the cooking mode. It will also set the timer to a time defined by the program, which is required for complete cooking.
The following competitive advantages have allowed the brand to gain popularity among customers:
A wide range of over fifty different models.
10-year internal warranty.
Uniform heating of food thanks to TDS technology. It involves the three-dimensional distribution of waves in the chamber.
Standby mode, saving up to 40% power.
Wide variety of models in the budget segment.
A feature of Samsung microwave ovens is a unique bioceramic enamel. It is used to cover the inner walls of the oven. The chamber with such surface is not damaged by rust, easily washed, does not turn yellow, does not absorb the smell of food.
Also, bioceramics prevent the appearance and spread of harmful bacteria.
Samsung continues to be one of the leaders among manufacturers of home appliances. As well as enjoy the love and trust of customers.
You can also check: How to cook rice in microwave fast & safe
Sharp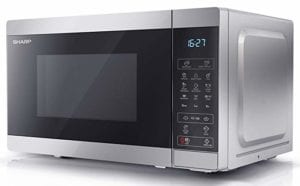 It was Sharp who pioneered the development of household microwave ovens. They give hostesses a generous gift in the form of a faithful kitchen assistant.
In general, these are quality devices with comfortable controls. They can be mechanical or touch-sensitive, depending on the model chosen.
In the category of advantages of each of the thirty-five kinds of microwave Sharp include the following factors:
pleasant design
quality assembly
acceptable price
easy control
self-diagnostic option
Sharp microwave ovens are equipped with defrosting, heating and self-catering programs. It is created for cooking different foods.
Some models have two built-in grills – a standard shade and quartz. The first has the advantage of changing the position to adapt to the individual shape of the food.
The quartz grill, in turn, consumes energy very economically and gives the food the flavor of being cooked on the fire.