If you don't have the skill of flipping pancakes lightly in the frying pan, you definitely need a little help making them. For example, most people use a spatula, to turn their food over.
In general, the spatula has a huge application in the kitchen – mixing ingredients, flipping, comfortable frying and much more. We want to tell you about a special spatula for pancakes, which will find application in any kitchen.
Pancakes are one of the best breakfast options and can bring the whole family together at one table. If you want to get the perfect result – with a smooth rouge crust, without holes or other damage, you will need to think a little about buying a spatula.
In order to make it easier for you, we decided to look a little more closely at this topic. Some people may find it strange to study this topic, but you have to agree – even such trifles affect the quality of the result.
There are several aspects that you just need to pay attention to when choosing and purchasing pancake spatula.
If you are cooking pancakes using a spatula, then such a delicious dish needs to be decorated and you can take the ideas for decoration from the following video.
The flipper material.
If you choose a spatula just for pancakes, the material flipper plays an important role for you. Thin and delicate pancake dough can easily be damaged if the material is too hard or sharp.
If you choose a steel or metal model, then pay attention to the thickness of the flipper. A silicone spatula is more universal and the soft material prevents damage to ingredients or food.
Ergonomic handle.
A spatula is designed to make it easy for you to turn pancakes in a frying pan or frying surface. You will need to hold the instrument in your hand at all times, so the ergonomics of the handle are just as important.
If you feel uncomfortable holding the spatula in your hand or it slips out, it is best not to stop your attention on this model. The most comfortable handles are those with finishes like silicone or wood.
Size.
There are a lot of spatulas of different sizes and materials on the market. Depending on the purpose for which you purchase it, you will need to determine the size of the ideal tool.
It is worth remembering that there are no universal models at all – as the spatulas for dough and burgers have completely different materials and sizes. But if you are going to make anything other than pancakes, you will need a flipper slightly larger than the standard one.
Permissible working temperature.
The spatulas have many applications. It can be mixing, flipping, stirring and much more. Since you want to buy a flipper for pancakes, you will need to operate it at a sufficiently high temperature.
That is, if you want to flip the pancake over, you need the flipper to withstand the temperature of the frying pan and not be damaged in any way. The spatula must be heat-resistant. This applies mainly to plastic or silicone models.
Now we suggest you find out which spatulas you can buy now and don't be disappointed in their use.
Our Top Pick
HIC Harold Import Co. 60106 Dexter-Russell Pancake Turner


High quality assembly
Stainless steel and walnut wood
Massive spatula for universal use

Check Current Price
Other great Spatulas
IMAGE
PRODUCT

Di Oro Chef Series Standard Flexible Silicone Turner Spatula

Heat-resistant silicone for use with non-stick dishes.

Check current price

Professional Spatula Set - Stainless Steel Pancake Turner and Griddle Scraper

Professional quality spatulas kit.

Check current price

OXO Good Grips Large Silicone Flexible Turner

Flexible design using stainless steel and silicone.


Check current price

Norpro Nylon Nonstick 13-Inch Slotted Spatula

Nylon spatula with slits for pancakes and omelets.


Check current price
1. HIC Harold Import Co. 60106 Dexter-Russell Pancake Turner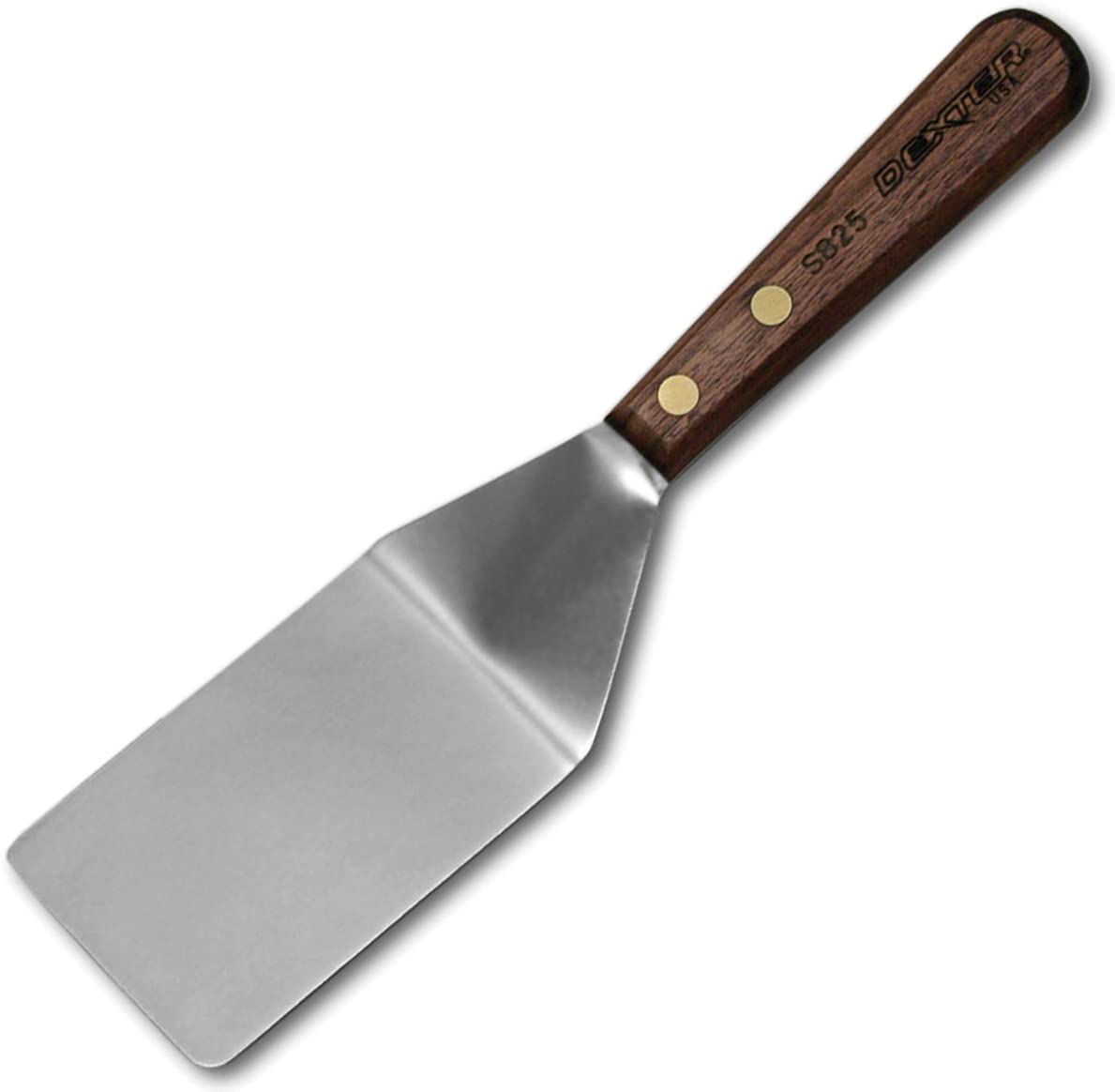 If you use cast iron skillets or non-stick pans, metal or steel spatula is ideal. Dexter-Russell Pancake Turner by HIC Harold Import Co. – is the ideal choice for those who really love to cook. If you want to feel like a professional in the kitchen or just improve your skills, this tool is an extension of your hand.
The Dexter-Russell Pancake Turner has been manufactured using high-quality materials – walnut wood and steel for the handle and stainless steel for the flipper. Dexter-Russell Pancake Turner is truly a versatile tool, as it is suitable for pancakes, cutlets, omelets and much more.
The handle is firmly attached to the flipper, as well as there is no curvature or other defects. Despite its size, the tool is really light and does not strain your hand.
The Flipper is made of fairly thin material, so you won't have any problems even with the most gentle and delicate dough. If you are afraid to spoil the non-stick frying pan surface, you should be a little more careful.
You may also like: 7 Best Pancake Maker Reviews
2. Di Oro Chef Series Standard Flexible Silicone Turner Spatula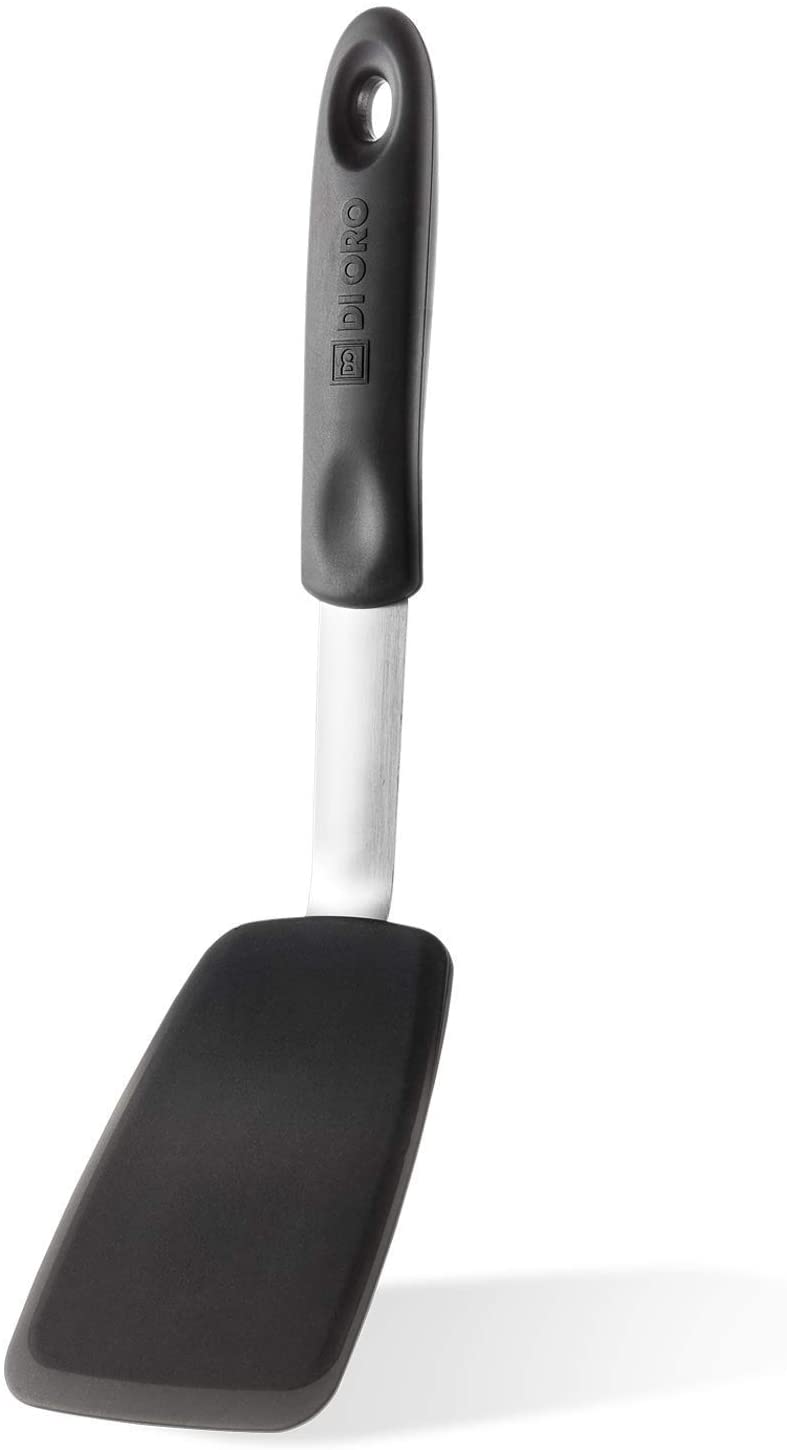 When all of your pancake dishes are non-stick, you are definitely worried about keeping a good coating. Silicone blades have been designed to work perfectly with non-stick coatings.
The Di Oro Chef Series Standard Flexible Silicone Turner Spatula has a stainless steel body and the flipper itself is coated with a silicone layer.
This method gives the edges of the blade thinness and the ability to flip the most delicate pancakes, as well as prevents the steel from touching the surface of the dishes.
The silicone used in Di Oro Chef Series Standard Flexible Silicone Turner Spatula has passed all FDA and LFGB tests, so the material will not stay on the surface of your pancakes or leave any harmful substances. The temperature at which you can work reaches 600 degrees Fahrenheit.
This silicone spatula is very strong and has more weight than other similar models. If you are a big man and are used to cooking in the kitchen for a long time, it is ideal for you.
Pancakes, fish, honeycomb and more – the Di Oro Chef Series Standard Flexible Silicone Turner Spatula is easy to find.
3. Professional Spatula Set – Stainless Steel Pancake Turner and Griddle Scrape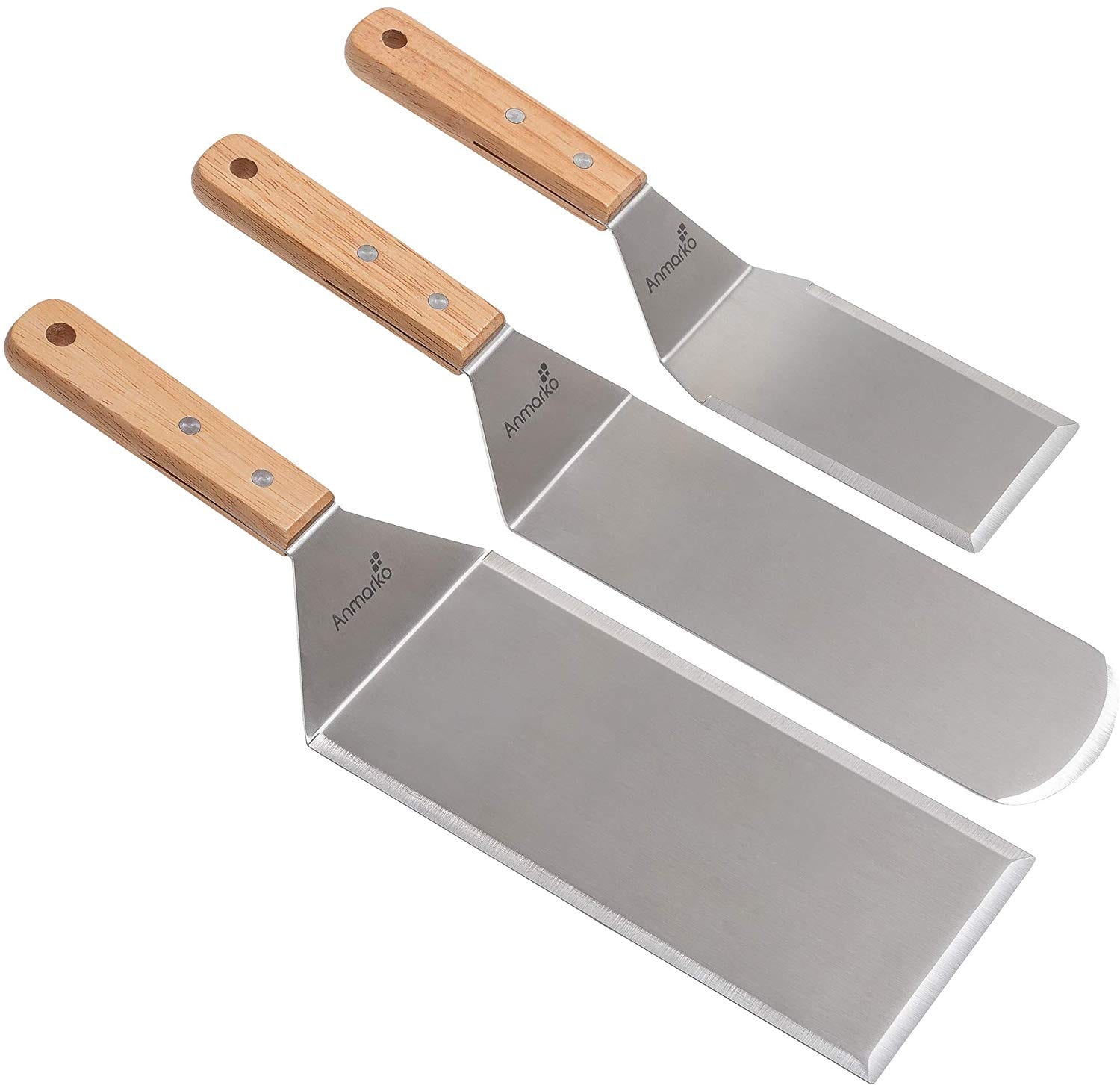 When moving or relocating, it is often a question of buying different kitchen tools. In such cases, it is easy to forget about a little thing and only find it missing when it is necessary.
To make your life a little easier, there are special sets of kitchen tools – for example, Professional Spatula Set – Stainless Steel Pancake Turner and Griddle Scrape. This set is ideal for flipping and mixing different dishes, as it has different sizes of a spatula.
It is worth noting right away that the material of manufacture is stainless steel, which can scratch too thin or delicate surfaces. So if you are making pancakes in a non-stick pan, you'd better watch out for another option.
The most important thing is that the Professional Spatula Set – Stainless Steel Pancake Turner and Griddle Scrape is durable and professional, so even chefs in the restaurant's kitchens can appreciate them in business.
The wooden handle fits perfectly in your hand and does not cause any inconvenience. It is also worth noting that for a set of good quality spatulas, this set is very inexpensive.
4. OXO Good Grips Large Silicone Flexible Turner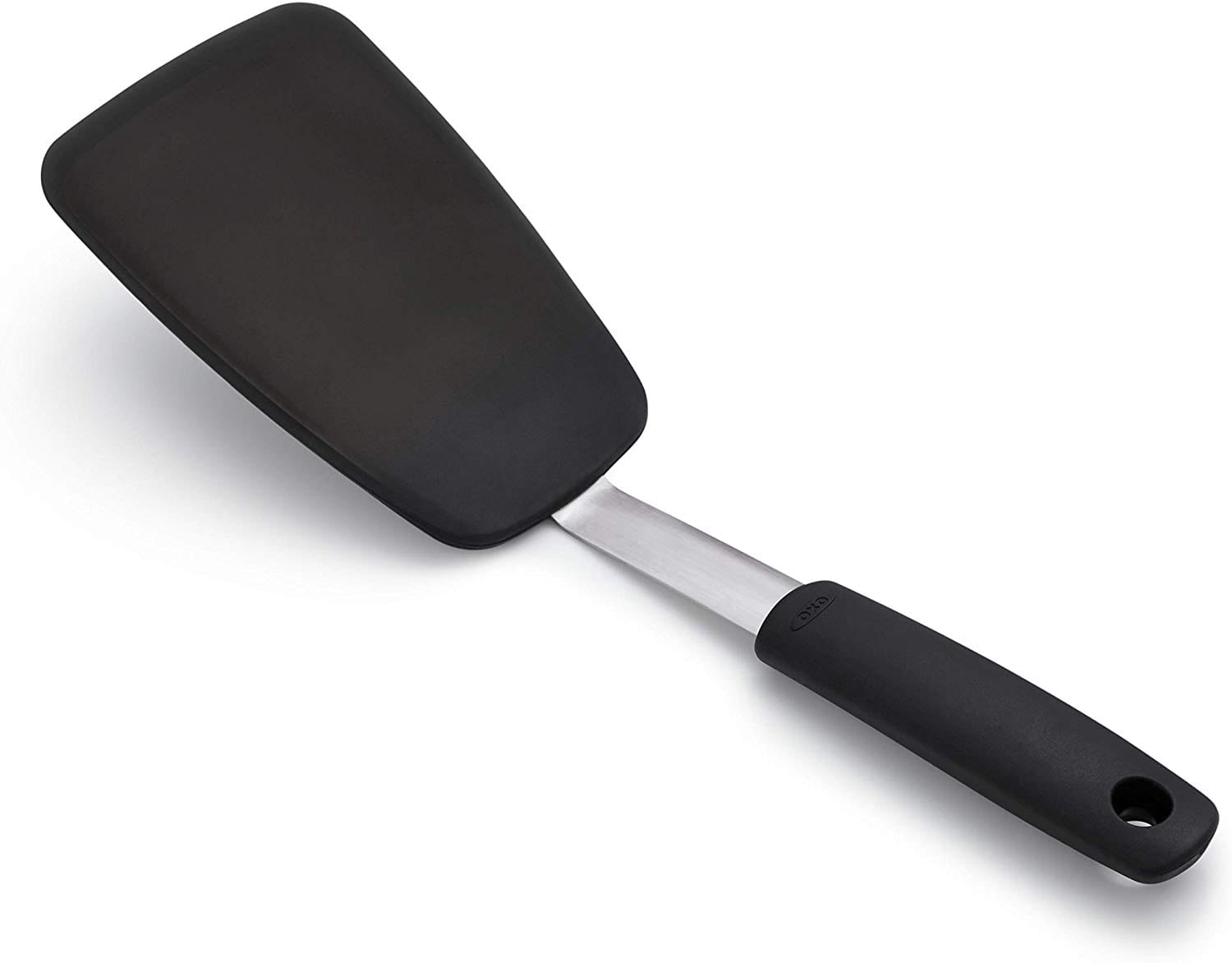 OXO is a company that has long been producing various useful tools and appliances for modern kitchens. Spatulas are not left out – under this brand you can find many excellent options that will appeal to housewives around the world.
The OXO Good Grips Large Silicone Flexible Turner is ideal for flipping, turning and stirring pancakes, eggs, and other products. The heat-resistant silicone head hides the stainless steel that forms the body of the spatula.
If you are going to buy the spatula not only for cooking but also to use it as a scraper, we would not recommend this model. If used incorrectly, the silicone cap may start to tear, so we recommend using the OXO Good Grips Large Silicone Flexible Turner for flipping over, not cleaning.
The large size of the tool is ideal for large and thin pancakes – the flipper can pick up the whole surface, separating it from the pan. The downside of what we found was the reduced heat resistance of the spatula handle. If you accidentally leave it over a fire, the tool handle can become damaged and deformed.
You can also check: 7 Best Electric Crepe Maker Reviews
5. Norpro Nylon Nonstick 13-Inch Slotted Spatula

The most popular and affordable spatulas are, of course, plastic options. You can buy them even at a large supermarket so that their purchase can happen even when you buy pancake products.
The beveled head which is typical for Norpro Nylon Nonstick 13-Inch Slotted Spatula easily gets under pancakes, eggs, and a chicken fillet, thus not scratching a dish surface. Really it is necessary to notice that you can scratch a little at excessive efforts.
A good thin edge easily gets under the food, so you will not hurt the edge of the pancakes, as well as can not tear it. The handle is made using non-slip technology so that your hand can hold the spatula firmly.
It's worth being careful with the temperature – this type of plastic is great for heating up to 400 degrees Fahrenheit, but it can start melting at high temperatures.
It is possible to wash and store Norpro Nylon Nonstick 13-Inch Slotted Spatula in the dishwasher – it will not be damaged or deformed. The ideally light design which perfectly holds in a hand – what can be better?
You might think that spatulas are too small a tool. In fact, if you have a tool of poor quality or too inconvenient to use, you will not be able to achieve a good result.
To get perfect pancakes, you need to flip them over in time without damaging the structure or making holes. We have tried to help you with the choice of a spatula so that you yourself do not spend too much time on this issue.
FAQ for pancake spatula buyers
1.
Can I use the same spatula for pancakes and burger cutlets?
Unless you are cooking both at the same time – do not use the same spatula, because the flavors are mixed! But if you have already washed the spatula after the previous dish, you can easily use it with anything else.
The main thing is that the size of the flipper is suitable for flipping both cutlets and pancakes. You should also consider the material of the flipper – silicone blades are less suitable for cutlets than metal ones.
2.
What is the difference between the use of spatula with an elongated flipper and wide flipper?
Elongated trapezoidal flippers are designed for flipping thin pancakes, omelets. The large working surface area allows for gentle flipping of food. It is not even necessary to have long handles, as pancake pans have low sides.
Sleeping pans with wide or square flippers are considered universal and are perfect for lush punk pans. They can also be used for turning over pieces of meat, fish or chicken.
3.
When choosing between plastic and silicone, what should you consider?
In order that you can easily work with hot pancakes, you should consider the thermal resistance of materials. Silicone most often has a higher working temperature threshold, so it is worth considering them.
If, however, you are still more comfortable working with plastic tools, we recommend that you carefully study the temperature, which will not damage your spatula.
4.
Is it more advantageous to buy a whole set of spatulas or each tool separately?
The cost of a set of spatulas is, of course, much less than the total cost of the same tools separately. But it is worth noting that when you buy a set of spatulas, you will not be able to select certain tools.
A complete set may not have some tools that are convenient for you, or on the contrary, there will be too many. Also, spatulas kits usually use the same materials – that is, if you do not want to use both silicone and metal, it is not the best choice.