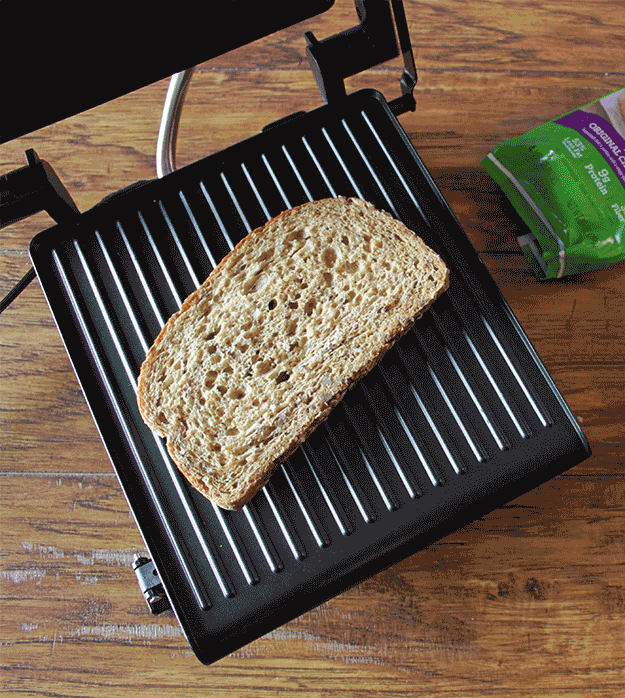 Panini is one of the most delicious versions of a sandwich in the world. Nothing can beat its grilled bright flavor. It is a great choice for any day time – whether you want to make it for breakfast, lunch, dinner or just use it as a snack.
By the way, one of the most simple and greatest recipes of the panini is Caprese panini – the one with pesto, tomatoes, and mozzarella. Really recommended!
An Italian expression "panini" means "rolled bread". Obviously, the origin of this sandwich is Italy and it is usually made with Italian bread (ciabatta, for example) and fillings of your taste. Then it is getting grilled or roasted. And can you imagine, the first mention of this dish is found in the cookbook of the 16th century!
But panini gained its popularity (especially on the West) in the 70s and 80s years of the past century. Since then this grilled sandwich became a favorite among people all around the world.
As you could already guess, panini is not the hardest meal around to make. So if you're into panini that much, why not just buy a panic maker and enjoy fresh Italian sandwiches every day? To help you to make the right choice, we have compiled a list of the best panini makers on the market among which you will definitely find the right one.
Our Top Pick Panini Press
Cuisinart GR-4NP1 GR-4N

5-in-1 design Griddler offers versatile cooking capabilities
Drip tray
Temperature controls
Plates are dishwasher safe

Check Current Price
Other great panini presses
Image
Product
George Foreman GRP4842P


3-in-1 grill
Versatile
Digital control panel

Check Current Price
Hamilton Beach Electric Panini Press Grill


Cool-touch handle
Nice design
Easy storing

Check Current Price
Cuisinart GR-1 Griddler Panini and Sandwich Press


Sturdy construction
Temperature settings
Easy to grip handle

Check Current Price
Oster 2-in-1 Panini Maker


Ceramic coating
Adjustable feet
Cleaning tool included

Check Current Price
Breville Duo Nonstick Panini Press


Durable
Sturdy handle 
Non-stick coating

Check Current Price
IMUSA USA GAU-80102


Powerful
Adjustable floating hinge
Plates with sharp ridges

Check Current Price
1. George Foreman GRP4842P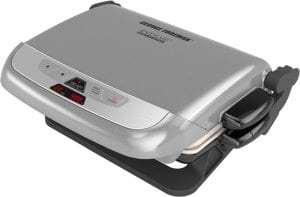 This is one of the best panini grills ever, which has been keeping its huge popularity on the market already for years. It is not just a regular panini maker, it is a 3-in-1 panini grill system that offers a great range of cooking options. Apart from panini, here you can cook chicken, burgers, steaks, and vegetables.
Another distinctive feature of the George Foreman GRP4842P Multi-Plate Evolve Grill is its a 500 searing burst, which can heat up to an extremely high temperature that this particular grill is constructed to reach in just 90 seconds of time.
It also means that you should beware of being around the handle while the maker is warming up. Moreover, this device even has a digital control panel that informs you about the cooking time along with the grill temperature.
Another great design feature of this item by George Foreman is that all the control buttons have been conveniently placed with the grill exterior, making it easier to clean. Its premium quality grill plates have been covered with a multi-layer nonstick ceramic coating, It means that you will face no issues when cleaning this item.
Besides, the non-stick coating means you won't need to use oils while grilling, which is another bonus. And don't worry, the coating is PFOA and PTFE-free so no harm for the people or the environment. The cool-touch feature makes the grill easy to handle.
By the way, the grill plates are removable. They might be not the easiest parts to clean, but it's bearable. In other aspects, the device is really great and comes at an affordable price.
You may also like: 7 Best Tabletops Grills On The Market
2. Cuisinart GR-4NP1 GR-4N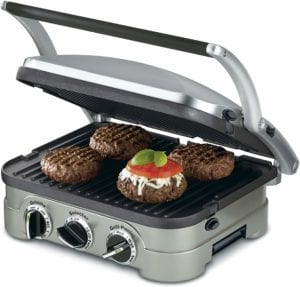 If you want to get a device from a more popular brand, here is an excellent product by Cuisinart. But its coolest feature is not even the brand itself – it's the versatility (you can understand that from the name). It can be used as a contact grill, full and half grill, full and half griddle, and panini press.
All the points mentioned make this item is worth investing in. It is a bargain when buying a panini grill you get a tool for other dishes as well. Another advantage of this item is its high-quality materials.
The GR-4N features a robust stainless-steel frame that's been built to last, along with a sturdy handle for the panini grill, and nicely designed floating cover to adjust the thickness of the food. The temperature controls are adjustable and have the indicator lights so you won't be left in the blue while making your grill.
The removable and reversible non-stick cooking plates in this panini maker by Cuisinart have been designed to drain the grease, making it possible for healthy cooking. Moreover, GR-4N has an integrated drip tray, that helps to avoid the mess after cooking.
The cooking plates are reversible and removable and can be placed into the dishwasher, even though they have a non-stick coating. However, it means that you will probably need a non-stick spray or butter before grilling so your sandwich wouldn't stick.
3. Hamilton Beach Electric Panini Press Grill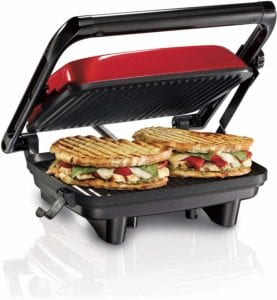 This panini grill by Hamilton Beach is a great budget option if you decide to make paninis at home. It's known for its excellent reputation and popularity among customers on Amazon. The materials used for constructing this item are top-quality and it means it will serve you a long time.
One of the main features of this maker (and you can see it right away) is its cheerful design in red and black. Thus, if you're looking for a way to make your kitchen interior more fun, go for this product. The sandwich maker features brilliant power and reheat indicators and can easily house two to three sandwiches at a time.
This panini maker by Hamilton Beach provides the equal grilling of both sandwiches and equal pressing. You also get to make sandwiches of various thicknesses thanks to the floating lid that does not come in contact with the contents of the sandwich maker.
In the traditions of the top-ranked panini grills, this one has the non-stick coating as well. Moreover, it is easy to clean. Its upright storage option makes this item is convenient for the storage with no extra hassle.
However, this panini maker has some disadvantages. First of all, when grilling, pay attention that it doesn't have any dipping tray, and that can create a lot of mess.
Moreover, there are no temperature controls, which means this device always grills at the same temperature, no matter what you want to grill. And the grills are not removable so make sure to keep them as clean as possible all the time.
4. Cuisinart GR-1 Griddler Panini and Sandwich Press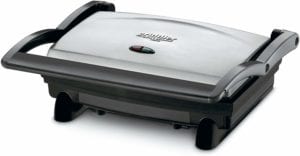 Another version of a simple, but very effective panini press by Cuisinart. Here it is worth mentioning that in real life it looks significantly better than on the picture. Its glossy metallic finish will be a nice accessory to your home's kitchen interior.
In addition to that, the quality of cooking of this press will give you a feeling like you're having a meal in a restaurant. If you know, that you want to make only paninis and sandwiches, then this is truly a perfect griddle for you – it is simple but effective.
Both the upper and lower grill plates of this unit have a non-stick coating, which helps you to save money on seasoning and cleaning of the item. You can simply put the plates into the dishwasher or wipe then with a damp cloth.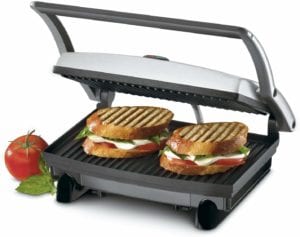 The non-removable grill plates also lend to the perfectly crusty results while making your own panini, and don't get in the way while cleaning. Another great feature of this item is its drip tray that collects all the excess oils and fats. It really does make the job easier.
Apart from that, this panini maker by Cuisinart features the indicator light, that lets you know whether it's on/off, and a preset of temperatures, with optimal ones for different types of sandwiches. A pleasant bonus that you get together with this device is a cleaning tool and a recipe book.
The disadvantage of this item is you can't but an excessively thick bread with lots of filling in here. The device will just not close, or the quality of roasting won't be as decent as you want.
5. Oster Titanium-Infused DuraCeramic 2-in-1 Panini Maker and Grill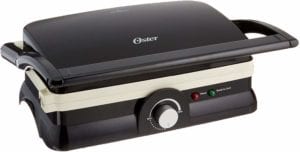 This panini maker by Oster is made from top-quality material of another range, but still extremely effective bringing to you the best flavors. It operates at a full 180 degrees. Featuring titanium-infused DuraCeramic nonstick coating, the sandwich maker is able to resist flaking and peeling.
And in the best traditions of good panini makers, this one is easy to clean as well. Another distinctive feature of this device is that it is able to grill sandwiches 30 percent faster than all the other items. Moreover, it also has a drip tray that helps you in cleaning the kitchen afterward.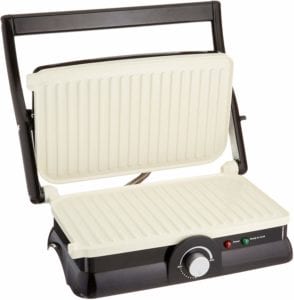 The griddle cleaning tool also makes cleaning a cinch. Its scratch-resistant surface means it does not get the usual nicks and scratches that other units get. One more cool feature of this panini maker by Oster is that it has a floating hinge system that can be adjusted according to your requirements.
It means here you won't face a problem when a sandwich can be too thick for the grill – it can handle then all. The non-stick coating here is PTFE and PFOA free so it is totally safe for you and your family. Besides, this panini maker has much more robust construction than the rest of the items on our list and in some sense, it is break-proof.
So if you're that type of person who doesn't like (or can) be too careful in their kitchen then this is a good choice for you. The only unpleasant moment that you should take care of is to watch the food not to slip off the grill when you close it. So when you place there the extremely thick sandwiches – keep that in mind.
6. Breville Duo 1500-Watt Nonstick Panini Press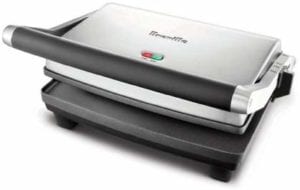 As an alternative to panini makers by Cuisinart, you can go for this one by Breville. It is a famous brand as well, that is known for producing kitchen appliances of a decent quality. Of course, here you don't expect any miracle feature but for its price, the device performs all its main functions excellently.
It's easy to see that Breville, the manufacturer of this panini press didn't leave anything behind when it came to its design and the materials used to build this non-stick panini press. Pay special attention to the handle of this device – it has a sturdy construction and adjustable grip that's locked securely to the back of the unit.
The whole item is made of the stainless steel of premium quality. By the way, the handle is rubberized. Considering the roasting plate, it has one large plate at the bottom for fast and easy cooking, and the ribbed plate at the top to perpetuate those well-known waves on the sandwich.
And just like in the case with the previous item, here you will also find a floating hinge, thus making you able to make here sandwiches of all sizes. The floating hinge does come with 4 height settings though. Apart from that, the device has the indicator lights, which let you know if the device is on or off.
Unlike the previous panini maker by Oster, this item has non-slip feet and it won't let your sandwiches slip out of the grill. Another nice addition of this panini maker is its cord wrap making it easier to pack and store. There's also a handy user manual that also includes some tasty recipes if you are interested to try.
The only disadvantage of this item is that all the grease collected form sandwiches tend to pool in the drip tray. Because of that, the unit might be a little difficult to clean, moreover, the plates are not detachable, so it's no compatible with the dishwasher.
You can also check: 5 Best Electric Tortilla Maker Reviews
7. IMUSA USA GAU-80102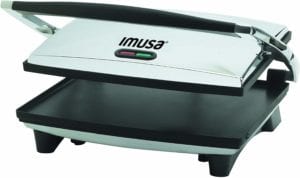 The design of this item by Imusa is really similar to the one by Cuisinart. The only thing that the price, in this case, is going to be slightly higher. It can be explained by the fact that this panini maker is more powerful – it works on the power of 1400 watts. As you could already understand, it heats up extremely fast.
The materials of this unit are stainless steel and it has the non-stick grilling plates. By the way, if you're looking for a versatile and multi-tasking item then this is not your choice since the panini maker by Imusa doesn't have any special controls or temperature settings.
It's a good option for those who just need a simple panini maker that they are going to use occasionally. There is, however, a power and heat indicator light, and the adjustable hinge allows you to use the panini press in a number of positions.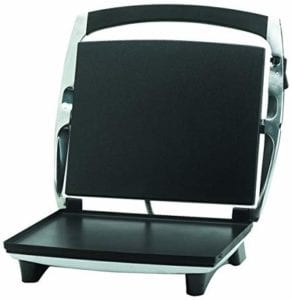 But the non-stick surface of the plates makes this item easy to clean. Moreover, this panini maker is proof that in order to get a real restaurant-quality sandwich you don't need an extremely upgraded tool with 15 different cooking modes. The most important aspect is engineering and the distribution of the heat – and this device has all of that.
On the US market, Imusa is one of the leaders even though it's not that famous overseas. But if you decide to invest in that you can be sure that this item is going to be durable and reliable.
However, there are certain disadvantages that this item has. First of all, in order to use this panini maker, you will need a converter plug (suitable only for US sockets).
And even though this item is powerful, sometimes it can play against you and your sandwich ends up burned in the grill. Also, be careful with its floating hinge – it is rather fragile and can break if you're not careful.
FAQ for panini makers buyers
1. How do you clean a panini maker?
The first step to cleaning is to unplug the grill and let it cool down. Then, using a damp paper towel, wipe crumbs and any oily residue off the grill. With a small amount of warm, soapy water, firmly scrub the surface with a sponge, paying special attention to the grooves, where oil gets trapped.
2. Do you oil a panini press?
Yes, in case the plates don't have the non-stick coating, you can use either butter, canola or oil. Those can be used also as sprays.
3. How do you keep a panini from getting soggy?
If you hate sogginess, choose rolls or crusty bread. For sliced sandwich bread, consider toasting it to keep moisture out. To keep the bread from getting soggy, spread condiments into the middle of the sandwich, between the slices of meat or cheese. Make sure your lettuce is nice and dry.
4. Can I use a panini press to grill chicken?
Yes, the panini press is actually a versatile tool where you can roast not only bread. It can else reheat pizza, fries, it can roast bacon, it can help you to make wedge salad, and even flatbread in a flash. Making burgers is also possible.
5.  How long do you use the panini press?
Just place your sandwich inside and close the lid. Cook for about 3-5 minutes. Cook according to the manufacturer's instructions until golden and crisp. Of course, these numbers can vary depending on the maker's power, but it should take too long to grill sandwiches.