The pasta strainer is a bucket type dish with holes in the bottom.
It makes it easier to rinse fruits, drain the broth after boiling pasta, meat or vegetables and separate the liquid from the can.
It is necessary to put gauze on the bottom, transfer the product, and strain the liquid. You can protect your stove and hands from splashes during cooking.
There are three main types of pasta strainers, differing in shape:
| | |
| --- | --- |
| Round | It's a classic variant that prevails in stores. |
| Rectangular or square | Such models are much rarer, although they have their advantages, for example, it is more convenient to pour berries or pasta into a plate, they are more stable and compact. |
| Oval | Such models are also common. Usually they have legs that do not need to hold a colander over the sink, and the holes will not touch the bottom of the sink. |
Which material is the most practical?
As with any other dishes, the first thing to do is to decide on the material of manufacture.
Stainless steel for universal use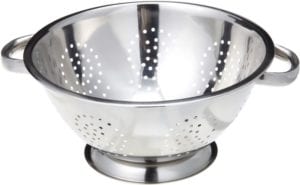 The Stainless Steel strainer is versatile, not afraid of ice or boiling water. It can be used with all kinds of products. Incredibly durable, suitable for washing sour fruits and vegetables. It is ideal in cases where a large number of products to be processed. Check other stainless steel cookware.
The pasta strainer with holes in the form of a metal mesh is very convenient, as the liquid flows well through the mesh. It is convenient for cottage cheese and juice from sour berries.
In addition to being practical, the stainless steel dishes look stylish. It is easy to clean without worrying about scratches. But, it is not desirable to use abrasive materials in the care of stainless steel – this will lead to a loss of gloss.
The main thing that the stainless steel is food and thick enough, otherwise the metal can bend, deform and break under the weight of vegetables.
Enameled steel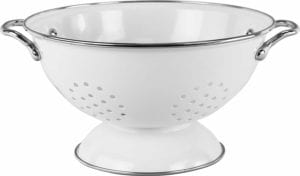 Enameled steel metal strainers look pretty. It can withstand heavyweight and are suitable for all products, including filtered curd. At the heart of the case is carbon steel, and the enamel is applied hot, which guarantees durability.
Enameled steel products are vulnerable to chipping. If the enamel is damaged, oxidation processes are started and dishes cannot be used afterward. Consuming food products that have come into contact with oxidized carbon steel can be dangerous to health.
Plastic for cold tasks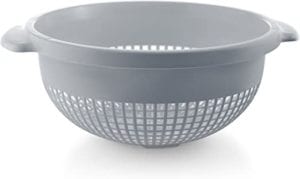 Plastic hoses are designed to work only with cold products. They can be foldable, representing a thin plate with four side parts, which can be easily folded into a box.
Thanks to the holes in all parts, it is easy to wash fruits and vegetables. Models made of plastic with small holes are convenient for filtration of freshly squeezed juices.
The minus of plastic can be considered short-lived if cheap materials were used for production. Thin handles can bend under the weight of products, there is a risk that the contents will fall on the sink or table.
Silicone for today's hostesses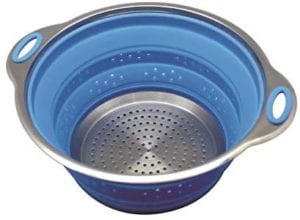 Heat-resistant material. It can withstand temperatures up to +200 degrees and can withstand temperatures as low as -10 degrees without loss. It does not absorb odors, does not react with products. It is not in vain that baking molds and mats are made of it.
The advantage of silicone colander is its multifunctionality and transformation capability. When decomposed, they keep their shape thanks to their legs and the strong plastic bezel at the edge.
Folded one-third are transformed into a cake that can be used as a fruitcake or as a hotplate.
Ceramics for special applications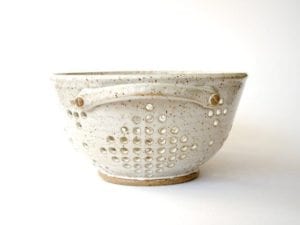 Ceramic strainer can sometimes be found on sale, but it is inconvenient to use it for its intended purpose. Conditioned by this fragility – the slightest blow can turn dishes into a pile of shrapnel.
Such models are usually original in appearance, used as an interior element for stylization. Ceramic cookware has high quality and best characteristics.
When choosing a pasta strainer should not pay attention to its appearance, this criterion is not important when using an object. This kitchen helper is chosen for a certain functional purpose.
It must thus be safe and comfortable in the first place. You should also pay attention to the fact that the handles of this cookware should be made of a material resistant to heat so as not to get burnt when using it.
In this video you will get some necessary information on the best pasta strainers from specialists:
When buying a pasta strainer, you should first determine for what purpose it will be used, after that pay attention to the size of the holes in the sieve.
Knowing the volume of dishes that are prepared daily, you need to buy utensils with the appropriate volume and size. This kitchen assistant should not be cumbersome and take up a lot of space.
In general, all modern pasta strainer is practical and easy to use. An exception may be the economy class models, made of very cheap metals, plastic or silicone.
If you plan to use them for a long time, it is better to give up inexpensive models in favor of higher quality at a higher price.
This review presents the best models of pasta strainers. This is a great example of the combination of price and quality:
Our Top Pick
Pre-Seasoned Carbon Steel Wok Pan

The material of this frying pan is high-strength cast iron. This option is optimal for uniform surface heating.
Check Current Price
Otherwise, these models can be of high quality:
IMAGE
PRODUCT

Winco SSS-3

It's little perforations allow you to make pasta, dry fruits and vegetables and lots of other different tasks.

Check Current Price

Thunder Group ALHDCO001

Great solution for rinsing fresh fruits and vegetables, this commercial grade aluminum colander is also great for straining pasta and blanching vegetables.


Check Current Price

KitchenAid KC166OSERA

This plastic pasta strainer has sturdy construction and two oversized handles for ease of use.  Perforations allow water to drain quickly.


Check Current Price

Qimh Colander Collapsible Strainer

This pasta strainer is made of environmentally friendly rubber and plastics materials, no smell and non-toxic. 

Check Current Price

Home Basics Stainless Steel Deep Colander Strainer

This model is made of excellent lightweight stainless steel for easy handling. It is dishwasher safe for easy clean up.




Check Current Price

YBM Home 8.5 Inch Plastic Strainer Colander

This item has wide holes to make water draining faster. The long handle will make your cooking more comfortable. 

Check Current Price
ExcelSteel 242 5-Quart Stainless Steel Colander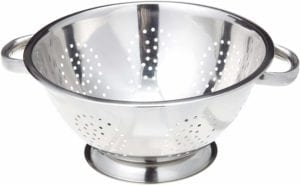 This colander model is made of high-strength stainless steel. The material of the product does not emit any toxic substances and is not prone to corrosion.
Besides, this material allows you to work with both cold and hot liquids. The volume of colander is 1 liter, which determines its compactness and convenience in storage.
The greatest number of holes on the surface and on the bottom contribute to the rapid flow of water.
The base provides extra comfort without touching the shell colander contents.
The holes in this strainer are small enough to allow extra water to easily drain out. The food you have prepared and placed in this cookware will remain inside. Reliable material will protect your spaghetti, so you can easily remove excess water.
The material used to make this colander is very easy to clean. You can wash these dishes manually or in the dishwasher. Besides, this stainless steel will never deform or release any harmful substances.
You can also check: 7 Best Pasta Pots with Strainer Reviews
Winco SSS-3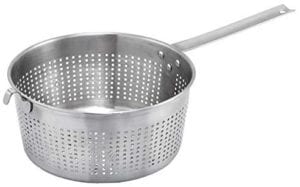 This pasta strainer is made of stainless steel and is strong and durable. It is corrosion-free and meets all hygienic standards and requirements.
It is used to drain water from cooked vegetables, pasta, rice, and similar products.
Also, this strainer is convenient for washing small berries such as currants, cherries, and many others.
The colander has two comfortable handles, and thanks to the leg, the product can be placed directly in the sink.
Such a convenient and practical accessory will be an indispensable assistant in the kitchen for every modern hostess. Suitable for washing in the dishwasher.
With this product, you can easily drain water from ready-made pasta, vegetables, or fruits. This pasta strainer can be used with the pot to help you steam delicious, delicious, and healthy dishes.
The base of the colander is made of stainless steel. The sieve and lining on the handle are made of strong heat-resistant silicone, which is colorless, does not absorb fats or odors, and is easy to clean.
The shape of the handle makes it possible to store the colander in a suspended state. Despite the possibility of washing this colander in the dishwasher, manual washing is recommended.
The enamel coating is very resistant to scratches and mechanical damage. The antibacterial properties of the enamel have a positive effect on the quality of the products processed in the colander.
The enamel is completely neutral to the products. They preserve their taste, smell and aroma, and the enamel itself is not colored, fat and odor-absorbing.
Thunder Group ALHDCO001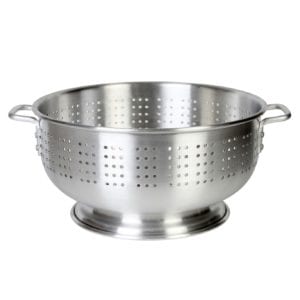 This metal colander will serve you for many years. It is a convenient and practical accessory.
It will become an indispensable assistant in the kitchen for every modern hostess.
This pasta strainer is very convenient to use when you need to separate solid ingredients from water. For example, to drain water from the pasta.
It is also used to strain cooked vegetables, rice or to wash soft berries such as strawberries or raspberries from water.
The model is made of steel, has strength and durability, is not exposed to corrosion, and meets all hygienic norms and requirements.
The dishes are equipped with two handles fixed by spot welding. Thanks to the well-thought-out design, the stainless steel colander is extremely easy to use.
It is lightweight and does not need complicated maintenance. Ideal for straining both cold and hot food.
If you buy a steel colander, cooking chicken broths will be easier for you. Load the products you use in your recipe in a metal container with holes, place it in a pot of water and cook for as long as you like.
This colander is the perfect complement to your cookware set and will make cooking easier and more convenient.
KitchenAid KC166OSERA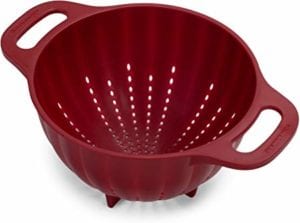 This polypropylene colander is light and comfortable.
Two handles allow you to comfortably hold the colander on the weight or put on a container of a suitable diameter. There are small legs and an opening for hanging.
Classic colander with a plastic overlay on the handle. We have three types of this colander on sale: large, medium, and small.
The difference between them, as it is not difficult to guess only in size. Metal colander, unlike plastic, is not afraid of contact with hot water.
It will help the mistress to separate the liquid from solid substances. For example, after cooking pasta, cereal, potatoes.
Thanks to the carefully thought-out form of holes, excess liquid flows quickly and fully.
The volume of the product is 3 liters. Thanks to its feet, it can be placed in the sink, the liquid will flow better without collecting it at the bottom. The device is equipped with non-slip handles, for which it will be easy to carry.
They are wide enough so that you can do it even with one hand. The pasta strainer is made of plastic and is easy to clean with a mild dishwashing agent. It is a convenient and practical kitchen tool that combines a colander, lid, and steamer capabilities.
This colander is made of high-quality, environmentally friendly, durable silicone. It does not absorb fats and smells, it is not colored. Flexible design, very convenient for storage. It withstands temperature from -40 to +220 degrees.
It can be used in microwave ovens, ovens, fridges, and freezers. The pasta strainer can be washed in the dishwasher. Easy to clean when hand-washed.
Qimh Colander Collapsible Strainer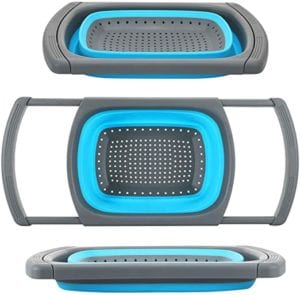 This colander will be a worthy assistant in the kitchen. It allows you to quickly wash berries and fruits, vegetables and greens, drain boiled pasta or rice.
The product is made of durable food plastic. The quadrilateral shape, stable legs, and ergonomic handle make the use of colander as comfortable as possible.
The product is easy to place on the table or in the sink and can be easily held with one hand. Vertical openings allow for quick drainage of liquid.
The colander can be washed either manually or in the dishwasher.
The pasta strainer is designed to wash all cereals, pasta, vegetables, fruits, berries, greens.
It has a spout for draining liquid and handy handles. Easily understandable for washing.
The pasta strainer is made of high-strength plastic that can withstand heavy loads and strong heat. It does not deform under the weight of products and the influence of boiling water.
It can be washed either manually (by means without abrasive particles in the composition) or in the dishwasher.
These dishes are made from materials that do not contain Bisphenol A, phthalates and other dangerous substances. They are absolutely safe for humans.
This model is used for washing vegetables, fruits and cereals under a jet of water. There are special holes on the side of the product for draining liquid. Clean food can be served on the table in the same bowl without moving it to another container.
It creates a comfortable working environment. Extra advantages include ergonomically shaped handles and a non-slip base. The colander is cleaned manually or in the dishwasher to remove food remains.
High quality and safe material is used in the production of the container.
Home Basics Stainless Steel Deep Colander Strainer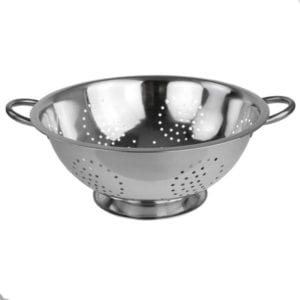 It's an indispensable assistant in the kitchen. Throw away pasta or boiled vegetables, strain the broth or wipe the berries – this device is indispensable.
The model is made of stainless steel and is not afraid of rust, undemanding in care. Durslag has a thoughtful design.
A spacious bowl with edges perforated around the perimeter, there are comfortable large handles.
The model has a stable base, thanks to which the strainer can be installed without using extra containers – right in the sink.
The colander is made of high-quality steel. There is a stand attached to the bottom. There are two handles attached to the sides.
This design of the colander is especially convenient because you can use it without help. Holes are located in a certain way: some clots-blocks. Six such blocks are located on the sidewall of the colander and one at the bottom.
That's enough for spaghetti. The diameter of one hole is about four millimeters. Excellent quality product, very comfortable, in the kitchen is indispensable. The volume is very large, suitable for a large family.
This colander can be washed in the dishwasher. Easy to clean when hand-washed. It is packed in a branded box. Such colander will be your reliable assistant in the preparation of useful and delicious dishes.
You may also like: 7 Best Electric Pasta Machines Reviews
YBM Home 8.5 Inch Plastic Strainer Colander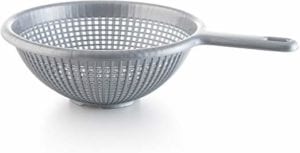 This multifunctional colander has wide functionality.
With its help it is easy to separate pasta, cereals, potatoes from water or broth, wash berries, fruits, vegetables, strain curd whey.
It is a truly indispensable kitchen appliance, it is made of plastic. Durslag is a functional device that every hostess will appreciate.
This colander uses a perforation with large holes. It is suitable for washing large fruits and draining water. The rounded, oblong perforations are more practical, as water flows through them faster.
The bucket with a round bowl is considered a classic model. The handle of this bucket is long enough to hold comfortably. But it will be necessary to divide a place for storage, which takes a big space.
This colander is made of high-strength steel with a two-layer coating of premium enamel. The enamel consists only of natural components.
This is a comfortable colander with a supporting leg, with which you can fix it to dishes. There is also a handle with a hole for hanging from the hook.
FAQ for pasta strainers buyers
What materials are pasta strainers made of?
Stainless steel, enameled steel, plastic, silicone, ceramics.
What kind of perforation can you make?
The perforations are of the following types:
The traditional placer of round holes, separated from the center by concentric circles.
Long narrow slits, diverging from the center to the edges.
Metal grid in plastic or stainless steel housing.
Two large holes at the bottom of the container and one large hole at each side.
What is the advantage of pasta strainers with handles?
Vertical handles often found on square models with rounded corners, are stable. Very handy if you need to install a colander in the sink.