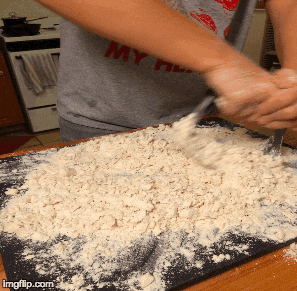 Sometimes pastry cutter is also called a pastry blender. Having a good one is absolute must-have for those who want to make the top-class pasta and dough in their kitchen. The purpose of this device is to blend butter and other fats into the flour, thus making the process of preparing the dough several times faster.
In general, this tool is the perfect solution for those who would like to have their own homemade treats but don't want to get their hands dirty. With a pastry cutter, you can make pretty much everything – bread, pie crusts, puff, and flaky pastries and so on. This tool is especially helpful during the holiday season when you need to bake a lot.
Moreover, a pastry cutter can become one of your most versatile kitchen tools. It can be used to mash beans for burritos or spreads, crush avocados for a smoother guacamole recipe, or in some cases, it can even replace electric beaters so you could cook the mashed potatoes.
Nowadays, the choice of all the pastry cutters is so wide that sometimes it is hard to distinguish them from the chuff. In order to save your time, we created the list of the top-ranked pastry cutters on Amazon to help you to choose the one that suits you the most.
Our Top Pick Pastry Cutter
| Spring Chef Dough Blender | | |
| --- | --- | --- |
| | Reliable and durable pastry cutter. Has a top-quality construction that will serve you a long life. The price is amazing. | Check Current Price |
Other great pastry cutters
Image
Product
K&S Artisan Pastry Cutter Set
This is a set consisting of cookie cutters and a pastry cutter. Made of stainless steel. Also, available in the set of 3 pieces
Check Current Price
Hulisen
A set of tools including a four-blade metal pastry blender, one stainless steel pastry scraper, and a set of five round biscuit cutters
Check Current Price
Prepworks by Progressive
Tall pastry cutter with plastic handle
Check Current Price
Sumo
One of the best pastry cutters on the market which is more suitable for the people with bigger palms
Check Current Price
Orblue
Standard and affordable item with rubberized handle
Check Current Price
OXO 1124200
Simple pastry cutter suitable for right- and left-handed people
Check Current Price
1. Spring Chef Dough Blender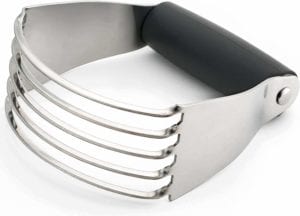 This is one of the most popular items in this category the manufacturer of which claims that "this cutter is better than the one your grandma had". Sturdy and durable with five thick metal blades and a comfortable rubberized handgrip, this top-rated pastry blender from Spring Chef will save you time and energy during baking prep.
After a while of cooking with this tool, you will notice that the texture of the dough became smoother and fluffier. With this, you got a chance to make flakier and fluffier biscuits, pie crust, pizza dough, scones, pastries and more. On the other hand, you will be surprised how lightweight is this item and that your hands don't get tired at all when you use it.
This Spring Chef Dough Blender is also suitable for people with arthritis. In addition to that, it is dishwasher safe, and you don't need to waste your time trying to scrub out the sticky dough remnants.
The item was highly ranked by customers. The only disadvantage that can be identified, is that this pastry cutter might be uncomfortable for people with bigger palms because the handle itself is quite small in size.
You may also like: 7 Cool Cookie Cutter Reviews
2. K&S Artisan Pastry Cutter Set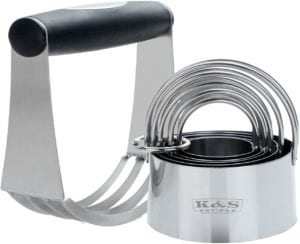 This is a set coming in two variants. The first one consists of two pieces and the second consists of 3. All the elements are made of high-grade stainless steel. You can also try stainless steel cookware. In case you're wondering what is the second piece in the set, it's the set of five graduated cookie cutters that can be stacked and neatly stored when not in use.
This pastry cutter has recommended itself as the sharpest one, which means it can easily cut through the tougher doughs like pizza crust or bread. The handle is rubberized what provides a comfortable grip that won't let your hands get tired while you're mixing the dough.
You can even use this dough blender not only for mixing the dough ingredients but also for cutting chocolate bars into small pieces or even any type of nuts to add it to your biscuits or cookies dough.
Apart from that, this set can be presented as a small gift for a wedding. In the set of 3 pieces, you will find also a pastry brush and a free extra bonus dough scraper. The price for this pastry cutter is going to be a little higher since it's a set and not a single item.
3. HULISEN Stainless Steel Pastry Scraper, Dough Blender & Biscuit Cutter Set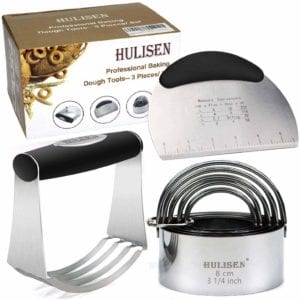 Actually, if you decide to have a serious attitude to your dough making process you better get the whole set for that. Hulisen is one of the leaders on the market, making the items which are known for their top-quality.
This three-piece baking set from Hulisen includes one four-blade metal pastry blender, one stainless steel pastry scraper, and a set of five round biscuit cutters. All the items in the set are easy to clean and, moreover, they are dishwasher safe.
If you want your pizza, pastries, doughnuts, ravioli, pasta and so on to turn out really amazing then the tools from this set will help you a lot. The pastry scraper and dough blender here have a rubber non-slip handle that is ergonomically designed so you won't get tired during the cooking process.
If you're measuring out large batches or dividing the dough into portions to freeze or store for later, the pastry scraper is marked with helpful measurements in both centimeters and inches for precision and consistency. By the way, a similar piece with the same properties can be found in the previous set.
However, on this pastry scraper, you can also see the explanations of the measurement system. Thus, this set would also become a cool gift for those who enjoy their home cooking.
Well, the only drawback here might be the fact that you cannot purchase a single pastry cutter without the whole set and buying it might be pricy. In cases you're sure you need only one pastry blender, you should look for another position on our list.
4. Prepworks by Progressive Blade Pastry Blender with Integrated Cleaning Tab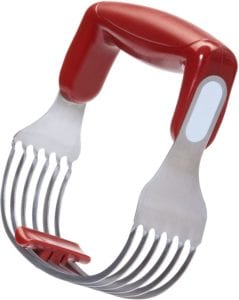 And here we have a single pastry cutter by Prepworks that, first of all, stands out for its bigger size. It has a taller design compared to all the previous pastry cutters. It has the six blades to easily cut through butter or any other baking ingredients.
In the best traditions of the decent pastry cutters, this one has an easy-to-grip handle. The only thing, here it is not rubberized, it is just made of plastic. But that's only because the whole construction is made with a purpose to make this item easier to clean.
By the way, this pastry cutter by Prepworks is dishwasher safe. In addition to that, it comes with a handy integrated cleaning tab to clear the blade of dough after use. Well, another feature that distinguishes it from others is its bright red color.
However, some questions may occur considering the last part. Many users say they find it quite useless and another problem is that after cleaning the cutter with the cleaning tab you need to clean the cleaning tab itself which is even more difficult. In order to avoid the hassle, just put this pastry cutter into the dishwasher.
5. SUMO Pastry Dough Blender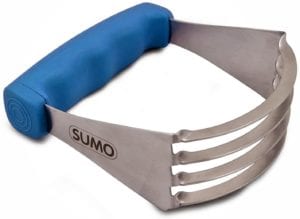 This pastry blender is one of the best on the market. Maybe it has fewer blades than its competitors, but it doesn't make it any worse. On the opposite, because of the fact that those blades are wide and sturdy, they let mix even the toughest dough and make a fluffy one out of it.
A fun bonus part of it is that you can choose the color of the handle that you want to get among 5 different colors. The overall construction of this pastry cutter provides an ideally distributed weight, giving you the power and control to cut and mix butter with total ease.
The handle here is rubberized providing you a soft grip allowing to whip the dough without your hand getting tired. Moreover, the technology of the material makes the handle non-slip and secure. The item is made of stainless steel that will never rust. It makes this pastry cutter by SUMO dishwasher safe.
This easy-to-store tool can be versatile whatever you need to mix – maybe smash avocados for guacamole or crack nuts. It allows for mixing everything quickly and effectively. Moreover, the comfortable grip here makes this item suitable both for right- or left-handed people.
But here, unlike the situation with most pastry cutters, it might feel like the handle is too large for your hands. That's why it is not recommended for the people with smaller palms – the grip will be uncomfortable for you.
6. Orblue Pastry Cutter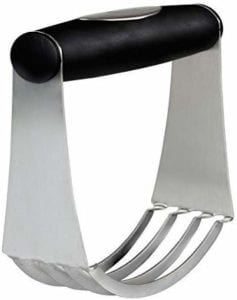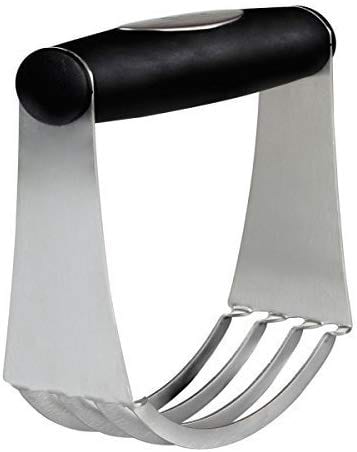 This is the standard pastry cutter that performs its job well, but it will be especially appreciated by left-handed people. Its handle stands out for an extra comfortable grip what makes this item super easy to use. Overall, it has a sturdy and reliable construction that won't break at any circumstances.
The item is made of stainless steel. It has the 4 robust blades that will whip the dough quickly and effectively. The soft grip that the handle provides absorbs all the pressure. By the way, one of the distinctive features here is that the blades are sharp but not too sharp, as they are in the pastry cutter by K&S, for example.
You will be amazed how this pastry blender can mix butter, cold butter and flour with no problem at all. The construction of this pastry cutter makes it dishwasher safe.
The price of this item will be another pleasant bonus. The only disadvantage of it is that some consumers note that the handle can fall apart easily. Thus, it is recommended to check it each time before the new session of whipping.
You can also check: 7 Best Pizza Peel Reviews
7. OXO 1124200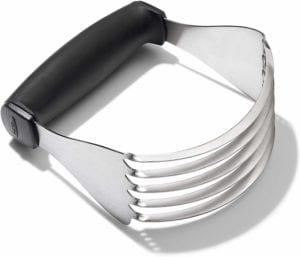 This pastry cutter is beneficial both for whipping the butter and the dough. Manufactured by OXO, one of the market-leading companies producing kitchen appliances, this one promises to become another useful acquisition if you decide to buy it.
It breaks the butter into small pieces and its repeated action perfectly blends the butter into the flour. OXO dough blender is one of the best available baking hand tools available in the market today.
It allows you to cook such complicated things as cakes, biscuits, and cakes with ease. The whole construction is made of high-quality stainless steel. It will serve you a long life without any wreaks. It works well in long periods of time without being bent or rusted.
It can achieve effective results in mixing the hard substances because of its thick blades of robust complexion. Thus, it cuts the butter or margarine into the dry ingredients like flour and sugar. A distinctive feature here is that the blades themselves are not very sharp, and that adds to the effectiveness.
The product has been designed with dimensions 5.1 x 5 x 2.2 inches and an approximate weight of 1.6 ounces. This pastry cutter by OXO is dishwasher safe. The only thing you should remember about it is not to place it into the microwave.
In general, this pastry cutter promises to make your baking process much shorter and effective, especially if you love cooking. Even though its handle is made of plastic and doesn't have the softcover it is sturdy and reliable, providing a non-slip and secure grip.
Curved blades provide the perfect blending action. And in the traditions of the best pastry cutters, you can use this one not only for mixing the dough but also for mashing other ingredients like potatoes and apples.
The only negative aspect here might be the fact that the cutting blades are placed on the big distance from each other. Thus, this tool is more suitable for mixing bigger ingredients and the number of substances – smaller things like nuts it will be simply unable to squash.
FAQ for pastry cutters buyers
1. Do I need a pastry cutter if I have an electric mixer? 
Well, depends on how often you cook. In some cases, when you don't need to mix a lot, a pastry cutter can help to avoid the extra hassle with unpacking and installing the electric mixer. Another point of using the pastry cutter is that it doesn't require any electric supply, thus, helping you to save the electricity.
2. What are the closest pastry cutter substitutes? 
The very closes one is a regular fork. Of course, in terms of comfort, it is much worse. Also, such things as butter knives, food processors, cheese grater can be used instead of pastry cutters. However, most of them are quite rare.
3. Why do I need to use a pastry cutter? 
Well, if you want to make your cooking process easier and faster, and less energy-consuming then pastry cutter is a good thing to go for. For example, the butter is supposed to be cut into tiny pieces and distributed throughout the dry ingredients rather than incorporated into them.
If you cut the butter in properly, you'll end up with a crumbly texture and the result will be flaky baked goods. This is in contrast to making something like cookies or cakes, in which you cream the butter and sugar into a uniform texture, resulting in a softer product that doesn't flake.
4. How do I use the pastry cutter? 
To use the pastry blender, grip the handle and press the blades down into the butter, essentially cutting the butter into pieces. Twist the blender a half-turn and then lift up and repeat several times in quick motions until the mixture is the right consistency.