Whenever you at a party with your friends, at a resort, sipping cocktails, or going hiking the probability that you will need ice is really high. This simple condition of water seems so insignificant but adds so much "coolness" to our lives – it is always better to drink water with ice, store the drinks in ice and even make frozen juices.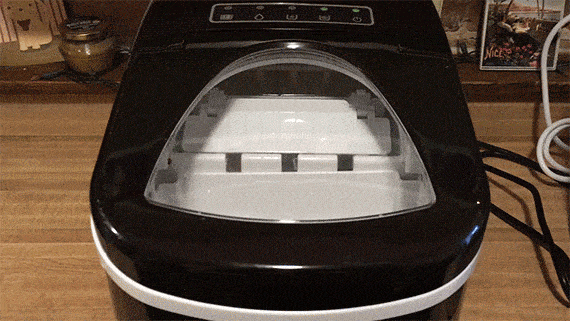 The obvious problem with it is that the ice tends to melt very fast so no one wants to hang around with a wet bag. That's why it's always a problem to deliver the ice to the parties – because it's complex to transport it and it is extremely difficult to save even a little ice if you're going, for instance, camping. Being more precise, it used to be.
Luckily, in our time engineers have created portable ice makers and all the icy problems can be solved. Now you can bring the ice maker to the pool party and make its drinks taste much better.
You can just keep it at home to make the ice for everyday needs. Of course, there are refrigerators that come with the ice-making function, but have you seen their prices? Buying an ice maker alone is much more profitable.
So save your hot summer days (and nights) with a bunch of ice! Check out the article below you find the best portable ice maker that will suit your needs the most.
Our Top Pick Portable Ice Maker
| Igloo Counter Top Ice Maker | | |
| --- | --- | --- |
| | It includes every feature that a good ice maker should possess: it is compact, powerful and durable. | Check Current Price |
Other great portable ice makers
Image
Product
NewAir Portable Ice Maker


Can produce 28 lbc of ice a day
Beautiful color
Compact

Check Current Price
COSTWAY Ice Maker for Countertop


Makes 26 lbs of ice a day
Recycles the water leftovers
Comes in 5 different colors

Check Current Price
IKICH Portable Ice Maker Machine for Countertop


Can produce 26 lbs of ice a day
Made of food-grade materials
Has a glass window

Check Current Price
Frigidaire EFIC206-SILVER Ice Maker


Can produce 26 lbs of ice a day
Extra compact
Quiet

Check Current Price
RCA Counter Top Ice Maker


Easy to carry with you
Works extremely fast

Check Current Price
Euhomy Ice Maker Machine Countertop, Portable Compact Ice Cube Maker


Can produce 40 lbs of ice in a day
Large
Pricy

Check Current Price
1. NewAir Portable Ice Maker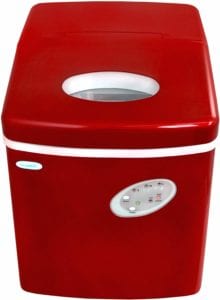 We're starting with a classic example of a portable ice maker to give you an impression. With this appliance, you won't need to go to the store to pay for the ice ever again. You will love its sleek and convenient design which also makes this item extremely compact, so you can easily place it on the countertop.
It is capable of producing up to 28 pounds of ice in a day, which is an impressive number. For those who are worried that they will have to wait a lot, you can calm down because the average time of producing the ice by NewAir ice maker is from 6 to 15 minutes.
The usage couldn't be easier thanks to the electronic controls – you don't need to make any installation manipulations, you just fill the machine with water, plug it into a socket and wait for the ice to be ready.
In addition to that, it has the handy control panel so you can choose the size of the ice particles that you want to get! You can choose between small, medium and large. The whole process is totally automatized. When your ice is ready, the device will automatically detect and alert you to take the necessary action.
Along with its great design and compact size, the item itself is made of the durable and reliable materials which promise the years of serving. Cleaning shouldn't be difficult as well. Once you are done, all you need to do is to unplug the machine and drain water through the side-mounted drain.
In addition, the item comes in 5 various colors and 3 different shapes. It is quite affordable and will pay itself back quickly. The only flaw of this ice maker by NewAir is that you need to check its sensors at least once a year – they can start working incorrectly over time.
You may also like: 7 Best Sparkling Water Makers Reviews
2. Igloo Counter Top Ice Maker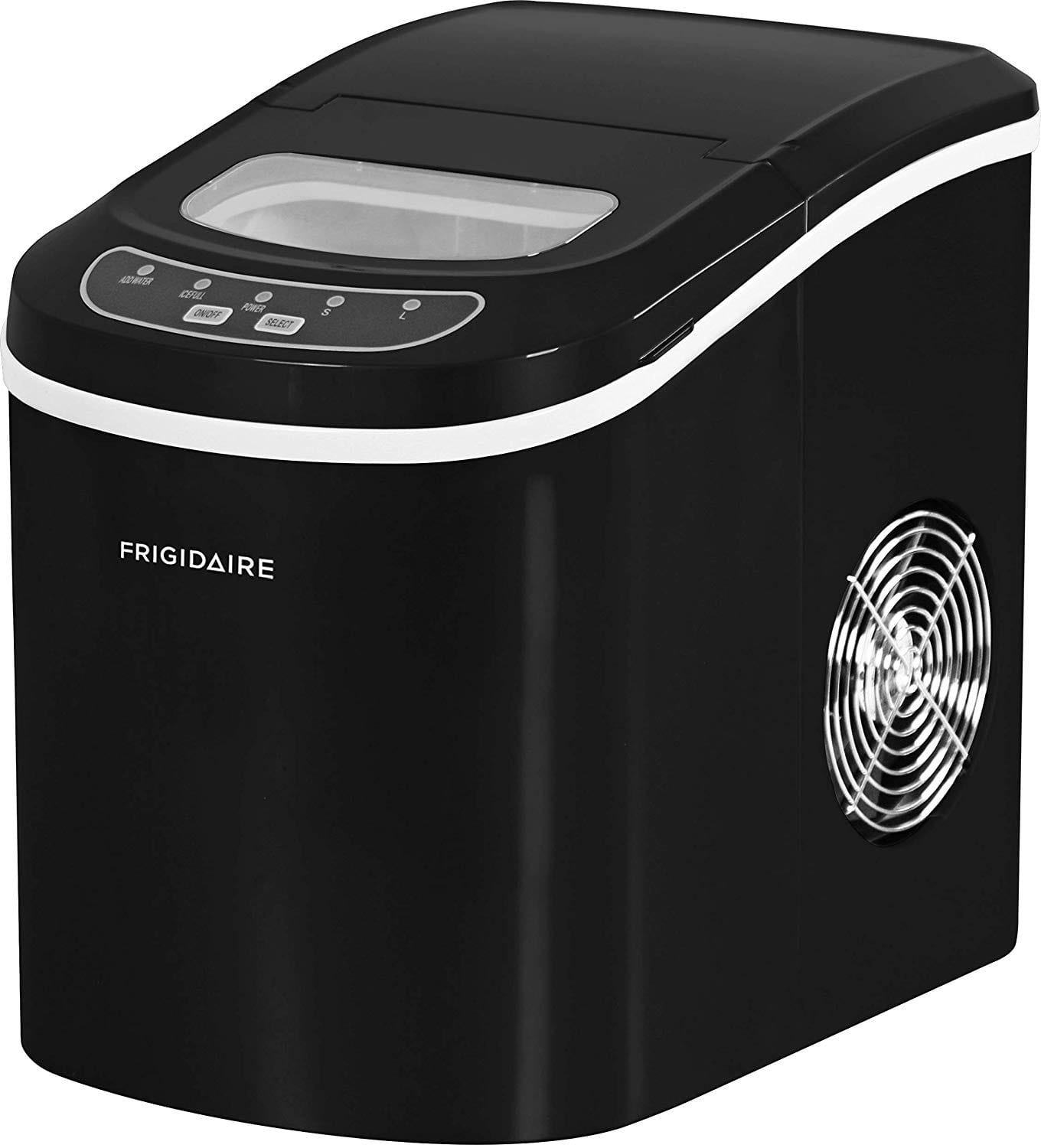 Even if you have never dealt with the ice makers before you have probably heard of the Frigidaire brand as one of the leaders of the kitchen appliances industry. Igloo is another product that gained popularity far beyond the US borders so buying that you can be sure you are getting a qualitative ice maker.
It has a compressor cooling system with no chemical refrigerant used. It is important that after moving or tilting the unit, it must sit inoperable for two hours to let the refrigerant settle.
It produces the ice a little faster than New Wave ice maker – 6 minutes is what it takes for this device to make the ice. Igloo ice maker can hold 2.2lbs at a time with a daily production of up to 26lbs. It is less than with the case with the first product, but still, quite enough to satisfy the demand even of a bigger party.
This model has electronic control as well o you can choose whether you want to make small, medium, or large pieces of ice. And just like in the previous case, no installation effort is required here. Just put water in the reservoir and plug the maker into a power source and wait for your ice cubes to be ready.
In the case with Igloo, we have a machine made of stainless steel that guarantees its durability. Another cool bonus of this item is in its set it includes an ice shovel is included to easily remove the ice in a clean and sanitary manner. It weighs around 15 pounds and requires 120 volts power supply.
3. COSTWAY Ice Maker for Countertop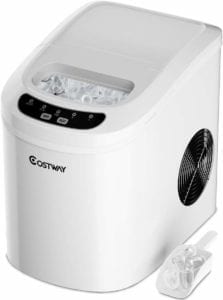 The design of this ice maker will remind of the New Wave's one. But it's not the problem since all the ice makers are similar to each other – eventually, it's not the kind of an appliance that should have a design as its distinctive feature or something.
This device is also able to produce the ice in 6-7 minutes. In a day the ice maker by Costway promises to make 26 lbs of the product. And just like the top-quality ice machine, it has, once again, electronic control allowing you to choose 3 various shapes of the ice.
Through its automatic overflow protection feature, you can get notified when your ice is ready or more water needs to be added. Moreover, this machine is especially helpful if you need to procure an extra-large amount of ice. This ice shaver recycles back your ice when it melts back to the reservoir.
The ice maker drain is positioned at the bottom to allow easy emptying and cleaning. As a bonus, in its set, it comes with an ice bucket and a scoop so it's more comfortable for you to measure the amount of ice when you want to add it to your glass.
The Costway ice maker is available in 5 different colors. If you're planning to use it mainly for parties you can choose the bright red or baby-blue fun color. By the way, another great feature of its construction is that it's made of eco-friendly food-grade materials.
Another cool feature of it is that it produces a significantly less amount of noise while working. After your ice is ready you can take this device anywhere – from the house party to the beach. In addition to all the facts mentioned above, it comes at a very inexpensive price.
The only thing which is recommended to be done before the first usage is to clean the batch.
4. IKICH Portable Ice Maker Machine for Countertop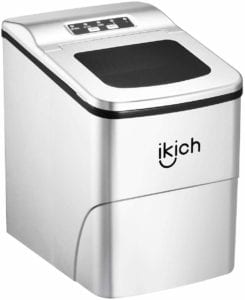 This ice maker by IKICH is one of the most popular items on the market. The main feature of it that makes it stand out from the crowd is its compact size but powerful capabilities. If you could see all the ice makers mentioned above and this machine, you would see that this one is significantly smaller than the previous ones.
Despite its size, it possesses the same work capabilities as its larger prototypes. In a day you can have up to 26 lbs of ice with its 68 oz liter reservoir. By the way, before the first use, you should let the machine stand upright for 4 hours.
IKICH ice maker also includes 9 pure copper evaporator columns with the nickel-plated surface, which is featured by rapid refrigeration and strong corrosion resistance.
It will easily fit onto a countertop. Unfortunately, this model is available in only one color. Digital control allows you to get the ice particles of various sizes. Another cool bonus of this device is that it has a 2-year return policy. It is made of food-grade material, to provide you with better and healthier materials. All of those have no odor.
Just like all the previous items, this one is easy to clean thanks to the unique translucent design. The large viewing window allows you to check the amount of ice in the ice basket without opening the lid. When the machine is processing the ice, it doesn't make much of a noise.
However, one of the disadvantages of this machine is it is capable to keep the ice frozen for a limited amount of time. If you expose it to high temperatures, hurry up, otherwise, all the ice will melt. In other aspects, it is an affordable and nice-to-use machine.
5. Frigidaire EFIC206-SILVER Ice Maker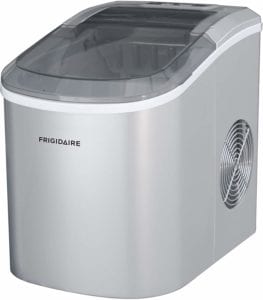 For those who are looking for more affordable options that would just allow producing the ice in large amounts, this ice maker by Frigidaire is a good option. It holds 1.2lbs of ice at once and can produce up to 26lbs in a day. Its interior is well insulated to ensure you get crispy ice cubes all the time.
It works on the power supply of 200 volts, so make sure that the socket where you are going to plug this item provides enough electric power. And unlike other devices, this one produces the cubes of the ice. The model also includes an ice shovel that is included to easily remove the ice in a clean and sanitary manner.
In general, it is a reliable and compact ice maker made of the high-quality stainless steel that will serve you a long life. Stainless steel is one of the best materials for kitchen appliances. Thus, you should definitely try stainless steel cookware. It is also known to be quiet while producing the ice. Though insulated, it is not recommended to be used as a freezer.
6. RCA Counter Top Ice Maker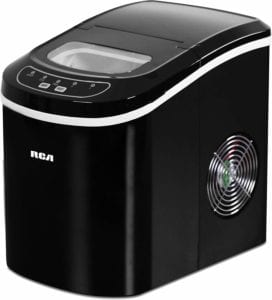 If you remember, in the introduction it was mentioned that a portable ice maker is a great thing to take with you camping. This is exactly the perfect choice for that. This machine made of the robust and durable stainless steel which says about its durability.
Another great feature of this ice maker is its portable, sleek and compact design which not only fits on a countertop but also in your backpack or anywhere. In addition to that, here you will find that fast freeze technology which allows this item to make the ice as fast as possible, even on the go. It takes RCA ice maker 6 minutes to do that.
The item also has an electronic control, using which you can customize the size of the cubes, track water level and get sound notifications when your ice is ready. The bucket is large enough to accommodate 1.5lbs and can produce up to 26lbs in 24hours so you can never run out ice.
It is recommended to hold this item in the upright position before the first use. By the way, it comes in two colors – black and white. From the reviews of the customers, you can see that most of them are satisfied with the quality of this ice maker.
You can also check this: 6 Types of modern water filters
7. Euhomy Ice Maker Machine Countertop, Portable Compact Ice Cube Maker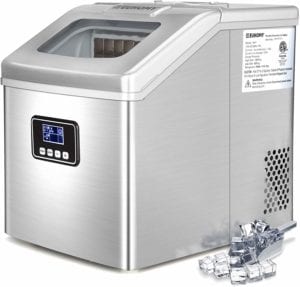 If you still think that you definitely need a larger machine to produce the ice, then this is your option. The capacity of this one is twice bigger than of all the previous makers – it is able to produce around 40 lbs of ice in a day, and it produces 24 ice cubes per cycle within 12 to 18 minutes.
This model is also more sophisticated in the sense that it has a digital LED display where you can track current operations. Moreover, here you can choose the thickness of the ice. It has the removable basket stores up to 2.2 lbs. Another distinctive feature here is the automatic shutoff with overflow protection.
This machine also helps you to decrease the need for constant refilling. It has the water recycling system, that collects all the melted water after the process and filters it to be reused. Another cool feature is its timer with the 8-hour delay function. With the see-through window that this ice maker has, you can always control the process.
By the way, even though this machine is so productive, it is quite ergonomic and works at the standard 120 voltage. Of course, this is not the best option for a takeaway ice maker, and it will be not easy to carry it with you to a beach or camping. But for big parties and family gatherings, it will be a helpful appliance and there will be enough ice for everyone.
Euhomy ice maker is a little bit more expensive than all the previous ones, but it's explained by its larger capacity. Many users note the crystal clear ice that it is able to produce.
FAQ for portable ice makers buyers
1. Is it worth buying a portable ice maker at all? 
You don't need a portable ice maker if you never have a need in making ice anywhere outside your house. It mostly depends on the region where you live and the lifestyle.
You should know your needs and thus make a decision. But a portable ice maker isn't such a luxury item as many people think and will be a good investment. Plus, you'll always have fresh ice.
2. Can you leave a portable ice maker on?
No. A portable ice maker doesn't need or even require a dedicated water line to work. As the name suggests, this appliance is designed to be portable, allowing you to plug it in when and wherever you need it. When you want it to produce ice, you simply plug it into an outlet and fill the reservoir with water.
3. Does it matter what type of water I use?
Yes, to some extent. The overall quality of the ice produced by the machine is largely determined by the quality of the water you pour into it. But, the type of water you add to the unit can also play a role in its ability to produce ice, how often you have to clean the unit, and its overall lifespan.
Obviously, the water should be potable. If it's not safe to drink, then there's no reason it should be inside an ice machine. But outside of whether it's safe to consume, determining the "best" type of water is going to be subjective.
4. Is a portable ice maker a freezer?
No. This type of ice machine is not a freezer, nor is it a suitable alternative to a freezer.
5. How do I clean a portable ice maker?
Unplug the ice machine.
Empty all water or ice.
Disassemble interior pieces and wash them separately.
Clean the interior with a towel.
Pour a generous amount of vinegar into the unit with some water.
Allow the device to run a few cycles and discard all ice with vinegar.
Allow machine to dry before using.