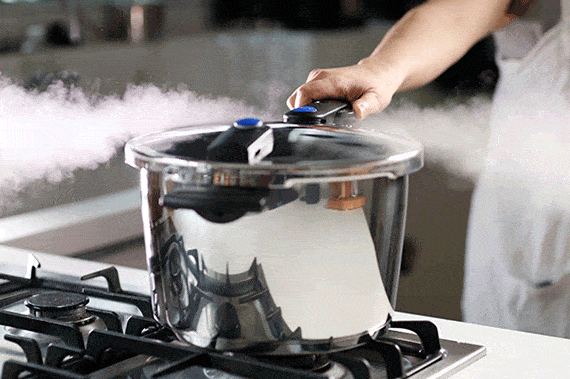 Pressure cancers come in all shapes and sizes, with different features and different price tags. It's important to know which one is specifically suitable for your purposes. In general, it's a great way to store your food for longer periods of time. You can store fruits or vegetables, and then eat them any time you want.
Preserving food in jars remains the most effective and popular method of storage for a huge amount of years already. The pressure canner would be a perfect addition to any kitchen set since it is versatile and flexible. Logically, there is a great variety of pressure cancers on the market, but not all of them are durable.
So, while choosing a good pressure canner it's essential to be confident in its quality and reliability. Explore the article below and you will see what models are the best to buy.
Our Top Pick Pressure Canner
Other great pressure canners
1. All American 921 Canner Pressure Cooker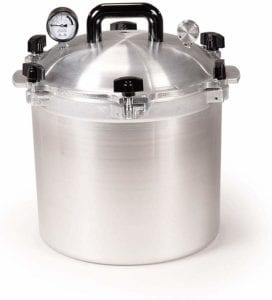 This is one of the most popular items on the market and we must say, there is plenty of reasons for that. The unit is made of high-quality materials such as premium grade aluminum that delivers excellent performance and durability. Moreover, its construction is so well engineered that it doesn't even require a gasket to seal the lid.
Here the latest technology All American pressure called Metal-to-Metal sealing is used, and it ensures steam-tight seal without having to rely on the gasket.
There are six different quart sizes to choose from that include 10.5, 15.5, 21.5, 25, 30, and 41.5-quart sizes. Moreover, it was built to store 19-pint jars or 7-quart jars.
In addition to that, this All American canner/cooker combo looks cool and pretty, well, as good as the pressure canner can look. It has a stylish satin finish. You will be able to set the canner to automatically release the pressure at 5 psi, 10 psi or 15 psi.
If you are the type of person who needs the pressure canner quite often, then you should invest in this one. It guarantees the long life of serving and won't break after several usages. This unit is guaranteed to heat extremely quickly and provide top performance in your kitchen. Besides, the cleaning of it never takes long.
You may also like: 7 Best Multi Cookers Reviews
2. Presto 01781 23-Quart Pressure Canner and Cooker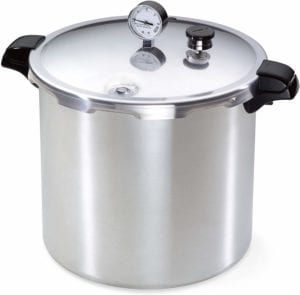 This is a similar pressure canner, even though it is a more simple version. This item is available in a few variants. You will be able to invest in the pressure canner itself or opt for two other packages that include the canner and a canning kit or a canner along with a canning rack.
Moreover, there are two sizes to choose from, a 23-quart size and a unit that holds 7 quarts. Another distinctive feature of this canner is its great affordable price. To find the pressure canner made of this size at such a price is a rare thing.
Moreover, Presto is a reliable brand that has been on the market for a long time already, so they guarantee the high quality of their products. One of the best features of this unit is that it is both a pressure canner and a pressure cooker.
The handles of this item by Pesto always stay cool, because they're made of the special kind of plastic. In addition to that, it is fair enough to add that this pressure canner is equipped with many safety features to provide harmless usage. There is a pressure regulator and an easy to read dial gauge.
What is more, there is also a steam gauge that helps you to read the pressure in a more accurate way than with other items on the market. In general, this is a great pressure canner for regular usage; it is also a practical item, which performs all the main functions that you're looking for in a tool like this having an affordable price.
3. Granite Ware Pressure Canner/Cooker/Steamer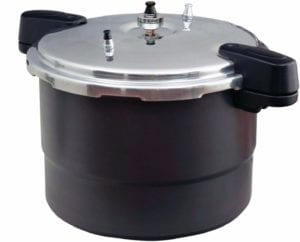 If you are looking for a pressure canner of high capacity, then this 20-quart item is your gem. As you can see from its name, it can also be used as a pressure cooker. Granite Ware provides both safe and efficient heat distribution. It comes with a durable lid that easily seals the rubber gasket to ensure top performance every time.
All it takes is a tiny twist once you align the lugs with the kettle. Just like the previous item, this one has a plastic heat-resistant handle, which guarantees that you won't burn your hands when you grab this pressure canner. Another cool feature of this item is that it has a popup regulator that was also designed to lock the lid completely in its place.
One more safety mechanism here involves putting a pin in the base clip of the handle to make sure that the lid locks when it's pressurizing. In addition to that, there are two safety valves that replace each other if one fails. One is made of the metal that makes a whistle alarm while the other is a black cap and will go off in case the other fails.
Moreover, here you will find a vent pipe that operates as a pressure regulator that allows you to control the pressure from 5, 19 and psi. And in the case with this pressure canner, you don't have to check on the process every second and moreover, your presence is almost not required, because this unit is extremely flexible.
You can choose between the 12-quart unit and a 20-quart unit. The 20-quart unit can hold 7x one-quart jars, 8 one-pint jars or 24 half-pint jars. The smallest package, the 12-quart canner will be able to store 4-quart jars, 7-pint jars, or 8 1/5-pint jars. Both units are labeled UL certified for safety and include 3 piece pressure regulator system.
Summarizing all the points, this item will suit the needs of those looking for a more versatile item with more functions than a regular pressure canner. If you enjoy the process and looking for a more upgraded tool this pressure cooker and canner will be a great choice.
4. Mirro 92122A Polished Aluminum 5 / 10 / 15-PSI Pressure Cooker / Canner Cookware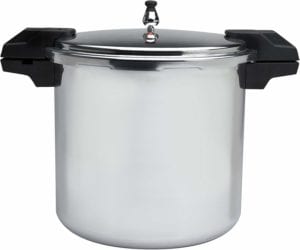 Even though this item is affordable don't think it is worse than the previous ones. It is made of high-quality aluminum, and it is extremely efficient to distribute heat and pressurize food. Apart from that, this pressure canner includes 4 safety features, which will give you more free time while making your canned food.
It is extremely easy to lock and secure the lid by dropping it into its place as soon as you align the lugs with the kettle. When it is aligned, all you have to do is softly twist the lid, and it will securely click in its place and is guaranteed not to open when under pressure.
But even if you don't close the lid properly, there is a safety pin that will kick in and push on the gasket to prevent pressurizing. This item also has a rubber gasket which provides a tight sealing. If the lid is placed incorrectly, the system simply won't let you start the process. Thus, you are safe from any emergency cases.
There are two versions of this item available that include a 16-quart size and a 22-quart size, both built from premium aluminum and can hold 16-pint jars or 5-quart jars. Moreover, both units are equipped with 3 pressuring options where you can choose from 5, 10 or 15 psi.
As a bonus, together in the set with this pressure canner, you will find a cooking rack and a recipe book. Another cool feature that this pressure canner by Mirro comes with the 10-year warranty.
5. Zavor DUO 10-piece Pressure Canner Set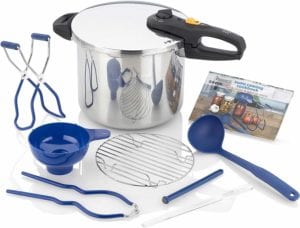 With this set, you got everything you need to prepare your canned food. The 10-quart pressure canner that is included here is known to be one of the nest small-sized pressure canners on the market. For those who have a compact kitchen, this is a perfect option.
The item is made of the 18/10 stainless steel aluminum. Moreover, just like the previous item, it has a bunch of safety mechanisms, so it would be suitable even for beginners. The heat will be distributed evenly to ensure the best results every time you make your canned food.
Moreover, this item is compatible with most types of cooktops, such as glass, electric and gas models. Just like the pot itself, the lid is constructed from premier stainless steel aluminum, and it will securely lock itself with a gentle twist. To build up pressure, there is a silicone gasket that seals the pot to maximize your canning experience.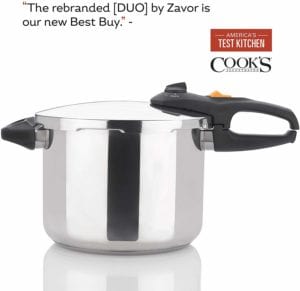 And just like in the case with the pressure canner by Mirro, there are 4 settings that you can choose from that include 8psi, 15 psi, unlock and steam-release mode. If you don't lock the lid properly, the item won't start working. And the pot will never open while the pressure process is still going.
There is a pressure indicator that is easy to read. It is placed on the lid handle and you will see colored lights rising as the pressure is building up inside the pot. Apart from that, there is a safety valve positioned under the lid, if the pressure builds up too quickly.
For additional safety, there is another safety valve next to the lid cut-out that releases steam with excess pressure buildup. In general, this multi-tasking pressure appliance that is also extremely versatile.
You will see that the canning process is easy with it. The set has a very reasonable price and highly demanded among consumers. It comes with a 10-year warranty. As a bonus, there is a cookbook that comes in the set.
6. Instant Pot Max 9-in-1 Electric Pressure Cooker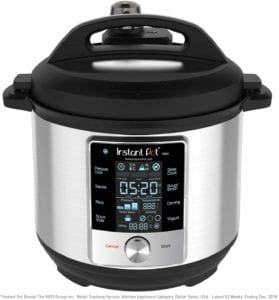 As you can see from the picture here we have a more sophisticated canner. And also, this is an option for those who don't want to have it on the cooktop – this item is an electric one. The smart display allows you to select between pressure levels, venting options, and canning times, as well as adjust for altitude if needed.
The capacity of this pressure canner is four pint-size jars. Pressure settings are included as well. There are also such features as the slow cook, saute, pressure cook, and sous vide which are the considerable advantages of this item. Thus, you are able to cook any dish you want, even yogurt.
The Instant Pot comes with a rack for canning, as well as other helpful accessories for the other cooking programs. For example, if you want to cook a soup there is NutriBoost technology. It creates a boiling motion during pressure cook to break down food, adding nutrition, flavor, and taste to soups and bone broth.
Of course, the price of this pressure canner is higher than the rest, but it is justified by the point that here you get a multi-cooker as well.
You can also check: 7 Best Food Steamers Reviews
7. T-fal P25144 Pressure Cooker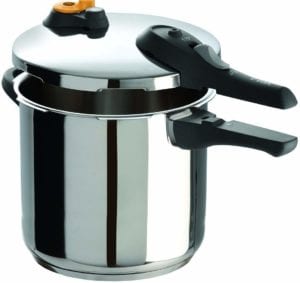 For those who are in need of the best pressure canner for all heat sources then this item by T-fal could be the end of your canning woes. You have probably heard of this brand before as one of the leaders in kitchen appliances making industry. For already more than 50 years it is providing the items of top-quality at reasonable prices.
This canner is made of stainless steel, promising to be a durable and reliable appliance. Plus, it is easy to maintain. It has a secure lock lid, that allows you to easily keep the cooker closed without losing heat expediting your cook time without your food losing its flavor.
When the canner works at high pressure, its safety system will keep you from opening the lid, so the food won't lose its flavor.
The cooker has a steam gauge valve for releasing excessive pressure and ensures the levels are well regulated for user safety. Using the pressure control valve, you can easily set the preferred canning or cooking pressure levels for different meals in two settings of 10 and 15psi. It is another opportunity to prepare or cook various types of foods.
Moreover, this pressure canner by T-fal has a patented BugLock zipper for keeping bugs from entering or escaping. Through its sleep miracle membrane surface, the cooker prevents any bug from feeding because it has the fabric that keeps high levels of hygiene.
In general, this is another great tool for those who are looking for a simple compact and effective pressure canner. Moreover, it claims to reduce up to 70 percent of your cooking times compared to other pressure canners.
What is more, the price of the unit is quite affordable. The item also stands out with its design which will be a nice complement to your kitchen interior.
FAQ for pressure canner buyers
1. Are pressure canners safe? 
They are the only safe method for storing vegetables for long periods of time. If the canning process is performed correctly, you have nothing to worry about.
2. Does a pressure canner have to be full of jars?
No, your canner does not have to be full of jars to operate. That is one reason why the cost of the larger canners isn't worthwhile for someone who is only going to be doing standard recipe batches of canning. However, note that the same amount of water is put in it regardless of the number of jars being processed.
3. How long does it take a pressure canner to depressurize?
While maintaining the high heat setting, let the steam flow continuously for 10 minutes. Allow the canner to vent for the specified time (usually 10 to 15 minutes), then put the weight on. The canner will get up to pressure in just a few minutes.
4. Which types of foods require pressure canning? 
Such products as meats, seafood, poultry, dairy products, and all vegetables.
5. Can a pressure canner explode?
Theoretically, yes. They can explode, in a sense, but not as violently as you might fear. The pressure inside a consumer cooker doesn't go above about two atmospheres – about the pressure inside a can of soda.