If not all of us, then most people love grilled food, especially meat. Grilled chicken or pork tastes incredibly good especially during the cold weather days. Yes, this kind of meal is not the healthiest one, but hey, no one says you should eat it every day, right?
Usually, we can order grilled meat in restaurants or buy it in the supermarkets. But would you like to be able to cook grilled food yourself? It's actually not that hard. All you need is to acquire the rotisserie, choose a recipe and bake it in the oven. Moreover, the home-made grill sometimes tastes much better than those in restaurants.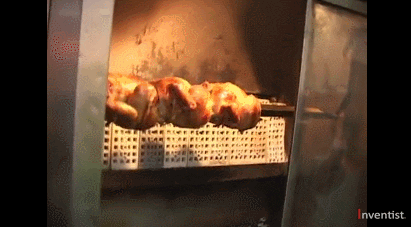 Besides, these rotisserie ovens are compact and don't occupy much of the space. They can be suitable even for small kitchens. The only thing you should stay aware of is that they require a high supply of electric power, so it is highly recommended not to overload your electricity source at home with other appliances while your rotisserie oven is in process.
There are different kinds of rotisserie ovens on the market, able to cook various kinds of dishes. If you want to get one yourself, you should decide first, what kind of rotisserie oven you'd like to have.
Do you want a more ergonomic variant for smaller portions? Or do you want a spacious oven so you could bake a whole turkey for Thanksgiving for all your family? Explore the list down below and you will surely find something suitable for your needs.
Our Top Pick Rotisserie Oven
| NutriChef Countertop Vertical Rotating Oven | | |
| --- | --- | --- |
| | A vertical rotisserie oven which means it takes twice less space on the coutertop than a regular one. It is quite capacious and allows to roast all the foods that a normal rotisserie can roast - poultry, beef, and even make shawarma. For its affordable price, it's a gem in the rotisserie ovens industry. | Check Current Price |
Other great rotisserie ovens
1. Ronco ST5000PLGEN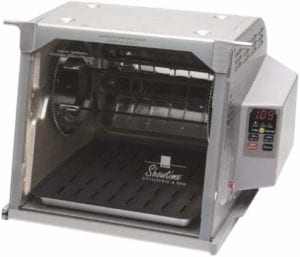 If you want to go straight for one of the best items on the market then this is a great oven to choose. In some sense, it is even better to have than a conventional oven, because it uses just 1/3 of energy that the latter. The cleaning of this oven is surprisingly easy – after usage you can just wipe it with the damp sponge.
The parts of the oven, such as its glass dor or non-stick tray can be washed in a dishwasher. The exterior handle does not heat up, which ensures easy and safe access to the cooked meals. What is more, despite the fact this oven is quite powerful it is still compact with its height of 13 inches, so you can place it anywhere in your kitchen.
Soft and juicy inside, fragrant and crispy outside, that's the type of meat this professional rotisserie cooker was designed to deliver. It has 3 cooking modes, so you can rotisserie or sear poultry and after the chicken's already been cooked, let the meat get saturated with juice, switching to the "no heat" rotation setting and leaving it like that for about 20 minutes.
Overall, this oven is equipped with all the necessary accessories to ensure effective cooking. The removable heat shield will help to get that fantastic brown crust.
Moreover, in the box, you will find a multipurpose basket, a nonstick drip tray, food ties, and even a pair of BBQ gloves which is very helpful when you need to take the hot dish out of the oven.
One more cook feature here is unlike most the electric appliances which usually have super complex instructions, here it is quite easy. You will probably quickly understand all the info that comes in the booklet.
However, here you should avoid those models which were manufactured 4-2 years ago – it's the time when they were receiving the biggest amount of complaints by customers.
However, during the last year, the demand increased again, so they are probably as great as always again. It's not the most affordable oven, so there is a warranty for any case when something goes wrong.
You can also check: 7 Best Vertical Rotisserie Reviews
2. Cuisinart TOB-200
For those who are looking for a more affordable option for the family use, Cuisinart has made its versatile rotisserie oven TOB-200. Actually, you will be surprised how much does this item has to offer for its low price. You get a range of 12 cooking settings so you'll be able to cook a great variety of dishes.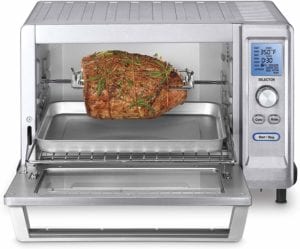 Even the toast function is included, so you'll be able to bake bread with a shade you prefer, choosing from 1-7 options available. Pizza and toast modes are present as well. Overall, this oven allows to cook every kind of meal you would eat every day, so you won't even need a number of other kitchen appliances when you have this oven.
This model is also nicely designed and looks more like a microwave, It is quite compact, with a flat top, so you can place something on it when the oven is not in usage. It's made with a stylish stainless steel housing that will nicely fit into the interior of any kitchen. The digital controls are straightforward and placed on one side of the appliance.
On the control panel, you can see 3 buttons: one for rotisserie function, one for convection, and one for on and off. Along with these, there's one selector dial. The latter allows you to control the settings of the oven: set the time, temperature, choose the shade, and select the cooking option.
Once again, it is a compact oven, so together with a handle and back hook it makes somewhere around 19″ x 15″ x 12″, so it should neatly fit on your countertop or under a kitchen cabinet. The measurements of the interior are 12.5″ x 12″ x 9″ – it will be enough to fit in pizza or four slices of bread.
Of course, the internal surface has the non-stick coating, including the crumb tray that you can always take out like from a toaster and throw the crumbs away. In addition to the crumb tray, you get a baking pan, a rack, an oven rack and a spit and skewers in the set – basically, all accessories that are necessary for comfortable cooking.
One more cool bonus is that together with the oven you will get a recipe booklet. The only thing is if you want to bake some extra-large portions, like a turkey for the Thanksgiving day, then this oven is not the best choice for that. Its interior can turn out to be too small.
Toasting Functions: Toast and Bagel; cooking functions: warm, bake, broil, roast, and pizza; rotisserie settings: chicken, duck, meat, and custom. There is also a leftovers function that is perfect for reheating meals. The Defrost function is meant for cooking frozen pizza. The temperature range is 200-450F.
There are different opinions of consumers about this oven on Amazon, but since it is rather a budget oven, try to treat it the best you can and be careful with some power-consuming modes.
3. Hamilton Beach 31104D
At first sight, you may think this is a regular oven, but it is versatile, so this item by Hamilton Beach can also be used as a rotisserie oven. The benefit that it promises to bring to its users is the easy and effortless cooking of delicious meals. This oven has a convection function so it is able to bake the meals in short periods of time.
To ensure versatile cooking, the unit has a rotisserie, bake, and broil modes that will allow you to enrich your everyday menu and prepare your favorite delicacies just as you like them.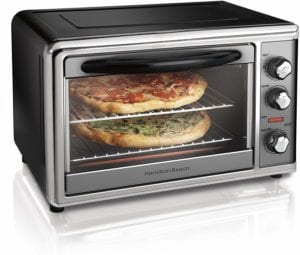 Moreover, the conventional element in this item that we have mentioned above will make the baking more even as well, making the food juicy on the inside and crispy on the outside. This model has a competitive capacity ample for cooking a substantial family meal – it will easily accommodate two 12″ pizzas or two 9″ x 13″ casseroles, or up to 5 lb of chicken.
Just like the previous rotisserie oven by Cuisinart, this one also comes in the set of cooking accessories. The box includes a rotisserie skewer and lifter, 2 baking pans, 2 oven racks, a broiler rack, and a removable drip tray.
It is even better if you buy this oven right after you moved into your new house with a new kitchen – you won't need to buy any additional cooking tools. And just like the previous model, the oven by Hamilton Beach is a compact one and it can be put, for example, on the kitchen counter.
Besides its advanced functionality, the Hamilton Beach rotisserie cooker has an intuitive operation. It has 4 cooking modes and the ergonomic control panel gives you a chance to quickly set up a program. It will also allow you to quickly adjust the temperature.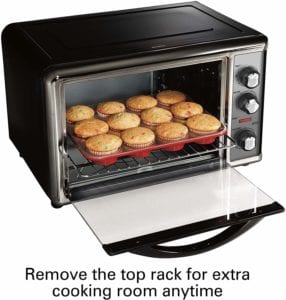 The range here is from 150ºF up to 450ºF. The cooking time is adjustable as well – just turn the dial to choose the desired setting. The oven also has a 2-hour timer with an auto-off feature.
In addition to that, the item has a very handy stay-on function that will allow you to turn the unit on for continuous operation and turn it off manually when the dish is cooked to perfection. The only disadvantage here is that the numbers on the panel are small and hard to read from the distance.
Considering the cleaning of the item, you will get the booklet with step-by-step instructions. By the way, pay attention that here it's not recommended to wash the parts of the oven in the dishwasher if you want them to serve you a long life. Clean the inner part of the device with a damp cloth.
However, this oven has one significant drawback. Be careful with that and take proper care of it, following all the rules of exploitation, because it's not a rare case when the glass door of this oven explodes. Be careful with high temperatures.
4. Maxi-Matic ERO-2019S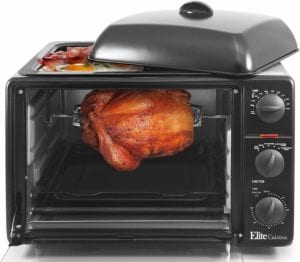 One of the most affordable items on our list, which proves that even budget goods can be multi-functional and effective. This is a patisserie oven by not so popular brand Maxi-Matic that is a decent model with several mechanical leverages for temperature and cooking modes control.
The most prominent feature of this oven is its versatility. And it is quite unusual for such big patisserie oven like this because normally they don't perform so many functions.
However, here we have an exception to the rule. With this item you can bake, roast, and rotisserie foods like most its rivals, this model features additional cooking surface on its top that can be used as a griddle, grill, or steamer. It is a great excuse to widen your casual menu and treat yourself and your family with new delicious meals.
You are able to cook some toasts, pancakes, or bacon and eggs for breakfast, roasted pork and steamed veggies for lunch, or a whole rotisserie chicken for dinner, the unit will handle the job with ease. Moreover, this oven is perfect for grilling and steaming, the top griddle can be also used for melting.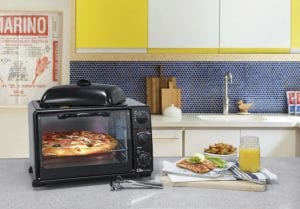 There are several cooking modes, such as a broil, rotisserie, toast, or bake mode. The temperature range is 150 – 450°F. What is more, Maxi-Matic ERO-2019S gives you the possibility to preset the cooking timer the unit is equipped with a 60-minute timer.
There is also a stay-on feature that will come in useful for rotisserieing a whole chicken or preparing other dishes that require longer cooking time. Another great feature here is the "keep warm" function that keeps your meal heated even if you take some time before starting eating it.
The appliance comes equipped with a rotisserie skewer kit and rotisserie removal tongs, baking pan, wire rack, slide-out crumb tray, and pan removal handle. Because of all those accessories and convenient structure of the oven you are able to cook or reheat several dishes at once in it.
In addition to that, the oven-top griddle comes with a non-stick coating and an ergonomic dome lid to prepare the meal on the steam. There are a rack and crumb tray that you can clean in a minute. The pan removal handle and rotisserie tongs will allow you to easily and safely take your cooked food out of the oven.
A little tip here: it's better to wear the BBQ gloves when you're close to the housing of this item because it can get hot during the baking process.
Taking the price into consideration, Maxi-Matic ERO-2019S is a great oven. It has an additional cooking surface that can serve as a griddle, food warmer, or steamer. Maybe, the only disadvantage here is that it doesn't have any LED display and comes with regular mechanical leverages, but it doesn't make a big difference, right?
5. NutriChef Countertop Vertical Rotating Oven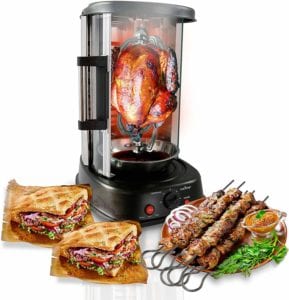 If you're looking for something innovative and unusual you should check out this vertical oven. This item will be perfect for those who know exactly the kind of the meal that they are going to cook in their patisserie oven and don't want to waste extra money and space on a huge appliance with features they will never use.
This item will be appreciated by rotisserie poultry, kebabs, and shawarma lovers. For the latter, its vertical design is especially beneficial. Continuous rotation will ensure the meat is evenly cooked, tender inside, and low in fat. While the grease flows down into a special tray, your poultry or barbecued meat and veggies remain succulent and juicy getting that crispy crust.
Even though this oven doesn't occupy much space on the countertop, it can fit up to 5 lbs chicken or duck. Besides, it is easily portable. Because of its vertical design and a heat-resistant tempered glass door, this powerful 1500-Watt appliance is both effective and energy-efficient.
This black and silver model will perfectly blend with any kitchen interior and the dishes you cook will look tempting and appetizing behind that glass door. It will be suitable for large kitchens as well as for student dorms. Operating this oven easy as well.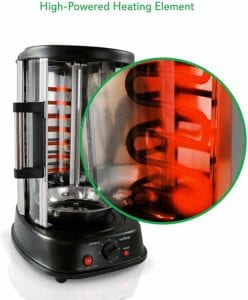 There is leverage on the front side of the oven where you only need to choose the baking mode. And even though there are only two temperature settings available, they are quite enough for most grilling recipes.
For the better cooking experience, the manufacturer has included a kebab rack and seven skewers in addition to a rotisserie spit and forks. And just like in the regular oven we had before on our list this one includes a removable grease tray for easier cleaning. All the accessories that you will find together in the set are dishwasher safe.
As for the unit's housing and its glass door, you can simply wipe them with a damp cloth. And you can remove the door handle for more convenience. For tackling stubborn stains, it is recommended to use non-abrasive liquid detergent.
Heavy spatter inside the unit can be removed with a nylon mesh pad. Just do not forget to thoroughly dry the unit and all accessories after cleaning.
This item must come with instructions. However, don't rely on it too much because it is not very informative (but you won't need much information because the usage of this oven is easy). In addition to recommendations on use and cleaning, it gives an approximate cooking time of various kinds of meat and even includes a few shawarma recipes.
6. Black+Decker TO4314SSD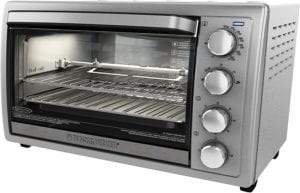 This is another classic rotisserie oven and the main feature that distinguishes it from other items is its power. It works on the 1500 Watt energy thus delivering the even cooking and enough heat. The cooking of all the meals that you are used to cooking will suddenly take less time than usual, which is a great bonus.
Moreover, it has a digital LCD panel display with preset cooking modes for all the most popular dishes. Thus all you have to do is put your meal inside the oven and press the button, the oven will automatically set the time and temperature according to your food requirement.
Those who would like to have some versatility will find it here: it is suitable for baking, broiling, toasting, warming, and rotisserie. Besides, it has enough space to cook a 12 inches pizza at a time. The owners claim that it works in a similar way to a conventional oven.
This oven comes together in a set with such accessories as a removable rack, a baking pan, and two toasting trays. In addition to that, it has a toast timer. For busy workers who lack time to make breakfast for them, you can simply make toasts for breakfast with this oven in a time-efficient process.
The only dubious aspect of this item is that its design is not that pretty as in the previous ovens. It won't fit the interior of every kitchen, but if you don't really want to think about it then it's fine. Also, remember to take proper care of this oven and invest in its maintenance because its useful life is shorter than others' ovens.
You may also like: 7 Best Turkey Deep Fryer Reviews
7. Cuisinart CVR-1000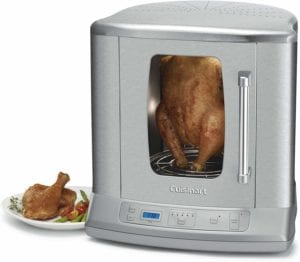 Once again we have an item that looks very different from others but has great functionality though. It is a vertical rotisserie oven. Its outer design can be not the most attractive thing, but it is made of stainless steel which is quite rare in the countertop oven industry.
The interior is non-sticky which makes it convenient for you to clean. This oven is very compact so it will be perfect for minimalistic tech kitchens. But again, despite its compact look, this rotisserie oven can cook an impressive amount of meat – up to eight pounds.
You don't need to set up the temperature here because it already comes with preset modes of cooking and all you need is to push the right button. This makes cooking for amateur or beginners so much easier. You can just press a button, then return later and you get a dish that you can eat. There are an hour and minute buttons.
The settings are made keeping the commonly used temperature ranges for cooking. Apart from that, there is a recipe book that comes together in the set with this oven. The accessories of the product include a toasting rack, removable chrome insert, an eight-piece skewer set, a basket, and a poultry tower.
The basket in the oven can even roast such delicate products as salmon. Even though sometimes it can be difficult to handle the heat vent on the top, the quality of the meals cooked is fine and matches the recipe. The item comes with a 3-year limited warranty.
FAQ for rotisserie ovens buyers
1. What can be cooked on a rotisserie?
First of all, beef and chicken. In case of beef, you will have to cut it in slices so it would fit the oven interior better. In the case of chicken, or poultry, cooking it in the rotisserie oven is one of the best ways to do it.
You can also cook the seafood in the oven – shrimps, salmon, and other delicious sea products (but in this case watch the oven would be suitable for that). It's popular to bake pork in the oven as well. And of course, no one says, you cannot roast the vegetables in the rotisserie oven – if it has the suitable accessories for that of course.
2. Can you cook steak in a rotisserie?
Yes, you can. In order to do that. What you need to do is to heat up the oven up to 350 degrees Fahrenheit then place the steaks into the rotisserie basket and close the lid. Place the steak on the spit rod assembly and cook for 15 minutes for medium-rare, 17 minutes for medium or 20 minutes for well done.
3. How long is rotisserie chicken good for?
Properly stored, cooked rotisserie chicken will last for 3 to 4 days in the refrigerator. To further extend the shelf life of cooked rotisserie chicken, freeze it in covered airtight containers or heavy-duty freezer bags, or wrap tightly with heavy-duty aluminum foil or freezer wrap.
4. How fast should a rotisserie turn?
Normally, the motor speed setting of 6-4 revolution per minute is ideal for cooking most foods. Larger meats like whole hogs are cooked at even lower speeds, 3-1 RPM. Always place your meat as centered and as balanced as possible on the spit to allow for more even cooking.
5. How much weight can a rotisserie hold?
It depends on the brand, but normally it's from 10 to 15 lbs.