Splatter guard for a pan is a simple device that protects the stove, walls, floor, and other dishes from fat flying all over the kitchen during frying.
It also has a burn protection, as droplets of oil often get on your face and even in your eyes. The lid is similar in shape to an ordinary one, but it is perforated all over the surface.
This device eliminates sealing and steam generation. Products are fried, not extinguished, and excess moisture evaporates quickly. But the fat droplets don't leave the frying pan.
Splash traps for the frying pan are made of metal, plastic, and silicone. They come in different types and sizes. Let's see which are the most comfortable, practical, and durable.
Splatter guards can be used with different pans. The finest examples of such cookware are presented in these reviews:
7 Best Granite Rock Pan Reviews

The coating of the granite frying pan is a small granite crumb. The non-stick film on the surface of the frying pan is distinguished by its high strength and durability, scratch resistance.

Check the review

7 Best Carbon Steel Pans Reviews

Carbon steel is generally used in the manufacture of ovenware. The main types of dishes made of carbon steel used on the stove are woks and small pans. One of the main advantages of this type of steel is its low price.

Check the review

7 Best Omelette Pan Reviews

Omelette pans are lightweight and constructed from materials that allow for excellent heat distribution, while being just the right size for making the perfect omelette. Pans with non-stick coatings are a great option when it comes to omelette pans.

Check the review

5 Best Cast Iron Skillets 2020

Cast iron has natural properties of resistance to sticking, which are only increased during prolonged use. Such frying pans do not require painstaking care and use of special blades. You can cook in a cast iron frying pan on any stove.

Check the review

7 Best Ceramic Frying Pans Reviews

The non-stick ceramic coating replaced Teflon. It allows cooking without fat and oil, which preserves the useful properties and vitamins of products. At the same time, the food does not stick during cooking.

Check the review
For the manufacture of such lids are used stainless steel, aluminum, carbon steel. Given the fact that the lid will be in constant contact with fat, it should be easy to clean from it and not "roast".
In this regard, the most practical aluminum splatter guards with Teflon coating and screens made of stainless steel. Teflon grease does not stick and can be easily washed off.
The splatter guard with holes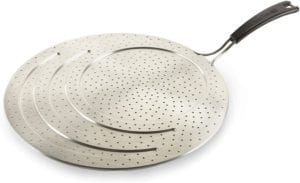 To keep grease droplets on the protective cover, the holes must not be simple holes – splashes will jump through them. The holes above which there are "hats" provide the best protection.
Correct holes
Mesh splatter guards are made of very fine metal mesh. They create the least obstacles to the escape of steam without disturbing the roasting process. But, some fat droplets also pass through the mesh. It's difficult to wash out the mesh catchers from greasy splashes. They can't boast of strength and durability either.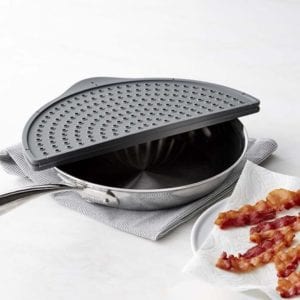 Splash mesh roofs are available for pans of different diameters, sold individually and in sets, are inexpensive. According to the shape of the mesh is a flat splitter with a long handle or convex lid with the upper classic handle.
Grid Cover
Flat splatter guards are convenient in that they are suitable for dishes with a smaller diameter and other shapes. Long handles often make them foldable and equipped with hinges for hanging.
Silicone splatter guards for frying
With the advent of silicone came a lot of useful dishes and appliances for the kitchen of this material. The silicone lid is a convenient protection against oil and grease splashes, much more practical than metals and plastic.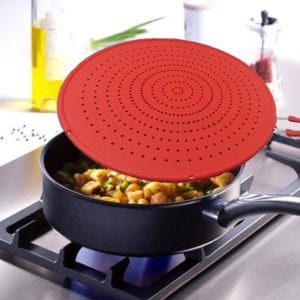 The advantages of silicone splatter guards:
Not afraid of high temperatures – does not melt or deform when in contact with a hot frying pan on the stove.
It does not absorb odors and fats, for example, after frying fish it is enough to wash the lid and you can safely cover the flapjacks.
It can be easily washed away from fat, soaked in hot water with detergent or placed in the dishwasher.
It does not rust, is not covered by plaque or stains, and is resistant to acids.
Lightweight, products do not take up much space when stored.
A silicone splatter guard is not only suitable for frying. It helps drain water from the pot in which the vegetables or pasta were cooked. It also serves as a stand for hot food or a baking mat.
Usually, the splatter guard is a flat circle with side handles. This shape expands the possibility of using splatter protectors. For example, it is suitable for heating splash food in the microwave.
In addition to the lids, there are silicone screens on the sides. It's a little different, but it deserves attention.
When the plastic comes up
Plastic covers are made of heat-resistant plastics. They withstand high temperatures, but their capabilities are not as wide as those of metals and silicone. If the material mentioned above is not afraid of short-term accidental contact with the burner flame, it can be damaged.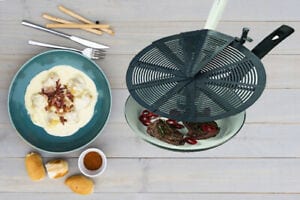 A splash-protected plastic frying cover protects against splashes. But the grease droplets deposited in the openings are very difficult to clean.
If there is a dishwasher and the product is allowed to be washed in this way, fine. And if not, you have to soak and clean the holes with a toothpick or other handy tools.
Plastic accessories are suitable for infrequent and short term use. For example, if you fry very rarely. It is advisable to match the lid strictly to the diameter of the frying pan, as going over the edges may cause the plastic to melt.
Not all lids from fat splashes are a simple circle. There are very interesting models. Their functionality and design have been carefully worked on by the manufacturers. Let's look at some examples worthy of attention.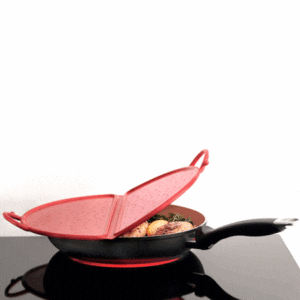 Splatter guards are not needed every day, especially if the family sticks to the right food. So that the user device does not take up much space, came up with folding models. They in the folded form is just a small triangle.
Also, such a splatter guard is suitable as a stand for hot dishes. To flip the burgers or pancakes, you can not open the pan, and lift the first one, then the other half.
If you still do not have a lid to protect against hot greasy splashes, make sure you buy one. After all, it can be used in other cases.
For example, to cover the fruit from insects or to cover the cold pies, so that they do not "sweat". This is a very useful thing in the kitchen.
This splatter guard combines the best price and qualities:
Our Top Pick
U.S. Kitchen Supply 13"

This device

contains a rust-proof fine wire mesh screen with a durable double thick twill weave.



Check Current Price
Other great splatter guards:
IMAGE
PRODUCT

Grease Splatter Screen for Frying Pan 13"

This splatter guard protects your kitchen from hot oil and keeps you safe. It is made of 304 grade stainless steel.

Check Current Price

Le Creuset CA2001

This model accommodates most pots and pans, the unit's tightly woven steel-mesh screen vents moisture to keep foods crisp while containing hot oil.

Check Current Price

Chefast Splatter Screen Set

It is perfect for large pots, cast iron skillets, and frying pans without lids. The handle protects your hands from painful burns.

Check Current Price

LiveFresh Premium Grease Splatter Screen for Frying Pan 13"

This tool prevents greasy splatter from reaching your skin, oil stains from your clothes and messy countertop or stovetop.

Check Current Price

Stainless Steel Grease Splatter Screen for Frying Pan

This splatter screen for frying pan is versatile, and it can also be used as a flour screen, filter and cooling rack.

Check Current Price

Farberware 5224195

This model of splatter guard helps you to prevent oil and splatter from pans getting all over you and your stove while cooking.

Check Current Price
U.S. Kitchen Supply 13″
This splash-protection cover is used when roasting food on a large fire. It prevents splashes from reaching the kitchen walls or the cooktop.
The product has an ergonomic handle made of plastic. It lies comfortably in your hand and does not overheat during cooking. It will protect your hands from burns.
The cookware is deformation-resistant, lightweight and easy to use. The breathable design of the lid allows you to keep the greatest amount of steam and avoid unnecessary pressure.
You will need this product in every kitchen and it is indispensable for cooking any dish. It is made of metal and plastic. The handle is made of plastic.
Its main purpose is to protect us and our cooking surface from the greasy splashes that fly from the frying pan during cooking. Water can also be added to the food through this lid, if necessary. This allows the mesh surface of the lid to be made.
It is convenient to observe the degree of cooking through this lid. This protective screen also helps to prevent not only splashes but also flavors. After cooking, it helps to save time when cleaning the cooking surface. The anti-fat grid can be washed in the dishwasher.
You may also like: 10 Tips to keep your kitchen clean while cooking
Grease Splatter Screen for Frying Pan 13″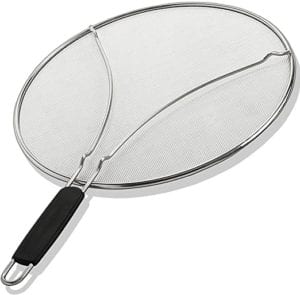 The frying pan splash screen is an indispensable accessory for those who prefer fried food and often resort to such heat treatment of food.
It can protect dishes, appliances, clothes, furniture and other interior items from hot oil and other impurities. Thanks to its large diameter, it is possible to use such kitchen utensils with most types of dishes.
For example, frying pans and pots. A comfortable handle will add comfort and safety to the operation process. They are usually made of stainless steel and are reliable, durable, and easy to maintain.
The bamboo handle of this lid fits comfortably in your hand, providing a secure grip. This product is resistant to high temperatures, does not react chemically with products and does not deform due to heating. The worktop of this kitchen accessory does not scratch the surface of the dishes.
Even with non-stick coated models. We would like to pay special attention to the design of the handle. Firstly, it is very well fixed. It has two positions. First, when we fry, it rises vertically, when we fry it does not become hot. It's convenient to take it with your hand without a glove or a so-called "tack".
Its second position is horizontal, very convenient for storage. The mesh cover becomes completely flat and takes up very little space. The size of this protection is a very important factor.
The more precisely the lid fits the diameter of the pan, the more effective its protective properties. After each use, you should wash the mesh lid with a sponge and any dishwashing agent under running water. All greasy splashes and stains are easy to clean.
Le Creuset CA2001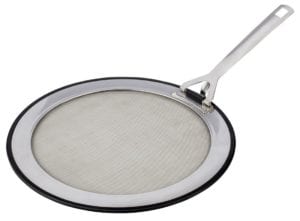 This splatter guard is made of stainless steel. This is also a great material for cookware. It is strong enough and has rich functionality. This device has quite universal dimensions.
It will fit any 11.4 inch or small pots and pans. It will protect any objects around the frying pan or pans from splashes of oil and other liquids.
It will also help you protect yourself from burns and other injuries. The handle of this protection is foldable. This means you can easily store this appliance in any place that suits you.
Also, the material this tool is made of is very easy to clean. It can also be washed in the dishwasher. The material does not release any harmful chemicals.
So even when heated, it does not cause any harm to your health. Above all, it provides excellent protection against grease and oil splashes. It is better to wash the mesh lid after cooking than to wash greasy splashes on the stove, tiles, kitchen furniture, even on the floor.
Fry very often, fish and meat, even when frying eggs can not do without the lid-grid. Thus, this accessory will become an integral part of your kitchen.
The design of this lid is very simple and convenient. It consists of a layer of metal mesh with small cells, which does not let any fat splash, around the circumference of the lid, is edged with a metal edging.
Chefast Splatter Screen Set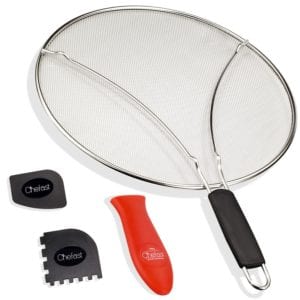 This splatter guard is made of stainless steel and is highly durable. The general appearance of this device is made in one color scheme.
Metal-colored splatter mesh, edges, and handle. The handle is small on the side of this device.
Very convenient because it is conveniently folded, giving the whole product a flat appearance. It means that in this version it is also very comfortable to store.
As the name implies, this grid protects the entire area that surrounds the frying pan from oil splashes flying in all directions.
Of course, there are those who will say that if you don't want to dirty everything around – use the frying pan lid. But, there are certain foodstuffs with which the lid is contraindicated when frying, otherwise, the dish will not turn out as it should.
Fish, for example, will fall apart when you cook with the lid; potatoes will turn out to be soft, not crispy. So there is already a choice of priorities.
Either to cook deliciously and wipe the stove with a splash of oil, or eat what you get after cooking with the lid closed. But, you can use this protective lid for perfect results. The grid diameter is 33 centimeters, which is enough to cover the entire area of a large frying pan.
This appliance is made of stainless steel and can be washed in the dishwasher if you wish. The net itself is very strong and of high quality. The holes are very small, for comparison I have put a standard ruler on top. One hole is less than even one millimeter.
The mesh is neatly framed, round, and safe. The mesh is held in this frame very firmly, does not fret and does not move anywhere.
LiveFresh Premium Grease Splatter Screen for Frying Pan 13″
This splash-protected mesh is all made of stainless steel, it is easy to wash by hand and can also be washed in the dishwasher.
The mesh is suitable for both medium and large pans, with a diameter of 33 cm. It is light and weighs very little.
On the side of the grid, there is a handle that folds compactly when stored in a cupboard.
Surely everyone will be interested to know if this handle is being heated directly in the hot pan during the cooking process. It warms up, but not much.
The mesh clearly protects the entire surrounding surface from splashes. It provides excellent protection against grease splashing during frying and can be used to drain fat during cooking.
Metal, by the way, is not glossy, so there are no fingerprints. The central part of the lid is glass and it is very convenient. You can control the cooking process without constantly opening it.
The handle of the lid is convenient in size, it is flat and it is quite convenient to grip it. This lid can be washed perfectly, there is almost no space for storage. The lid can be washed in the dishwasher.
Since the lid has a sufficiently large glass surface, you should be aware of the fragility of this material and treat the lid with care.
Stainless Steel Grease Splatter Screen for Frying Pan
This splatter guard is metallic. On top, it has a plastic handle. It is easy to use and store.
The metal bezel is surrounded by a stainless steel mesh. It has a rather strong handle made of polymer material attached to it. It is also framed by a metal wire made of stainless steel.
The mesh itself is light and easy to use and fits most pans and pans. This lid is so strong that it does not deform even after long periods of use.
With it, you can keep your kitchen clean and protect yourself from possible burns. Now you can easily prepare crispy roasted foods. It is also convenient to check the degree of cooking through this grid.
During frying, steam can escape through this grid, so your food will not be stewed in the frying pan. Thanks to the handy handle, you can move and remove the lid from the frying pans.
The handle of this protection stays cool even during long cooking times and use in a hot pan. This splatter guard is very easy to wash. It can be cleaned either manually with conventional detergents or in the dishwasher. In the second case, but, you will need enough space to place your splatter guard there.
You can also check: 5 Best Gas Ranges Under $1000
Farberware 5224195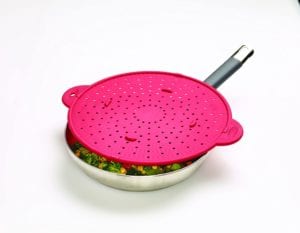 With this splatter guard, you will be able to protect yourself and your kitchen from oil droplets that splash out of the frying pan during cooking.
This appliance is made of dense and durable silicone, which is very easy to use. This lid is very heat resistant. It withstands quite high temperatures, which are typical for cooking almost any food.
This lid is very easy to clean. It can also be placed in the dishwasher. You can clean this tool by hand with conventional means such as dishwashing liquid and sponge.
This lid can also be used by you to drain water or excess fat from a pot or pan. The handle on this protection is made of durable rubber to protect you from burns.
The handle heats up, but the special coating will keep you from touching it. The silicone spray trap is not only useful for frying. It helps to drain water from the pot in which the vegetables or pasta were cooked. It also serves as a stand for hot food or a baking mat.
FAQ for splatter guards buyers:
How does splatter guard work?
When cooking particularly fatty foods, a lot of fat splashes come off the frying pan. This handy device will help you cut this problem. It is made in the form of a circle that closes the frying pan tightly. It will help you avoid greasy marks in your kitchen and even burns.
Can I wash the dishwasher?
Yes, most models can be washed in the dishwasher as they are made of stainless steel or silicone. These materials do not spoil when they are cleaned in the dishwasher.
How do I clean my dishwasher?
When handwashing, you need to rinse this tool with hot water. You can also use soda for more thorough cleaning. Soak the appliance in water and soda solution for 15-30 minutes. This way you can completely clean your splatter guard.
Can I use the splatter guard in the oven?
Most models are designed for use with frying pans. Some models can be used in the oven, but please check with the instructions or the manufacturer.