Traditional Chinese wok pans differ from the usual deepened shape and thickened walls. This is necessary for a better distribution of heat. As the kitchen is characterized by cooking with lots of sauce and in its own juice.
In a wok, food can be fried, boiled, stewed, deep-fried and steamed. If you plan to fry food in a wok, choose the oil that is odorless and can be fried at high temperatures.
To fry properly in a wok, the wok needs to be first well heated on fire (3-5 minutes). Then add butter, heat it up (another 2 minutes), and then add the ingredients. Never put vegetables, fish or meat in a cold wok – this will only spoil the product and give it a raw flavor.
All the ingredients in the wok should be well ground and be about the same size. If the pieces of food are large, they may remain raw inside after frying. The basic rule when frying with stir-frying is that if you start, you should not interrupt.
Prepare the shredded foods as well as the right seasonings in advance. As there will be no more time to prepare them as you fry. Arrange them in small bowls and place them in the order in which they will be added to the wok.
If you cook large quantities of meat, poultry, and seafood, prepare them in partial portions to avoid stewing the food. Remember to reheat the wok before loading another part.
The wok burner can be used only for special dishes. To make your cookware more versatile, you can use other types of pans, the best items of which are presented in these reviews:
7 Best Granite Rock Pan Reviews

Such frying pans are considered wear-resistant and safe. The coating is often applied on an aluminium base, which makes the product lightweight. The frying pan heats up quickly and evenly, allowing you to prepare a dish with little or no oil.

Check the review

7 Best Carbon Steel Pans Reviews

These frying pans are heavy, suitable for any type of stove, and have proven themselves in steaks, potatoes and similar dishes that require rapid intensive heating. In such a frying pan it is very convenient to fry meat on the stove, and then bring it to full readiness in the oven.

Check the review

7 Best Omelette Pan Reviews

Omelete pans are a great kitchen utensil to have as they are not only used for making your flawless omelet but can also be used in almost any kind of everyday cooking, for example, stir-frying vegetables, heating up your food, etc.

Check the review

5 Best Cast Iron Skillets 2020

The thick walls of the appliance guarantee an even distribution of heat and its long-term maintenance. Cast iron dishes are heavy, but are best suited for quenching and long term stewing of ingredients. You need to take good care of this appliance.

Check the review

7 Best Ceramic Frying Pans Reviews

The ceramic coating is made on a metal base and is made of environmentally friendly components. It is applied on metal by a special technology, has a perfectly smooth surface and can be of different thicknesses.

Check the review
What should I pay attention to when choosing this cookware? After all, in stores and on the Internet there is a huge selection of frying pans. They differ in size, coating, price, material. To buy a good, not dust on the kitchen shelf, you need to know a few rules.
For home use, the frying pan should not be too small or too large.
The thickness of the bottom and walls. In a thin frying pan, food will burn easily. On a thick one, it will warm up evenly. It is important to remember that it will be much longer to cool.
The heavier the food, the more comfortable it will be in use. A low sale weight should alert you.
The lid. If it comes complete, it is very convenient. But you can buy without it, after buying the necessary diameter lid.
There are two as standard, one long and one round. You should pay attention to what they are made of, whether they will not be heated during use, whether they will not slide (scroll) in the hand.
For which ovens are suitable. Some pans are universal, but there are also pans for certain types of ovens (gas, electric, induction surface).
A well-known manufacturer is not always a mark of quality, because the price includes a "brand". It is worth getting acquainted not only with the manufacturers of tableware. But also with the brands that produce dishes as a related product.
Do not rely only on the advice of a consultant in the store. It is necessary to read reviews for specific models.
Being very convenient and multifunctional, the wok has recently become very popular among those people who like to experiment during cooking and prefer oriental cuisine.
Fortunately, on the shelves of supermarkets and specialty stores recently such pans are presented in all their diversity. The models differ both in their functional characteristics and in price. This review presents the best frying pans, which have the best characteristics.
Our Top Pick
Pre-Seasoned Carbon Steel Wok Pan

The material of this frying pan is high-strength cast iron. This option is optimal for uniform surface heating.
Check Current Price
Other great wok burners:
IMAGE
PRODUCT

T-fal A80789

The spacious wok of the frying pan heats up very quickly, retains heat well and is easy to clean after cooking.


Check Current Price

AROMA The Ultimate Wok ACA-021

A classic frying pan made of cast iron, which will last for many years without loss of product quality.



Check Current Price

Craft Wok Traditional Hand Hammered Carbon Steel Pow Wok

The frying pan with its beautiful design is made of cast aluminium, which makes it very quick to heat and cool down.

Check Current Price

Jim Beam JB0200

The innovative multi-layer coating will serve the user for many years without deforming at all.


Check Current Price

Lodge P14W3 

This frying pan is already calcined using food fats, so you can use it immediately after purchase.

Check Current Price

Cuisinart 726-38H

The main advantage of this frying pan is its aluminum base with non-stick properties and resistance to damage.

Check Current Price
Pre-Seasoned Carbon Steel Wok Pan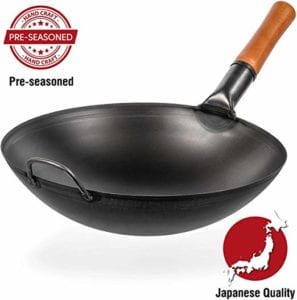 Without a doubt, the best wok frying pan is Pre-Seasoned Carbon Steel Wok Pan with a large diameter on the top edges of the 33 cm.
It is convenient for cooking Asian cuisine and stir-fry. The dishes are also suitable for the regular stewing of vegetables and meat.
The material of the frying pan is a combination of two layers of steel, between which there is a layer of aluminum.
This three-millimeter construction allows for better storage.
It also facilitates the distribution of heat within the volume and allows cooking on all types of cooktops, including induction cooktops.
The designers made a comfortable wooden handle that can be removed and used as a baking mold. It does not heat up at all, even when used for a long time.
On the opposite side, there is an extra small handle, which makes the frying pan more convenient to use.
Advantages:
Three-layer wall and bottom structures
You can use metal blades and spoons – no special non-stick coating
Dense lid with comfortable handle
Wide handles on the frying pan itself
Compatible with all types of boards
You can wash it in the dishwasher
There are volume marks on the inner walls of the frying pan, they are not washed or erased. This way you can prepare a certain amount of food, no more or less.
It is also very convenient to add the right amount of ingredients. Through the glass lid, which covers the inner volume tightly, you can see the cooking process and the condition of the food.
The handy steel handles allow you to carry the pan and drain the sauce if necessary. A handy handle is also available on the lid.
You may also like: 7 Best Carbon Steel Wok Reviews
T-fal A80789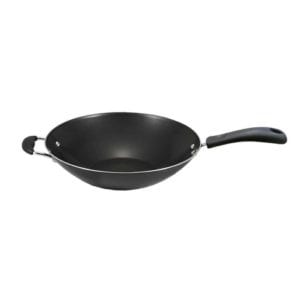 The second place in the rating is occupied by the frying pan T-fal A80789 with a large diameter of 36 cm and a steel coating inside.
The construction of the walls, despite its thickness of only 0.8 mm, is made of multi-layer steel. It accumulates heat and allows you to "bring" food with the burners off.
It also allows food to be kept hot for a long time. The round lid with steel handles at the sides also helps to keep food hot for a long time.
The crockery is equipped with a lid made of heat-resistant transparent glass with a Bakelite handle. It does not heat during the cooking process.
A frying pan without a lid can be used as a baking mold in the gas range.
The cast iron is resistant to scratches and other mechanical influences. This makes it possible to use metal blades and other kitchen accessories.
Advantages:
Layered capsulated bottom for heat storage
Tightly fitting lid
The lid and frying panhandles are connected for easy grip
Large internal volume
Compatible with all types of cooktops
They ergonomically join the handles on the pan itself. It is possible to prepare a large number of dishes with relatively low energy consumption on electric, gas, and induction cookers.
AROMA The Ultimate Wok ACA-021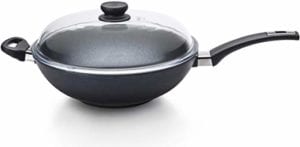 Aluminum wok frying pan AROMA The Ultimate Wok ACA-021 is smaller than its predecessors. But the thickness of the bottom is increased to 9 mm.
Comfortable deep dishes perfectly keep warm and do not deform when heated. It can even be used to bake dishes in the oven.
The frying pan has a transparent glass lid with an unheated handle.
The anodized aluminum exterior has a tidy appearance and is easily cleaned from household dirt. It allows you to always keep your dishes clean. For the largest durability, the handles are attached to the base with steel rivets.
For easy care, the inner walls and bottom are coated with a non-stick layer that is resistant to damage.
Advantages:
Thick walls and bottoms
Durable non-stick coating
Removable handle and second handy nonremovable
Suitable for baking dishes in the oven
To carry a hot frying pan, just take it by the Bakelite pen. There's another non-detachable handle on the frying pan, but she'll need a frying pan already.
The design will impress anyone. The wok itself is made of aluminum with pieces of marble, which allows it not to be afraid of scratches and bumps.
The included lid is made of stainless steel (brushed to shine) with a glass window at the top (allowing you to watch the cooking process). Heating is uniform and fast. It can be used on all types of ovens.
Unfortunately, such a comfortable and solid frying pan is not equipped with a lid. It can be picked up separately, but, it is not difficult.
Craft Wok Traditional Hand Hammered Carbon Steel Pow Wok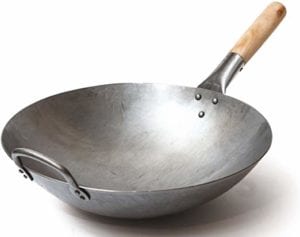 Craft Wok Traditional Hand Hammered Carbon Steel Pow Wok is a multifunctional frying pan made of forged aluminum with non-stick coating.
The deep shape of the wok type is suitable for cooking a wide range of dishes from different kitchens, including meat and vegetables.
The dishes have a fixed Bakelite handle. Do not put in the oven, but you can cook, fry and steam on all cookers, even on induction.
This frying pan is made of cast iron. It guarantees not only high performance but also uniform heat distribution.
Thanks to its special shape, food is cooked evenly and the roasting process is faster than in a traditional frying pan.
Advantages:
Persistent non-stick coating
Heating Indicator
Small weight
Affordable price
The 28 cm diameter frying pan weighs only 1.153 kg. This is not much in view of the lack of a lid, it can be purchased separately if necessary.
A distinctive feature of this multifunctional frying pan is the heating indicator at the bottom. It is typical for the products of this brand.
Jim Beam JB0200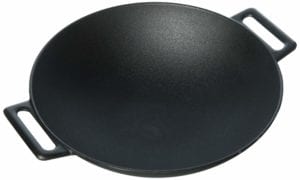 The fifth place in the rating of the frying pan Jim Beam JB0200. This WOK frying pan is designed specifically for cooking Asian cuisine on high heat.
Its diameter on the upper sides of 28 cm, on the bottom – 14 cm, and the height of all 9 cm. Inside is a non-stick coating with a patented titanium-based formula.
It is an excellent deep frying pan, in which any food is evenly heated in a relatively short time, keeping the largest benefit inside.
The non-stick coating prevents the burning of vegetables and meat and makes care easier.
Advantages:
Large deep frying pan
Durable coating
Heating Indicator
Nice touch rubberized handle
Lightweight
Suitable for all plates
The frying pan can be washed in the dishwasher, and any spoon or even fork can be used. The dishes are smooth and steel on the outside, soot-free and oil drops are easily removed.
The wok handle is steel, fixed to rivets and rubberized for easy grip. A branded bottom heat indicator will also help the hostess.
Lodge P14W3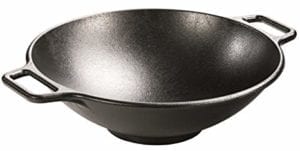 Few people have heard of the brand of dishes Lodge. But many chefs are familiar with the frying pan-wok series "Inoble" with thick non-stick coating.
But, the height of its side is only 5 cm with a diameter of 24 cm, but the thickness of the bottom is all 7 mm.
It perfectly accumulates and distributes heat inside the volume. Its preservation is facilitated by 4 mm thick walls.
The use of double-sided anodizing technology eliminates any contact between food and the aluminum base. The large volume of the frying pan allows you to prepare large portions of food.
Advantages:
Thick walls and bottom
Durable non-stick coating inside and outside
Affordable price
The frying pan retains its non-stick properties for a long time. It is thus suitable for professional use, but not with induction cookers. The dishwasher is not afraid, but it cannot be placed in the oven. The handle is made of plastic, it is not removable.
You can also check: 5 Best Bamboo Steamers On The Market
Cuisinart 726-38H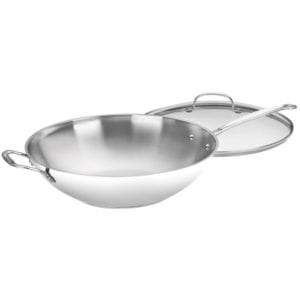 Closes the rating of the frying pan Cuisinart 726-38H the volume of 4.6 liters, its diameter is 32 cm.
The pressed aluminum is anodized with a layer of 39-44 microns. Thus, contact between products and aluminum is excluded.
An extra barrier inside is 3 layers of coating, with which it is possible to use metal blades, spoons and forks during cooking.
But, it is not possible to wash in the dishwasher wok. It is better to follow the manufacturer's recommendations and not to test the coating for strength.
This wok is very light, weighing just over a kilo. It allows you to use it with only one hand. It's suitable for cooking meat, fish, and vegetables.
It can be used to fry, stew, pacify, make soups. It is not recommended to wash in the dishwasher. This frying pan requires specialized care so that no corrosion will occur.
It is not suitable for all types of ovens. You must use a special ring-shaped stand for cooking on an induction stove.
Advantages:
Large-volume
Thick and durable non-stick coating
Glass lid with bezel and steam outlet opening
Comfortable steel handles
Gift wrapping and recipe booklet included
The frying pan is also not suitable for induction cookers. This frying pan has a pair of steel metal handles on its fasteners. They are not afraid of heat, but they will have to use tackles with them.
The manufacturer provides the wok with a glass lid with a hole for steam outlet. Without it, the frying pan can be used for baking in the oven.
FAQ
What's a wok?
A classic Chinese wok has a round shape, convex bottom, high and thin walls. It's made of cast iron or carbon steel. It has one or two handles.
What's a wok used for?
A wok frying pan is needed to cook quickly. Cooking in a wok usually takes less than 15 minutes.
What materials is a wok made of?
There are cast iron, aluminum, ceramic and steel wok materials.
How do I use a wok for the first time?
Before the first time you use a wok, you should apply a non-stick protective coating to prevent food from sticking to the walls and sticking.
How do I cook in a wok?
A wok is most often used for stir-fry cooking.