One of the most important modern health problems is gluten intolerance. Many people notice that when they eat food containing gluten or starch, their body does not react well, and sometimes allergic reactions may even occur, such as a bloating stomach.
But how do you exclude gluten from your daily food? Especially if you are used to eating sandwiches for breakfast, as well as eating your favorite buns.
A great way out would be to buy a home bakery machine. With its help, you can bake your own favorite bakery products without spending a lot of money and time.
In this case, it is worth looking for a device that is able to maintain operation mode with gluten-free mixes and give excellent results in any case. In our article, we want to consider in detail the excellent models of bread makers, which can help in the preparation of gluten-free bread.
There are some criteria that you just need to consider when buying a bread maker – especially if you have gluten-free intolerances.
Easy cooking.
Some modern baking machines can do almost all the work for you. You can simply load all the ingredients specified in the recipe into a bowl of a bread maker, and the machine itself will mix all the parts and achieve the desired consistency. Or, you can mix the substance with a hand mixer.
You won't have to knead the dough manually, you won't have to make the extra effort – the universal device will make your life easier. Even kneading gluten-free bread requires some special nuances, and a device that has a special mode already has such functions.
Gluten-free baking mode.
If you have celiac disease or gluten intolerance in any form, an important criterion for you will be the ability to cook bread according to a special recipe. This will make the cooking process easier as you will simply have to press the desired mode button and start the bread preparation.
The machine is already programmed for what you need – and the manufacturer has already taken this into account. Machine mixing of gluten-free bread will not leave any uneven distribution, and the right temperature will help to achieve the desired result.
Capacity.
The bread volume you want to cook regularly will determine the model of the baking machine. Capacity can vary from 1 pound to 2.5 pounds of bread, and you choose the size.
The smallest ovens work with small bowls and have a capacity of 1-1.5 pounds – enough for several servings of sandwiches. If you're making gluten-free bread for the whole family or a few people, larger models are worth considering.
Once we've covered all the selection criteria, it's worth looking at which models of modern bakeries are the best.
Our Top Pick
Oster Bread Maker | Expressbake


Large batch of bread
Possibility of delayed cooking
Express baking mode

Check Current Price
Other great bread makers
IMAGE
PRODUCT

Cuisinart CBK-200 2-Lb Convection Bread Maker

16 modes for special meals.

Check current price

Aicok Automatic Bread Maker, 2LB Programmable Bread Machine

Budget solution with heat maintenance capability.

Check current price

ALBOHES 2.2LB Stainless Steel Bread Machines

Stylish breadmaker for modern cuisine.


Check current price

Easy-to-use Flatbread & Wrap Maker

An unusual device for gluten-free bread and tortillas.


Check current price
1. Oster Bread Maker | Expressbake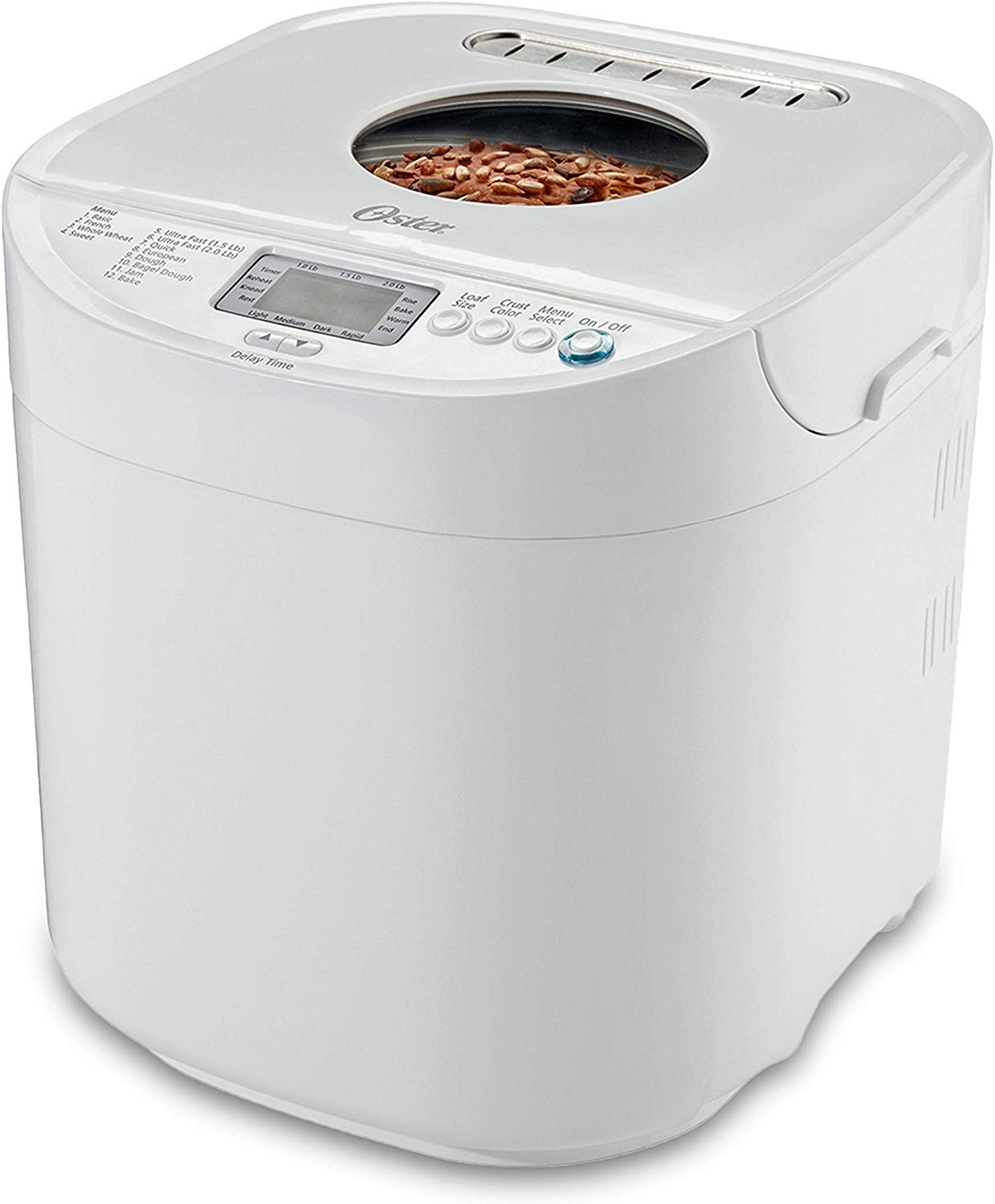 Whether you're making bread for a big family or just making a few days' worths of bread for yourself, the Oster Bread Maker will make you happy.
The 2-pound device can provide you with bread for an extended period of time and can also add a little variety to your diet. It has 12 different cooking modes, so you can try new bread every day and create your own recipes.
For those who appreciate their own time, there is a quick bread mode. It can do its job in less than an hour, and you just have to wait a little longer. You can also program delayed bread preparation so that you always have a warm loaf of bread by breakfast.
This timer supports 13 hours of operation. Since you can prepare a large amount of bread at a time, it is worth noting that you can use the Oster Bread Maker even once a week.
Extracting bread is as convenient as starting the cooking mode: the non-stick coating on the inside of the baking mold allows you to easily pull out the loaf. It is worth noting that the coating needs care so that it does not lose its qualities.
You may also like: 5 Best Bread Cutting Board
2. Cuisinart CBK-200 2-Lb Convection Bread Maker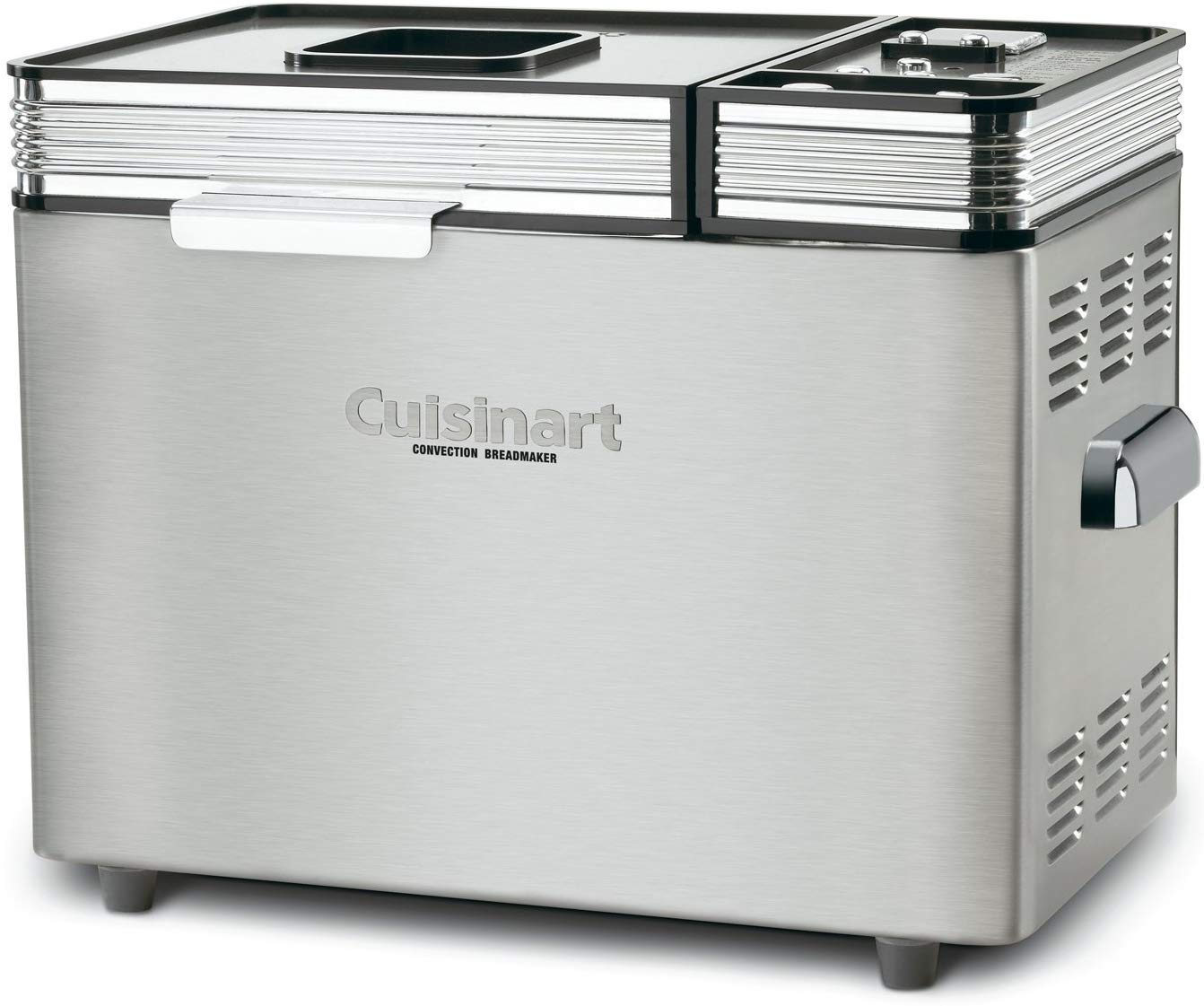 Another device with the possibility of cooking a large loaf of bread for the whole family at once. Cuisinart CBK-200 2-Lb Convection Bread Maker has 16 different menu options, and the size of the loaf has 3 choices.
Among these modes, you can easily find the options you need – gluten-free baking, low-carb recipes, and many other special baking modes. Special menus will help those people who have special needs or food restrictions.
For those who love bread with additives, Cuisinart CBK-200 2-Lb Convection Bread Maker has a special sound alert. It will signal you when to add fruit, nuts or candied fruit. You can also shape the dough after stirring by hand – add crust dough decorations or make beautiful cuts.
It is also worth noting that Cuisinart CBK-200 2-Lb Convection Bread Maker is ideal for families with small children. The machine is incredibly quiet and will not wake up your baby when it starts up.
3. Aicok Automatic Bread Maker, 2LB Programmable Bread Machine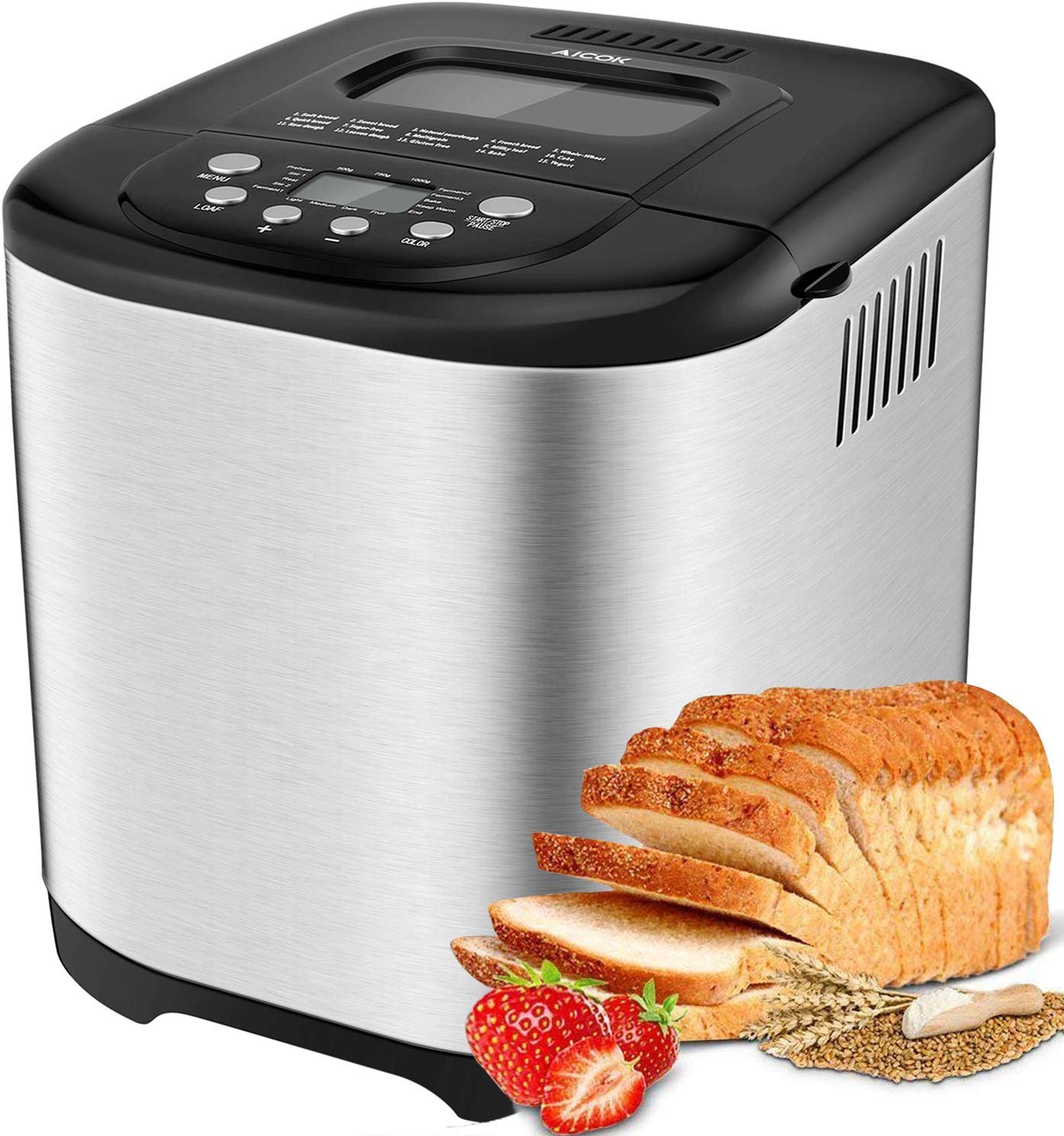 If this is the first time you decide to buy a baking machine, the Aicok Automatic Bread Maker is a great start. This budget option will be your introduction to bread and baking in general, and you will not be disappointed in the preparation of home-baked goods.
Of course, the device will not be able to work 24 hours a day, but you can make a few loaves of special bread a week. It takes Aicok Automatic Bread Maker about 3 hours to make one loaf of bread – but you are not involved in the process.
It has been designed with special food features in mind for some people. For those who are going to make gluten-free baked goods, there is a separate mode that allows you to achieve the desired result. The volume of bread can be up to 2 pounds – but you control the size of the bread by the number of ingredients.
The inner bowl is easy to remove and does not stick to the bread, and you can even wash it in the dishwasher. If you have any problems or misunderstandings, Aicok Automatic Bread Maker manufacturers can easily resolve them with their support service. It is a lifetime product and has a 2-year warranty.
4. ALBOHES 2.2LB Stainless Steel Bread Machines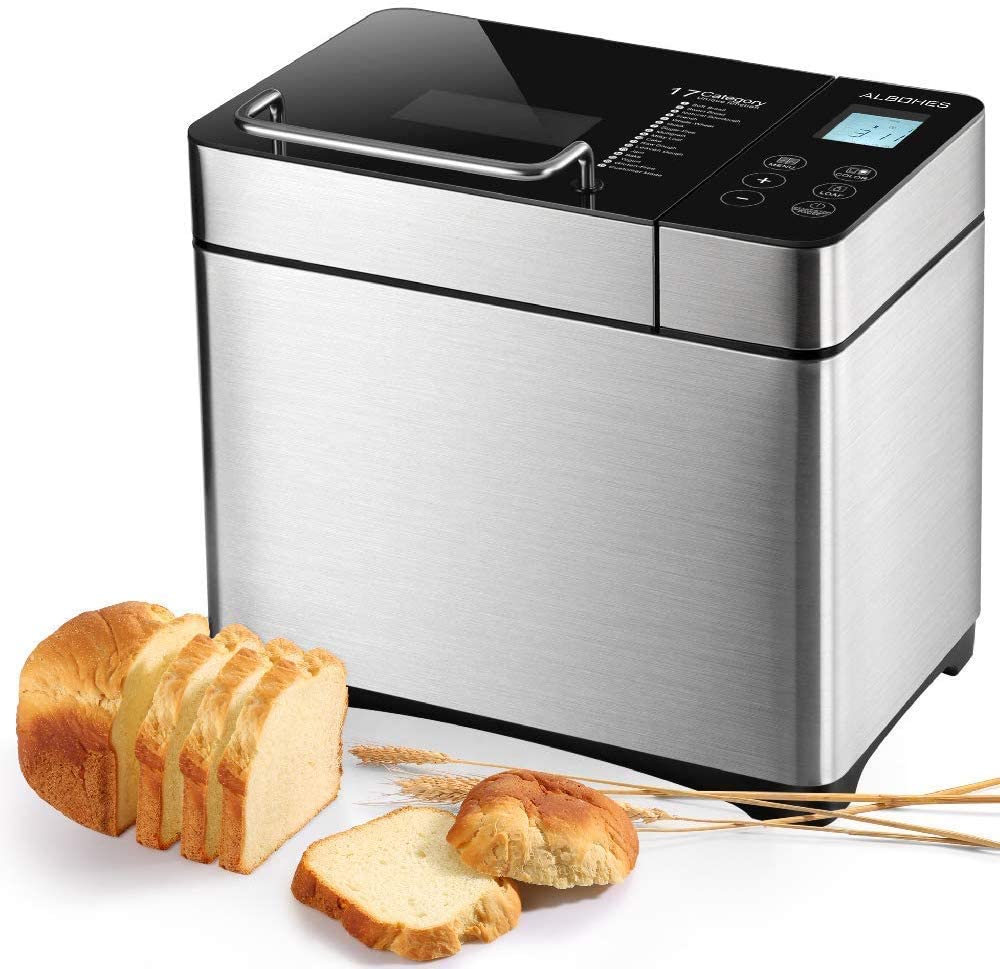 For those who value the overall style and design of their own kitchen, we have found a stylish solution. ALBOHES 2.2LB Stainless Steel Bread Machines looks like a modern device that fits perfectly into a metal or steel interior.
The compact, smooth steel design is complemented by a transparent cover that allows you to watch your bread being prepared. By the way, in the modes, you can adjust 3 different types of crust – light, rouge or dark.
The ALBOHES 2.2LB Stainless Steel Bread Machines supports the timekeeping function. With this function, you can make delayed cooking for 24 hours, i.e. get your next breakfast in a warm and pleasant state. To ensure that you only get fresh bread, there is a 15-minute break in the power supply.
The LCD display gives you full instructions and information about cooking, and you can adjust all the settings yourself. Mixing requires no effort on your part – you just have to choose the size of the loaf and give the machine everything it needs.
You can also check: 7 Best Ceramic Knives On The Market
5. Easy-to-use Flatbread & Wrap Maker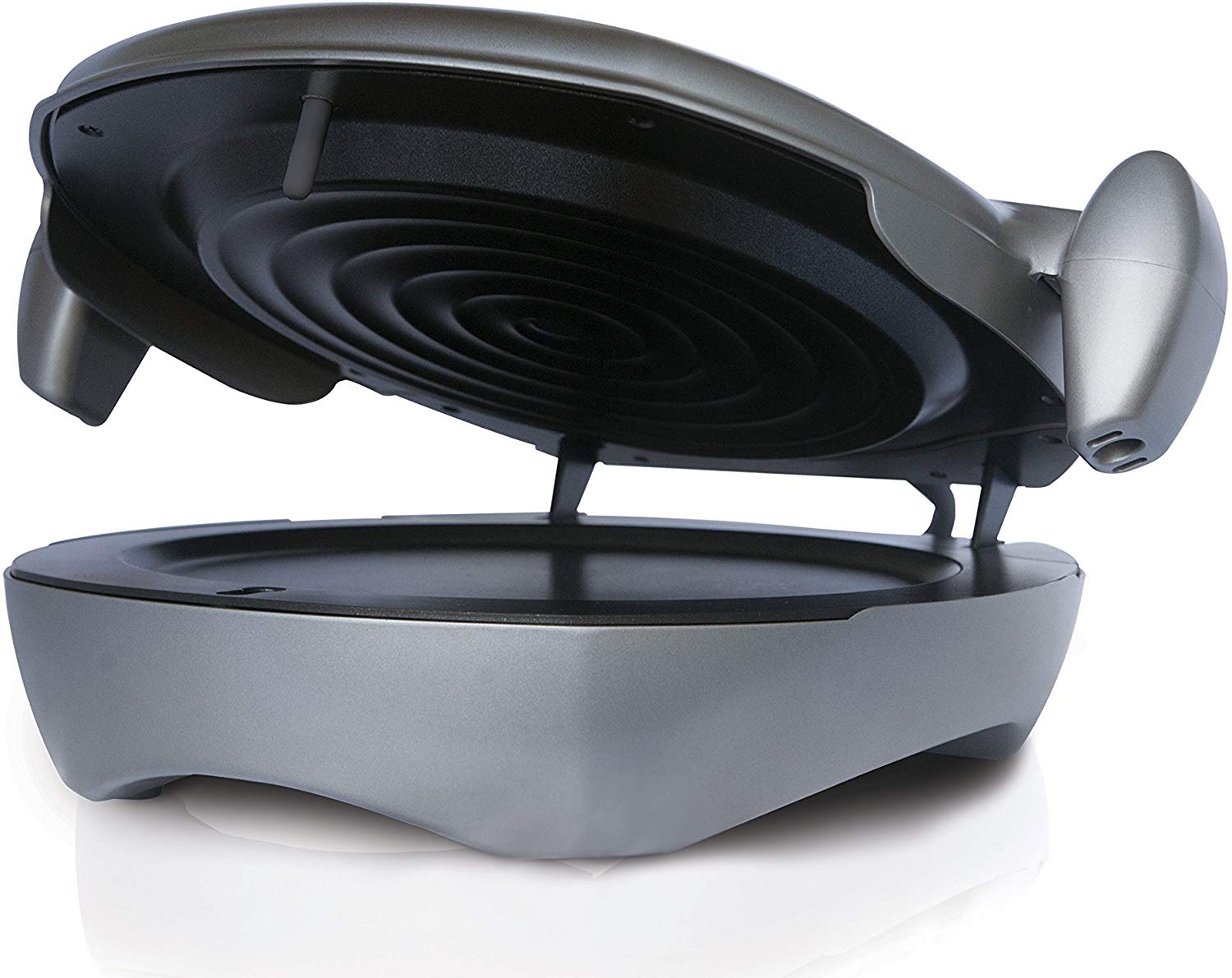 In addition to bread, people with dietary restrictions face another problem – scones and tortillas. Gluten-free versions of tortillas, which can be found in a supermarket, are often of poor quality and completely different from the usual food. If you want to completely replicate your previous diet, you should definitely find an alternative.
It comes with several recipes for different diets – gluten-free, paleo, low-carbohydrate and so on. You can even prepare the basis for a pizza here, delighting yourself and your family with a treat.
The main thing is that it takes only a few minutes to make a single scone, which is much faster than making a whole loaf of bread. Here you won't get a fresh loaf of bread with raisins – but you can wrap different stuffing in a scone and enjoy it.
It is not necessary for you to have celiac to decide to give up gluten in your daily diet. You will be able to consume bread with care for your health, excluding those ingredients that can cause your body to react negatively.
In addition to making bread, you can even use these machines to mix dough for pizza, pasta or anything else. By cooking bread yourself, you will be able to fully control its composition, knowing each ingredient.
FAQ for bread maker buyers
1.
Is it possible to cook regular bread in the "Gluten-free bread" mode?
If you want to try it, whether your baker will be able to work in different modes, we assure you – the baking will succeed in any case. In fact, the different modes of an operation simply simplify the process of cooking different types of bread and buns, and each of them has its own small nuances.
Of course, you can prepare ordinary bread by baking it using gluten-free technology. Perhaps the result will be a little worse – because at a different temperature regime ordinary bread can be less lush or porous.
2.
Why does gluten-free bread need to be baked in a special mode?
Since gluten-free bread contains no gluten, its structure is different from that of ordinary bread. It's more crumbly, and the dough is not elastic. In order for your gluten-free bread not to become a slide of breadcrumbs during the baking process, you need to use the special cooking mode.
If you do not suffer from celiac disease or gluten, you can avoid all these inconveniences and just cook the most standard aromatic bread according to classic recipes.
3.
Can I make gluten-free bread if my bakery does not have a special mode?
The basic principles of cooking bread are observed in any form, regardless of whether it is gluten-free or with gluten. It is worth noting that manufacturers are not in vain to introduce a special gluten-free baking mode in their devices – there are a few subtleties that should be observed when baking it.
If you don't have the ability to change your bread maker and it doesn't have a special function, you can simply replace ordinary flour in the basic recipe of bread with gluten-free flour, and leave the rest as it is. The result is no worse than when baked in a special mode.
4.
Do I always have to follow the gluten-free bread recipe that comes with the bakery or can I create it myself?
The manufacturer does not limit you in the choice of ingredients and methods of preparation of bread, scones, and buns. You can do anything if you are sure that you will get the product you want.
You can base it on a recipe for your favorite bread that you've prepared before, and replace wheat flour (or whatever it uses) with gluten-free flour mixed with xanthan gum. This way, your bread will not be too crumbly structured and will taste almost the same as starch and gluten-free baked goods.