More and more of us start questioning our diets these days. Thanks to media we have seemingly limitless access to information about pretty much anything! So far, nutrition and a healthy lifestyle have become vastly discussed and frequently googled topics.
So while only a few of us can claim to be profoundly knowledgeable when it comes to healthy and balanced nutrition, considering your eating habits and looking for healthy ideas and fresh insights is always helpful and rewarding!
In this article, we'll review the best fat-free butter substitutes. But first, we'll look a bit closer to the subject of fats in our foods and why fats are considered to be harmful to our bodies.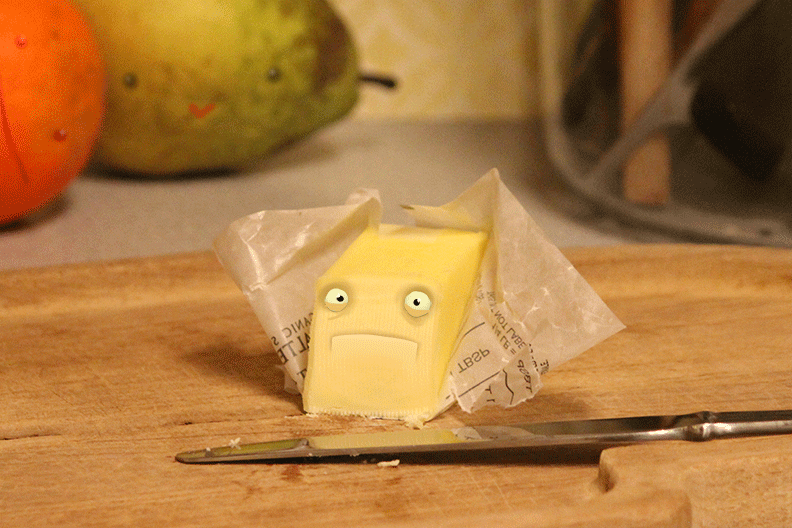 According to experts, there are saturated and unsaturated fats. For quite a long time, saturated fats were considered fully unhealthy despite the way they are made.
But in fact, the plant-based foods with saturated fats such as coconut oil are quite beneficial for our health, whilst saturated fats found in meat and dairy can undermine it, leading to extra pounds and increasing the risks of heart diseases and diabetes.
Therefore, there's no need to avoid unsaturated and even saturated fats, that come from plant-based sources. As we know, fats are crucial to our wellbeing, so keep that in mind and look for healthy options with the help of the reviews below.
Our Top Pick
Original Buttery Spread by Earth Balance
A choice for those who really know the subject of a qualitative plant-based butter. It also comes in a big package and it is a great source of Omega-3.
Check Current Price
Image
Product
Organic coconut spread by Earth Balance
Classic coconut oil, comes in a big package
Check Current Price
Raw cocoa butter by Plant Guru
Another classic coconut butter that comes in a smaller sized jar
Check Current Price
Pistachio Spread by Marco Colzani
A top-quality product, contains lots of nutrients and macro-elements
Check Current Price
Fruit Butter Collection by Stonewall Kitchen
A set of unusual butters, good product to have for everyday use
Check Current Price
1. Organic coconut spread by Earth Balance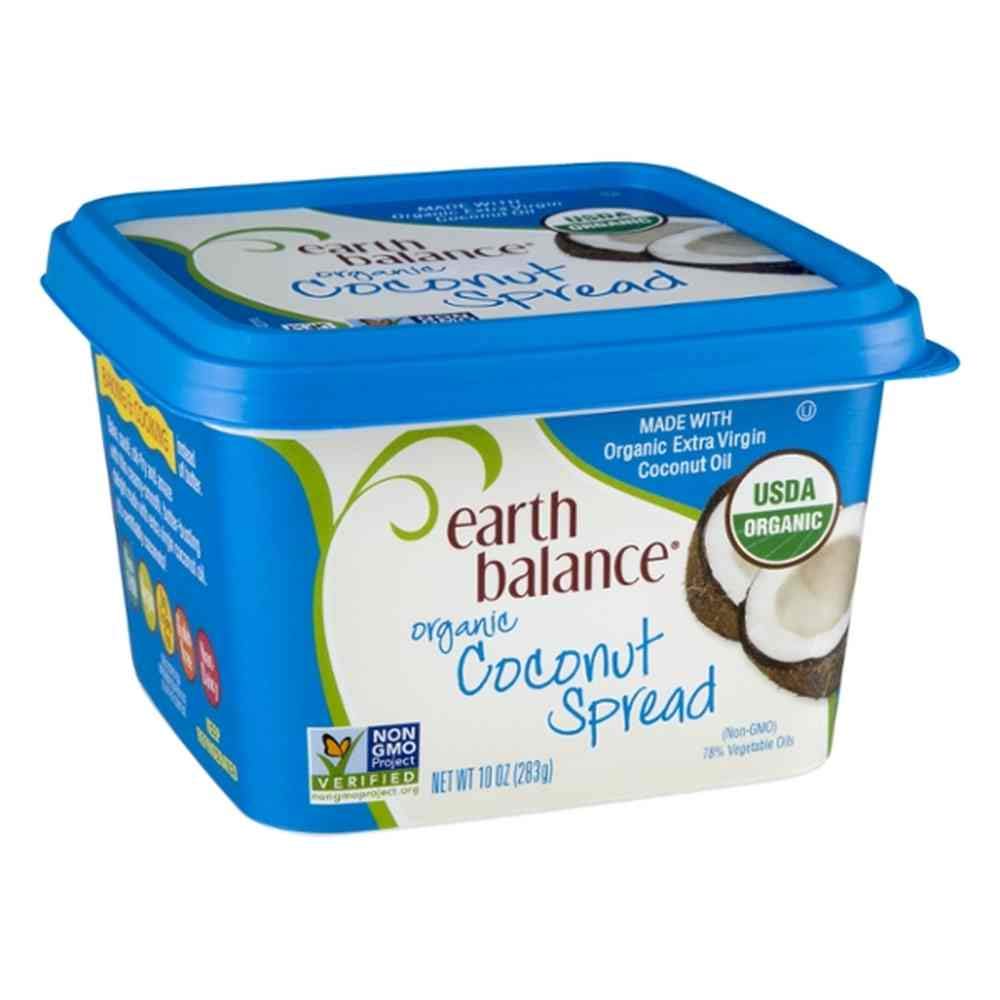 This box of organic coconut spread will make all the foodies out there happier. It comes in a medium-sized blue plastic box with a handy lid. Despite the name of it, the texture feels more like that of coconut butter.
It is soft and creamy. Fuelled with useful nutrients, healthy fats and vitamins it will make any of your products healthier and will add that pump of flavor. It has a subtle coconut smell and unsweetened taste.
The original package of this product might seem a little pricy for some people, but there are also more affordable options where this butter comes in smaller packages. 
The spread can be used for multiple needs, such as frying, baking, seasoning, etc. You can use it to make healthy snacks, put it in your oatmeal, cereals, and granola, whatever you have. It is also a decent substitute to refined oils, that is used to fry and roast foods. It is especially good for frying pancakes due to special aroma and taste.
You may also like: 7 Best Butter Dish Reviews
2. Raw cocoa butter by Plant Guru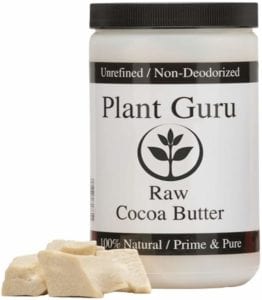 This product is made of the edible cocoa butter of high quality. If you haven't tried using cocoa butter in your kitchen yet, this is the time to give it a try. Add it to smoothies, desserts, ice-creams, oatmeal, etc. It is not refined and will provide you and your loved ones with all the benefits of raw cocoa butter.
Rich in vital minerals and nutrients, it will benefit your body and strengthen the immune system within several weeks of regular intake. By the way, it can be used not only for meal prepping but also for your skin, hair and body care routines. Moreover, this jar of coconut butter has an incredible price.
A lot of us continuously struggle with skin issues, especially with dark spots and pigmentation. And cocoa butter may offer some help with those, but don't overuse it while applying it on your skin, a slight amount of butter is just enough.
If you simply want to moisturize your skin and give it some protection, this butter will also be a good 100 % natural option. As someone once said, – "Apply on your body only what can be harmlessly eaten". Cocoa butter is also effective in preventing stretch marks during pregnancy, in treating dry wrinkled skin and in curing irritations caused by psoriasis.
3. Pistachio Spread by Marco Colzani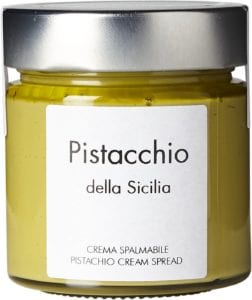 Now we have a product of a higher level. This high in protein and vitamins gorgeous spread is made with Sicilian pistachios. The creator, Marco Colzani is a young and passionate chocolatier. Under his brand C-Amaro, he produces few variants of spreads and bean-to-bar chocolate.
In all of his culinary delights, the entrepreneur follows the philosophy: "To take away everything that is unnecessary, and try to come as close as possible to the original."
The spread comes in a beautiful glass jar, so the quality of the product is better conserved. And you can reuse the jar for storing little snacks or anything like that after the spread is finished. It has a rich sweet and soft taste, so if you have a sweet tooth you will definitely love this one.
It also contains olive oil, cane sugar, and sea salt, which enhances the taste of the product. The product might seem a bit pricey, but it is worth every pound, so don't hesitate and treat yourself.
You can simply spread it with a special knife over slices of soft bread or toasts, use it in loads of different desserts, make icing for cakes and a filling for pancakes. By the way, if you have kids, they would probably finish this spread in no time!
4. Fruit Butter Collection by Stonewall Kitchen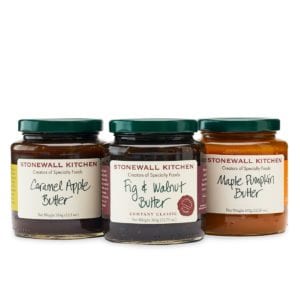 This collection of butter spreads will meet all the tastes out there. The product includes "Fig & Walnut Butter", "Maple Pumpkin Butter" and "Caramel Apple Butter". Every taste is unique and thoroughly designed by nature and completed by Stonewall Kitchen chefs.
The butter in this collection also comes in glass jars, and it is just another bonus here. The Stonewall kitchen company was founded in 1991 by two enthusiasts Jonathan King and Jim Stott. They started with selling jams and jellies at local farmers' markets, fairs and festivals and soon gained recognition due to the high quality of their products.
Throughout time they expanded their product line. For now, the company possesses almost 30 prestigious awards from the Specialty Food Association and is a three-time recipient of the coveted Outstanding Product Line award.
This butter collection is a wonderful healthy nutritious variant for breakfasts. You can use them as a filling for muffins or a topping for scones. It is also a great addition to homemade ice-cream and other desserts.
If you look for something fast and easy, simply spread the preferred taste over your bread and enjoy its reach and soft taste without having to worry about calories. The product doesn't contain unhealthy fats or any harmful ingredients. Besides, it has an affordable price.
5. Original Buttery Spread by Earth Balance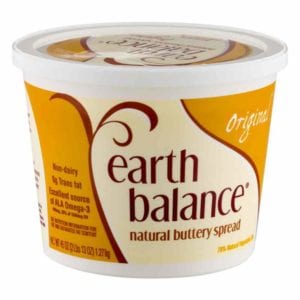 The last item in today's list is the spread by Earth Balance. We have already reviewed the coconut spread by this company at the beginning, and this traditional spread seems to be just as good in quality as previously mentioned.
In 1998 the company has started with just one product, non-GMO expeller-pressed Original Buttery Spread. The product had buttery, smooth, meltable consistency and became the country's fastest-selling, most popular vegan buttery spread.
Since then, the company has significantly expanded the taste range and continues getting positive reviews from consumers. The butter has smooth spreadable texture, rich taste and is perfect for baking. It is highly recommendable to add it to mashed potatoes to better the taste and nutritional value.
It is also a good source of Omega-3. Whether you are lactose intolerant, plant-based or simply want to lead a healthier lifestyle, this spread will make a perfect substitute to ordinary butter in any recipe you wish to try.
This is the most expensive item on this list and it's quite specific, but those who appreciate a healthy lifestyle and top-quality products will still find it a good investment.
FAQ for fat-free butter substitutes buyers
1. What is the healthiest alternative to butter?
For cooking purposes it is definitely an olive oil. It is known to be one of the most nutritive products in the whole world. Touted as a heart-healthy staple by the American Heart Association, olive oil is loaded with healthy unsaturated fats that are worth the extra calories. Apart from olive oil, coconut butter is considered to be a very healthy alternative.
2. Is plant-based butter healthy?
Almost all plant-based foods are much lower in saturated fat than animal foods, making them a better choice for maintaining heart health. It is not only healthy, but it is also much less in calories than regular butter. The only concern might be an individual allergic reaction to certain components.
3. Why you shouldn't eat margarine?
Although margarine may contain some heart-friendly nutrients, it often contains trans fat, which has been associated with an increased risk of heart disease and other chronic health issues.
4. What can I use instead of butter?
Olive oil, ghee, greek yogurt, avocado, pumpkin purée, mashed bananas, coconut oil, applesauce, peanut butter, hummus, and many other substitutes. Everything depends on the type of meal but eventually, there is a plant-based substitute for any situation.