A host who likes to have a frying pan that is not very heavy, but also not light, with a smooth finish, to which food does not stick, and who is not afraid of metal appliances will attract neither Teflon nor cast iron.
But they may like the frying pan with granite coating, which just meets such requirements, and, also, has many advantages.
The first non-stick, Teflon coating had many disadvantages. In violation of integrity, they emitted harmful substances. They were poorly protected and are highly vulnerable.
In fact, the name "granite frying pan" refers to a product manufactured even from aluminum.
The so-called granite coating is another attempt to get a frying pan that does not stick. But such frying pan represents already improved variant of a non-stick covering.
More strong, safe and convenient. What is a granite covering of a frying pan actually? What is it and is there really a real granite in it?
You will find answers to all these questions in this review. But, before that, we recommend you to watch a short video tutorial which includes testing of the granite rock pan.
Many manufacturers think about what to name their products. But in the end, the composition of all frying pans is the same.
Manufacturers explain the success of the coating with a special composition. It includes a stone chip, which supposedly effectively heats the surface. But, in most cases, granite frying pans are made of aluminum.
Then they are covered with non-stick material with an infusion of granite, not for heating, but for non-stick effect. The coating of such frying pans is stronger and thicker than Teflon.
The thickness of the walls from 3 cm and the composition can be different up to natural granite. It depends on the manufacturer. Granite frying pans are also called stone or marble.
As with any dishes, granite-coated frying pans have their pros and cons. It is important to consider when choosing the necessary option. Granite frying pans have a double bottom and are usually made of aluminum.
It is known for its high thermal conductivity. It allows you to evenly heat the entire bottom area even on a small fire. This, in turn, gives an even food frying, which is good for your health. There will be no overcooked or undercooked dishes.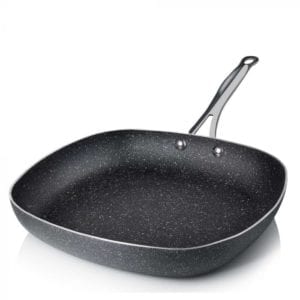 A composite layer is applied evenly on the bottom and sides of the foodstuff.
Frying pans with a granite covering do not stick, on them, it is possible to cook even without oil. With granite, coating produces conventional frying pans and grill pans. The latter are usually heavier.
An important advantage is that even if you damage the surface of such dishes, it may become inconvenient for frying, but will not be harmful to your health, like many others.
Besides, food cooked in such a frying pan will have high flavor qualities. The coating is odorless and does not affect the taste of the dish. Given the strength of the coating, many can not even scratch, so hard their surface.
The coating consists of polymers and granite chips.
But, there are disadvantages, for example, they do not like temperature changes. Thus, you will have to make sure not to wash a hot pan under cold water, and cold do not put immediately on the fire.
The peculiarity of their structure, in particular, several layers of coating, among other things, protects them from overheating. This helps to maintain the integrity of the coating. Thus, this fact significantly extends its service life.
This coating gives these pans many significant advantages over Teflon pans. They are very thin and vulnerable, as well as over fragile ceramic pans.
This coating is considered more environmentally friendly than Teflon. It is also more durable than ceramic, thus representing the golden mean.
The coating provides fairly fast and uniform heating. There are variants of stone chips, stone spraying and there are models with a completely natural coating. Manufacturers use granite, marble.
The more natural components, the more environmentally friendly. But also heavier and more expensive dishes. Specialists and users believe that granite crumbs are quite enough for a safe and easy to use the frying pan.
As for the marble coating, that is one feature. Such a frying pan cannot be heated to more than 300 degrees.
As the frying pan with a granite covering is a rather new decision, the design of such products is modern and attractive. All elements are executed with the raised convenience.
For example, many brands offer comfortable and beautiful handles with rubber coating. To use a frying pan thanks to such a handle is a continuous pleasure and comfort. The hand does not slide, hold comfortably, to the touch pleasant.
Granite-coated frying pans can be purchased with lids if necessary. The stylish lids are made with the latest trends in mind and are easy to use. But, any of these frying pans will fit another lid of the same diameter.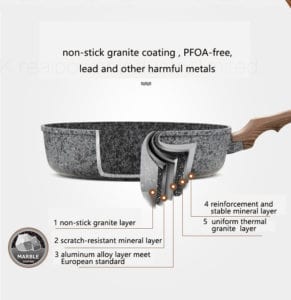 Choosing to buy a frying pan, first, it is necessary to determine what weight is required. It should not be too light.
First, it is an indicator of imitation under the "stone", most likely in such models are not matured "stone" layer in the required 3 cm and above. Secondly, the thickness of the walls and the double bottom make it heavier, but of a higher quality.
Granite is not good for falling or hitting. Cracks may appear, which will have devastating consequences.
The whole surface of the dishes should be smooth, without bumps and cracks. The handles should fit tightly to the main part, without cracks and gaps.
It must also be stable in place, not wobbly or cause a feeling of instability or insecurity. It should be comfortable to hold the handle, the hand should not slide.
The service life of the "granite" frying pan depends entirely on the quality of production and care. And the second is more essential.
At gentle care, it can serve up to 25 years, which is very much in comparison with Teflon frying pans. They preserve the integrity of not more than 2 years and remain safe only with very careful care.
Thanks to the composite layer applied to the bottom and sides and the absence of fluoropolymers, the dishes can remain environmentally friendly for several years.
Most models on the market can be washed in the dishwasher. This can be used if necessary. But to extend the life of these products, it is better to clean them manually.
A granite frying pan requires consideration of important care requirements. It can be used to ensure that your dishes are safe for health, easy to cook and have a long service life.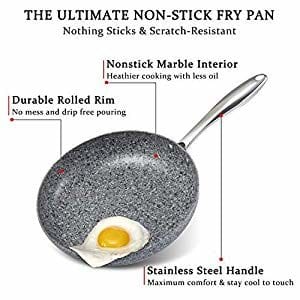 It can be touched with metal appliances – spoon, fork. Still, it is worth remembering that it has a coating that is undesirable to break. Thus, it should not be washed with a metal sponge and openly scratched with a knife.
Do not use a metal spoon, fork or spatula unless instructed to do so in the operating instructions for the product.
Another cast-iron frying pan is afraid of sudden temperature fluctuations. If you bring it in from a cold balcony or take it out of the fridge and put it on the fire immediately, its integrity will be impaired.
Thus, the frying pan will stop to function fully. The same goes for the habit of sending the hot frying pan directly from the stove to the cold water sink.
Also, you can't drop it and expose it mechanically. It shouldn't be kicked or scratched.
For any dishes, it is better to avoid a hard brush or sponge. These tools leave traces after use.
In order for the frying pan to last longer, it must be properly cared for, but there is nothing difficult to care for. Usually, it is enough to wash gently, wipe dry, drip some oil, wipe off with a cloth.