If this is the first time you come across different types of dishes, it will be difficult for you to understand them immediately. You will instantly learn a lot of new and obscure names that you meet for the first time, and few people around you can explain it to you. We offer a little more insight into this issue and consider 2 different materials. Get to know more about induction cookware >>
Ceramic and hard anodized dishes are often confused and it is not always clear how they differ from each other. The main reason for this similarity is the non-stickiness of both coatings. You can really cook a lot of dishes in such dishes perfectly, almost without using oil.
We decided to make a small visual comparison of the two materials:
| Characteristics | Ceramic Cookware | Hard Anodized Cookware |
| --- | --- | --- |
| Service life | About 5 years | Over 10 years |
| Ease of maintenance | Temperature variations and abrasives must be avoided, the surface is easily damaged | No special care required |
| Universality | Universal | Cannot be used on the induction stove only, other types of cooking are available (including oven) |
| Maximum heating temperature | Recommended temperature below 400 degrees Fahrenheit | 450-500 degrees Fahrenheit |
| Food safety | Safe and non-toxic | Absolutely safe and non-toxic |
| Wear resistance | Slightly damaged even by scratches | It won't peel off or scratch |
| Price | Expensive | Affordable price, average or slightly above average |
Now we suggest you understand what each of the coatings is and how you will have to distinguish them from each other.
Hard-Anodized Cookware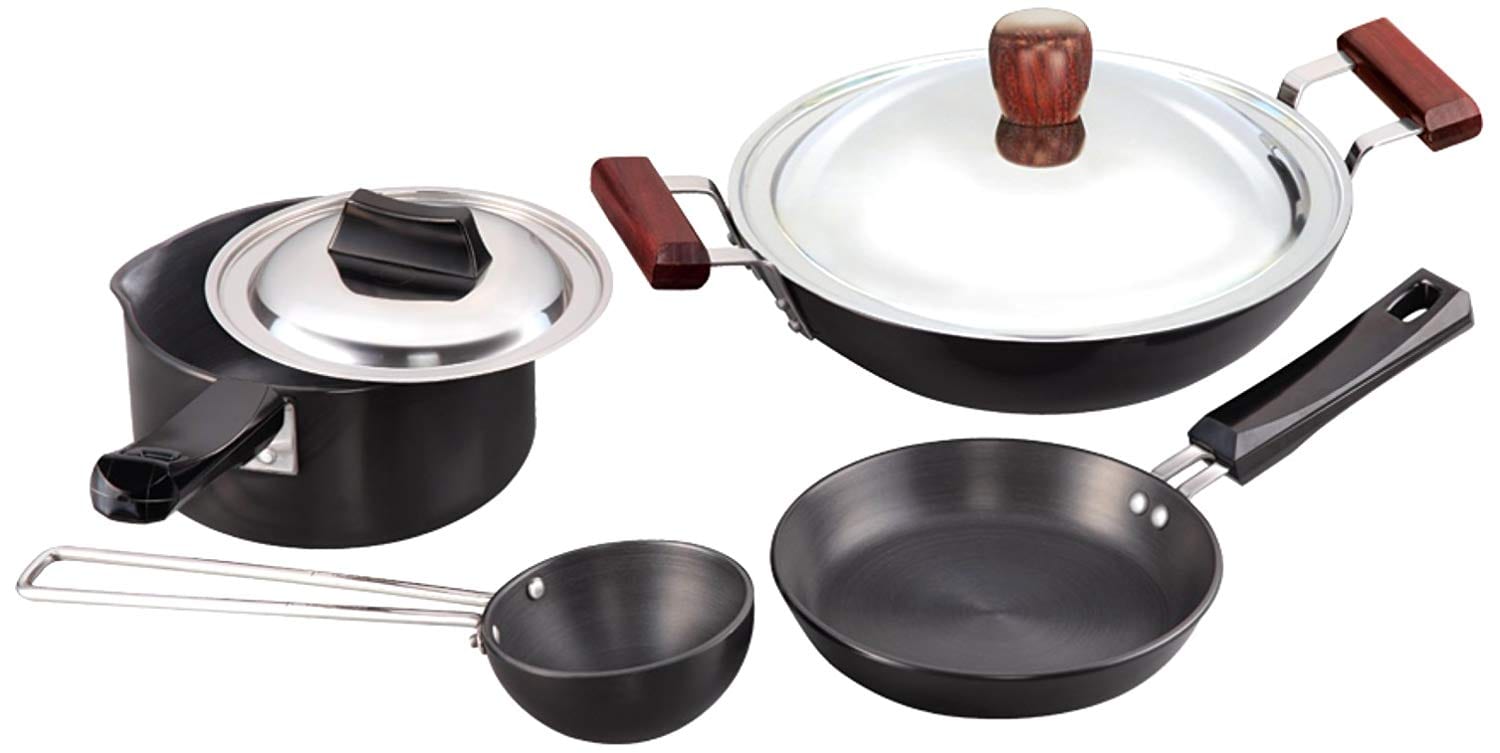 Anodizing is a process that represents advanced technology for kitchenware. You should not confuse simple anodized aluminum with hard-anodized aluminum. If simple anodizing processes the material to stop oxidation, hard anodizing works with new technologies.
The material is processed at low temperatures with high voltage. This results in a longer life for the dishes and also creates a durable coating on the metal. Hard anodized dishes have non-stick properties, hardly wearable and are resistant to corrosion.
Anodized dishes will not lose its coating over time. Additional processing just allows you not to worry about washing dishes and special care in the future. Inside this cookware, there is usually an aluminum insert that distributes heat evenly throughout the bottom of a pot or pan to ensure even cooking.
Washing these dishes is easy – you can just stick them in the dishwasher! Hard anodized dishes don't weigh much and also last a long time. When you buy it, you will use it for a long time.
Ceramic Cookware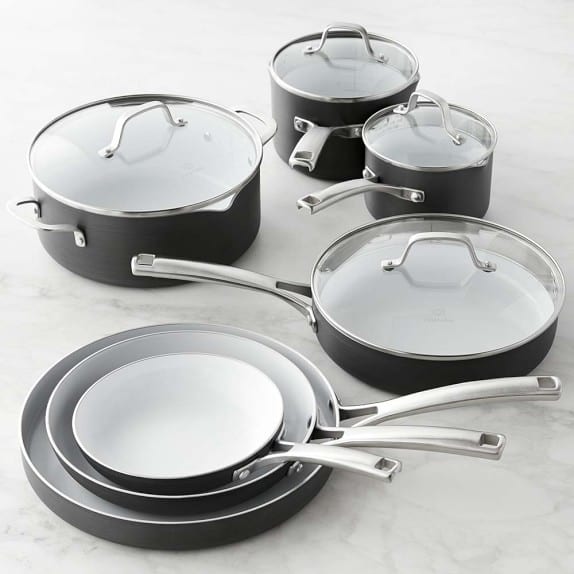 Despite the fact that ceramic tableware is usually made from aluminum, it still has some differences. Ceramic frying pans are also non-stick and safe for cooking. They are free of toxins and do not release any harmful substances that could later get into your food.
Ceramic pans are easy enough to wash, but you need to wash them gently, avoiding scratches and temperature fluctuations. You can also use a minimum amount of cooking oil, as ceramic pans have non-stick properties. Although a small amount of oil will still be needed to prevent food from sticking.
By the way, you can check these reviews to choose the best ceramic kitchenware:
7 Best Ceramic Cookware Sets Reviews 2020

Ordinary ceramic tableware has many useful features that its crystal, faience or porcelain analogues do not. Ceramics have a structure that allows them to absorb moisture first and then release it back later.


Check the review

7 Best Ceramic Frying Pans Reviews

The surface of the ceramic pans is much more resistant to scratches and minor damage. Their overall service life is also higher and they are very unpretentious in maintenance. Since burnt food remains do not adhere to this frying pan, it is enough to rinse it.


Check the review

7 Best Ceramic Bakeware Sets Reviews

Ceramic baking dishes perfectly retain heat, distributing it evenly over the entire surface, which promotes efficient cooking. This property of ceramics makes it particularly useful for baking.


Check the review

7 Best Ceramic Knives On The Market

The blade of the ceramic knife is both fragile and strong. If the ceramic knife is of high quality from a well-known renowned manufacturer, it can serve for a very long time without losing its sharpness and strength characteristics. Thus, high-quality ceramic knives do not require sharpening of the blade for a very long time.


Check the review
As we have already said, the base of ceramic pans is often made of aluminum, and only the inner coating is ceramic. This ensures good thermal conductivity. Fully ceramic cookware (e.g. for baking and ovens) heats up for a long time and keeps food warm.
The service life of ceramic cookware is short enough and you will not be able to use it for a long time. The surface can be covered with scratches and cracks, losing its properties. If you take into account the high price of quality ceramic tableware, you can conclude that the purchase of such a set will have a big impact on your budget.
The main question that people have – what is worth picking? Such a choice is a personal matter for every person who loves to cook. Both types of coating are great for cooking, although sets of ceramic cookware are still more expensive.
It's worth considering the style you like to cook in. For example, Chinese cuisine requires high temperatures and ceramic pans are not designed for this type of work. It is best to use ceramic pans at medium temperatures. In such a cuisine it is best to use hard anodized pans. Both types of cookware do not emit any harmful substances during cooking, but a more universal option is hard anodized.
In any case, it's up to you to decide. The question of price plays a big role in this comparison, as the two materials are otherwise quite similar.
You may also like: Top 7 Healthy Cookware Sets On The Market