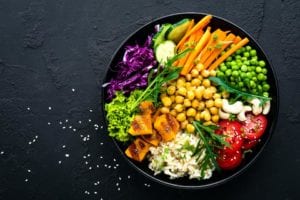 You can see that today veganism is more popular than ever. More and more people switch to a vegan lifestyle refusing to eat the products made from the animal flesh. That's probably for the better since veganism is more environmentally friendly and better for human health.
The plant-based fats, unlike the aminal ones, contain much more nutritive elements and vitamins and their consumption is more comfortable for our digestive system.
Usually, vegans stick to this kind of lifestyle not only in their food preferences but in all the spheres of their life, using the products which are only environmentally friendly and cruelty-free. And if several decades ago being a vegan was some kind of a serious challenge, since there was not diversity even remotely similar to the one vegans have now.
If you go to some fancy store like whole foods (and not only there), you will probably find all kinds of products that all people (who consume meat) eat, but the main difference that those products are made only from plant-based elements.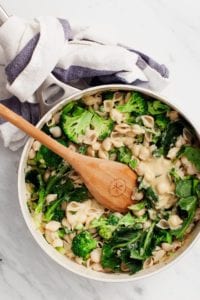 However, this is relatable to such big cities as Los Angeles, Tokyo, New York, London, and other significant capitals. Those vegans who live in smaller towns have to be content with all that they can find.
But as long as you have two hands the right tools in the kitchen you are able to make your vegan ration almost as diverse and qualitative as those first-world retailers. Moreover, because vegan food is so healthy, in most cases it is not so hard to process it and make a delicious meal out of it.
By the way, speaking about the tools. There are some interesting items that will significantly improve your meal routine if you have them in your kitchen. Are you already curious to find out which ones are those? See in the list down below.
You may also like: How to cook rice in microwave fast & safe
1. Juicer
One of the best parts of being a vegan is that you are getting used to consuming many fresh juices. And yes, they are maybe not the cheapest ones to make for every day, but the benefit that they bring to our health is tremendous. It is one of the most nutritious components of the vegan diet.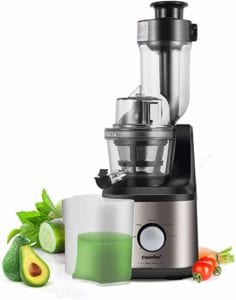 It is essential to have not only the well working juicier but also a qualitative one, so it would press the juice in the right way. Being more precise, it should keep all the nutritious fibers and vital microelements while processing vegetables or fruits.
It shouldn't also cut down too much of flesh of fruit so the juice is not too watery. Another thing that you should check before buying a juicer is that all the parts and components of it are made out of high-quality materials, safe for human health and are going to serve you for a long time.
Apart from that, pay attention to which RPMs speeds the machine is operating. It will prevent any foaming, clogging and or heat build-up. The price of a good juicier may vary depending on its functions. For a regular model, which simply presses the juice out of the fruits and vegetables it's usually $50-100.
However, there are more advanced juicers, which are capable not only of that, but are also able to make nut butter, nut milk, soy milk, and baby food and grind coffee beans and herbs. Sounds like a dream for any vegan, isn't it? If you decide to get that one then be prepared to pay around $350 for that wonder-machine.
2. Chopper and Adjustable Slicer
How annoying it is not just for vegans but for any person who has ever cooked something to spend time thoroughly chopping and cutting something? Especially for those things which require the meticulous approach in this. It is fair to claim that vegans have to do that more often than others since there is not such a wide choice of already prepared meals for them.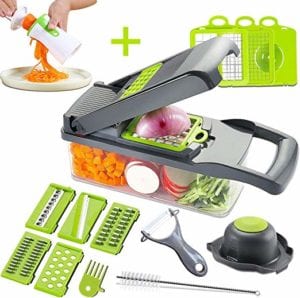 Luckily, modern engineers have solved this problem. Instead of spending hours making sure every cut is equal, tools such as the chopper or/and adjustable dicer will make it easy and efficient for home cooks to dice vegetables and fruits.
This product allows for producing equal and beautiful slices for julienne, chop, dice, cut, and grate. You will definitely appreciate it and will see how your productivity in the kitchen has grown several times.
Probably, there is no need to emphasize the benefits of this product for vegans anymore, since this type of diet underestimates constant chopping and slicing. So why not make this process 10 times more efficient? The prices vary from $30 to $200 – depending on how multi-functional the tool is.
3. Tofu Press
Tofu is a great and underappreciated product. It contains twice as much protein as meat, without containing any animal fats, and, along with that, it contains plant-based nutrients which are great for digestion. So why do you even need a press for Tofu? Well, it is a product which is quite watery initially.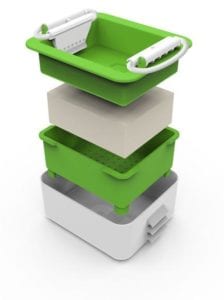 It is made out of condensed soy milk that is pressed into solid white blocks in a process quite similar to cheesemaking. That's why Tofu often called a "cheese" product. Moreover, initially, it doesn't have any specific taste and that's why many people prefer to put it into various marinades before consuming it.
In order Tofu to better soak in the marinade, it needs to be deprived of its original liquid. And this is where you might need a Tofu press. It transforms tofu into a firm texture by removing liquid from the tofu. Tools like these are more popular in Asian countries but can be found in the western market as well.
It is a box with several levels for the pressing, and its complexity varies depending on the brand. Some presses are just boxes with the one-level press, others have several percolators and steel plates. Besides, this product is extremely affordable – an average price consists of $20.
4. Spiralizer
Another trend in the vegan industry that is gaining more and more popularity is vegan noodles. Seriously, who said vegans should forget of eating the delicious pasta? What about buckwheat noodles? How about to make the noodles yourself so it is extra-fresh?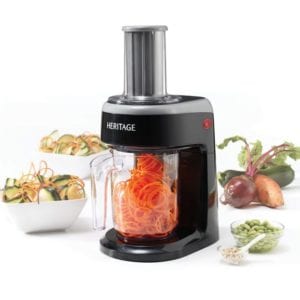 The spiralizer for vegetables will help you with that. With it, you will be able to use almost fruit and vegetable as an alternative for traditional noodles. The actual process takes seconds here, unlike the case with the regular pasta.
And in the case of this product, its models can also vary from more simple to multi-functional ones, which allow producing ribbon, fettuccine, linguine, and spaghetti noodles and even more. Of course, with the top-level spiralizers, you will be able to achieve your desired texture, consistency, and taste.
But in fact, it is dubious that you are going to prepare some exotic pasta every day so the middle range spiralizer will be suitable for the most vegas. Buying the cheapest one is also not recommended since it is not durable in service. The average price is $20.
P.S. Don't worry if you have no idea how to make delicious vegan noodles – you will discover many recipes on the Internet.
5. Avocado Cutter
Probably, the benefits of this product shouldn't be explained one more time even for non-vegans. Avocado can definitely be called one of the most nutritious fruits in general. All the followers of the healthy lifestyle cherish avocado and recommend eating it almost every day.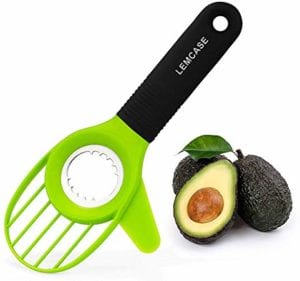 And even though the avocado may contain all those benefits, peeling it is not the most pleasant process in the world. Because of its fatty consistency, it sticks to hands and it's hard to remove (at least with a case of ripe fruit).
An avocado slicer will help you to avoid all those unwanted moments, helping you to cut, pit, slice, and scoop the green fruit safely and quickly. And, of course, this tool is perfect for preparing guacamole – one of the most delicious sauces which is perfectly suitable for vegans.
Forget about trying to squash avocados with a fork and trying to cut in in slices for dishes – a special cutter may do it for you. Plus, this tool is more than affordable – the price range starts from $1.
6. Food Processor
When preparing plant- and wheat-based meals, it's necessary to have a tool that makes chopping vegetables and preparing dough easier. It is a favorite kitchen appliance of millions of people since it significantly widens your cooking possibilities.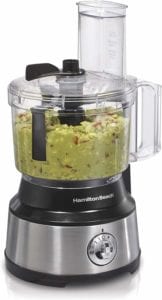 First of all, the food processor is excellent in blending. If you are a vegan then you probably like smoothies. But don't equal it to a regular blender – its possibilities, in fact, are much wider. The main difference is unlike the first one, a food processor is capable of chopping, slicing, shredding, grinding, and making the puree of almost any food.
For example, buying almond butter may be quite expensive. But with a food processor, you can do the almond butter yourself. Or, once again, if you feel lazy to chop the fruits, this machine can do it for you.
Nut butter, hummus, pesto, brownies, and even vegan ice cream – this is nor even the whole list of what users of a food processor can enjoy when they have this appliance in their kitchen. The average price of a good food processor is $60.
7. Knife Set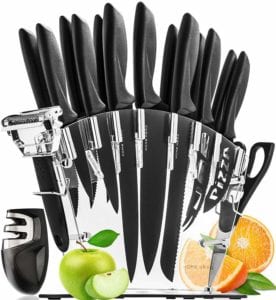 You probably will say who may not know that you need to have at least one knife in the kitchen. The thing is, the presence of a knife is not as important and the type and quality of it. Just give it a try – and you will see a good, high-quality set of knives makes a world of a difference.
Especially when you are a vegetarian or a vegan, a comprehensive array of kitchen knives for slicing vegetables, trimming herbs, and for those tougher tasks such as cutting butternut squash and melons will be a huge help for you while preparing your meals.
There is a special kind of knives for vegetables and fruits. You may immediately notice that they are higher in price than regular ones, but the comfort it brings justifies it. So, a knife set that has a more expensive price but better materials, warranty, and sharpening policy might actually be the best affordable kitchen knife set in the long run.
Usually, the set includes at least 3 knives, starting with a smaller one for smaller fruits and peeling off, moving on to huge knives which are meant for cutting any big fruits, such as melon. The cost is usually about $100.
You may also like: 7 Types of sharpened stones
8. Freezer Bags
One of the main problems for people who eat a lot of fruits and vegetables is how to prolong the freshness of the food and doesn't let it go off. If you are a vegan, it has probably been annoying for you as well how quickly some berries or fruits go bad – just a couple of days even in the refrigerator.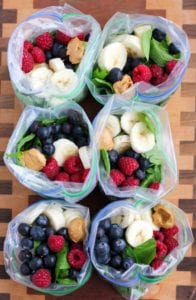 That's why vegans have to waste their time and go shopping every 2-3 days… But wait, there is a great solution. Frozen herb keeper and mill is bad where you can put all the veggies and fruits (cut in slices in advance) and then put it in the fridge so they will never go off. Moreover, it will keep the unwanted smell of any vegetables away from spreading across the fridge.
These bags are usually made out of silicone and they are totally reusable. Moreover, this is a great way to sort fruits and vegetables that you have – each kind of them will be sliced and packed in a separate bag, so you will be able just to take the necessary amount from it any time you need it. These bags are also perfect for making marinades.
Here it probably makes no sense to mention the price. You can buy those almost at any retailer store.
9. Frozen Herb Keeper and Mill
If you've never seen a frozen herb keeper the construction of it first may seem a little bit weird to you, but it is actually a perfect tool for those who are sticking to an extremely healthy lifestyle and raw veganism. With it, you will always have the freshest herbs for your dish.
The frozen herb keeper and mill extends the life of fresh herbs while cutting back on waste by serving as something of a spice rack for your freezer. As well as storing fresh herbs for a later date, the device also has a built-in grinder, making it an all-in-one seasoning tool that can be used to season any meal.
10. Sous Vide
This is one of the latest trends in modern cooking that you may not hear of yet. Once limited to the pros, Sous Vide is a cooking technique that utilizes precise temperature control to deliver consistent, restaurant-quality results. High-end restaurants have been using sous vide cooking for years to cook food to the exact level of doneness desired, every time.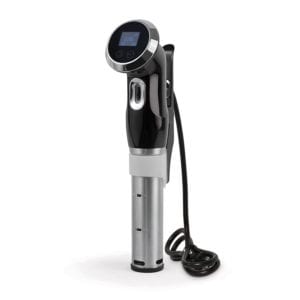 But now this technology is also available to you right at your house! Cooking shows, social media, and online communities have furthered consumers' knowledge of sous vide cooking, but it wasn't until the brand Anova released the first affordable and easy-to-use consumer device that sous vide became accessible to home cooks.
And since then the range of Sous Vide kitchen tools has widened dramatically. The Sous Vide vacuum is usually a compact kitchen appliance, similar to a blender, with a difference that it is actually sucks out the air from food containers. Its appearance may vary from rounded stick to a rectangular box.
It uses precise temperature control so vegetables retain their nutrients and use less fat without sacrificing flavor. And that's the best part of it – sous vide technology actually allows you to regulate the uncontrollable temperature and the ending meal comes out well-cook and delicious.
In order to cook with this tool, you will also need packaging for your food, like resealable bags or canning jars and a container to hold the water. And another great thing about this device is that it works in a similar way to a slow cooker.
It eliminates anxiety about cooking time as foods won't overcook–simply set your machine before heading out for work or school that day, and come home to a nutritious, vegan tempeh dish that's ready as soon as you walk through the door.
11. Cookware Set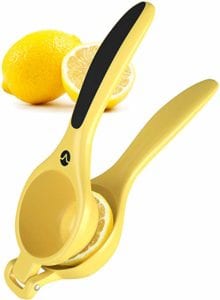 One more obvious point which is, nevertheless, got neglected. If you are a vegan, the comfort of your cooking and abilities to prepare an interesting and tasty meal largely depends on the type of cookware that you have.
Lots of people think of a regular set of a pan, cutlery, bowl and a cup when they hear the word "cookware". In reality, you can diversify your cookware to rare, but extremely helpful kitchen tools, especially if you're a vegan.
Apart from the knives set that we have already mentioned in this article, you may also get lemon and lime squeezer. If you are sticking to a healthy lifestyle, you're going to use this tool quite often, for example, for extracting the juice from the lemon in the morning so you can mix it with water.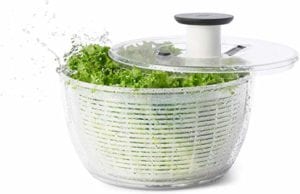 A jar opener is also a very helpful thing, as well as a set of measuring spoons. Forget about the problem when you always had to guess if you have added the right amount of flour – with those spoons all quantities will be measured automatically. Bakeware, bowls sets are important as well. Vegan recipes are much tastier when you have something baked.
Apart from those, you can also buy such rare things as zester (helps to extract the juice from lemons and limes), a grill pan (grills your vegetables right on the pan), garlic press, steamer (the food cooked in it is considered to be the most healthy one), or salad spinner (sets you free from necessity to wash and mix salad thoroughly and separately).
You may also like: 8 Types of modern waffle makers