In order to fully equip your own kitchen, you will need a lot of time and energy. Not only will you need to choose the right furniture and accessories, but also the right appliances, tools, and most importantly – cookware. On what kind of dishes you will cook, will depend not only on the convenience of cooking but also on your health.
Any cookware is in direct contact with the food you'll be eating. That's why you should pay attention to the quality and safety of your cookware materials. The taste and appearance of the dish will also depend on it, which will be on your plate.
Teflon and ceramics are the most popular for covering pans and saucepans. Still, the question arises: on what to choose. We offer you to find out what is the best option – Teflon or Ceramic Stainless Cookware.
| Characteristics | Teflon Cookware | Ceramic Cookware |
| --- | --- | --- |
| Scratch resistance | Easy to scratch, resistant to serious mechanical damage. | Hard to scratch, but possible to break the dishes if exposed to strong impact or falling. |
| Frying without oil | Possible, but non-stick properties will be degraded. | Possible, with proper care, the non-stick properties remain the same as at the beginning of use. |
| Price | Affordable price. | The price is higher than the average cookware. |
| Eco-friendliness | If the heat is too high, it can release hazardous substances. | More environmentally friendly material, does not emit harmful substances. |
| Ease of maintenance | No abrasive materials can be used for washing. | Specialized care with gentle means, no abrasive materials can be used. |
| Service life | Up to 5 years. | Up to 3 years. |
| Temperature of use | Up to 260 degrees Celsius. | Up to 400 degrees Celsius. |
Teflon Cookware
Teflon is probably the most popular non-stick coating in the world. You may find Teflon bowls for multicookers and rice cookers pan with this coating and small saucepans.
Some people are even specifically looking for Teflon-coated ovenware as they find it incredibly convenient. It's no surprise – Teflon really does prevent your food from sticking to the cookware, and is also quite affordable.
If you are going to use Teflon dishes for making baked goods or roasting, it is very important not to overheat them. Studies have shown that when the temperature is high, these products can produce harmful substances that will get into your food. So after you buy it, keep a close eye on the cooking temperature.
But still, Teflon is the most versatile and frequently used material for dishes. Waffles, pans, bakeries, electric grills, baking molds, and much more – the coating will be literally on everything that your food comes into contact with.
But there are also nuances: if you do not properly care for the coating, it will lose all its nonstick properties, and you will have to look for a replacement.
We suggest you familiarize yourself with some of the best options for dishes with Teflon coating:
IMAGE
PRODUCT

Rachael Ray Cucina Nonstick Cookware Pots and Pans Set

Bright and trendy kitchen utensils set.  

Check Current Price

AmazonBasics Non-Stick Cookware Set

Incredible budget and convenient set. 


Check Current Price

T-fal Signature Nonstick Dishwasher Safe Cookware Set

A set with different dishes for cooking your favorite meal. 

Check Current Price
Cook N Home 15-Piece Nonstick Stay Cool Handle Cookware Set



Minimalist set with non-stick coating.

Check Current Price
Rachael Ray Cucina Nonstick Cookware Pots and Pans Set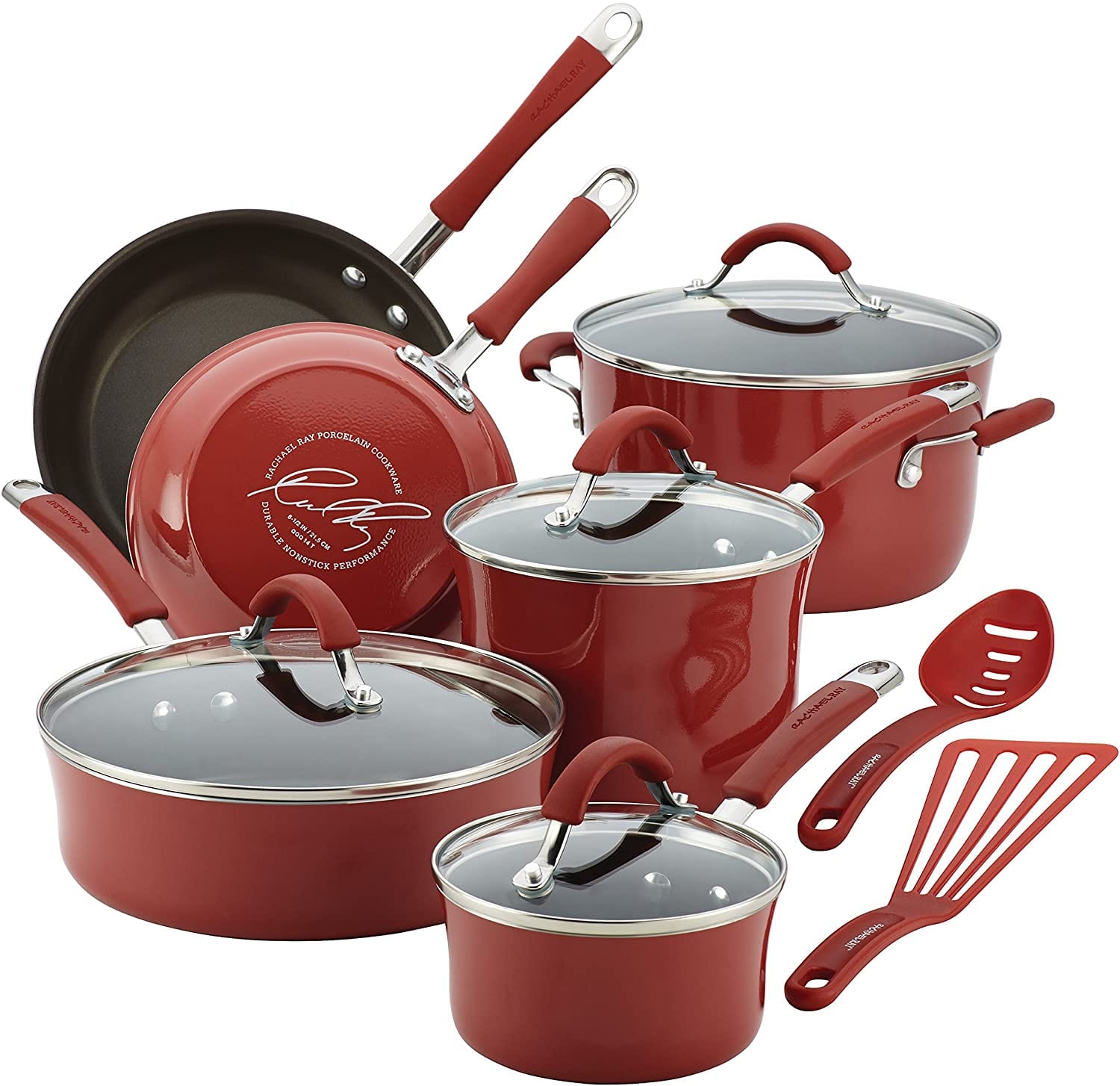 The Cucina Nonstick Cookware Set will be a decoration in your kitchen – especially if you keep all the dishes in view on the wall or shelf. The bright red set also has great functionality, allowing you to prepare many new dishes.
The whole external design of the set is made of strong aluminum and enameled porcelain, which gives it a shine and elegance. In addition to the red color, you can order the same set in blue, yellow, purple, and other shades – depending on the design of your kitchen.
The set includes 2 saucepans of different sizes with a comfortable long handle, 1 solid saucepan, as well as several pans with different diameters. Each item in the Cucina Nonstick Cookware Set has a lid so you don't have to worry about finding it and buying it separately.
The interior of the cookware is a non-stick layer that has been upgraded to modern standards. It does not release PFOA (according to the manufacturers), as well as does not let your food burn even without oil or water.
Cucina Nonstick Cookware Set cannot be used on induction cookers, otherwise, you risk just ruining your dishes and spending money on a new stove and set.
AmazonBasics Non-Stick Cookware Set
AmazonBasics is popular among customers because the products in its series are always affordable. AmazonBasics Non-Stick Cookware Set allows you to switch to a healthier diet for a small amount of money because their dishes are designed for cooking with minimal oil.
Since the cost is low enough, you don't have to wait for a set of incredible quality and long term use – it will last you 2-3 years of continuous cooking.
All the dishes in the set have a spiral bottom, which heats evenly and thus ensures uniform cooking. There are only 8 elements in the set – 2 pans of different sizes without lids and 3 pans with lids.
The non-stick surface of the AmazonBasics Non-Stick Cookware Set requires only manual washing as it can be damaged or lose its properties in the dishwasher. This set for novice cooks or bachelors will fit perfectly into your kitchen and is also suitable for any person's starter kit.
T-Fal Signature Nonstick Dishwasher Safe Cookware Set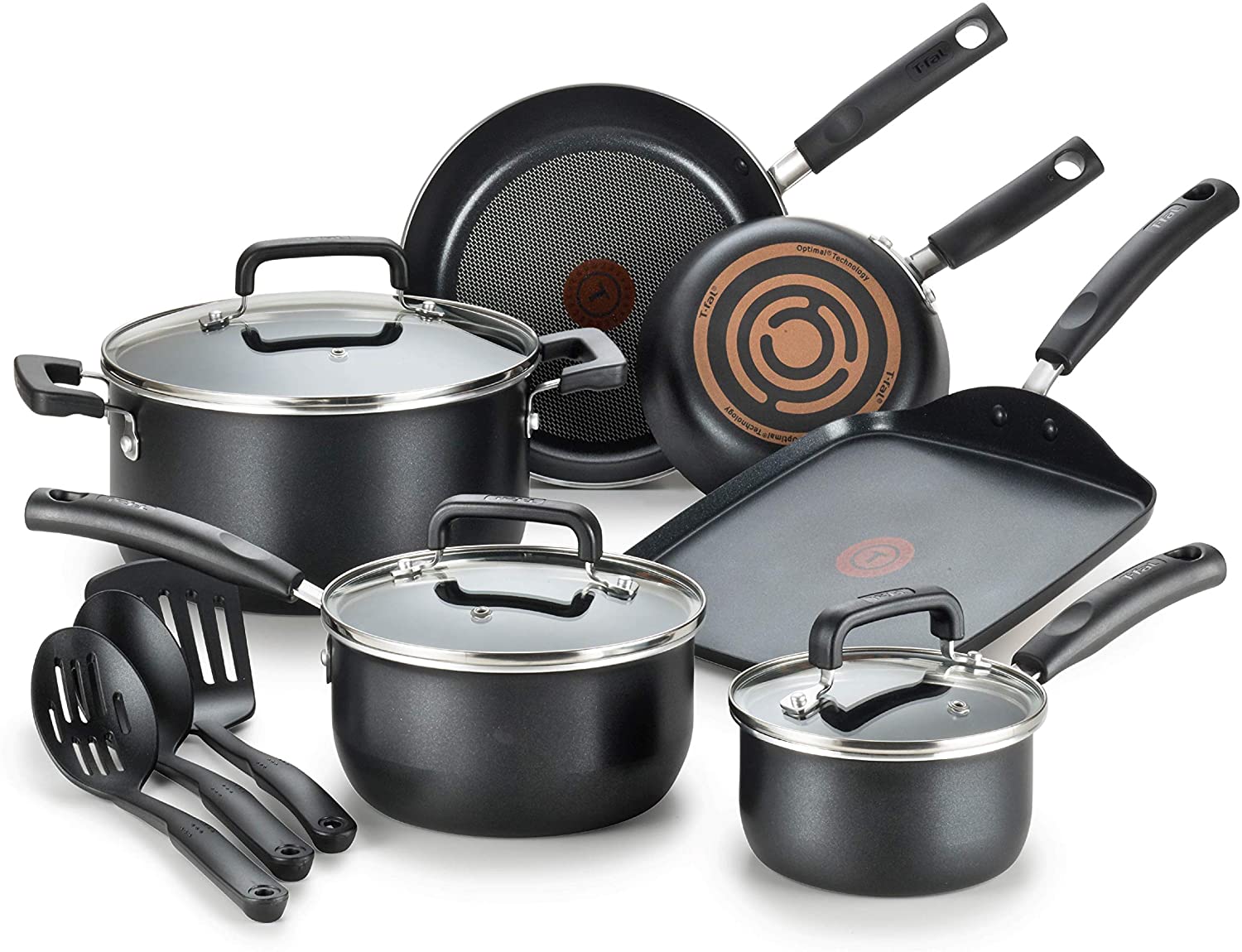 T-Fal is a popular company and brand that produces many useful things for the kitchen. It can be home appliances, dishes, equipment, and much more.
T-Fal Signature Nonstick Dishwasher Safe Cookware Set is a good set of 12 items in which you will get the minimum necessary equipment for your kitchen. If you have an induction cooker, you can buy a separate set designed specifically for these cookers.
The bottom of each item in the set has a special spiral that distributes heat evenly. You can also see a small indicator in the middle of the pots and pans, which shows the degree of heat.
The set also includes several paddles for stirring and turning food, which do not damage the non-stick surface. It is worth noting that the T-Fal Signature Nonstick Dishwasher Safe Cookware Set has special handles that do not heat when used and allow you to easily take hot dishes.
Cook N Home 15-Piece Nonstick Stay Cool Handle Cookware Set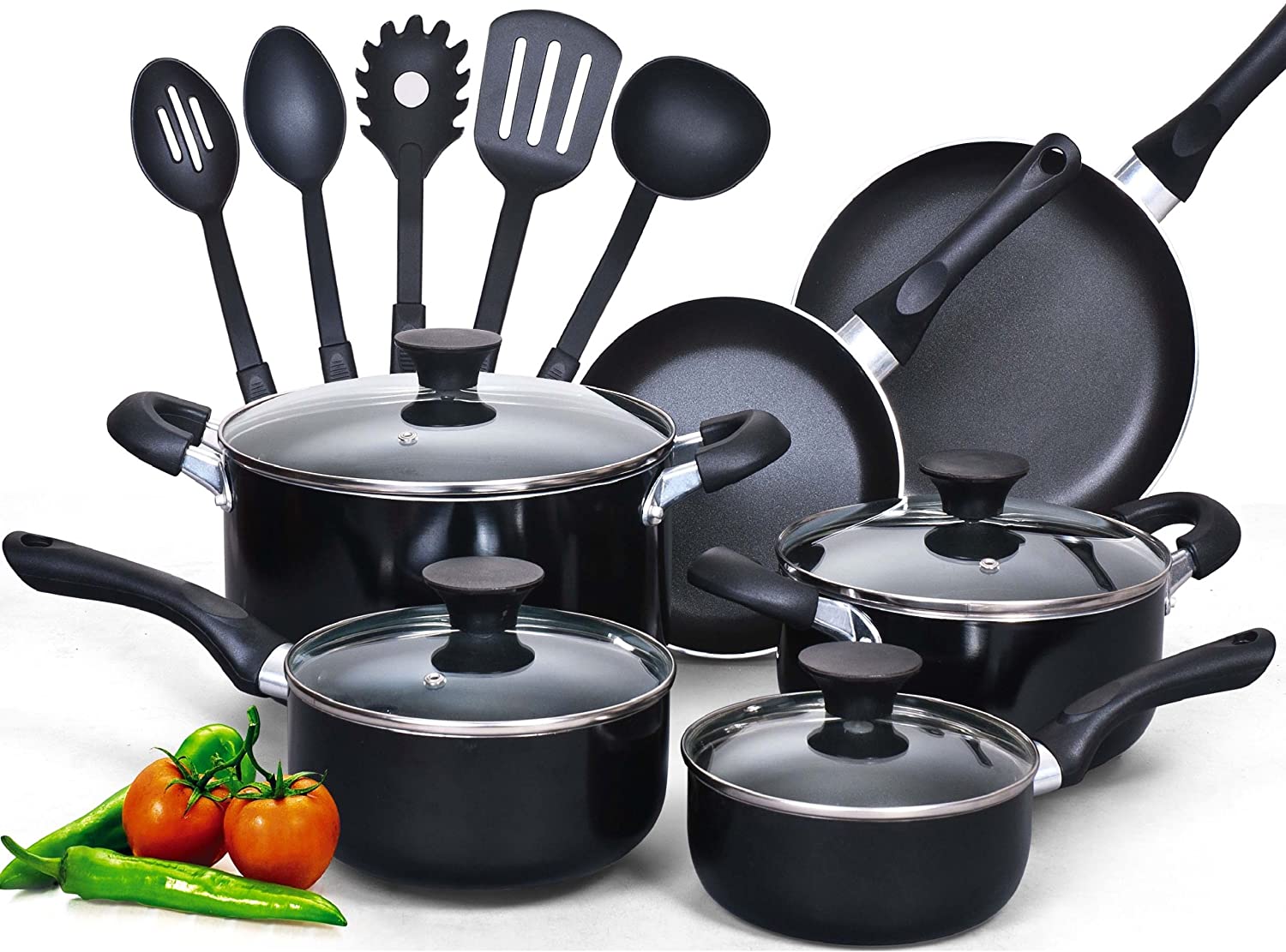 The Cook N Home Nonstick Cookware Set includes 15 different items that you will need while cooking. Here you will find pots, pans, ovenware, and cooking vanes.
The entire set is made of aluminum of sufficient thickness to allow heat to be distributed evenly in pans. The inside of the cookware is a nonstick coating, which not only allows cooking without oil but also makes it easier to clean the dishes.
It is worth noting that despite the manufacturer's assurances, this set cannot be washed in a dishwasher. In this way, you risk losing all the non-stick properties, which is not good for the quality of prepared dishes.
The Cook N Home Nonstick Cookware Set also has special lids made of tempered glass. They have special holes through which steam can escape during cooking. If you use the set carefully, it can serve you for a long time.
Ceramic Cookware
Ceramic cookware became popular not so long ago but has already won enough customers. Depending on the type of food you are going to cook, you can buy almost any product from ceramics – but the most popular are considered the frying pans.
They can vary in size, shape, side height, and capacity – you choose these parameters based on your own preferences.
Ceramic cookware is heated for a long time, but the heat is distributed evenly over the entire surface of the frying pan. The excellent coating is resistant to sticking and allows minimal oil use – so you can cook anything.
The ceramic cookware is also perfect for use in an oven – it can withstand temperatures up to 400 degrees Celsius and above.
It is worth noting that the cost of a full set of ceramic cookware can significantly drain your bank account, especially if you purchase 7-8 items or more immediately.
On the other hand, such an investment will ensure that all your food is cooked in perfect condition. Ceramics do not emit any harmful substances when heated, which is perfect for those who want to eat a healthy and healthy lifestyle.
We suggest you look at some of the best options for buying ceramic-coated cookware:
IMAGE
PRODUCT

Nutrichef Nonstick Cookware Excilon Home Kitchen Ware Pots & Pan Set

Stylishly designed dishes for modern cuisine.  

Check Current Price

Gotham Steel Cookware + Bakeware Set

Huge set of frying pans and molds for the most talented chefs. 


Check Current Price

GreenPan Lima Ceramic Non-Stick Cookware Set

All you need to cook in one set. 

Check Current Price
WearEver Ceramic Nonstick Cookware Set



Set with comfortable soft handles for secure grip.

Check Current Price
Nutrichef Nonstick Cookware Excilon Home Kitchen Ware Pots & Pan Set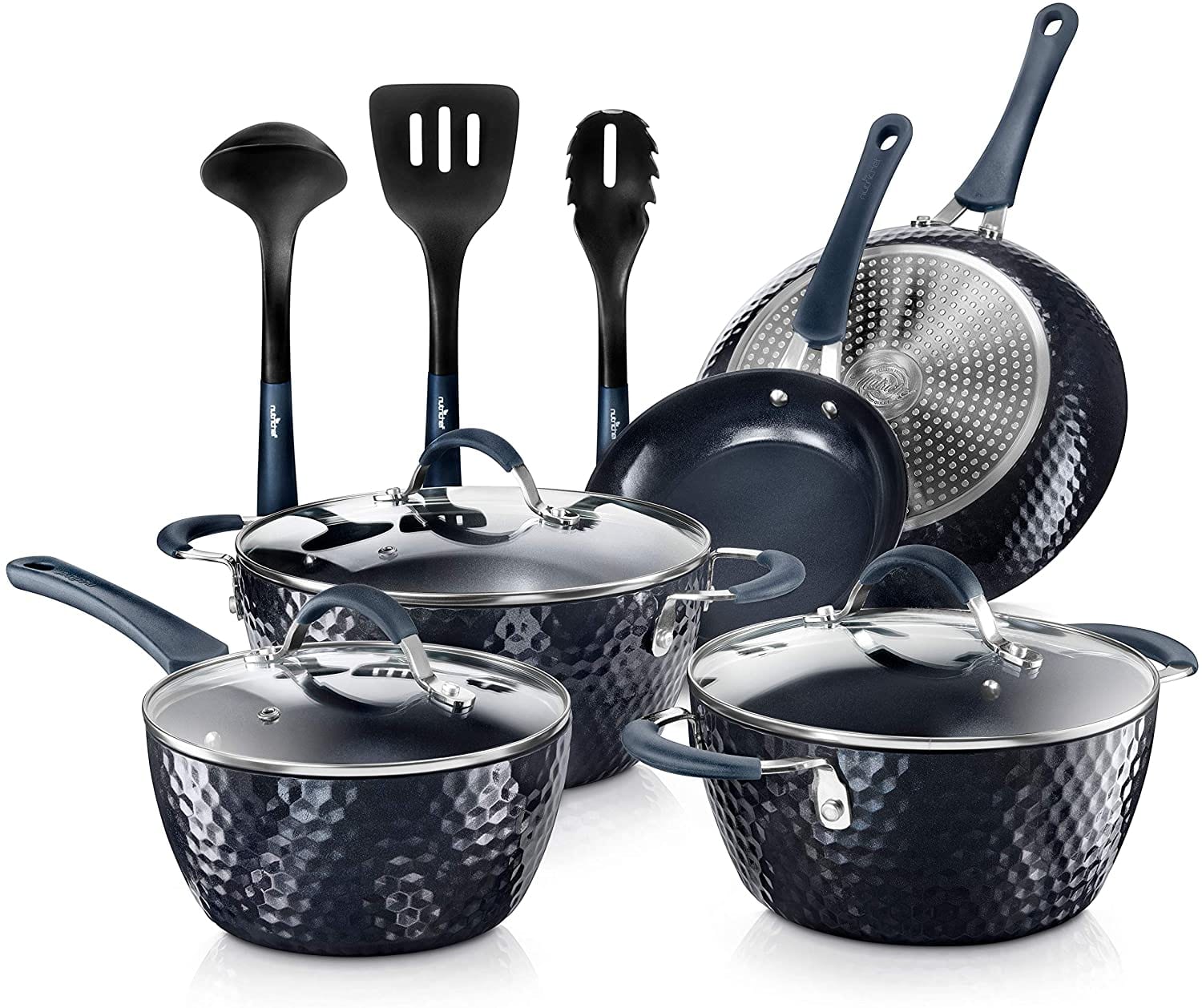 If you are looking for a really stylish set of kitchen utensils, we recommend Nutrichef Nonstick Cookware. This set is designed quite amazingly – the geometric edges of the cookware give it extra chic and beauty, as well as will keep the dishes always in view in the kitchen.
You can choose from 4 colors of design – blue, red, blue and gray. Also part of the dishes is equipped with transparent lids, which are perfectly combined with basic materials.
The ceramic coating used in manufacturing is non-toxic and suitable for easy cleaning. Nutrichef Nonstick Cookware offers you several pots and pans of different sizes so that you can cook anything at once.
It is also suitable for almost all types of cooktops, including induction cooktops. Most importantly, when you use Nutrichef Nonstick Cookware, you won't encounter food sticking or surface contamination – everything is very easy to clean, especially if you don't use abrasive or hard sponges.
Gotham Steel Cookware + Bakeware Set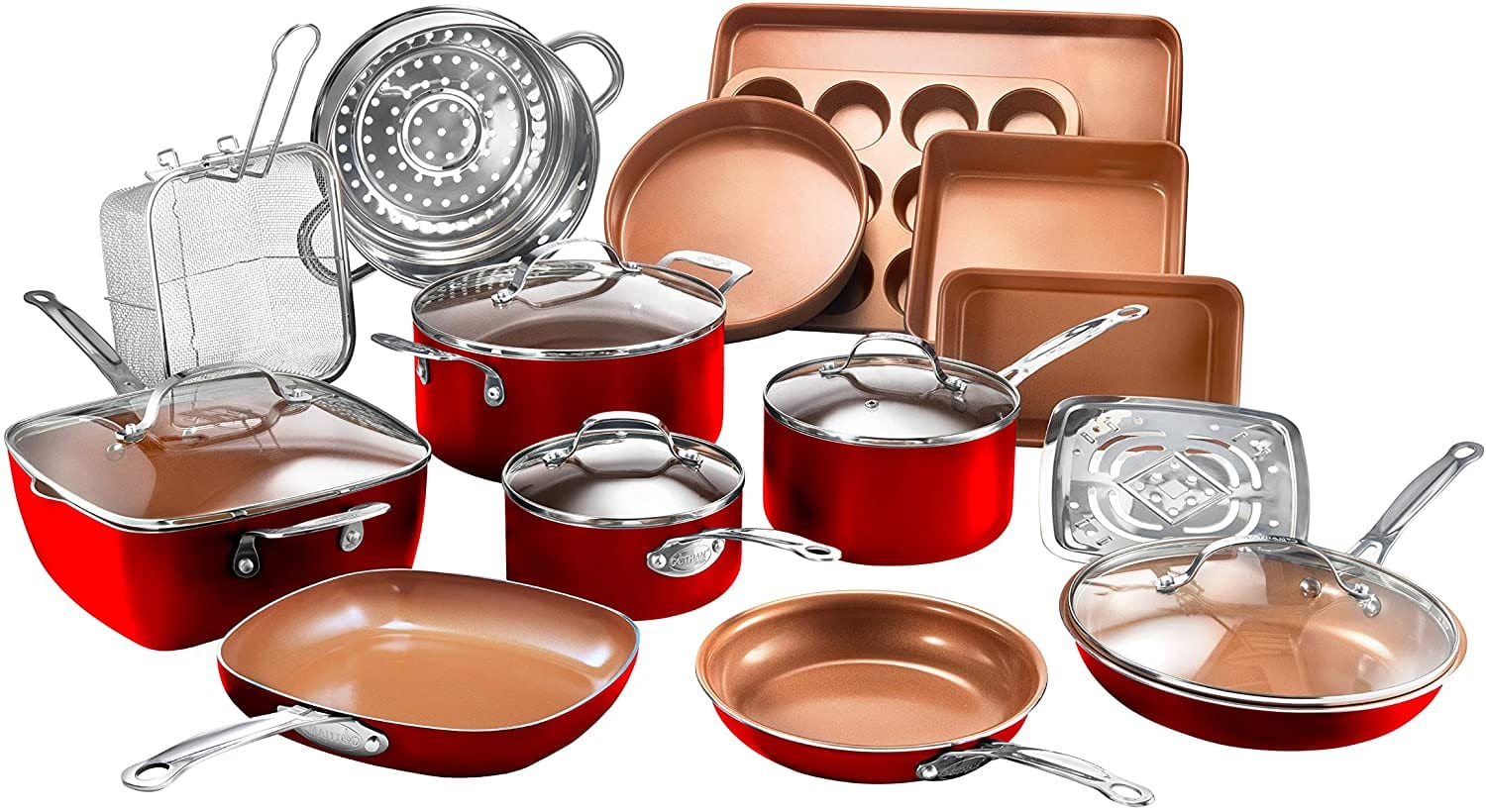 Real cooking enthusiasts will appreciate the Gotham Steel Cookware Set. You can fully equip your kitchen with all the necessary tools and equipment, forgetting about such purchases for a long time.
Ceramic coating, which is used in every item of this set, is called Ti-Cerama and has long been considered one of the best options. It is scratch-resistant and durable, which extends the life of dishes.
Gotham Steel Cookware consists of 20 different items. Some of them are designed for cooking on the stove – these are sauces, pots, pans, and lids included in the set; the other part of the set is designed for the oven and various bakery products.
With this set, you can bake cupcakes, pies, lasagna, or muffins. Gotham Steel Cookware is perfect as a holiday gift because you give quality dishes. Of course, all 20 items weigh quite a lot, but you get quality cooking.
GreenPan Lima Ceramic Non-Stick Cookware Set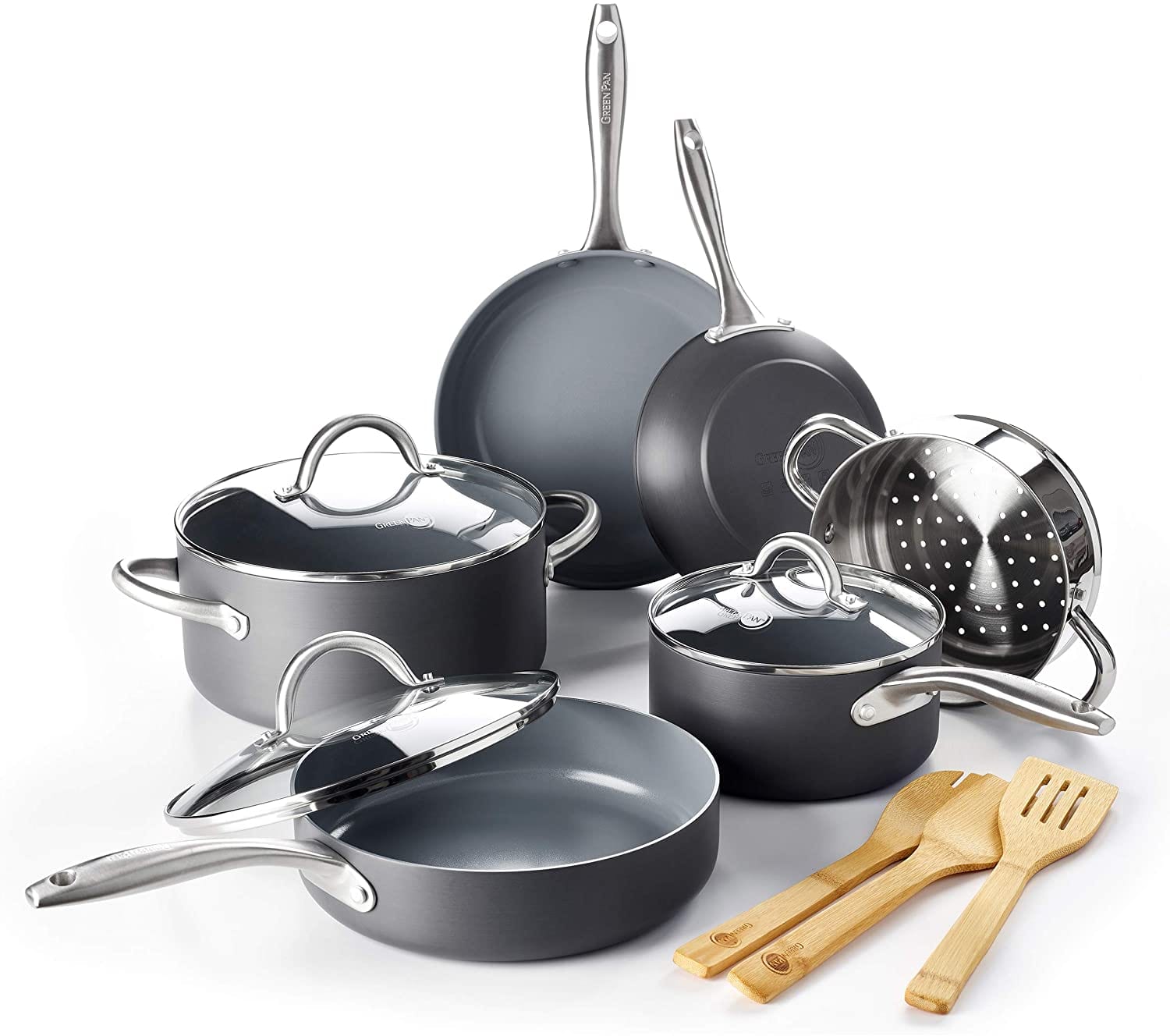 GreenPan has several ceramic coated sets, one of which is GreenPan Lima Ceramic Non-Stick Cookware Set. It includes several pans, a stainless steel steamer, and of course the frying pans.
Manufacturers have also included bamboo forks and paddles, which you can use in the process. If you are looking for something to use every day, we recommend that you take a closer look at this set.
It's worth noting right away that the GreenPan Lima Ceramic Non-Stick Cookware Set is not designed for dishwasher washing. You also need to take care of your dishes with extremely soft cooking paddles. Indeed, those appliances that come with the set can scratch the surface a little.
There are also other care recommendations: before you wash your dishes, make sure they are already cold. If a hot frying pan or pot is sprayed with cool water, the material may lose some of its properties.
WearEver Ceramic Nonstick Cookware Set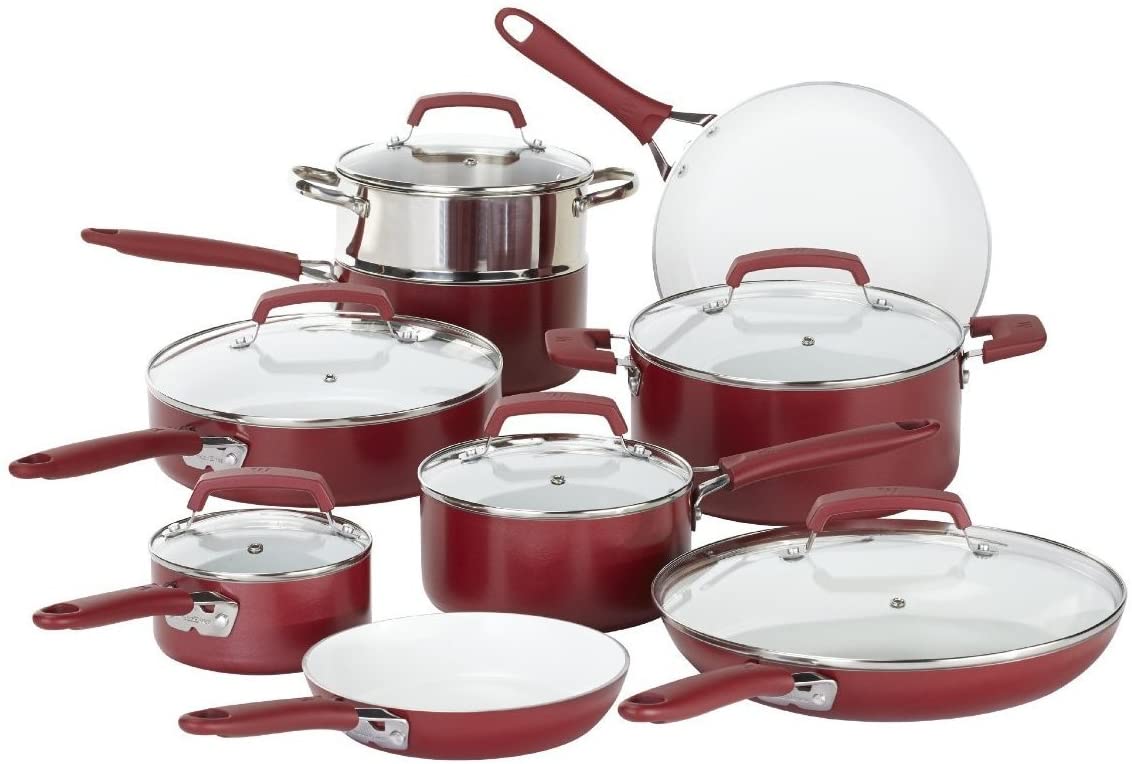 WearEver Ceramic Nonstick Cookware Set is positioned as a quality dish with good handles. It's the silicone handles that allow you to touch and carry cookware when it's heated to 350 degrees Fahrenheit – high enough for cooking on the stove.
The non-stick coating of the cookware is made of ceramics and does not emit any harmful substances when heated. In this case, the manufacturer gives you a lifetime warranty on this set, however, with some limitations.
In total, WearEver Ceramic Nonstick Cookware Set has 15 different items that allow you to cook in the oven or on the stove. It should be noted that this set is not suitable for induction stoves.
Also, each item is heavy enough to prevent you from lifting large pots with just one hand. Also worth noting a few nuances in the process of cooking: first, you need to heat the pan before putting the ingredients in it, secondly, it should be cleaned only by hand, and thirdly, you should not use detergents when washing.
If you follow all the simple rules of the WearEver Ceramic Nonstick Cookware Set, it will be useful in your kitchen for a long time to come.
After we have considered both coverage options, it is worth taking stock of what is the best option. We suggest you prioritize a small checklist.
The cost is very important when choosing cookware. Teflon products are much cheaper than ceramic tableware of identical quality. So if you do not have a large budget, then pay attention to the Teflon pans and pots.
If you like to bake food and the naturalness of the materials is your priority, then ceramic cookware is your choice. If you treat it with care, it will serve you for many years.
The length of use depends not only on how you handle the dishes but also on the coating itself. For those owners who do not plan to update their kitchenware every 2-3 years, the best solution is to buy Teflon pans – they can serve you significantly longer.
Do you appreciate the variety in your food? If so, then ceramic frying pans are a great tool for preparing meals in a variety of ways. These pans can easily withstand roasting, roasting, stewing, and even baking – depending on your gastronomic preferences.
It is worth noting, however, that it is up to you to choose the best option. You must consider many individual factors that will help you decide whether or not to buy. If you like both options at once, then do not suffer long and try to find out the leader – take two products at once! So you can try both coatings in action, and then you will understand for yourself what is better – Teflon or ceramics.
FAQ for Teflon or Ceramic cookware buyers
1.
Should oil be used when cooking with Teflon pans?
Of course, non-stick pans allow you not to use oil or cooking sprays at all when cooking. But if you want your dishes to last a long time, it's best to add at least a drop of oil before you fry anything on it. This will extend the life of the frying pan and maintain the quality of the non-stick coating.
2.
Is Teflon really that bad for your health?
A few years ago, experts found out that dishes with Teflon coating can release harmful substances when overheated. These are usually the substances and decomposition products of the materials used to make the cookware.
But it should be noted that they begin to emit only when the dishes themselves overheat – which is heating above 260 degrees Celsius. So if you don't put the frying pan in the oven, no toxins will appear in your food.
3.
How do I wash ceramic dishes?
Since ceramics are a natural material, it requires special care.
First, you shouldn't use strong detergents. They can slowly remove the protective layer from the dishes, depriving them of their non-stick properties.
Secondly, you should not use cold water when washing a hot pan or ceramic pot – it is best to wait until it cools down and becomes room temperature.
4.
How thick should ceramic-coated pots be?
Not only the thickness of the walls and the bottom of the cookware depends on the quality of the cooking process, but also on its service life. In order for kitchen utensils to serve you for more than 4 years, it is better to give preference to cookware with a wall thickness and a bottom thickness of more than 3-4 mm.
Accordingly, the weight of this product will be significantly higher than the standard, but the quality of the dishes themselves will only increase. Remember: the thicker the surface of ceramic tableware, the stronger and more quality it is.
We hope our article has given you more information about choices, and the further arrangement of the kitchen will be easier for you.