A kitchen is an important place in the house. Here you spend that part of your time associated with eating, cooking. Some people even connect their lives directly with the kitchen – for example, becoming cooks or working in various restaurants.
Due to the fact that the kitchen often has a lot of things to store, you may not always have enough space. We think you've already faced a situation where even the smallest thing is bloody hard to find a suitable place in the kitchen. No matter how big your kitchen is, you'll still have a storage problem.
Of course, the most difficult thing to do is organize storage in small spaces. Indeed, storage will be your solution – you should think about how to organize everything so that everything you need fits in a small space. We have found for you 21 ways to save space in your kitchen.
1. Free up space from old or unused items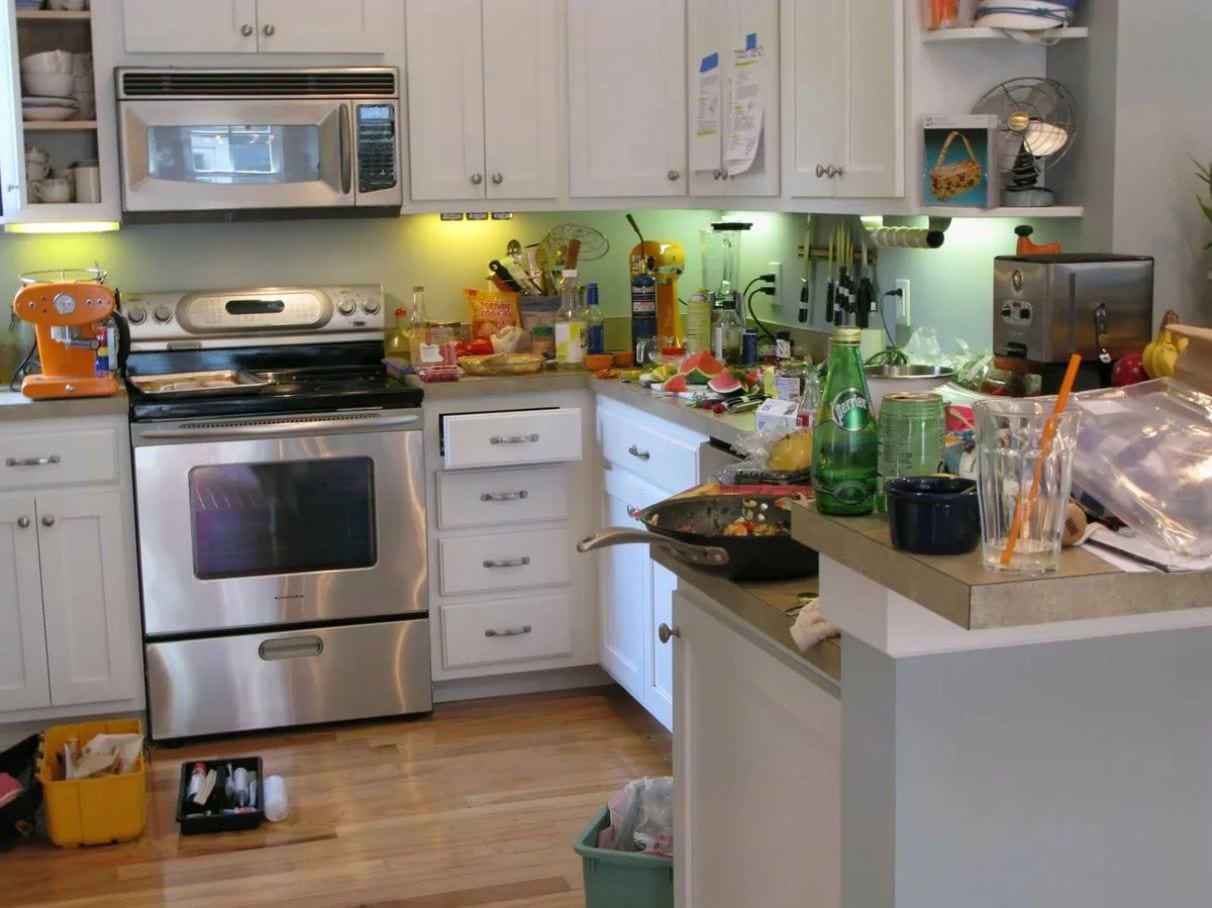 In order to have enough space in your kitchen, you need to find it somewhere. A cluttered space is hard to organize, and especially to fit something new in there. So we suggest you sell it, take it to the garage or throw away everything that you do not use.
For example, if you turn on the juicer once in a few years, it does not belong to the kitchen. The same goes for extra sets of dishes, cutlery and much more. We also recommend that you keep your kitchen tidy – wash the dishes and put everything in its place in time. Leave only the most necessary tools and equipment.
"All the kitchens I've worked in have the tools they need, and they get rid of the things they don't" – Ellen Bennett, the kitchen-ware entrepreneur
2. Keep everything you need in the work area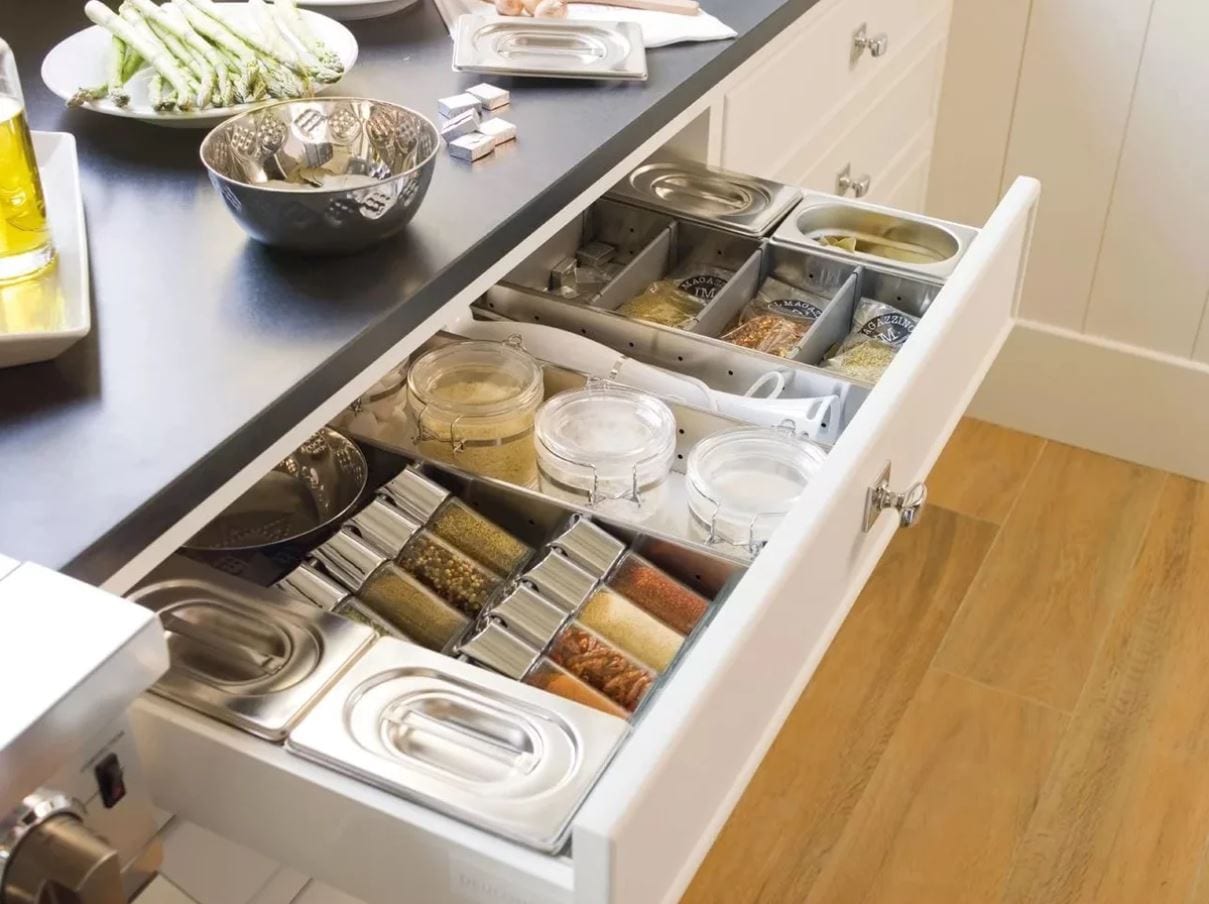 Everything you actively use every day when cooking should always be at your fingertips. The more in demand a thing is, the closer it should be to you. You should also pay attention to the work surface. Although your goal is to keep space in the kitchen, it should be at least 90 centimeters long.
This allows you to keep all commonly used cookware underneath the worktop and smaller tools above it. It's worth noting that you should never place objects on the worktop itself – it should be almost empty for comfortable work.
It is desirable that the worktop is located between the sink and the stove – so you will not accumulate dirty dishes anywhere else than the sink.
3. Categorize things and tools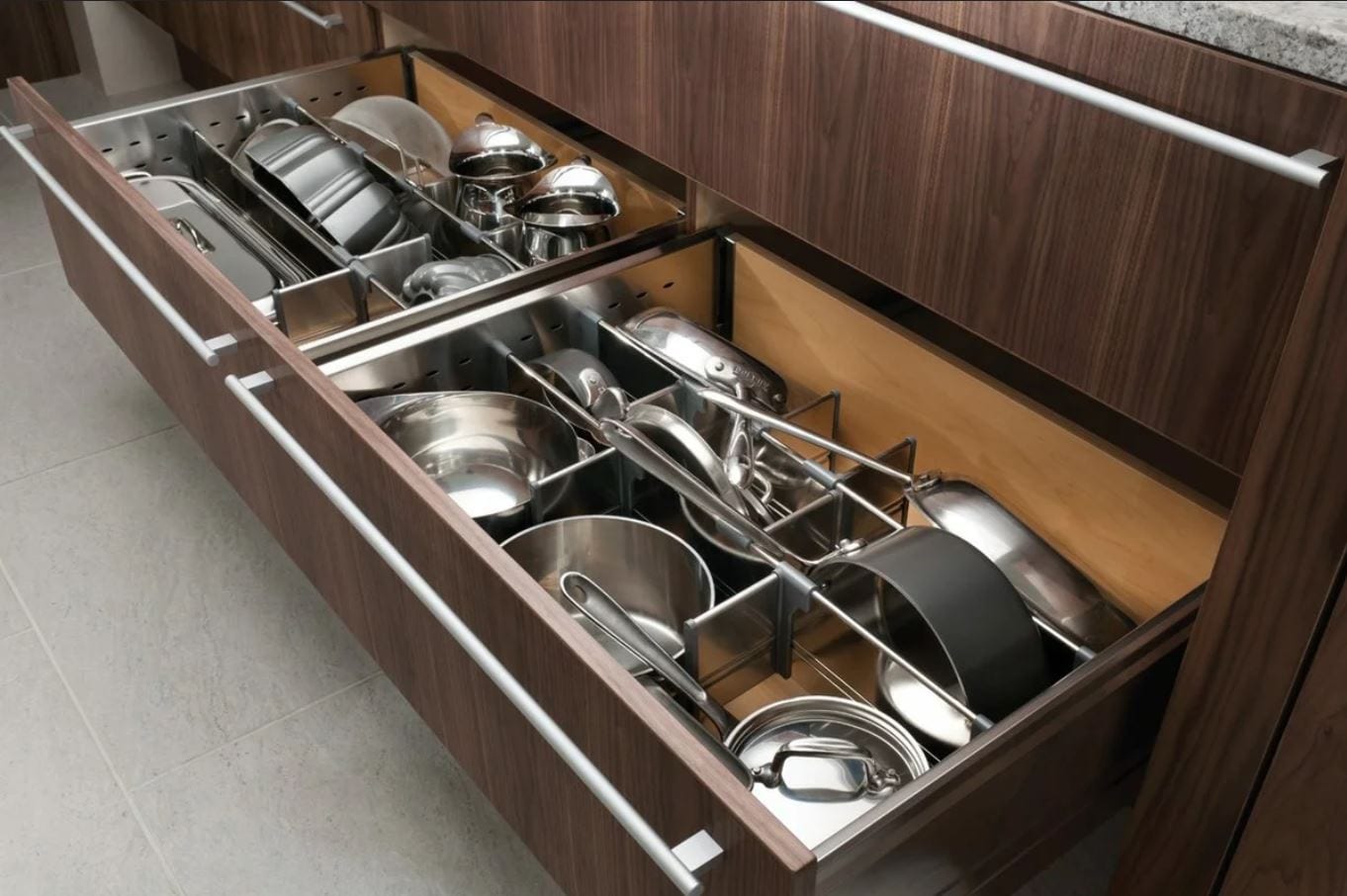 Every item has its place. It is this golden principle that allows good chefs to instantly navigate the kitchen. This is where your kitchen will begin to be in a constant order. You should determine which categories you need. This can be a distribution of similar items (e.g. pots and pans stored in one place), or it can also be for the intended purpose.
It is not necessary to allocate an entire locker for one category. It is enough that just all similar items are stored in one place. Despite the fact that such an idea seems banal and obvious, we do not always stick to it. Often you can find several pans of different diameters in completely different parts of the kitchen, and for example, the spatulas are stored in bakeware at all.
4. Organize the correct storage of food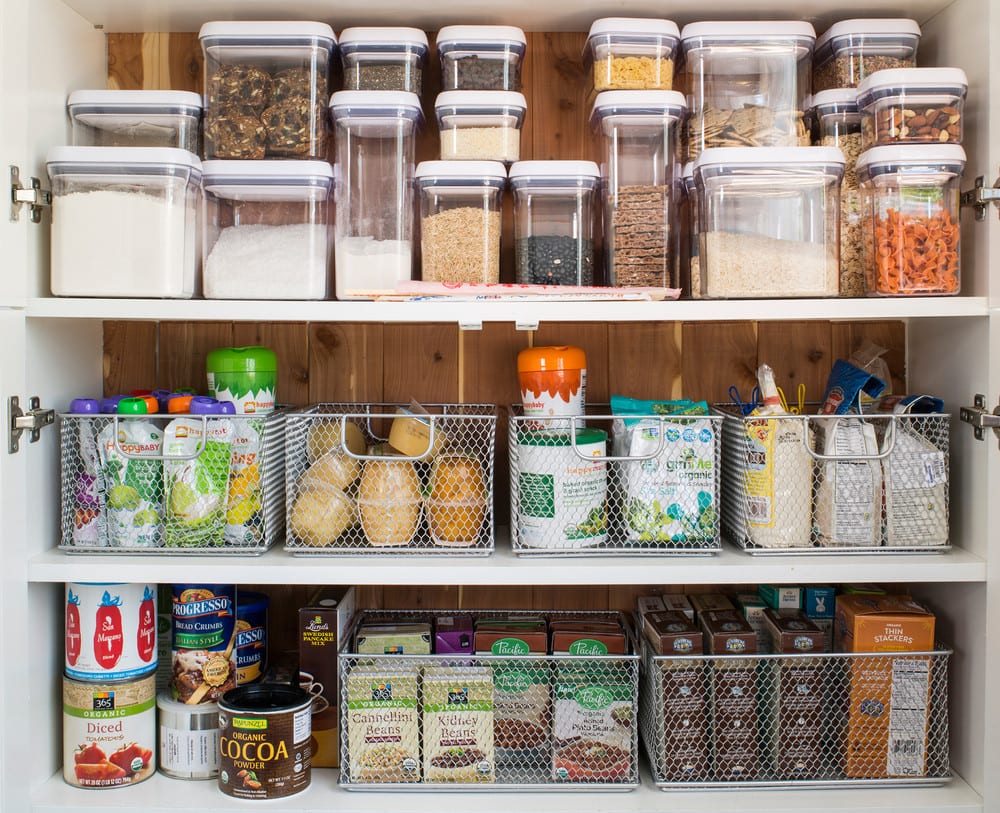 How often have you seen beautiful pictures with lots of loose objects in the same cans? This is another way to save space in your kitchen beautifully and organically. We've already told you about sorting items, now we should talk about food.
Often a variety of dry breakfasts, cereals, pasta and many other things people store completely without consistency. You can leave your cereal in the factory carton pack – and it will take up much more space than you can afford!
We suggest you keep such products in identical jars – so they will look beautiful not only on your plate but also on the shelves. Also, some special containers are made in the form of squares, which significantly optimizes the space.
5. Order in the fridge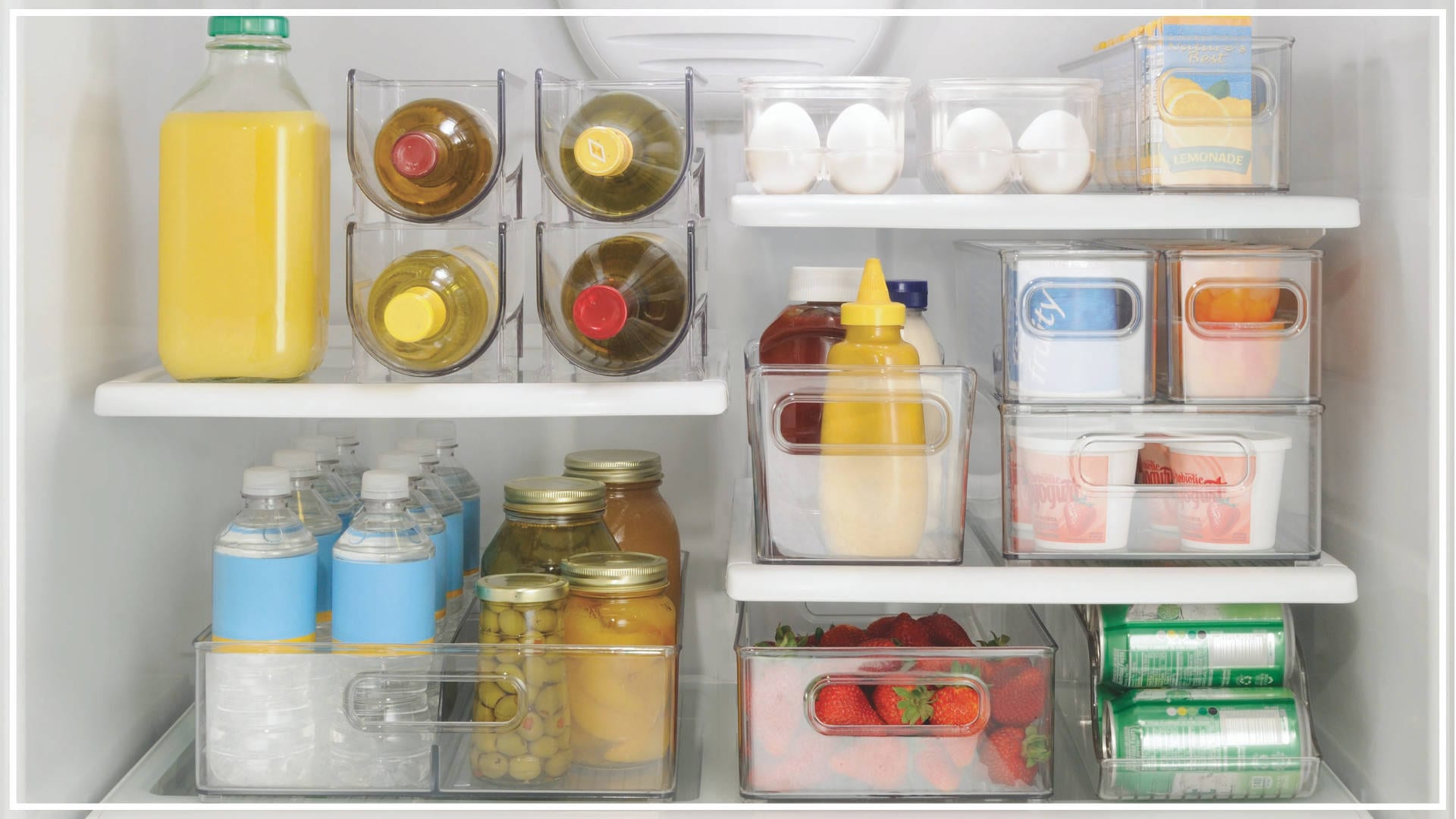 Storage of food does not only take place on the shelves of your cupboard or on floors. It seems that if the fridge is already there, everything must fit in it. It doesn't matter what's inside – it doesn't add up to any space outside! In fact, that isn't true.
By optimizing the space inside the fridge, you can store food there in perfect order without leaving anything outside the fridge shelf. We recommend that you use special containers with an open top for storage, as well as store all food of the same kind nearby.
For example, if you have bought 4 packs of milk at once, you should not put it on several shelves. You can put it in a separate container and store it in one place. It is also possible to allocate a separate shelf of a refrigerator for children or for breakfast: so the order will be maintained for a longer time, and you do not need to constantly re-systematize everything.
6. Use a vertical storage system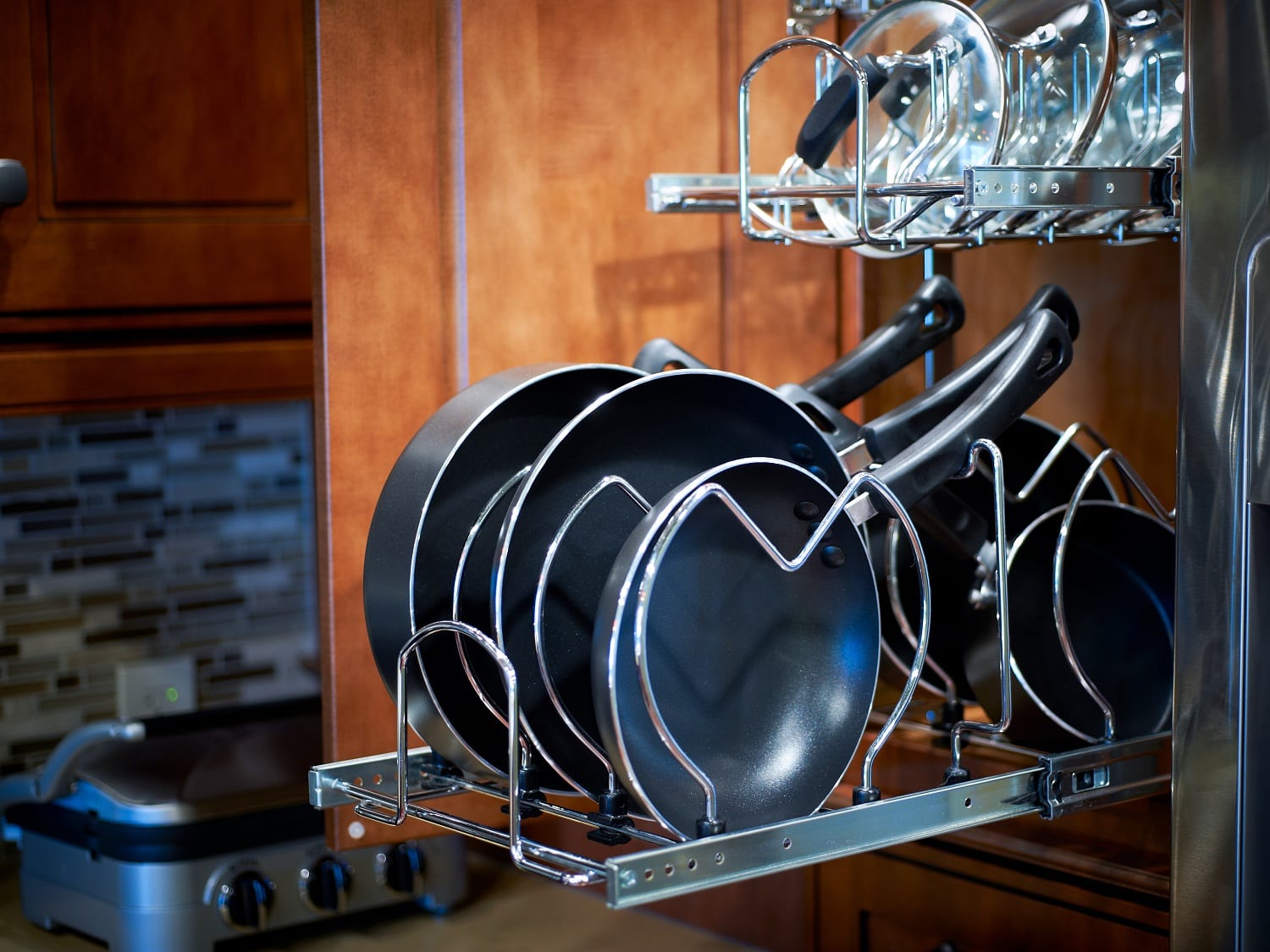 If you are used to stacking items literally overlapping them, we can upset you – it is not the best solution. As it turned out, the best option is a vertical storage system, where you will store everything in rows. This way you can use all the free space without leaving useless space above or between objects.
There are several options for such storage. For example, hanging: bar dishes can be stored in a hanging state under lockers, fastening them to a special grid. So you will not store fragile items on the shelves, as well as they will always be available for use. The vertical storage system can also be used for baking molds, pans, and plates – in a "standing" position they will take up much less space.
7. Storage room arrangement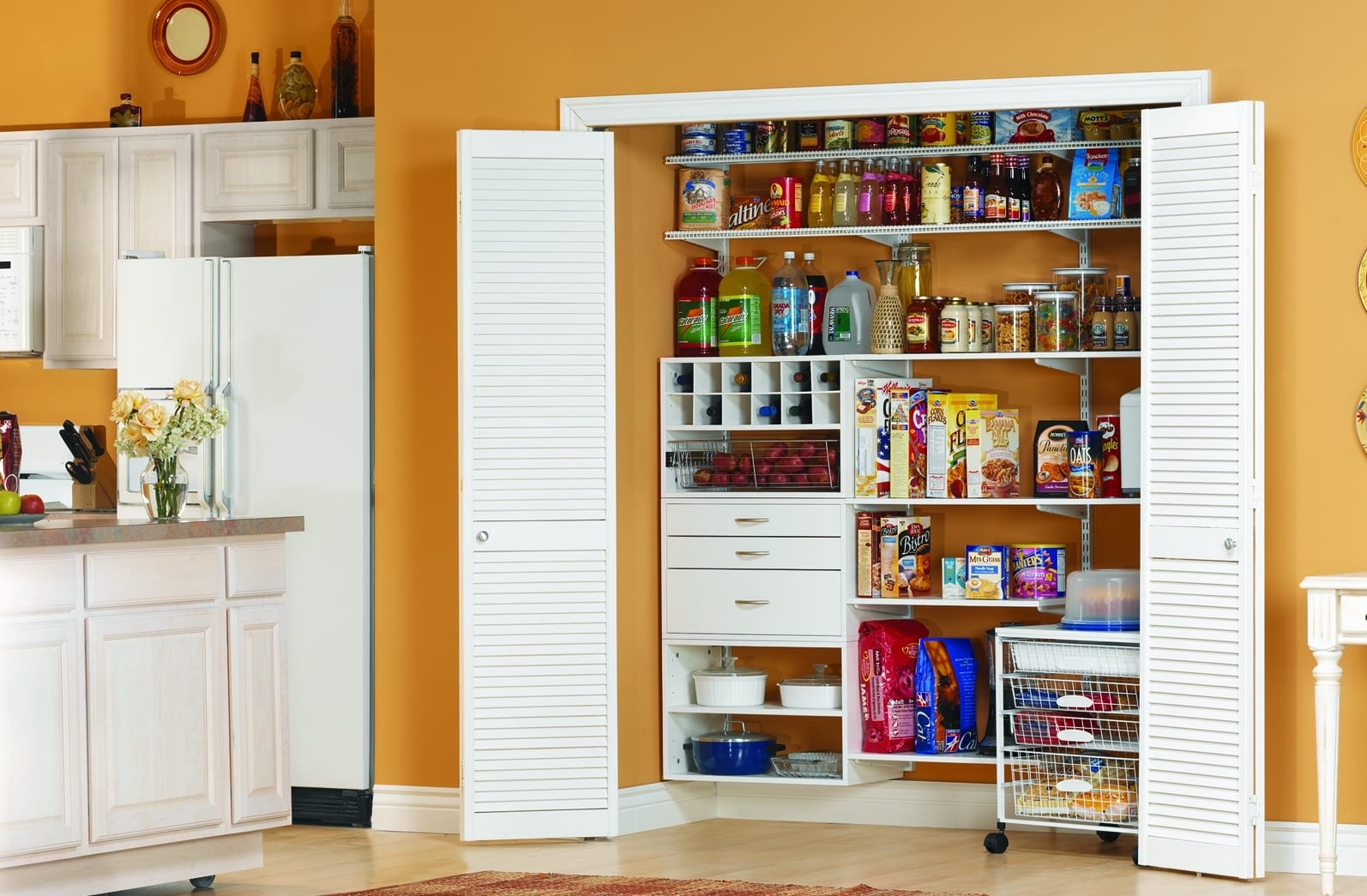 Don't start thinking straight away about a big room where you'll have to store bags of flour, cereals and more! No, we're talking about a small space that will be fully designed to store food and utensils. You won't even need to allocate a separate room or separate space.
A niche in the wall, for example, can be dedicated to the storage room. It can be closed with some classic doors or shutters that will fit perfectly into your interior. The most important thing is that you will be able to equip the storage room on your own, without the help of specialists.
Even a small niche in the wall can be equipped with a huge number of shelves, which you will later load cans, packaging, containers, and bottles. In this way, you will not have to load a huge number of shelves above the worktop, and you can also partially unload the kitchen cabinets. Place something in the storage room that you can easily get out of there and return it immediately.
8. It is better to have shelves open than closed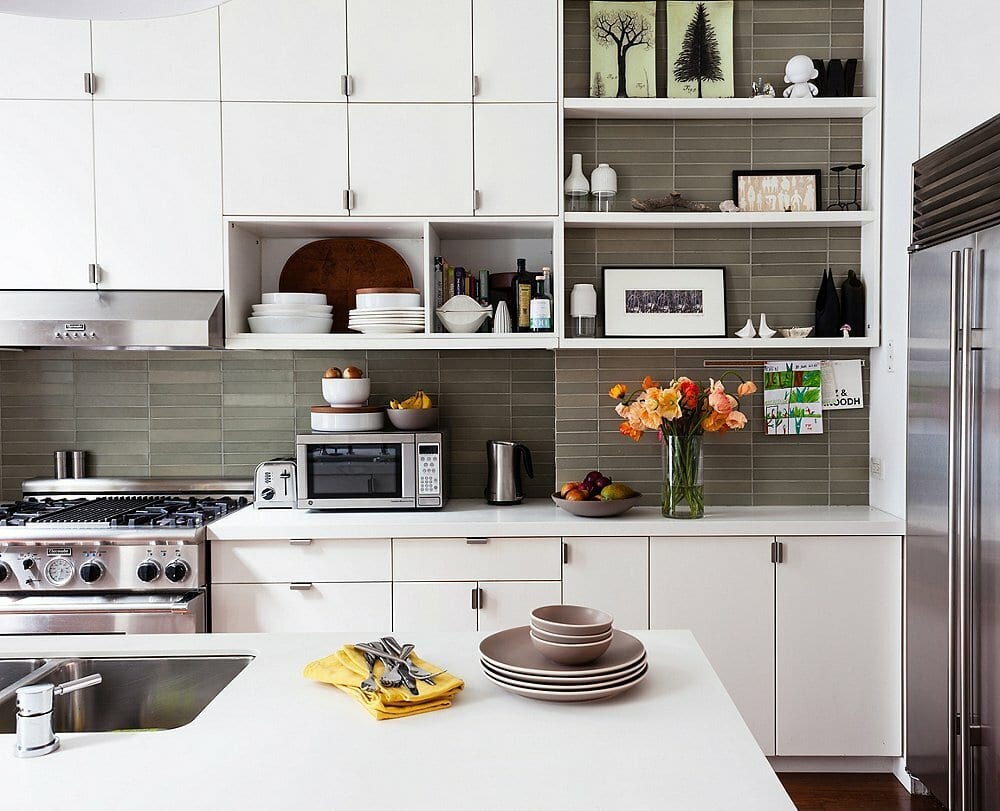 You may think that using lockers is visually relieving the space in your kitchen. That's not really true: using closed storage systems will make it harder for you to get the most essential and frequently used items out of there. In addition, they will visually reduce the space in your kitchen.
Open shelves will help you find the right item quickly. But if you also store all your food and things in a systematic way, it will give you extra tidiness. Perhaps you should replace your standard kitchen headset with open storage systems – they can well replace the top tier of closed cabinets.
Instead of wooden shelves, you can install metal or even an entire storage system. For example, using metal shelves, you can store items underneath and hang them on hooks.
9. Storage with hooks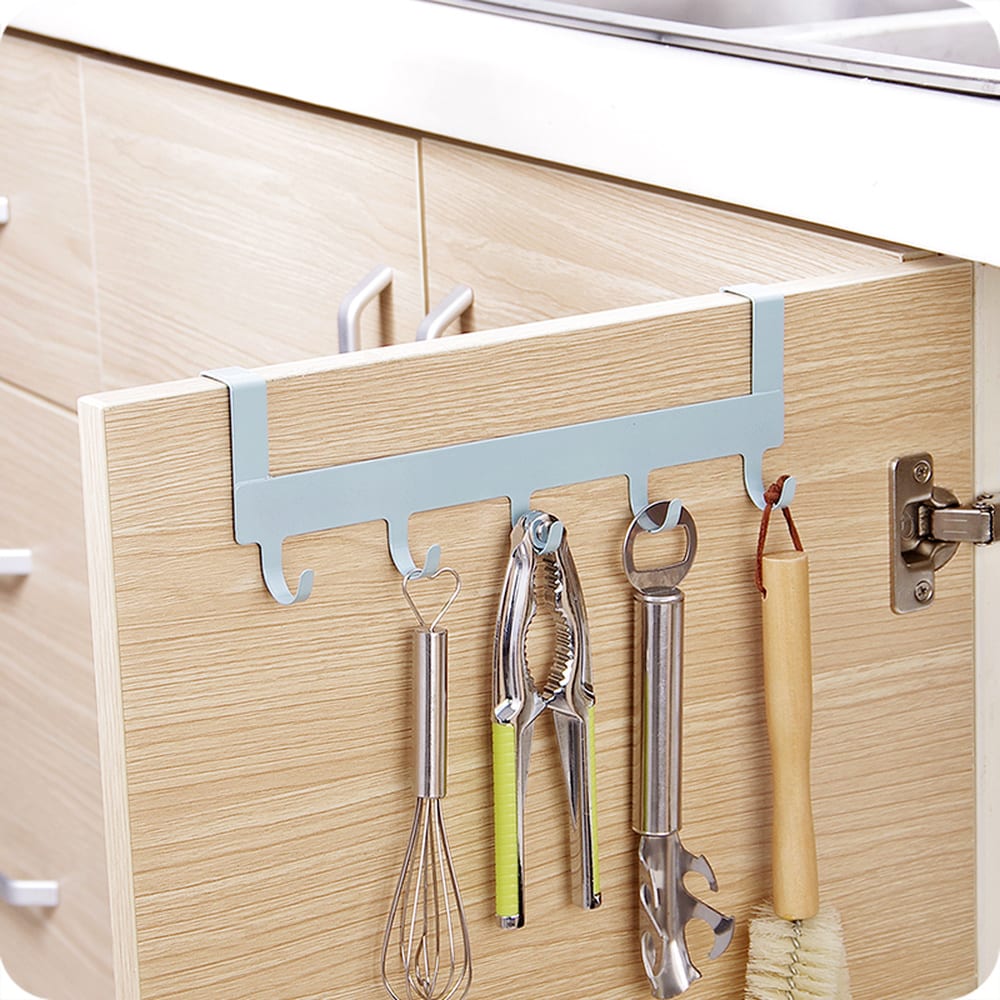 Well, if we're talking about hanging storage, the hooks must be mentioned here. Such a convenient system will help you organize various kitchen tools – tongs, spatulas for cooking, ladles and much more. You can also store pans and saucepans, colander and sieve hanging up.
Hooks can especially help you in the most unexpected places. Small kitchens do not have a lot of free space, so you need to use non-standard ways and places of storage. Hooks and even whole suspended rods can be used to store towels and tools inside lockers.
All you have to do is attach this to the locker door and you can start using it! The main thing is to fix them so that they do not rest on the shelves and do not interfere with objects inside the locker itself.
10. Use the ends and outside walls of the kitchen furniture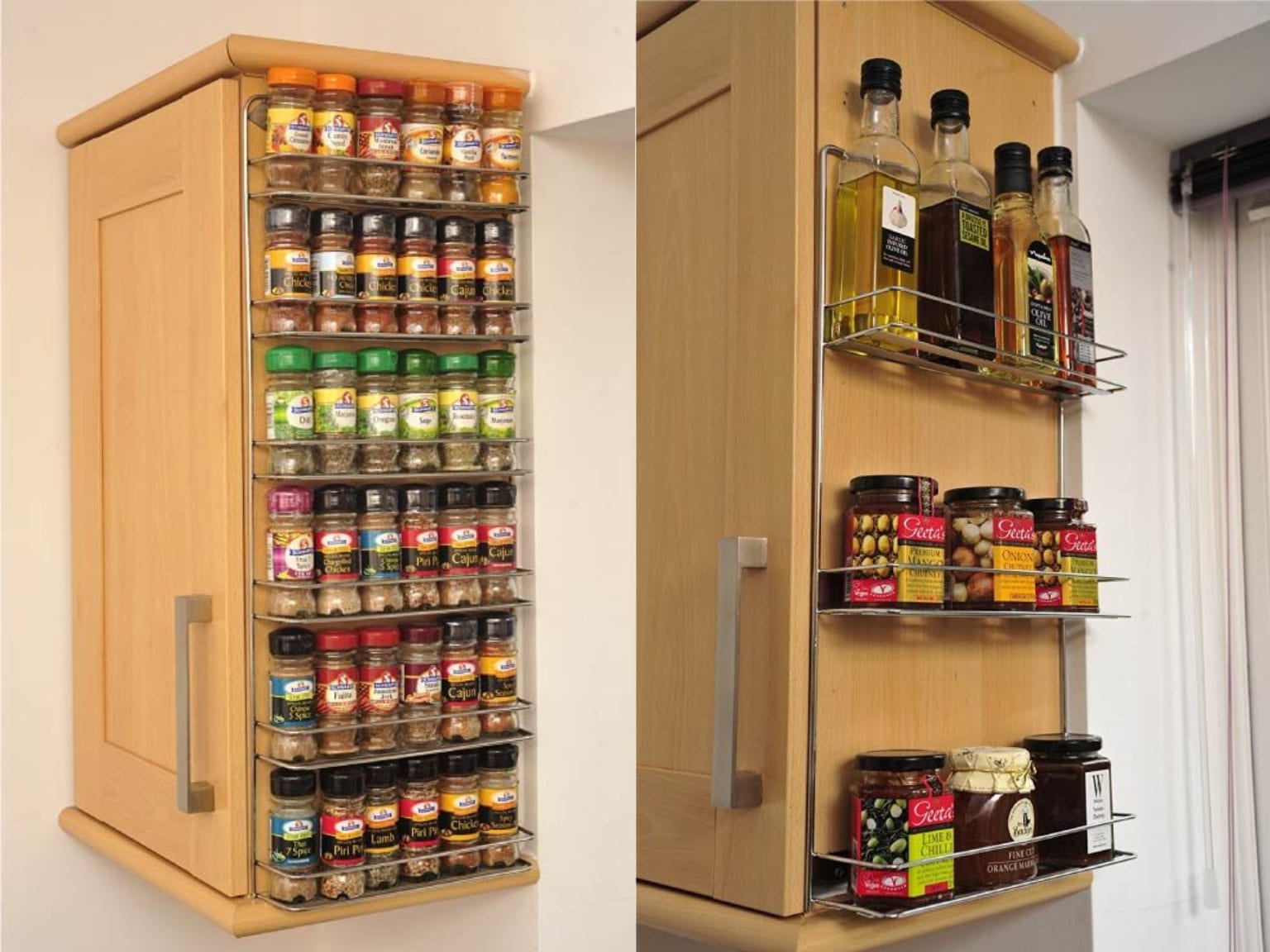 We are sure that you have repeatedly thought about storing spices and small jars. And if the spices themselves still need to be placed in special jars, then all that is initially in a small container requires also to be put somewhere.
The large open shelves will not always be convenient to store them – after all, in order to get one jar, you need to go through them all. It can also cause an eternal mess. You can also adapt the outer ends and walls of the furniture in your kitchen for storage.
As an example, attach small shelves for spices to the outside of a large cabinet, and hooks to hang towels and other small things. You can organize the storage of quite large items on your lockers: you just need to make sure that the shelves are fastened securely enough. This way, oil bottles, spices, coffee, and even chopping boards can find their place.
11. Each category should only be stored in its own area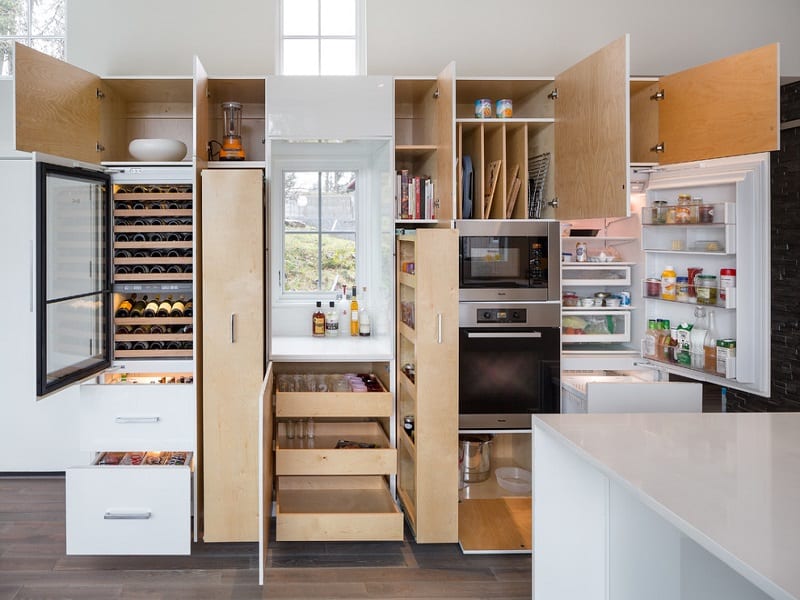 If you can plan the storage and work areas in the kitchen, you can achieve an outstanding order. It will also play into your hands if you cook all the time, so you'll be less tired.
The moment you define the purpose of each zone, you'll need to consider how often each item is used. This is especially important when stored in a vertical orientation. In fact, you will be able to use every inch of free kitchen space to your advantage.
There are 5 main storage areas in the kitchen. This is the storage area for long-life foods – cereals, canned food and even the fridge itself; the storage area for cutlery and tableware (this area takes up about a third of the kitchen); the sink area; the preparation area – this is where you spend most of your time cooking food; and finally, the cooking area with stove and oven keeps pans, trays, baking molds and so on.
"If you can organize your kitchen, you can organize your life." – Louis Parrish.
12. Sliding drawers in the kitchen socle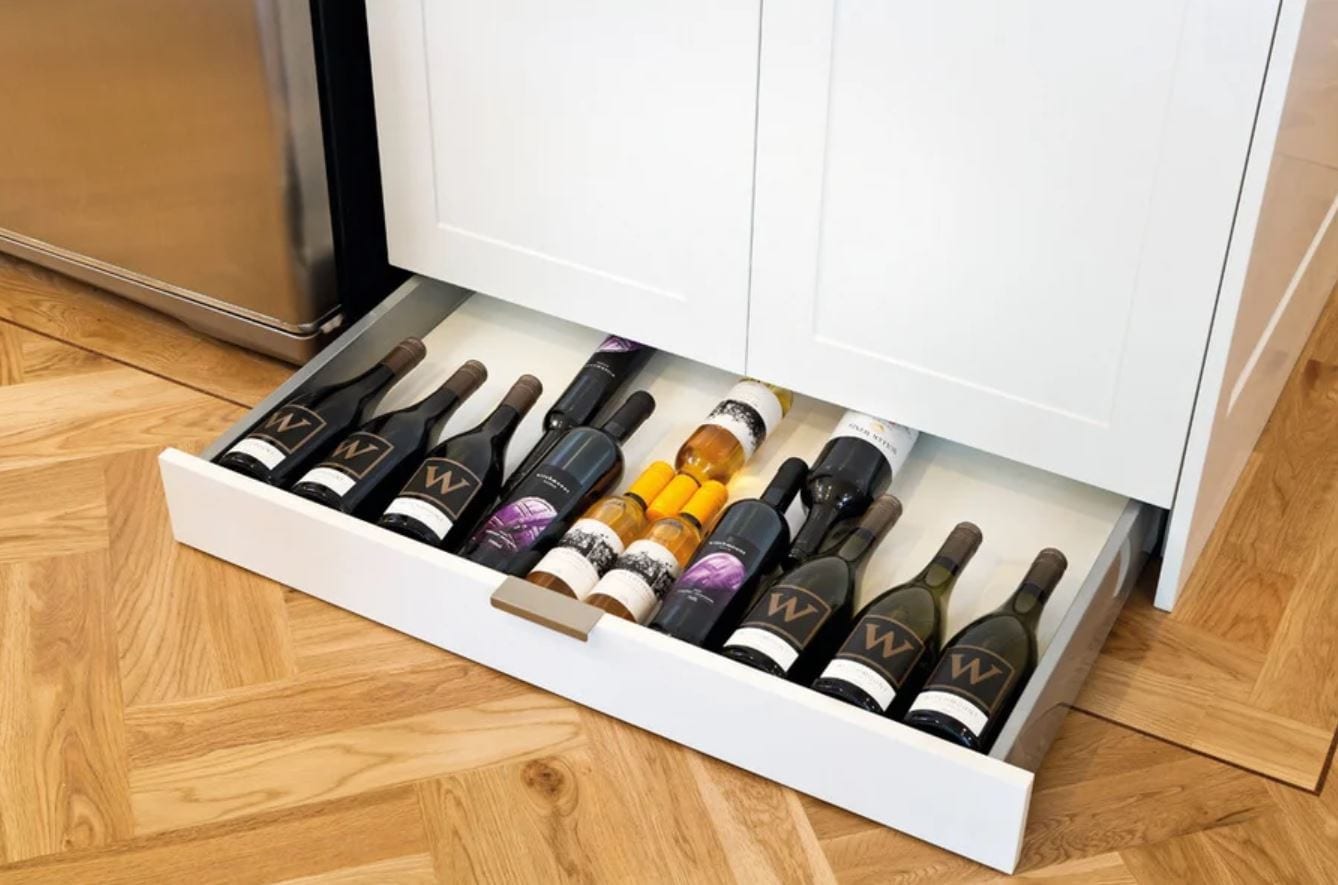 Socle drawers are a small trick that is used in kitchen design. Since in standard kitchens the space under the Socle is almost always wasted, we suggest you take up some very useful things.
A socle box will be an excellent solution for both small and spacious kitchens. The most important thing is to understand the advantages of such fittings and what to put there. Since they usually range in height from 10 to 15 centimeters, you won't be able to put something large in there.
This box is a great place to place oven trays, oven molds, baking plates, containers, and boxes. Storage of wine bottles in the Socle is also a great solution, so you can't hit them when you're cleaning, and the temperature setting is more suitable than on open shelves. Even if you don't have boxes like this in your kitchen right now, you can rest assured that they're incredibly easy to install.
13. Organizer for washing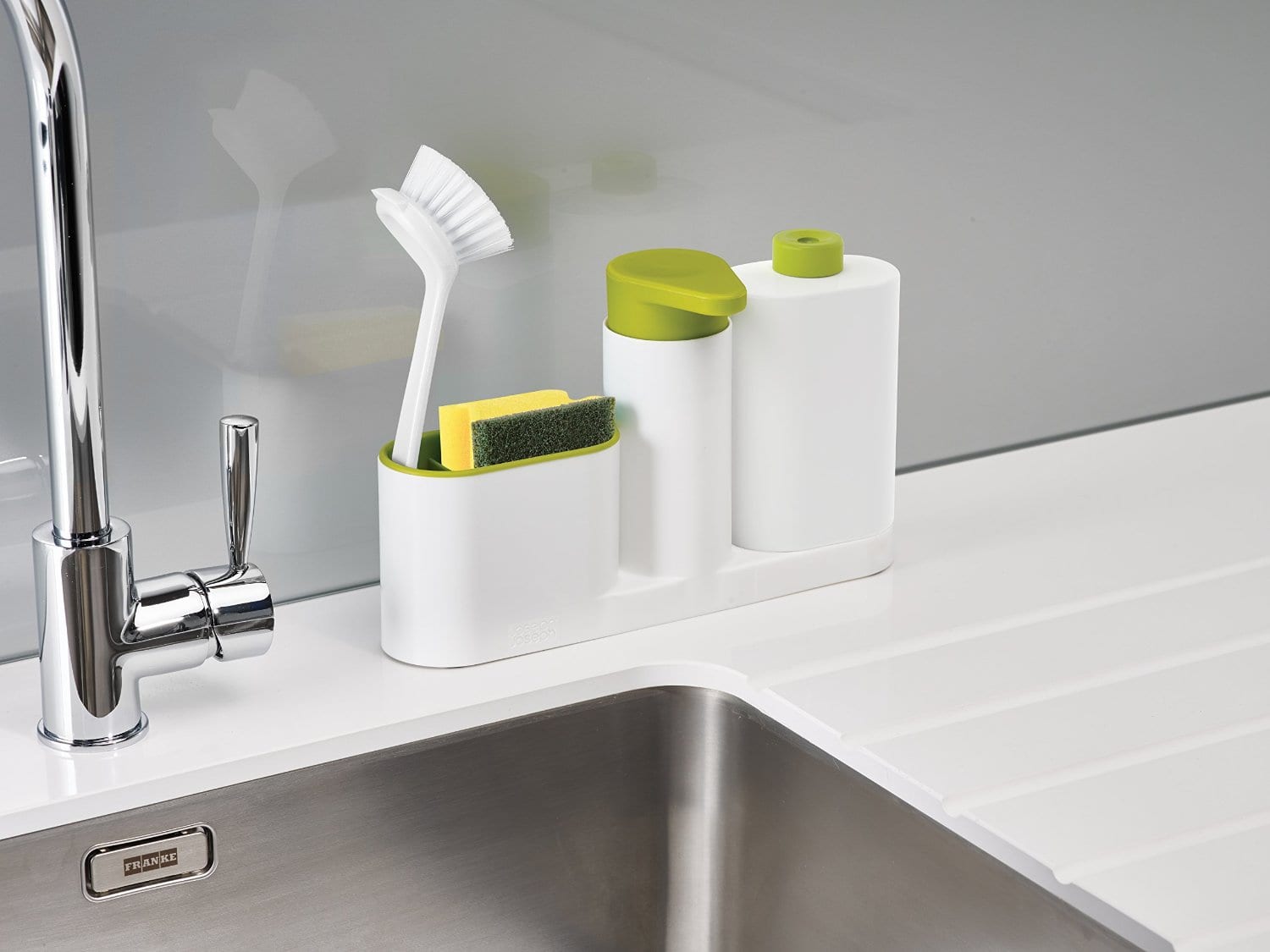 It seems that a regular sponge and detergent already occupy quite a little space on your sink. Actually, it doesn't. Usually, a standard dishwashing sponge is accompanied by several special brushes, a stiffer model of sponge (e.g. made of wire) and several types of detergents.
To make sure that the whole set takes up as little space as possible on your sink, we recommend that you buy a special organizer. By putting all the accessories in it, it will not take up much space around your own sink. There are also models that are mounted on the faucet itself or on the wall of the sink, which saves even more space on the surface.
Moreover, if you have such an organizer, you will get a habit of folding sponges and soap in their places – that is, you will not get an additional mess. Silicone Organizers can also take the form of sponges, which you put there.
"Put nothing on the counters or around the sink and stove top. You will be amazed at how easy your kitchen is to use if you design your storage with this aim in mind." – Marie Kondo, author of "The Life-Changing Magic of Tidying Up.
14. Use the organizers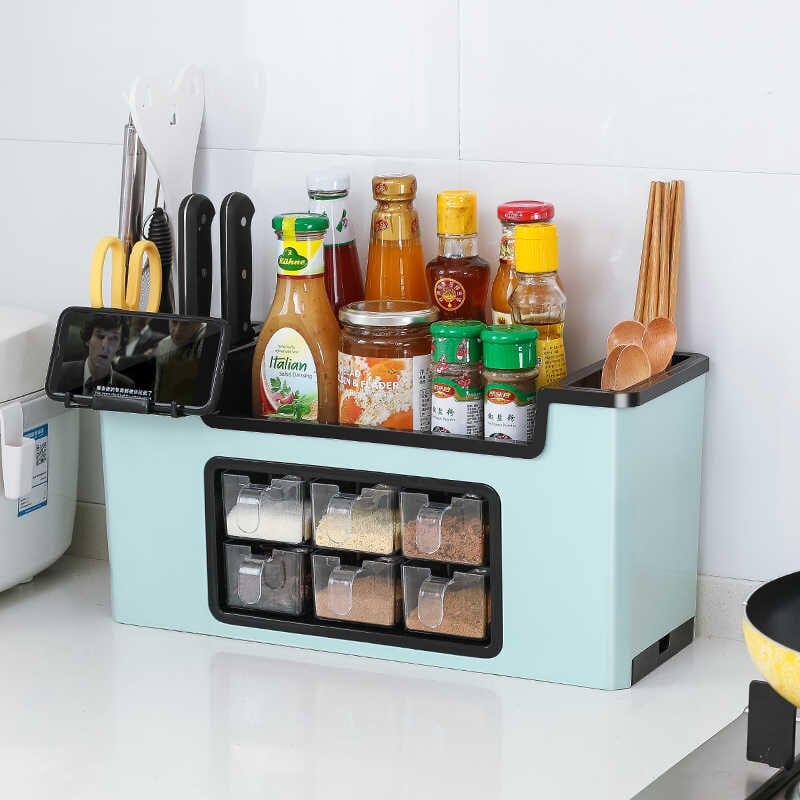 All people want to have maximum order, comfort, and cleanliness in their kitchen. In addition to all this, it should fit absolutely all the necessary things for you. To systematize small or even large enough items, you need to understand where they can be stored.
There is a great solution: the kitchen can use a variety of organizers of different sizes, which will free up space in your kitchen. If, for example, kitchen utensils are stored in strictly defined cells, and cutlery is stored in only one place and with the help of one organizer, you can find them quickly enough.
There are many types of containers and organizers – dryers for dishes, organizers for kitchen drawers, organizers for storage of bags and packages, as well as separate sections for household chemicals and detergents. Unless you have such devices, it is quite difficult to clean up your kitchen – especially if you cook a lot.
Even a normal dryer, which is placed near the sink or even above it, will help you sort and dry clean dishes. This way you don't put wet plates in the drawer, thus avoiding mildew and excess moisture.
"If you store cutlery and small kitchen utensils in drawers, use dividers or shallow boxes to organize them." – Marie Kondo, author of "The Life-Changing Magic of Tidying Up.
15. Built-in drawers and shelves in furniture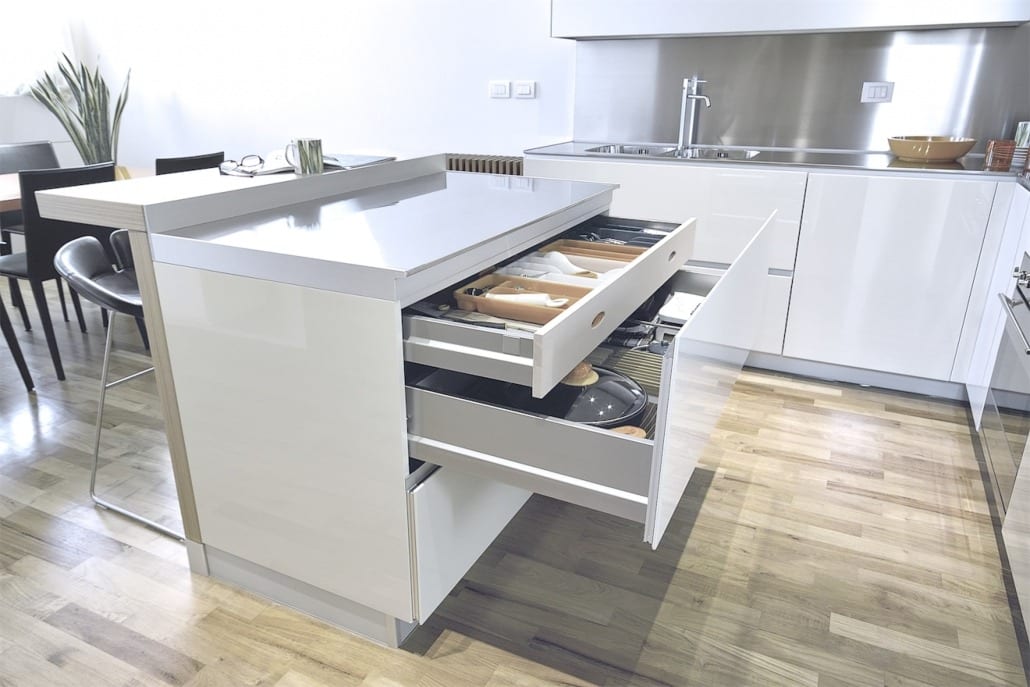 Extendable drawers are another convenient storage system that offers the best possible optimization of your available space. A lot of things that you can't store on the surface can be stored there. These drawers are particularly useful in small kitchens, where literally every inch of space counts.
The furniture in which the drawer will be placed can be used as a dining table or a bar table. Usually, it is located right under the surface of the table, repeating its size in full or in part. In such drawers, it is convenient to store cutlery and trifles for serving – for example, cloth and regular napkins, large plates and much more.
Some people went a long way and started building drawers right into the surface of tables and countertops! This is how unusual breadboxes, places to store sweets or even vegetables are created. They are not visible at first sight, but if you know about their existence, you can easily simplify the whole process of table setting or cooking.
16. Built-in appliances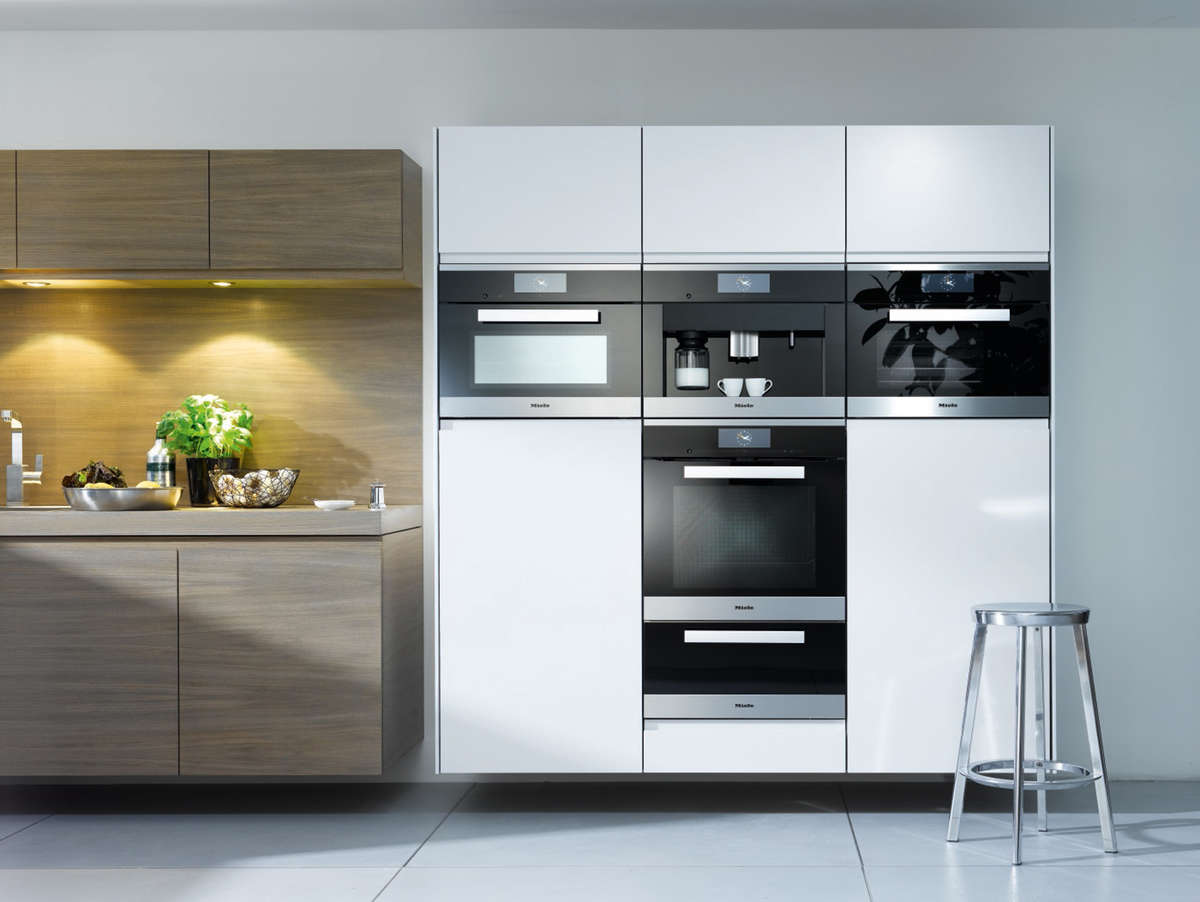 We are used to the fact that there is always a huge amount of home appliances in the kitchen. It can be a dishwasher, stove, oven, microwave and much more. Some people even put washing machines in the kitchen! In order to accommodate such a large amount of appliances in one space, you need to put enough effort into it.
However, if you can buy built-in appliances, this problem will bypass you. Built-in appliances perfectly fit into any kitchen and take up minimal space. Some options can be completely invisible and open only to the owner.
You can choose which items you need – you may want to buy only a hob without an oven. The appliances may even be located in the most unconventional way. It is also worth noting that your cleaning time will be significantly reduced, as you only have to wipe some surfaces.
The location of the equipment depends only on your imagination – for example, you can build a fridge for drinks in the bar counter and get a cool drink without getting up from the chair.
17. Storing knives on the wall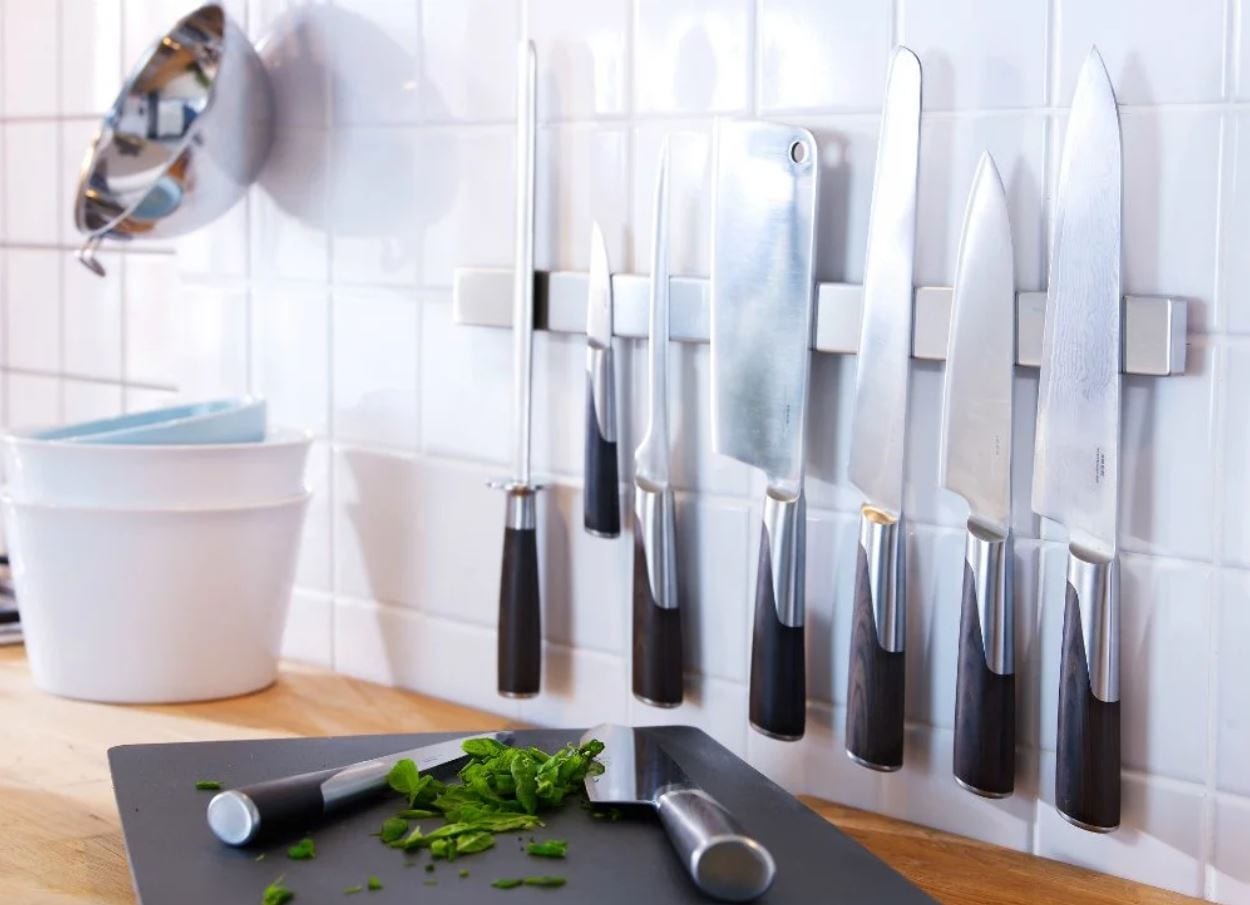 Recently, even in home kitchens, magnetic knife strips have been gaining popularity. Previously, this trick has long been used in the kitchens of restaurants, as it greatly simplifies the storage of knives. You can immediately see your entire "arsenal" without pulling each knife out of a separate compartment. The risk of injury is also significantly reduced, as you take the knife to the handle immediately and do not come into contact with other blades.
All knives will be outdoors, thus not accumulating moisture. The advantage is that if your hands are dirty, you won't dirty any unnecessary objects. It is also worth noting that there are many designs of such magnetic strips. They can be with wooden inserts, special patterns, and even different colors. You only need to choose the most suitable model for your interior and fix it to the wall of your kitchen.
18. For small kitchens – closets to the ceiling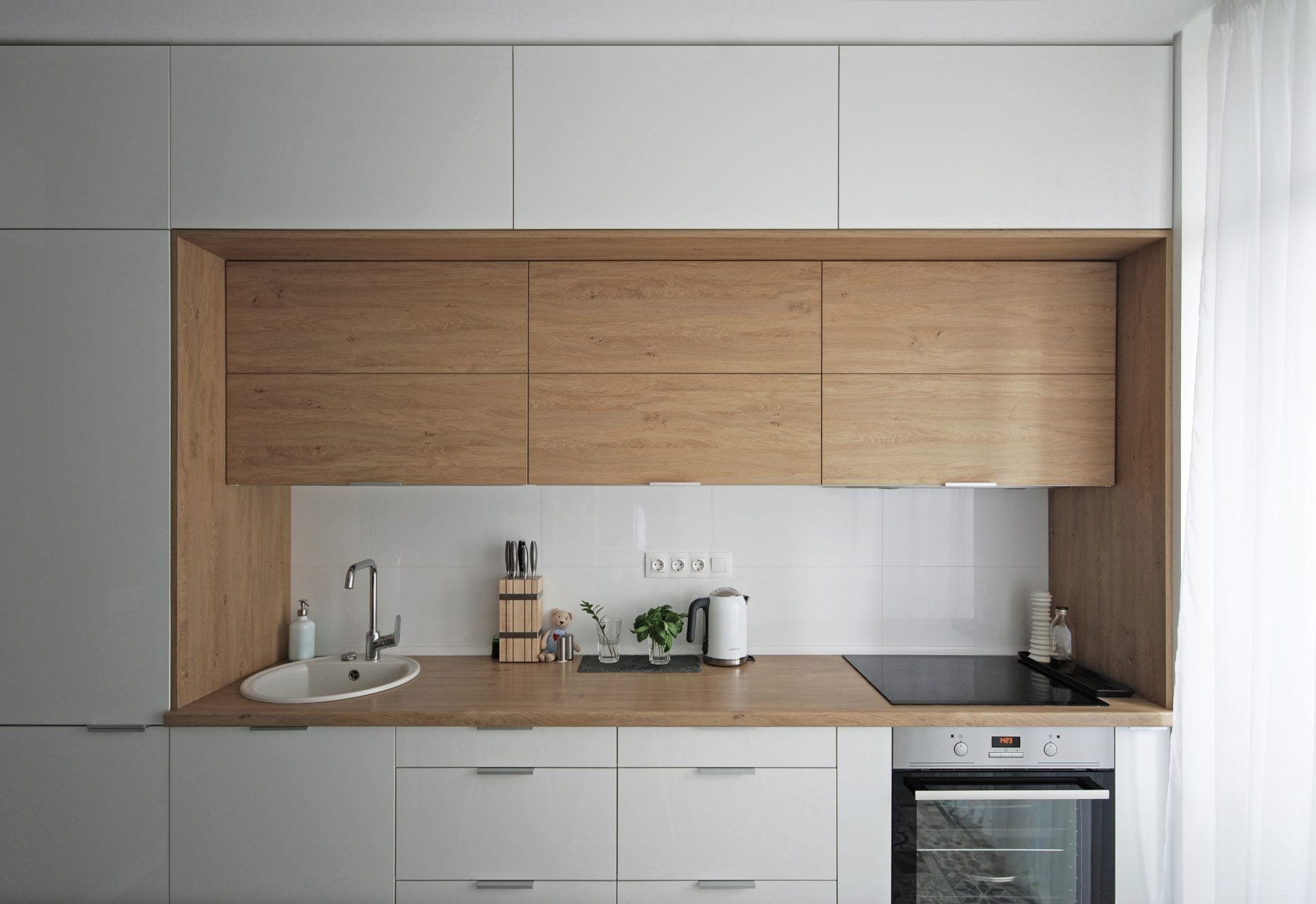 Of course, not all people are fans of "cabinets to the ceiling". Some say it costs a lot to design and build a kitchen set, while others think it's a great way to expand storage space. In any case, these modular cabinets have the obvious advantage of using space that is usually useless or simply not used at home.
For you to be able to easily reach things that are "under the ceiling", all you need is a small folding ladder in the kitchen. It greatly simplifies access to the top shelves. You won't also have to deal with the accumulation of dust and dirt on top of your lockers.
You can put all the things you use very rarely – for example, holiday sets of dishes, tablecloths or even unused household appliances. It will also visually increase the height of your kitchen, and space will be a little lighter and more stylish.
If you will keep the design of the unity of purpose and do not make random elements, your kitchen will look like a whole, and everything extra will be hidden from curious eyes.
"Good kitchens are not about size; they are about ergonomics and light." – Nigel Slater
19. Folding or extendable tables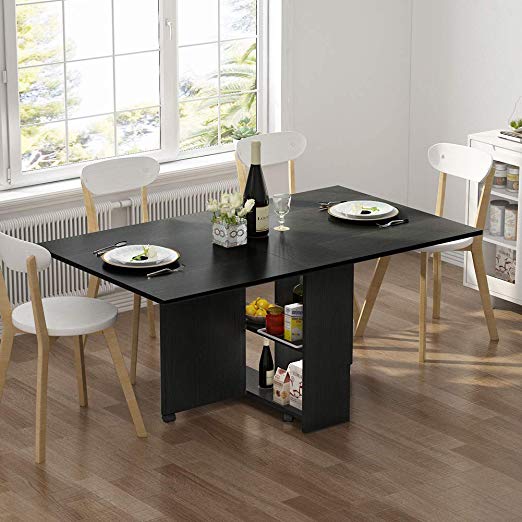 The smallest kitchens are often offered folding or pull-out tables which, when assembled, take up little space. During lunch, breakfast or dinner, you extend or retract them and can put them away immediately afterward.
It won't interfere with your free movement in the kitchen, so you only enjoy it. Folding tables are often screwed to the wall, and if you buy a separate table, it is simply placed against the wall.
Extendable tables are convenient in case you do not always eat alone or in pairs. At the moment when you have guests, the table unfolds and becomes incredible in size. These tables do take up a little more space than bolted to the wall, but they are more functional and give you more freedom.
Folding tables are designed for people who rarely eat at home or live as a couple – that is, they do not require much space for eating. Pull-out tables are more fragile and won't take much weight, so you should be more careful with them.
20. Stools instead of chairs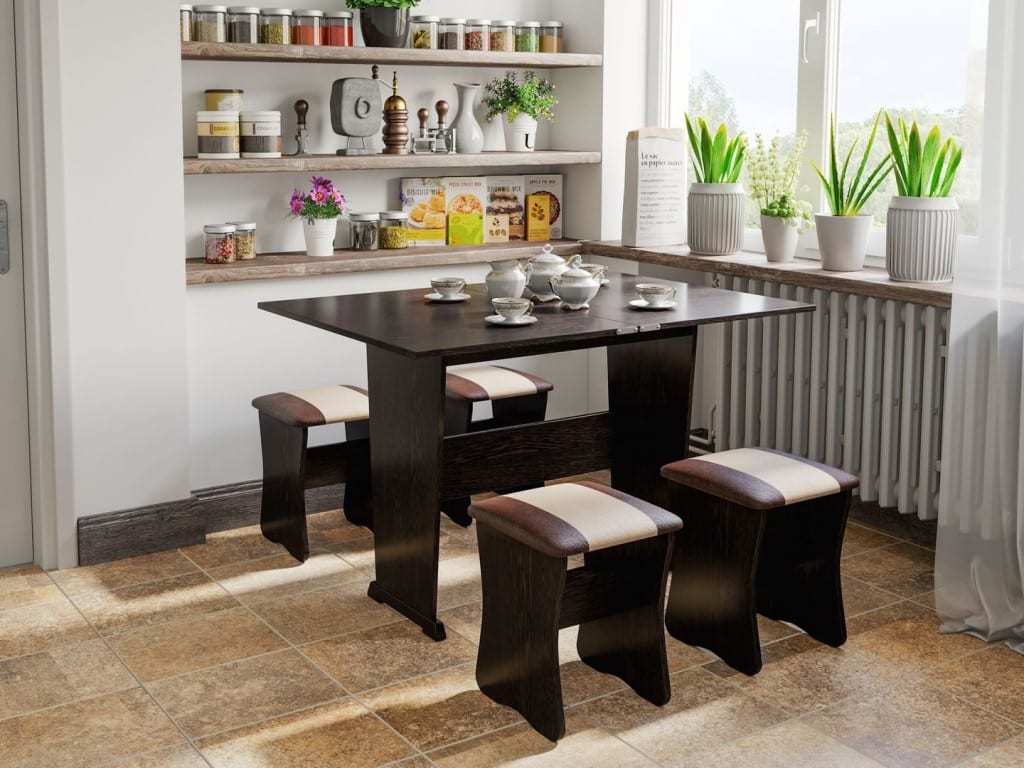 Another life hack connected to the kitchen dining area. The more familiar version has chairs around the table that have backrests. The chairs are often quite massive by themselves – especially if they are made of wood. Stools, on the other hand, are small in size and more practical. They can be carried, moved or even stacked on top of each other in a matter of seconds.
Stools look best in compact and small kitchens, where the table is also not massive. Now you can easily find stools of absolutely different designs, which will perfectly fit into any interior. The material can be different – wood, forged metal or even plastic.
In order to give a little more coziness, you can buy stools with soft seats. They can easily slide under the table and will not take up much space when you do not eat. By the way, their cost is usually significantly lower than that of chairs: this is due to the lower amount of material spent and the simplicity of design.
21. Microwave or TV brackets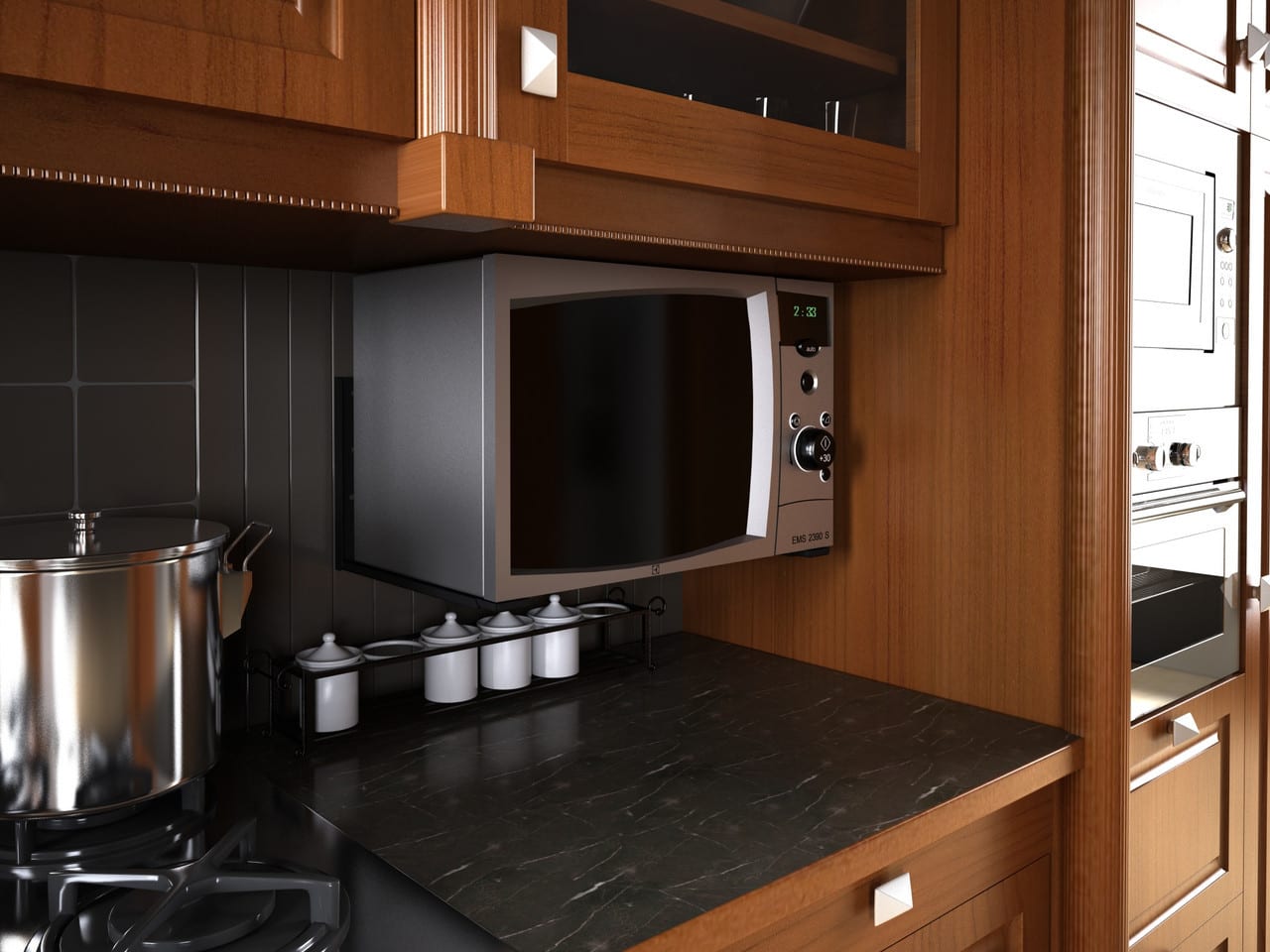 In addition to household appliances that you just need to have in the kitchen – appliances such as a blender, coffee maker or toaster, there are more massive options. Often there are TVs that are designed to entertain people a little while they are cooking or eating.
Microwaves are also an essential attribute of modern cuisine. All these fairly massive appliances are often mounted on walls with brackets – to avoid taking up space on shelves or the work surface. This option is very convenient, because this way they will not take up space, but will retain its functionality. The TV will even become more convenient to watch!
There are different brackets for microwave ovens. Some look almost like a full shelf, on which you can attach a few more items. You can also attach a few hooks to the bracket itself – it will perfectly fit towels or other lightweight items.
When choosing a bracket it is important to consider the weight of your device and its size. Each bracket should be matched to a specific model or size so that it fits perfectly. It is better to choose brackets made of strong materials so that in the future you do not have to worry about the reliability of its placement.
If it is still not enough, check our older post with 11 more tips to save space on the kitchen
If you want a visual representation of the ideas presented in our article you can watch the following video:
Space rationalization is essential in almost any kitchen. Placing appliances, equipping all appliances with sockets and access to electricity, zoning the space and much more becomes really important criteria for arrangement.
If you are just beginning to plan your kitchen, you can arrange everything in the most optimal way possible. But even if you've been living in one place for a long time, you can optimize the space with a few tricks. We've tried to tell you about the easiest and most straightforward ways to keep your kitchen space free.