Let's start with a little introduction to the history of these companies. FoodSaver was originally an Italian company known for product excellence. Now it's owned by Newell Brands. Back in the days (the 1990s), when it belonged to Italian owners its products looked way different and had higher quality and price.
Today, FoodSaver vacuum sealers are made in China. This is not in itself a bad thing, as most vacuum sealers are now made in China. Even Weston sealers and other expensive chamber sealers are being produced there.
Weston Products LLC was founded in 1997 and makes several products for home food processing, including meat grinders, pasta makers, juicers, smokers, sausage making supplies, canning supplies, and vacuum sealers. Their headquarters are located in Cleveland, OH.
FoodSaver Pros
FoodSaver Cons
Weston Pros
Weston Cons

Low Price
Good warranty
Many levels of automation and price points
Good for light
Medium home use

Weak vacuum
Pump overheats easily (not fan-cooled)
Vacuum pull not listed (but tests at around 20" Hg)

Strong vacuum
Fewer cool down periods needed (esp. higher-priced models)
Fan-cooled motors
Vacuum specs are given
Good for medium-heavy home use and commercial use

Higher priced than FoodSaver
Fewer automated features
Fewer extra features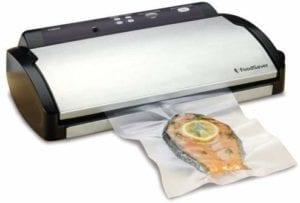 In order to start this comparison, it is fair enough to claim right away the FoodSaver is the most popular brand of food vacuum sealer. And the reason for that is pretty typical – its products just cheaper than any other brands on the market. While its competitors are not the most affordable thing to buy, the prices of FoodSaver start at $50-200.
Weston vacuum sealers are a less popular brand. The reason for that is not their quality or price, but because they have a different market and different target audience.
You may also like: 7 Best Food Dehydrators Reviews
It is fair to claim that FoodSaver is oriented to the wider audience where the economy prices dominate while Weston is geared toward the more serious user, including some commercial-grade models.
And here the question appears if it makes sense to pay more for the Weston vacuum sealer. Will its quality be worth the price? Do you actually need that level of quality? Or it will be perfect just go on with the FoodSaver?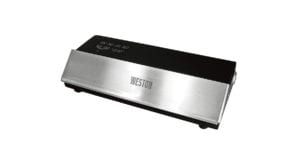 From a visual point of view, these two brands are not very different. Well, that's logical since first of all they are machines doing their job. The main distinctive feature is probably that Weston products are slightly bigger in sizes than the ones from FoodSaver.
In terms of usability, it's fair to claim that the FoodSaver (apparently, because it is meant for the wider audience) it definitely looks and feels easier in usage. Moreover, its processes are more automatized which means you will spend less time in all the hassle. On the other hand, it gives you less control over the process.
Another feature that distinguishes these two brands and which you can notice right away if you look at the power capacity – the Weston food sealers are much more powerful (and the gap is significant, sometimes its 2-3 times difference).
It is extremely beneficial, on one hand, since it guarantees you the effectiveness of the process, but, on the other hand, you should keep in mind that the power supply of your house must be enough to run this complex machine. Otherwise, you are risking getting a black-out. FoodSaver is safer in this sense.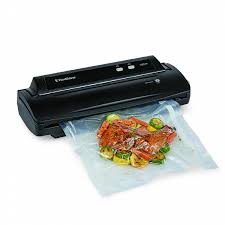 Weston and FoodSaver both make consumer-grade vacuum sealers, but Weston also makes heavy-duty and commercial grade vacuum sealers, while FoodSaver does not.
Your choice must also depend on which type of person you are. If you don't mind replacing the machine every few years, then FoodSaver is great for you.
It is even better if you only use the vacuum food sealer from time to time (logic, why then you need investing tons of money into this process?) and the machine won't be in constant exploitation. Besides, the rare usage will prolong the useful life of a FoodSaver product, and it will probably serve you 2-3 times longer than usual.
But if you are completely (or not fully completely) an opposite person to the previous type, then obviously, Weston is your choice to go for. If you want a product designed for heavy-duty use which is possible to repair and upgrade any time, and which will serve you for not one decade, then go for it.
The only aspect that you should remember that this brand will require a higher amount of initial investment. However, if you are going to use that on a regular basis being completely sure that this is a necessity for you then it's a great choice. If you have a Sous Vide precision cooker, thus you will definitely need a vacuum sealer on an everyday basis.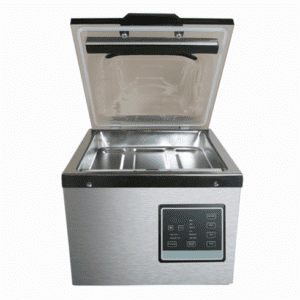 The only exception is Weston Harvest Guard sealer (it's the model that Weston released to the market so it would be the main competitor for FoodSaver's products).
Another point is, while FoodSaver does not provide vacuum specifications, independent tests have shown that a FoodSaver pulls about 20″ Hg. This is less than the smallest Weston vacuum sealer.
Moreover, if this factor is important for you, then Weston sealers have the fan-cooling while the FoodSavers' don't. It is essential if you are going to work in a hot-temperature place. This also means you can use the sealer continuously with the fewer cool-down period required.
This is true even for FoodSaver's top-end models, which get around the cooling issue by having two vacuum pumps that take turns sealing so one can cool while the other is in use.
It has already been mentioned that FoodSaver's models are more automatized and as they go up in the price, the more those functions they have. But the thing is that the vacuum pull (the power) stays the same.
When you see Weston's products increase in price, it always meant that the power of their work is increasing. It is the rhetoric question of what you actually pay for.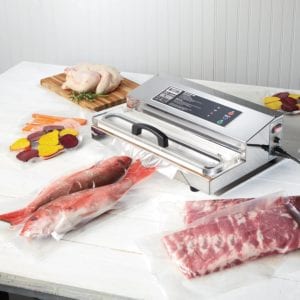 Apart from that, Weston offers extra-long sealing bars on their commercial grade sealers while all FoodSaver models have an 11-inch sealing bar (here everything depends on how you're used to work with food sealers).
By the way, while almost all Weston's products are upgradeable, which means there is some spare part for its machines sold on the market, it is extremely difficult to say the same about the FoodSaver products.
The only exception is the gaskets, and that's pretty much it what FoodSaver can offer in terms of repair.
This happens, once again, because FoodSaver is not made to serve you as long as Weston. Moving on, starting from the point of the price limit of $200 FoodSaver stops competing with Weston, for an obvious reason: this price range is not economy anymore.
FoodSaver doesn't make any products that can compete with Weston's greater sealing power, higher wattage, and more durable build quality. The Weston brand has a special line called  Weston Professional Advantage vacuum sealers and these are competing with FoodSaver.

You will be surprised how similar those models are – here is the case where Weston's products also have many automatized functions and power consumptions.
However, Weston is about to get an advantage here, because even in the industry of economy-range food sealers it offers the more powerful and advanced models which are slightly higher in price but stand out greatly in power.
Of course, each brand has various products different in price and quality. When choosing the final one, you should orientate to your personal needs, frequency of use and ability to provide the required power supply.
You can also check: 50 Must-have kitchen gadgets
Summarizing all the points, it can be stated that Weston is winning in this race. Although, winning with an insignificant gap. Its main advantage that it has in front of the FoodSaver is because it is also excellent for commercial use what cannot be said about the latter.
Moreover, it is more productive with a faster cooling system and a more powerful engine. Both brands have pretty much the same number of disadvantages, and hopefully, after reading this article, it will be easy and clear for you which one you will want to buy.