Deep Fryers can really be called one of the best and worst inventions of mankind. Roasted in large quantities of butter, crispy food and snacks in the golden crust – how can one refuse such a delicacy?
People are not confused by such an abundance of oil – after all, if it is tasty, it will not be harmful! Same favorite fries – you certainly tried to repeat them at home, but the result was different from what you are used to eating in fast food.
These reviews include the best models of the other deep fryers:
7 Best Small Deep Fryers Reviews

This device is designed for cooking different deep-fried dishes in the home kitchen. With its help, you can cook small amounts of food, they take up little space and have an affordable price.


Check the review

7 Best Turkey Deep Fryer Reviews

Turkey deep fryer - multifunctional equipment that is installed in hot shops of restaurants, supermarkets, cafes, bars, food courts, fast food outlets. It is one of the most popular thermal units today, which demonstrates high performance and allows you to create a varied menu.


Check the review

7 Best Electric Deep Fryers Reviews

This technique is designed for use in cafes, bars and restaurants, as it can prepare a large number of products at the same time. Some devices may have two baths. You have to drain the oil and wash it every day.


Check the review

7 Best Propane Deep Fryers Reviews

All products in propane deep fryer are cooked fast enough, for example, fries - only a few minutes. The heat for frying food is obtained from an atmospheric burner that uses a mixture of air and gas, or from a tube with burning gas, which is located under the bottom or next to the side walls of the bathtub.


Check the review
Despite all the harm in butter, you can make your deep-fried food much healthier than it actually is. By using healthy oils and ingredients, you can improve even the fattest fast-food meal.
What if we told you that you could make your favorite fries right in your kitchen whenever you wanted? You'll need to buy a Deep Fryer and that won't be a problem anymore. We've found the 7 best models for you that you can easily put in your home kitchen.
1. T-fal Deep Fryer Model FR8000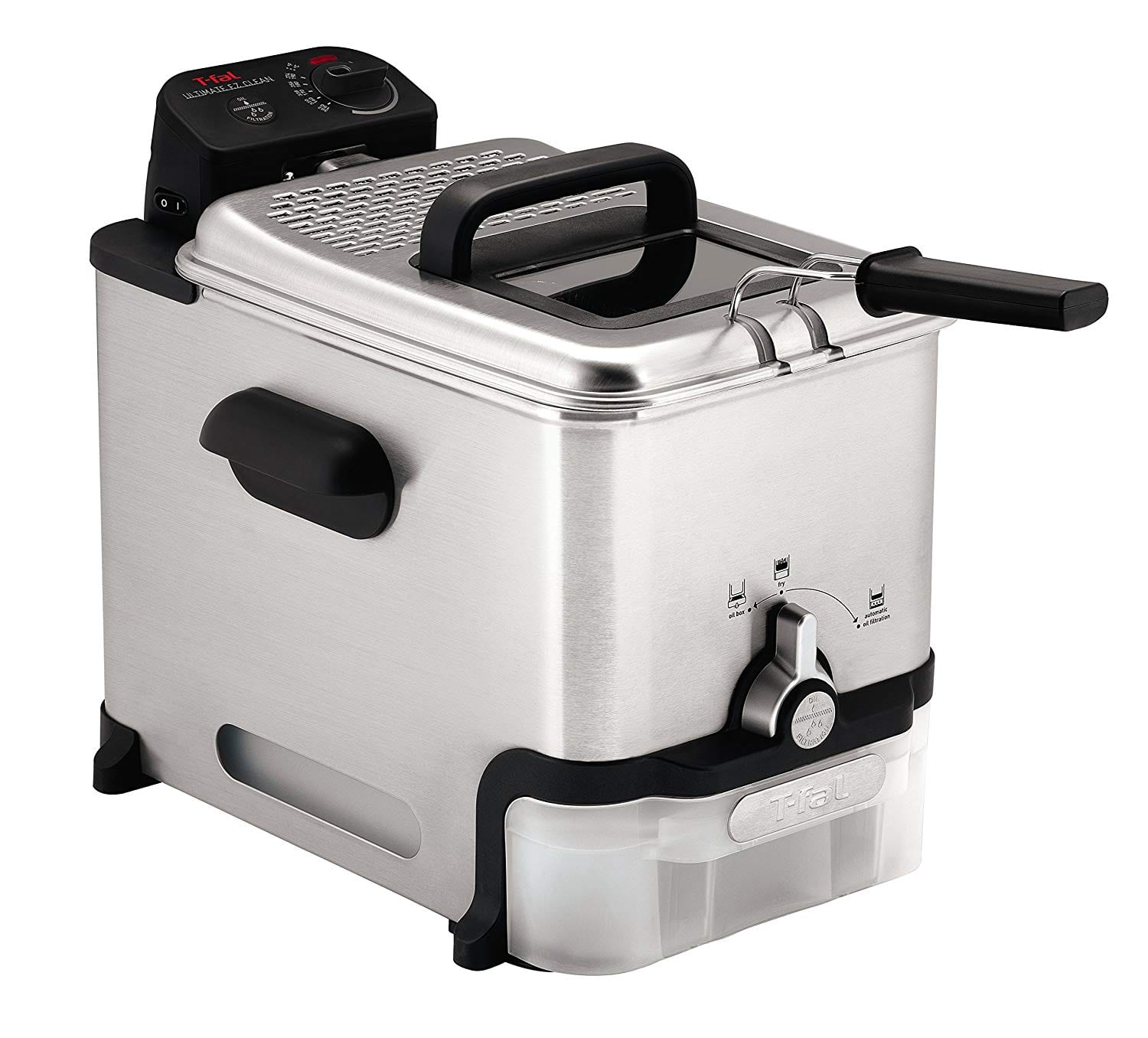 If you were looking for a model big enough with enough oil capacity, the T-fal Deep Fryer may be the best option. This fryer can hold more than 2.5 pounds of food at a time and has a volume of 3.5 liters – so that the whole family can have enough fries. You can even organize a whole party and treat your friends to their favorite deep-fried dishes.
You can easily carry the T-fal Deep Fryer from place to place in the kitchen. Inside, there are special filters that prevent the oil from quickly becoming spoiled. EZ Clean's filter system saves you money on oil and allows you to store it longer.
T-fal Deep Fryer heats the oil perfectly and you will quickly get the desired result in the form of a crispy appetizing crust. Speaking of cleaning, it is worth noting that the bowl can be easily washed from the oil residue.
You can clean the cooking bowl yourself without damaging other electrical parts and mechanisms. But it is worth considering that this fryer is really large.
You may also like: 7 Best Air Fryers Reviews
2. Secura 1700-Watt Stainless-Steel Triple Basket Electric Deep Fryer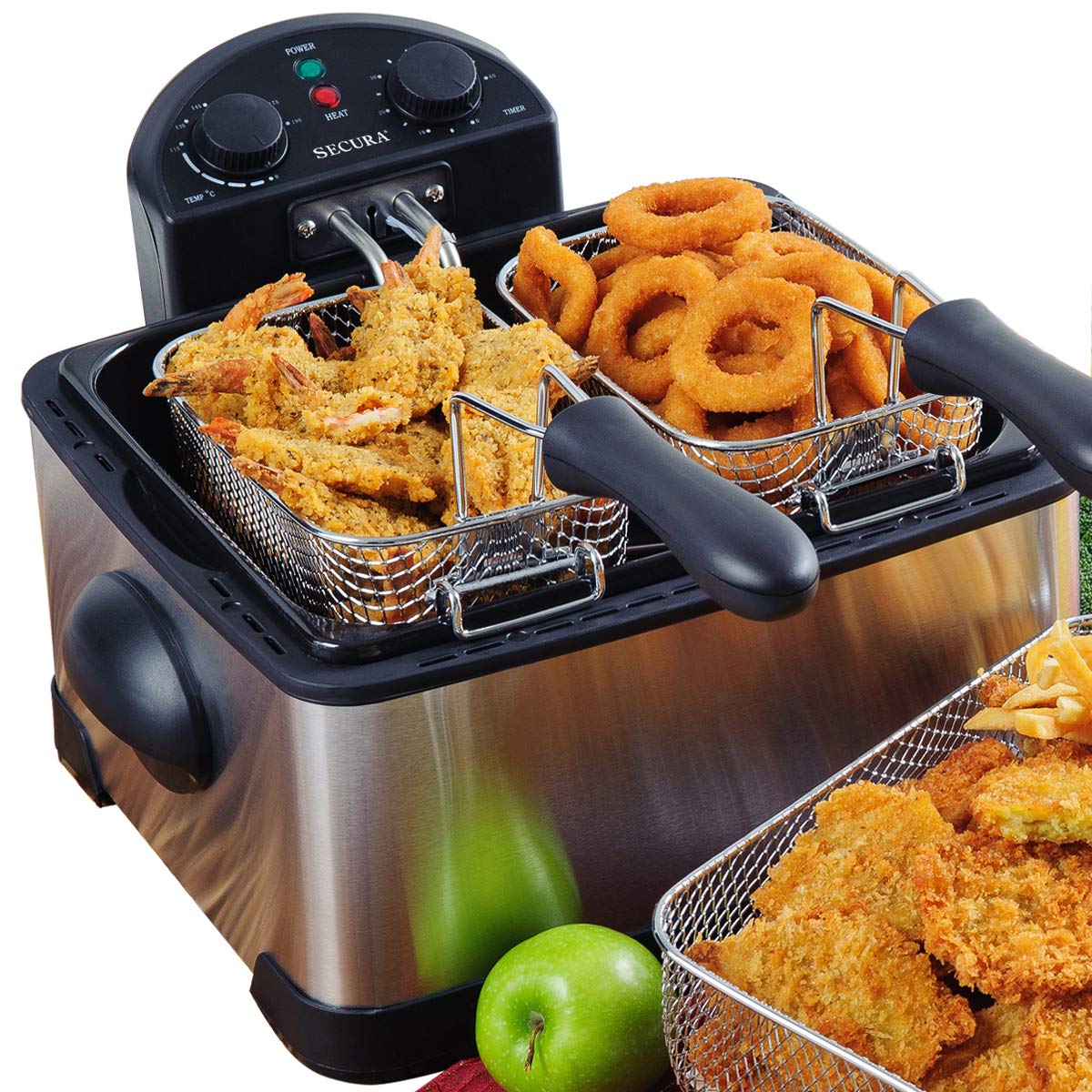 Secura is another very large fryer. It has a capacity of 4 liters of oil and is really big! This volume is convenient to use at home for large companies, family gatherings, and other events when you have a lot of people at home.
Although you do not have to do anything in large quantities. The Secura set comes with 3 deep frying baskets – one large and 2 small ones that can be used to fry completely different dishes at the same time.
For your safety, the Secura lid has an inspection window that allows you to observe the process and the level of frying. You avoid splashes of oil and other unpleasant situations.
By the way, if you want to have extra oil on your foodstuffs, we recommend you to use special clasps on the baskets. They allow you to "rest" on the deep-fatting and avoid all dirty drops. For more precise use, you can even set a timer on your device, as well as monitor the heating temperature.
3. Presto 05442 CoolDaddy Cool-touch Deep Fryer – Black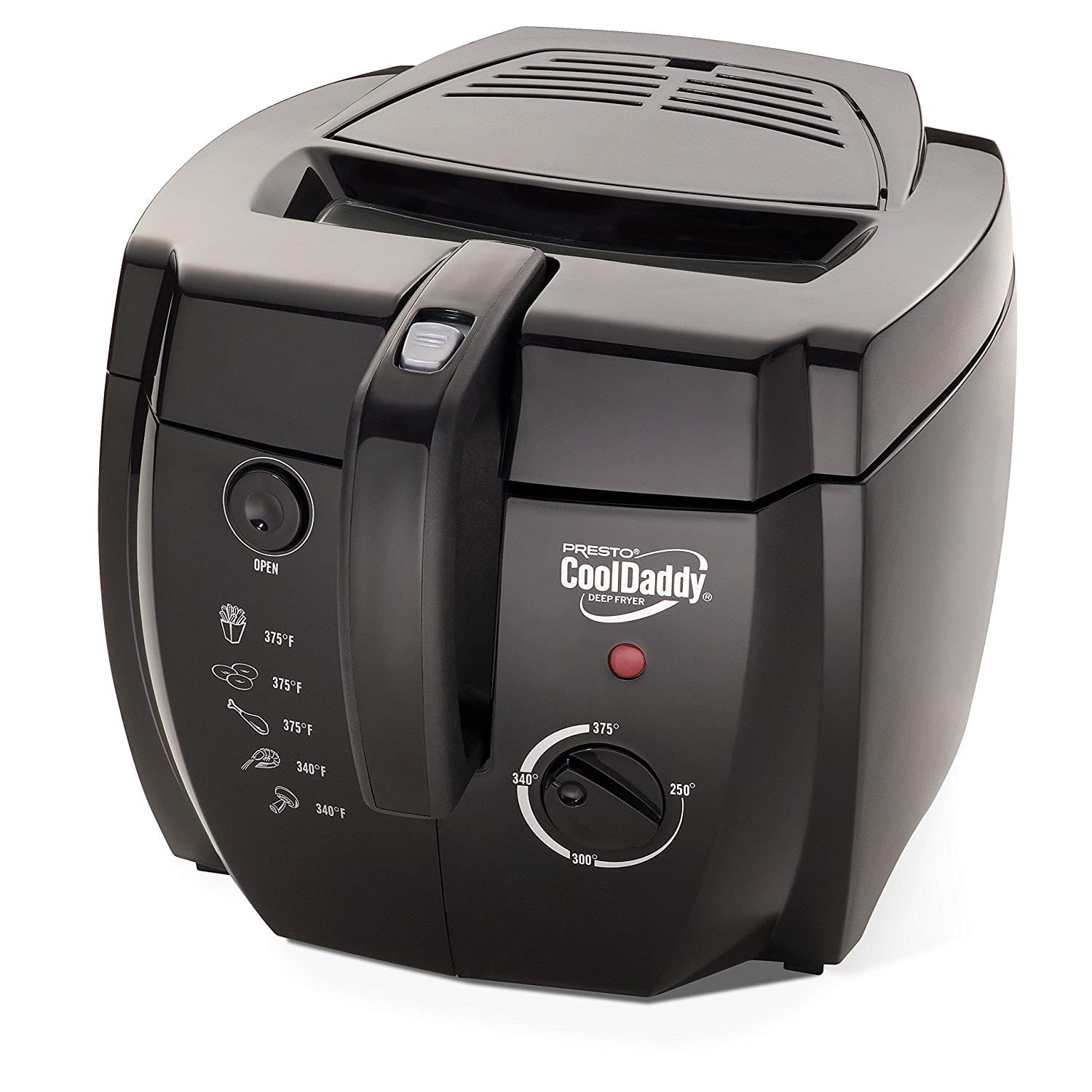 The handy 1.9-liter capacity is ideal for home use. This capacity is perfect for chicken, fried shrimp, fries and much more.
You can use the Presto 05442 CoolDaddy safely and without burns thanks to the outer handle of the basket. It lets you close the lid before you start the frying process – so that boiling oil won't splash on your skin.
In order to control the cooking process more precisely, the Presto 05442 CoolDaddy has a built-in thermostat. You choose the right oil temperature. It is worth noting that the temperature is not always accurate – for example, the set temperature is 300 and the actual temperature is 290.
This is a minor thing, of course, but perhaps for some dishes, even small details will be important. In order for you to wash the bowl separately from the whole fryer, it is made detachable. But you have to change the oil less often – the Presto 05442 CoolDaddy has special filters that reduce the cooking odor and clean the oil.
4. Presto 05466 Stainless Steel Dual Basket Pro Fry Immersion Element Deep Fryer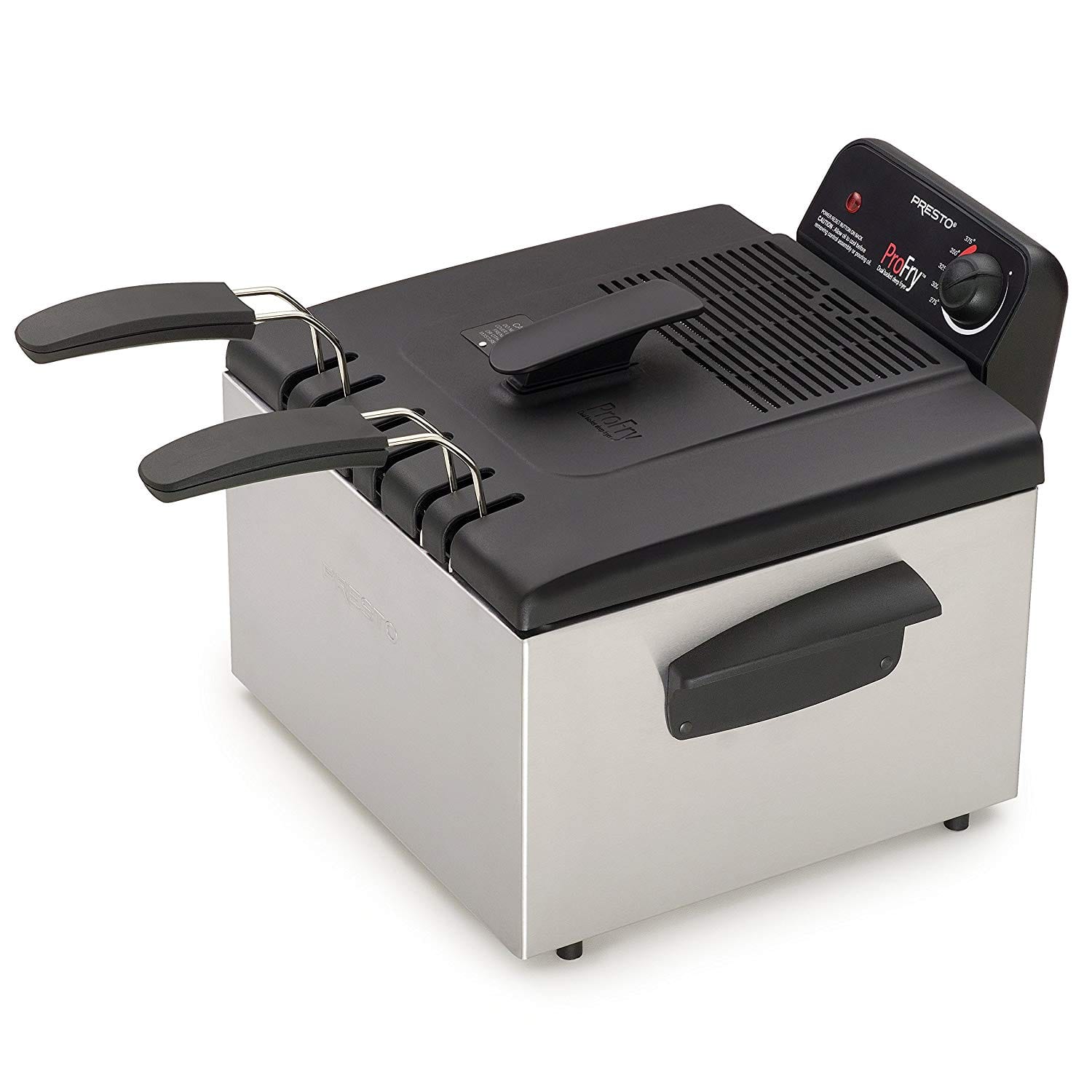 Constantly cooking for your family? Then we want to tell you about Presto 05466. This fryer can hold up to 12 meals (maximum capacity of 5 pounds), which speeds up the process of cooking family dinner.
The most important thing is that the filtration of the smell prevents the smell of oil and the food that is deep-fried – even your household will not smell the fries.
The basket, which comes complete with Presto 05466, has a double division. You can prepare two dishes by serving them at the table at the same time. The unit will notify you that the oil has reached the right temperature, so you can start cooking.
By the way, the immersion element in this fryer heats the oil quickly enough and restores it. The enameled bowl is removable and easy to wash, and the oil does not spill or splash on you. Especially those who do not like the smell of oil but like to fry chips and fish sticks will love Presto 05466.
5. Hamilton Beach Cool-Touch Deep Fryer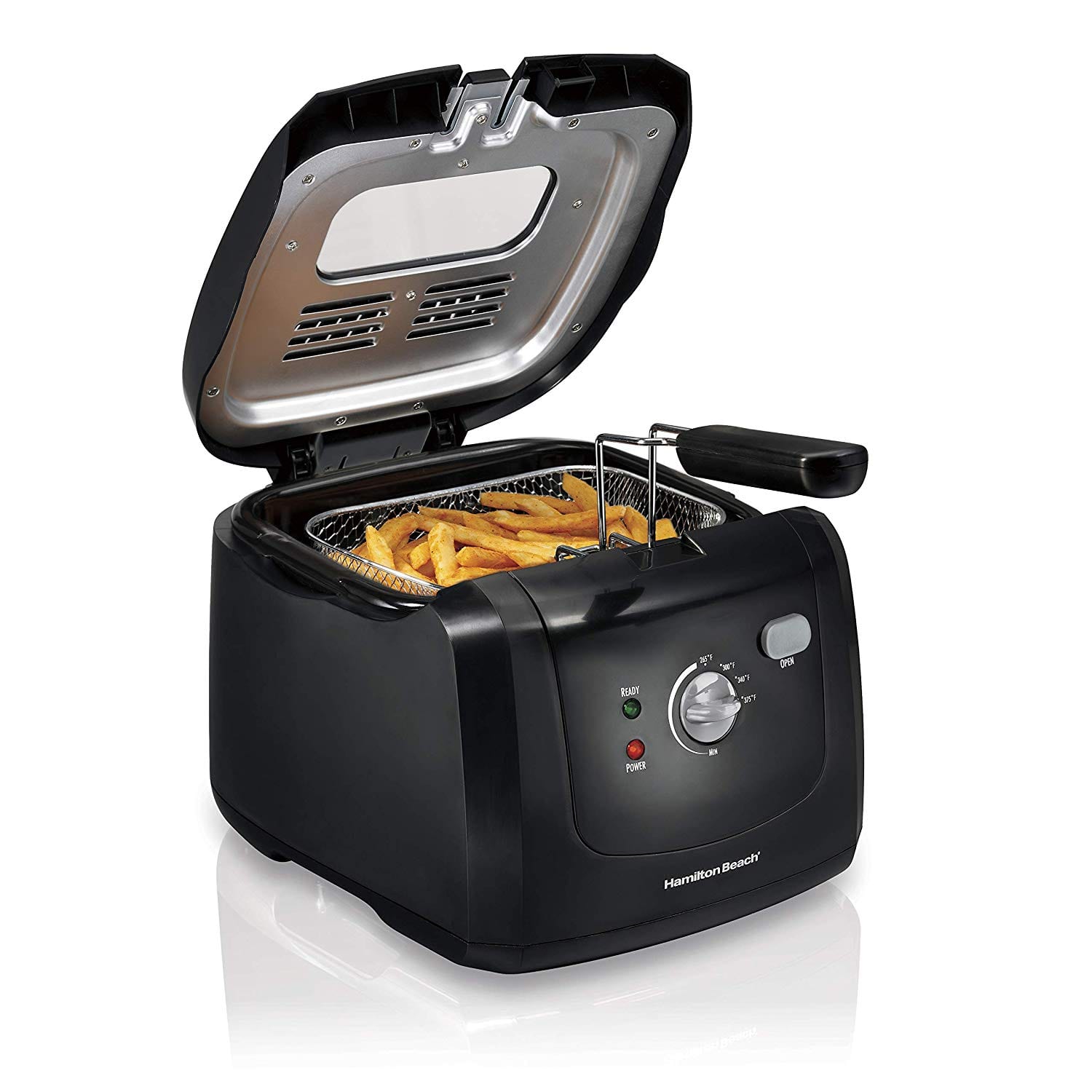 If you're afraid it will heat up when you use it, rest assured that Hamilton Beach Cool-Touch Deep Fryer has taken this factor into account. The design is such that even during intensive use, the fryer stays cool so you won't get burned. But oil heats up much faster than in standard fryers, so your waiting time is shorter.
The bowl, like many devices, is removable – so is the lid. This way, you can wash easily and quickly when needed, and the enameled coating ensures easy cleaning. To drain off any excess oil, special hooks are provided on the baskets.
Hamilton Beach Cool-Touch Deep Fryer works without problems, but it is a standard device without the latest advanced technology. Want to just fry some potatoes? Use french fry cutters and this fryer and it will not let you down.
6. Presto 05420 FryDaddy Electric Deep Fryer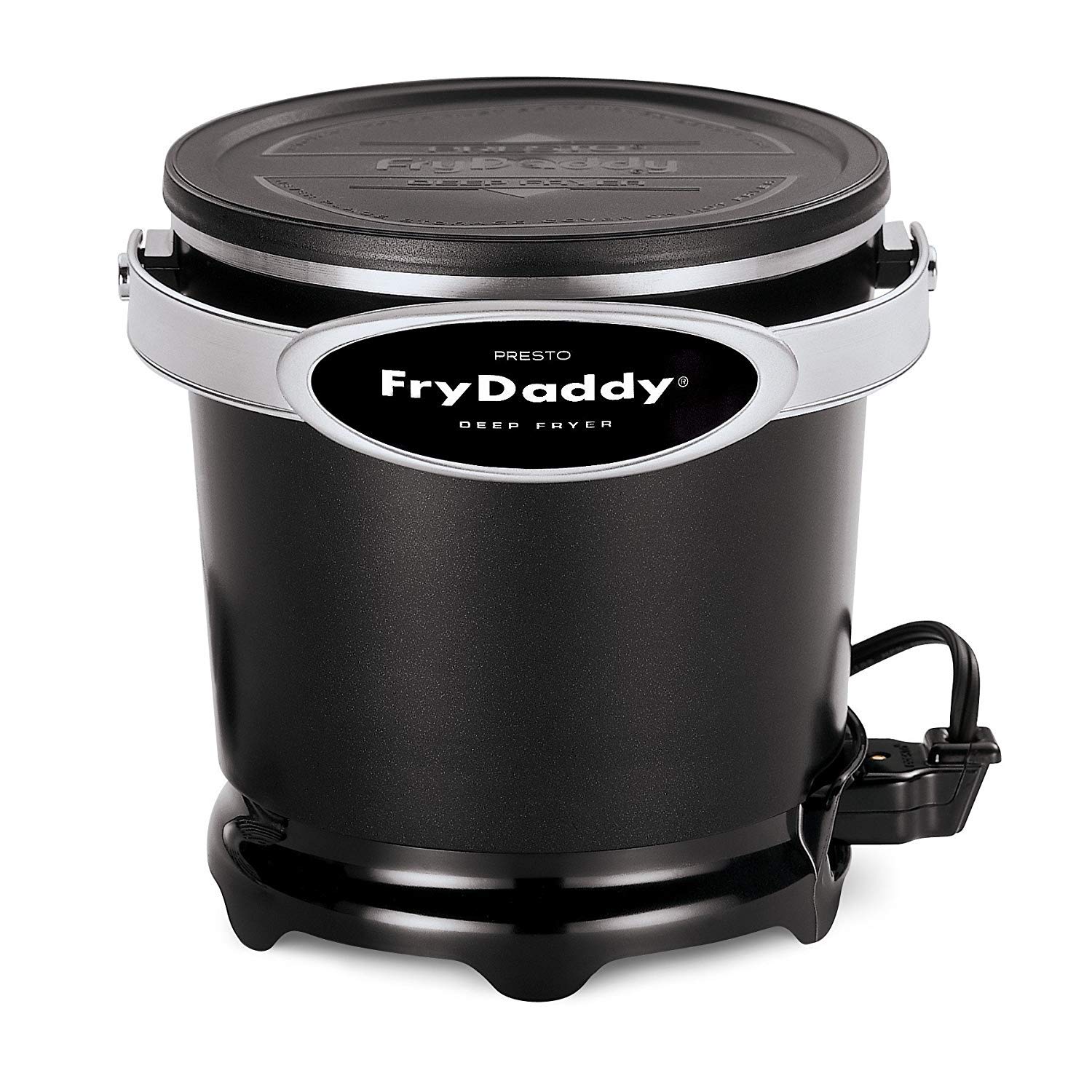 If you live alone and don't want to buy a huge device, the Presto 05420 FryDaddy is a great option for you. In addition to its compact size, this fryer is also economical – to cook 4 cups of food, you will need exactly 4 cups of oil and no more.
This way, your food will be less fatty, and cooking will cost you a lot less money. You can enjoy your favorite deep-fried meal several times a week without having to buy new bottles of butter all the time.
Like all standard fryers, the Presto 05420 FryDaddy has a built-in thermostat and non-stick surface. The thermostat allows you to cook at certain temperatures. By the way, you can constantly carry your unit from place to place with a special cool handle.
Still, the most important advantage of the Presto 05420 FryDaddy is its economical oil to food ratio. Of course, you won't be able to prepare large portions for the company, but if you live alone, it's the right amount.
You may check this: 7 Best Electric Turkey Fryer Reviews
7. Cuisinart CDF-100 Compact 1.1-Liter Deep Fryer, Brushed Stainless Steel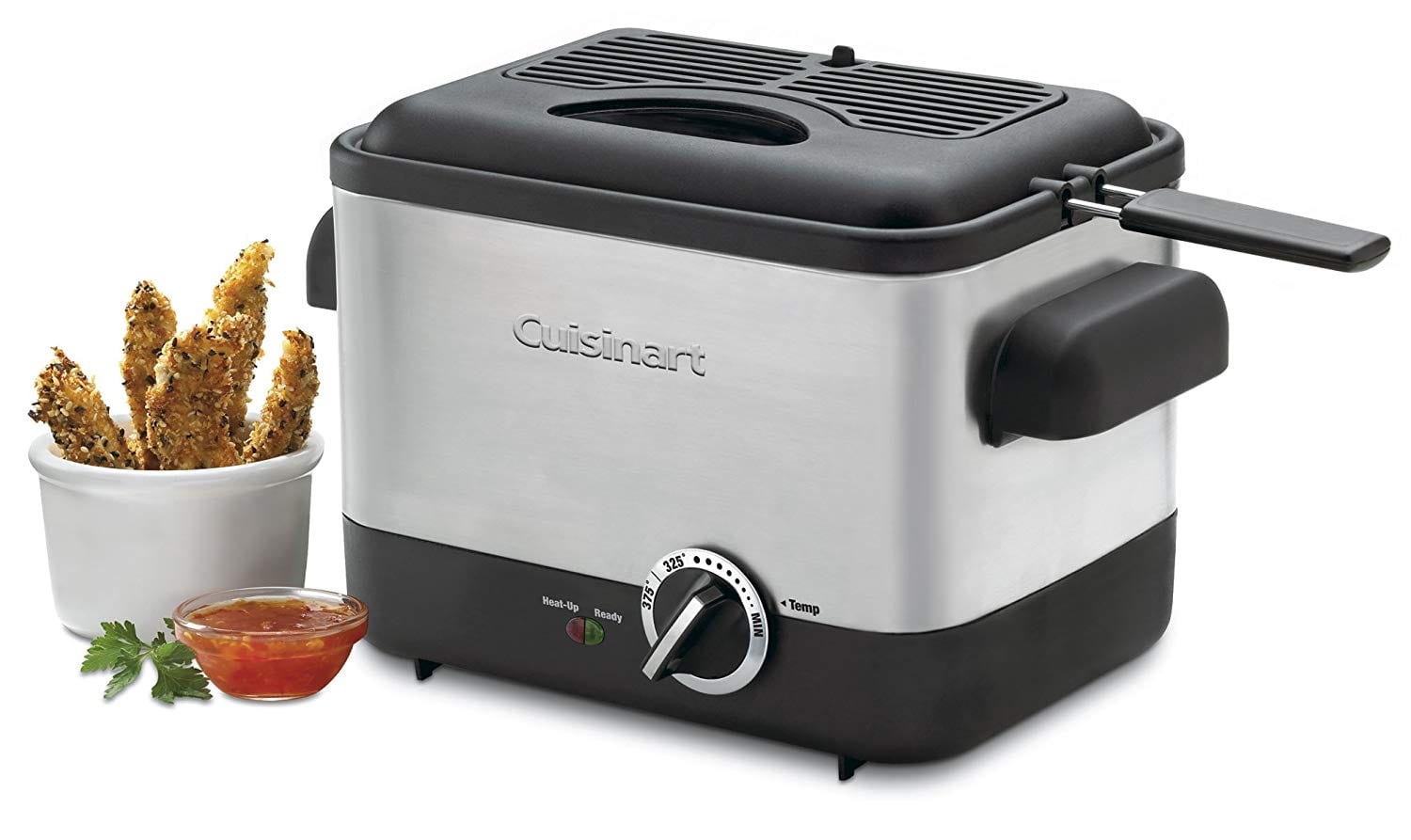 Another model of the compact fryer with a volume of just over 1 liter. It takes up much less space in the kitchen than standard fryers and can cook up to 0.75 pounds of food at a time. If you like deep-fried snacks like onion rings or shrimp, the Cuisinart CDF-100 Compact will help you serve them instantly to the table.
A heating element is attached to the non-stick cast cup for excellent quick heating and the oil heats up much faster due to its small volume. Cuisinart CDF-100 Compact has built-in carbon filters so you don't smell the oil and fried food.
It is worth noting that there are some nuances in using such a compact model. If you do not want your food to stick to the basket, you should not load heavy food in thick breading or batter in the Cuisinart CDF-100 Compact. Or simply pull it out with special tongs – then you will get good results even in a small bowl.
Obviously, we do not want you to eat exclusively fried food all the time. Even with all the love and admiration for crispy slices of fries, breaded chicken and other dishes, you should not take too much pleasure in them.
However, it's great to make a whole bunch of crispy fries for the whole family at the weekend! You should agree that your dinner will be much more delicious and interesting with this addition. We have found the best options for you in different sizes – from 1.1 liters to 4 liters – so you can definitely find a good appliance of the size you need.
FAQ for deep fryer buyers
1.
What's the best bowl volume to choose from?
Standard Deep Fryers usually come with a capacity of 2.2-3 liters. Usually, it can hold about 1 kg of potatoes at a time, which allows you to prepare a really impressive portion of your favorite side dish.
However, you should agree that the kitchen does not always have room for a large Deep Fryer. There are many compact models on the market (for example, in our article we have a 1.1-liter device).
For a large family, you can also buy a large appliance with a capacity of 4 liters. If you do not often cook in a deep fryer, you should pay attention to models of small and medium-size.
2.
Which internal coating of the bowl is better to choose?
If we talk about the bowl, you should immediately note the possibility of washing it outside the device – that is, it must be removable. The two most popular materials used to create bowls are non-stick coating and stainless steel.
It's much better if you choose a non-stick bowl. It may seem comical (what can get stuck in so much oil?), but it will make the washing process much easier. Fat does not stick to this surface, just like food.
3.
Is it possible to mix old and new oil? For example, pour out a part and replace it with new oil.
No, no and no again! Under any circumstances, do not mix old oil with fresh and new oil. The prepared products will not taste good and may also be bitter. Two different types of fresh oil should not be stirred – each type requires some time before heating, and may also have specific features.
The main thing is that the frying oil is transparent and does not foam when heated. A bad sign would be the smell that comes from the oil – odorless oils are the best choice for cooking.
4.
How to protect your children from contact with hot oil?
If you have children or animals at home who might accidentally touch the boiling oil or even tip it over, you should consider their safety. Many Deep Fryer models have an automatic lock that prevents you from turning on the appliance with the lid open.
There may also be an auto-off function that starts when the oil heats up to a certain temperature. You should take this into account if the appearance of a fryer in your home can cause a risk. You should be very careful when using the fryer, even yourself.