Buying cookware is not as easy as it may seem. There are so many ranges and cooktops on the market and each of those requires specific cookware.
You have probably seen the titanium cookware at least once in your life, you just didn't think about its material. In fact, this type of cookware is very popular among camping lovers.
Titanium vessels are known to be fire-(pure titanium can withstand huge heats of above 1000-degrees Fahrenheit) and break-proof and that's the reason it is so good to take it with you on the road.
This cookware is strong on one hand and extremely lightweight on another. The titanium frying pan reviewed is at least 45% lighter than the equivalent sized steel pan. It won't bend, scratch, or dent, it is virtually indestructible.
Another interesting fact about the titanium cookware is that it can prevent the spreading of harmful bacteria on the surface, thus, providing healthier eating. Moreover, it is a naturally non-stick cooking surface cookware.
So, do you already want to buy high-quality titanium cookware? If yes, the guide down below will help you to choose the best of the bests.
Image
Product

Woll Nowo Titanium Wok




Single piece of a set
Top-quality
Detachable handles
Non-stick

Check Price
Woll Nowo Titanium Sauté Pan


Single piece of a set
Top-quality cookware
Detachable handle
Easy to clean, oven-proof up to 480 degrees F

Check Price
Snow Peak Titanium Cookware


Perfect fo camping
Lightweight
Affordable
Without non-stick cover

Check Price
Calphalon Contemporary


3 layers of non-stick coverage
Stainless steel handles
Dishwasher safe

Check Price
T-fal E765SH


Handles have wholes
Oven-proof up to 400 degress F
Affordable price

Check Price
Gotham Steel 10-Piece Square Kitchen Set


Top-quality
Ti-ceramic materials
Non-stick coverage
Available in multiple colors
Dishwasher safe
Ovenproof up to 500 degrees F

Check Price
Cuisinart 66-17N Chef's Classic


Large set (17 pieces)
Break-resistant lids
Non-stick coverage
Not dishwasher safe

Check Price
1. Woll Nowo Titanium Wok
This is an item of the highest quality – it is a titanium nonstick pan that will serve you an extremely long life. And even if it is a pan, it can have multiple ways of usage – including boiling or broiling, not just frying. It is totally oven and dishwasher safe and PFOA free.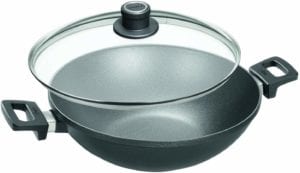 It's german titanium cookware which body and base are made of stress relieved chill cast aluminum. Perfect titanium elite cookware for browning, searing and deglazing. For those who don't really like to be extra careful with their cookware, this is an excellent choice – it is almost impossible to break or scratch it. The bottom is 8 mm thick.
When cooking, it provides the perfect heat distribution along with energy-efficient cooking (since the pan heats up once and then retains the heat inside so it doesn't need to be warmed all the time). Unlike other types of cookware, this one is easy to clean.
Another distinctive feature of this pan is that it has two handles and not one like a traditional pan. Well, it makes this vessel more versatile. By the way, the handles are detachable. It is oven-proof up to 480-degree Fahrenheit.
The cooking with this pan is also that energy-efficient because of its glass lid, which is ovenproof up to 480-degree Fahrenheit as well. Its reinforced edge offers a high level of shock resistance and no-mess pouring of sauces.
The only possible drawback of this item is that it is quite expensive. But because of its durability, it is a worthy investment.
2. Woll Nowo Titanium Sauté Pan
Another piece of the Woll Nowo product range is this pan which is the classic pan in the sense as we are used to it. Probably, there is even no need to say that it is perfect for frying basically everything. For its cost, it is superior quality and durability.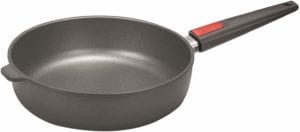 These titanium pots and pans set are made from high-quality titanium which has a non-stick coating allowing for healthy cooking and easy clean up afterward, even if you were using some extra fatty oil while frying.
When you touch its surface you can feel that it is made of the heavy-duty titanium (the titanium cookware can have various thickness – the cheapest one is always thin and the top quality is always thick). And just like in the previous case with another item of this brand, this pan has the detachable handle (here it has just one).
It makes it easy to store and fit into smaller spaces. Another versatile feature of this pan is that because of the detachable handle it can be used as a dish in the oven when needed for casseroles or oven meals. And it is dishwasher safe as well.
A pleasant bonus here is that it comes with a life-long warranty. Its easiness to clean and thick bottom makes it a perfect choice for everyday use. Advanced PFOA free coating is cut and abrasion-resistant titanium hard base coating with excellent nonstick properties.
And just like in the previous case, it is ovenproof up to 480 degrees Fahrenheit. The only drawback of this pan is that in this case it has no lid (and its price is still high) and the only color that it is available in is black.
3. Snow Peak Titanium Cookware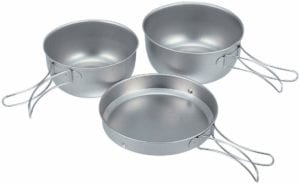 This cookware set maybe looks not that attractive like the previous ones and it is not so thick but for camping, it is a perfect choice. As you can see, this set consists of 3 separate items, 2 pots, and 1 pan – that would be more suitable if you are going camping with your family or with a big group of friends.
An interesting feature of this set is that the pan can be used as a lid for the pots. The titanium material is rust and corrosion resistant and better to use than the usual stainless steel cookware. This set is safe to use and lightweight to carry around so that backpackers will love this set.
It's a quite simple and affordable set. The only thing you should mind before buying it is that it doesn't have a non-stick coating. And what is for home cooking it would probably be not really sufficient, since it is a little bit too rough. The previous and next sets on our list are the perfect candidates for that.
4. Calphalon Contemporary
Here we have another high-quality titanium cookware set and this time it includes several pots and pans. Calphalon helps to stick to the healthy eating lifestyle since it is a non-stick cookware meaning you are going to use less fat while cooking with it.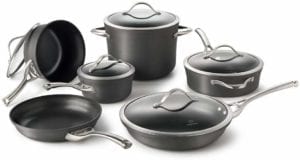 The interior includes three layers of nonstick coating – two layers provide durability and the third layer offers easy release performance. This cookware set to be enough to prepare a meal for the big number of people (the size of pots is also above the average), and in case you are having a big party you can easily turn to Calphalon Contemporary.
Set includes 10-Inch аry зan, 12-шnch fry pan, and cover, 1.5-quart saucepan and cover, 2.5-quart saucepan and cover, 3-quart saute pan and cover and 8-quart stockpot and cover.
One more great feature of this cookware set is that it has the handles made of materials and engineered in a way that they don't get hot. The handles are made of stainless steel. Thus, the risk of burning yourself while busy cooking is significantly less.
Just like in other cases, the cleaning of this set is easy as well and it is dishwasher safe. Pans and covers are also oven safe, making it ideal for finishing a gourmet dish. Regarding the durability – lifetime warranty.
Just one aspect to consider before buying this set is that not all the sellers of it on Amazon are reliable. Sometimes you can get damaged items or if they got damaged during the usage it can be not so easy to contact the seller with the request to replace a damaged item. So before buying it on Amazon, choose the seller carefully and read the reviews.
5. T-fal E765SH
For those who are into cooking and who love exploring new unusual recipes, this is an excellent set. The only aspect to remember here is that this cookware is not made for induction cooktops. Here for quite a reasonable price, you will get the huge set of pans and pots, made of the top-quality titanium.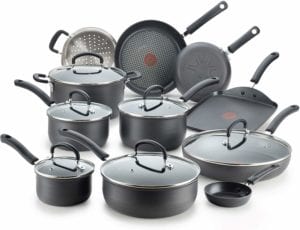 In this set, you will find an 8 inches fry pan, 10.25 inches fry pan, 11.5 inches fry pan with lid, 10.25 inches square griddle, a saucepan with lid, a saucepan with lid, a saucepan with lid, a deep sauté, a dutch oven with lid, a steamer insert with 2 side handles, and a 1 egg wonder fry pan.
These kinds of covers (lids) are optimized for cooking since they readily trad all the moisture and heat. The handles in this set are made of silicone, which means they don't get hot during the cooking process. When you hold the pan in your hand you will be surprised how sturdy the materials are.
Pay attention to the fact that the handle has wholes. It means you can not only put the pieces of the set somewhere but also to hang them.
You can use these items in the oven but only to the limit of 400 degrees Fahrenheit. The lids can withstand even the smaller amount – only 350 degrees. The cookware doesn't contain any Cadmium, Lead or PFOA. You won't be at risk of exposure to toxins. Another interesting feature here is that the set has a heat-indicating Thermo-spot.
Because of this function, you will be able to preheat the pans properly. And even if you drop a pan it will not break. Overall, T-fal is a popular and reliable brand which has always been known for its high-quality products.
6. Gotham Steel 10-Piece Square Kitchen Set
The feature that distinguishes this cookware from all the previous ones is its award-winning Ti-ceramic materials. It means it is made of top-quality titanium. The overall image of this set says that it is the luxurious cookware and it would fit even the high-end kitchens.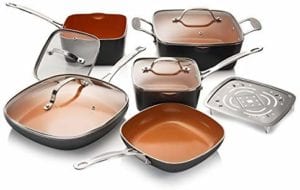 Here you will get a 1.5 -quart saucepan with lid, a 2.5 -quart saucepan with lid, a 9.5 inches, deep square pan with lid, an 8 inches fry pan, a 10 inches fry pan with lid, and a stainless steel steamer insert.
The cookware is suitable for totally all the recipes that you can imagine including rice. The set itself is the mixture of titanium and ceramic. The set comes in 4 different colors, so if the original red doesn't suit you you can always go for another one. The glossy surface of pans will capture your attention as well.
The cookware set is possible to be used in the oven up to 500 degrees Fahrenheit. By the way, during the cooking process, you can use any utensils including the steel ones since it is resistant to scratching.
There are many profitable offers on Amazon where you can buy this set with a discount. And being honest, it is not even that expensive for the quality and number of pieces that it provides.
Moreover, this cookware also has the aluminum element in it, thus it will provide the equal distribution of the heat. And this cookware set is also safe to use in the microwave. The only thing is that you need constantly to take care of it in order it would last longer.
You may also like: 7 Best Ceramic Cookware Sets Reviews
7. Cuisinart 66-17N Chef's Classic
An excellent cookware set of premium quality. The distinctive feature of it is that it has the measuring marks on the inside, making the cooking process easier especially for beginners. Besides, compared to the previous sets that we have observed, this one has bigger pans.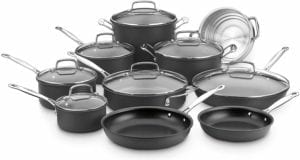 It has a bigger saucepan, saute pan, Dutch oven, stockpot, and a non-stick skillet. In total, you will get 17 pieces of cookware which is quite impressive: 3 skillets. a big 8 squat Stockpot, 3 saucepans, and a steamer insert. The saute pan comes with a helper and a cover as well. The rest of the set has the cover too.
The lids in this set have a tight fit for sealing purposes. The sealing helps to prevent any nutrients and moisture from escaping. After cooking with this set you will discover that your food has more flavor than it used to. The lids are made of glass, thus you can always monitor the process.
An interesting feature of this glass is that it is break-resistant. Besides, the lids are engineered in a way that even if it falls, the glass won't touch the surface. And generally, the whole set is thick when you touch it so it is the sigh that it's going to be durable.
Another feature that distinguishes this set is that it cannot be washed in the dishwashing machine. Care-cookware should be washed by hand with hot sudsy water and a sponge or soft dishcloth. Do not put in the dishwasher since harsh detergents will harm the exterior finish.
The titanium cookware handles are riveted. They are made of stainless steel and stay cook while cooking. The cookware rims prevent any dripping from occurring, which allows you to keep your kitchen as clean as possible during the process. It is also oven safe up to 500 degrees Fahrenheit.
This cookware set will be an ideal decision for large households. The price for this set is hard to be called affordable, but once more, there are a lot of pieces, so it is a long-term investment.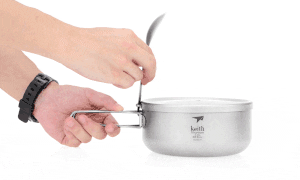 FAQ for titanium cookware sets buyers
1. Are titanium pans cooking my food much faster?
Yes. This is performance cookware. It is solid, hand-cast aluminum. Aluminum is the best heat conductor as it heats very fast. Our cookware will also heat very evenly because it's hand-cast. And finally, it will retain heat so well that you can often turn off the burner for food to finish cooking slowly. Keep that in mind when choosing cooking temperatures.
2. Can I damage the pan with metal utensils?
Metal will scratch the metal. It is recommended utilizing bamboo or silicone utensils to keep your cookware attractive in appearance for years to come. That said, scratches on the surface will not affect the cookware's non-stick quality. So if you do mark it with a metal utensil, it will still perform as specified and will not flake or peel (since it is not a chemical coating).
3. Can the non-stick coating come off into the food?
No, it can't. It is not a "chemical coating" rather it is Titanium, so it will not flake or peel. Titanium is extremely durable, and it is also inert so it will not absorb into the body. That is why it is used in medical applications such as tooth implants and hip replacements.
4. How should I store my pans?
Store or stack or nest in any manner you choose, making sure to use felt pieces in between to prevent scratching and wear. If you store your lids upside down inside your pans, pay special attention to ensure that the knobs do not touch the cooking surface and cause scratching.
The knob and the cooking surface should be in close proximity (as with the more shallow frying pans), simply place a paper towel on the cooking surface prior to placing the upside-down lid into place. Please do not leave food overnight in your cookware.
5. What happens if I burn the pan dry or scorch something in it?
If you had the pan properly heated prior to adding the food that got scorched, you can simply wipe it clean with a paper towel. If not, add water and use a mild-duty scrubber on the surface with soap and hot water (the green side of a 3M scrubber). Do not use steel wool.