Who doesn't like delicious desserts? It is a guilty pleasure for many of us. There are so many fine kinds, and one of them is creme brulee. It is a dish, made of custard with a baked caramel top. The ingredients for that are simple – all you need is creme, sugar, eggs, and vanilla.
It was originally invented in France, in the 17th century. Then it got famous in the UK and Italy, and then in the whole world. There is also such a dessert called "Catalonian cream" – it is a version of a classic creme brulee made out of milk and not creme. By the way, you can make delicious milk at home.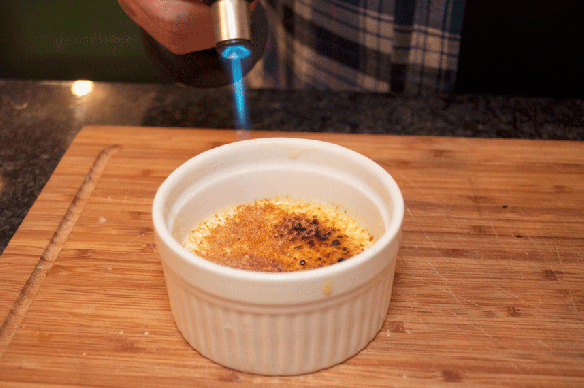 The main challenge that you might face while cooking creme brulee is you will need to add the fire to the mix. At the same time, you're probably aware that working with fire can be dangerous and you will need some sophisticated tools for that.
Luckily, there are kitchen appliances on the market which were created especially for creme brulee making. The perfect kitchen torch will make an excellent dish. However, these special torches come in a wide range of styles and boast various features.
Our Top Pick
Rösle Crème Brulee Butane/Propane Adjustable Kitchen Torch
An advanced version of a creme brulee torch, highly effective (heats up to 2,372°F) and easy in usage at the same time. Comes with a safety lock and the life-long warranty.
Check Current Price
Image
Product
Iwatani International CB-TC-PRO 2


Simple in usage
Heats up to 2,700°F
No safety lock

Check Current Price
BonJour Chef's Tools Butane Culinary / Crème Brûlée Torch


Heats up to 2,822°F
Durable and robust
Has a safety lock

Check Current Price
Butane Torch Kitchen Blow Lighter by FunOwlet


Perfect for small hands
Heats up to 2,730 F
Has a safety lock

Check Current Price

EurKitchen Butane Culinary Kitchen Torch




Outstanding design
Heats up to 2,370°F
Has a safety lock

Check Current Price
Culinary Kitchen Cooking Blow Torch Kit by New Tron


Extra-safe
Has a safety lock
Heats up to 2,372 F

Check Current Price
Gibot Culinary Torch


Convenient button for switchin on/off the flame
Heats up to 2500 F
Has a safety lock

Check Current Price
1. Iwatani International CB-TC-PRO 2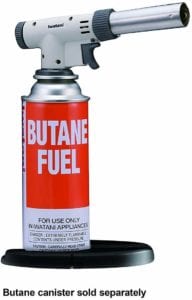 Let's start our list with the tool that is, first of all, easy in usage. The Iwatani International CB-TC-PRO 2 consists of a torch head that screws onto butane canisters. There is also a piezoelectric ignition, which makes getting the fire started extremely simple.
This appliance has a kind of ignition that is a type of electric charge. The distinctive feature of the latter is an extremely quick response. An interesting fact here is that you often can find them instilled in portable camping stoves as well as gas grills and lighters.
Another cool feature of the Iwatani International CB-TC-PRO 2 is it can heat up to 2,700°F. It also boasts a continual burning time of just under two hours. Because the butane canisters are easily replaceable, it is a good idea to have a spare one close to hand.
Pay attention to the design of this item – it is very convenient for campfires, and for takeaways in general. Not only does this help to make cooking outside an easy task, but it can also be used to quickly ignite a flame outdoors.
Apart from that, keep in mind that the Iwatani International CB-TC-PRO 2 doesn't have a safety lock. Be extremely careful when you're using this appliance. It is best to unscrew the butane canister after use, in order to prevent it from accidentally igniting.
On the other hand, the special safety plate of this device makes it super safe to hold it during the usage and its speared knobs are designed to control the shape and intensity of the flame. Among the torches for camping trips, this one could be one of the bests.
So if you're not an advanced cooker but still want to make a creme brulee without extra hassle, this is a choice for you to go for.
You may also like: 7 Best Fondue Sets Reviews
2. Rösle Crème Brulee Butane/Propane Adjustable Kitchen Torch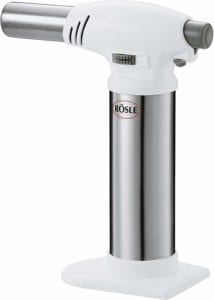 And if you want a more advanced appliance to feel like a pro, then this product will match your expectations. But keep in mind that this is a really powerful tool and you need to be in complete control to handle it.  Don't let this torch slip out of your hands – it can be extremely dangerous for you and people around.
Fortunately, the Rösle Crème Brulee Kitchen Torch is designed to be as safe as possible in use and, at the same time, be highly effective. It comes with large adjustment settings and buttons that are rendered in dark gray plastic. The topple-free base helps to provide extra safety when not in use and is accompanied by a childproof safety switch.
Another cool bonus here is that this product comes with a life-long warranty. It means that you can use it as much as you want and it shouldn't' break or go out of order.
It can melt the sugar of the creme brulee in seconds. This result is achieved without causing the custard underneath to become warm. Also, this product has an impressive flame temperature range up to 2,372°F. Getting the perfect amount of heat for the task in hand can be easy because it has an adjustable gas dial.
This feature will allow you to regulate the flame size very quickly and conveniently. Even if you're planning complex manipulations, you can burn this torch for up to an hour without refilling the canister. The product comes at a more or less affordable price. The only drawback of it is that it comes without a fuel gauge window.
3. BonJour Chef's Tools Butane Culinary / Crème Brûlée Torch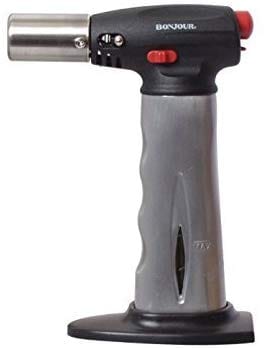 This is the tool that was specifically made for making a perfect creme brulee so all its measurements are set up for that purpose. This model can heat up to the temperature range from 2,012°F to 2,822°F which is not bad at all. Even on the highest setting, you can enjoy a burn time of 45 minutes.
This is perfect for those times when you are cooking up a storm in the kitchen. In fact, this tool is packed with useful features for cooking. For example, the extra-long nozzle makes it especially easy to direct the flame exactly to the spot where you want.
It is not only a highly-powerful item, but it is also very durable, because of its sturdy construction. Moreover, the adjustable temperature control allows you to instantly adapt the size and intensity of the flame.
And don't worry when it comes to refilling the torch since it is not a difficult task. There is a special fuel indicator window that will let you see exactly when you are running low on fuel. By the way, this is a disadvantage of this torch – it runs out of the fuel pretty quickly.
When you grab BonJour Chef's torch you can feel how comfortable it is sitting in your hand. Besides, this item has a safety lock – so you can confidently use it during the cooking process. It comes at a great affordable price, but it is a rare item to find – so hurry up to buy it!
4.
Butane Torch Kitchen Blow Lighter by FunOwlet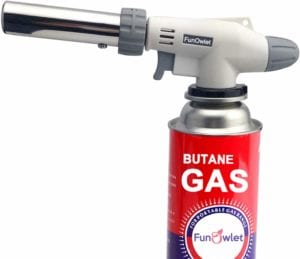 Sometimes it can be a problem for those who have small hands to hold a regular torch. Luckily, nowadays the market has the options literally for every size and taste – and this item will be perfect for those who are naturally petite. Moreover, a torch must always be held properly by one using it, otherwise, it is not a safe way of utilization.
With its silver body and solid design, you can be sure that this kitchen torch is especially durable. This is backed up by a comprehensive lifetime warranty. If the Butane Torch Kitchen Blow Lighter by FunOwlet fails at any time for any reason, it will be fixed or replaced free of charge.
Considering the temperature, here you have it at 2,730 degrees Fahrenheit, which is suitable not only for cooking creme brulee but any other dishes requiring the torch fire as well. Despite its small size, this item is incredibly powerful. You can also enjoy up to fifteen minutes of continuous use.
Actually, the safety features are more than enough here. The fire locking mechanism turns off the torch and prevents children from accidentally turning it on. This mechanism can also be used to keep the flame on when you require continuous use.
The nozzle of this model is angled and it means it's super comfortable in usage. If it runs out of the fuel, you can easily replace the balloon with gas. The only drawback here is that it doesn't have a gauge window. But it comes at such a great price and taking into consideration all the range of its usage, this is a great torch for the whole family!
5. EurKitchen Butane Culinary Kitchen Torch
If you look at the picture of this torch from the first sight it is clear that this item stands out. For those who appreciate stylish design in everything and decent quality, this is a good option.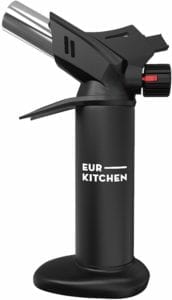 Along with that, you will find that this torch can be extremely versatile and perform a variety of tasks. In fact, it might well be the best kitchen torch for souse vide.
Here you have an item including a six-inch continuous flame. But don't worry since a flame guard comes together with it. This model is designed in a way that keeps your hands safe while you are busy in the kitchen. Moreover, ut has the topple-free base that adds a touch of extra stability and safety.
For example, there is no risk that it is going to be blown by the wind or something else.  It has been designed to be especially ergonomic and durable so that it will go the distance. In addition to that, this model is not only durable, but this lightweight kitchen torch is also especially portable.
And in case you want to go on a camping trip with your friends or family, you can always take this EurKitchen Butane Culinary Kitchen Torch with you. Roasting marshmallows beside the fire will now be much easier and safer than ever. By the way, its temperature can go up to 2,370°F.
Just like all the previous items, this one has a safety lock in case it gets into the wrong hands. It's not difficult to activate it. The disadvantage of this torch is that comes without a fuel gauge.
6. Culinary Kitchen Cooking Blow Torch Kit by New Tron
For those who are looking forward to taking their cooking to the next level, this would be a great tool. Being more precise, a set. Moreover, one of the main features of this torch is its upgraded safety. It's especially important if you have little kids at home and it's just impossible to watch them all the time.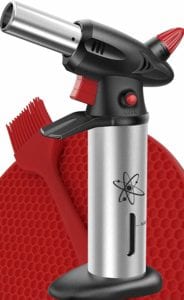 But this torch by New Tron seems to have solved this problem. It comes with a special safety lock. The child safety lock is designed to prevent accidental ignition due to curious fingers. There is also a built-in flame guard that prevents accidental flare-ups.
This model doesn't only has an ergonomic design, but it also has a hand protection guard. The design of this item allows you to keep your fingers safe from the flame heat during use. Even when you're using it at the highest temperatures, you can be sure that your hands will be fully protected.
You can use this torch by New Iron up to 60 minutes which is quite impressive. This is sure to be sufficient for preparing a large number of dishes for a dinner party. This item can heat up to 2,372 degrees Fahrenheit means that this torch is suitable for a wide range of tasks.
Besides, it's not only the single torch, it's a complete set, it comes with a silicone non-slip heat resistant pot holder and a silicone basting brush. Those will make your cooking process more comfortable.
What is more, it might look complex, but it is actually easy to refill. The special fuel gauge window allows you to see exactly how much fuel remains at a single glance. Thus, unlike in cases with all the previous items, you won't suddenly run out of the fuel in the middle of the cooking process.
It's a great set at a great price, which will serve you a long life. But since it has so many functions and so reliable, be ready for it consumes lots of fuel – you will need to refill it often.
You can also check: 7 Best Ice Cream Scoops Reviews
7. Gibot Culinary Torch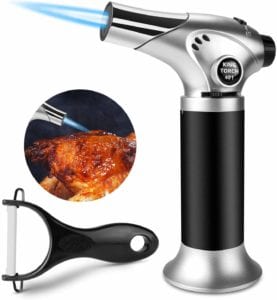 Another interesting model on our list that makes not to question its safety and convenience. Take a note that this model doesn't have a separate trigger, but it has the advanced flame controls, allowing you to precisely get the result that you want.
All you have to do is simply press the button to ignite the flame and start cooking. When you are done, the same button can be turned counterclockwise. This button is located very close to your hand to save you for searching for it while using the torch.
Another distinctive feature of this torch is its possibility to create a continuous flame. With it, you can keep the flame burning for an impressive five minutes if you wish. There will no longer be the need to keep on pressing the button in order to keep the flame ignited.
This torch can heat up to 2500 degrees Fahrenheit. And this is probably the easiest torch in our list to switch on/off the flame. You can make not only the topping for your creme brulee with it, but also create a delicious brown layer on BBQ.
Just like in the previous models, Gibot Culinary Torch has a safety lock so the item can't be utilized when it's not in use. The safety of this model is also enhanced by the durable and sturdy base. Unfortunately, the manufacturer didn't add the fuel gauge window to this torch so be mindful considering the flame supply here.
Another dubious moment of this item is that its fuel capacity is rather low compared to other products. Still, it will be good for occasional use, plus its affordable price will fit the needs of those who will use it, maybe a couple of times. so there is no need to invest a lot of money into it.
FAQ for creme brulee torches buyers
1. How often do you need to change the fuel storage of the torch? 
It depends on the model and how often you use the torch. But at a moderate usage (which is a couple of times a month), you will probably need to refill it each two-four months. Remember that the hot flame requires a lot of fuel so the higher the temperature, the higher is the consumption.
2. Do I have to fill the torch up before the first usage or it comes filled already? 
Yes, you will probably have to fill a new item. It is not very safe to transport the torches which already have the gas inside.
3. How can I find the correct cans of butane to use? 
The most important thing when buying butane for this culinary torch is to choose the type that is used for filling cigarette lighters. The nozzle on these cans fits the valve on the cooking torch perfectly. The type of butane for camping stoves does not work as the nozzle doesn't fit properly.
There are 2 sizes of cigarette lighter butane available on Amazon – 42g, and 165g. Either of these will work with this kitchen torch. Your choice will depend on how much you plan to use it. The small can will only fill the torch once while the larger one will fill it 4 to 5 times.
When the torch is full, a single fill of butane can last up to 60 minutes. However, if you are using the torch on full power it may not last so long. It really depends on what you are using it for and how hot you need it.