Speaking of breakfast, it's worth mentioning that all people prefer completely different dishes.
Some people like to eat a whole stack of pancakes and syrups, some people prefer porridge, but there is no denying that yogurt and cereal or granola is the perfect delicious combination. If you stick to the right diet but like to eat muesli with fruit yogurt, you can make homemade natural yogurts with natural fillers.
It is also worth noting that if you want your family and children to eat only the right foods, then buying a yogurt maker is a great solution. You can regulate which ingredients to add to your product, as well as change its fatness, taste and even sweetness.
Sure, you may not get the desired result the first time. But after several times your yogurts will be much better than what you can buy in the store! So, what should you consider when choosing a quality yogurt maker for your home?
You may watch the following video for a better understanding of how to make greek yogurt:
Size.
Automated yogurt and other devices usually have a large enough size. They are designed to prepare at once a large portion of the product, as well as for batch preparation.
The size of the desired yogurt maker depends on how many portions of yogurt you want. For example, models with 6-8 portions of yogurt are much bigger than devices for cooking one large total portion of yogurt.
Accessories and cleaning.
Yogurt fermentation and preparation should be done in a clean container. Since you will be loading the ingredients into the same dishes anyway, you will need to wash and keep them clean.
For this reason, all the accessories that come with your unit must be cleanable in the dishwasher or under running water. This way, you can keep them clean and you can be sure that the resulting product is safe.
Design.
Most likely, just like a multicooker or similar device, you will need to store your yogurt maker right on your worktop. Because the device will always be visible to you and your guests, you should consider its design. If you buy yogurt as a gift, it is worth noting that the most universal option is steel or metal models.
Automation.
Despite the modernity of all kitchen appliances, you can still find devices that only make the cooking process easier, rather than complete it.
Some yogurt appliances are designed to cook the product without your involvement, while others will require you to stir the product yourself after a while.
Of course, it's worth noting that it's most convenient to simply load milk and other ingredients and, as a result, simply get the finished product.
Duration of cycles.
You will need to know how long it will take you to prepare one portion of yogurt when you buy it. Some devices work long enough, so you'll need to schedule your breakfast yogurt from the evening onwards.
Also, the amount of time it takes to prepare a product and the ability to automate the whole process will affect the time of one cycle.
Now we suggest you get acquainted with the 5 best devices for yogurt preparation, which you can buy today.
Our Top Pick
Cuisinart CYM-100 Electronic Yogurt Maker with Automatic Cooling


Large portion of yogurt in 1 cycle
Manual time control
Function to switch to automatic cooling mode

Check Current Price
Other great yogurt makers
IMAGE
PRODUCT

Dash Greek Yogurt Maker Machine with LCD Display

Easy to store simple device.

Check current price

Euro Cuisine YM80 Yogurt Maker

Timer to clock the cooking time.

Check current price

Yogourmet 104 Electric Yogurt Maker

The ability to produce not only yogurt, but also cheese.


Check current price

Euro Cuisine GY60 Greek Yogurt maker with Stainless Steel Strainer

Ideal mesh for decanting all the liquids from Greek yogurt.


Check current price
1. Cuisinart CYM-100 Electronic Yogurt Maker with Automatic Cooling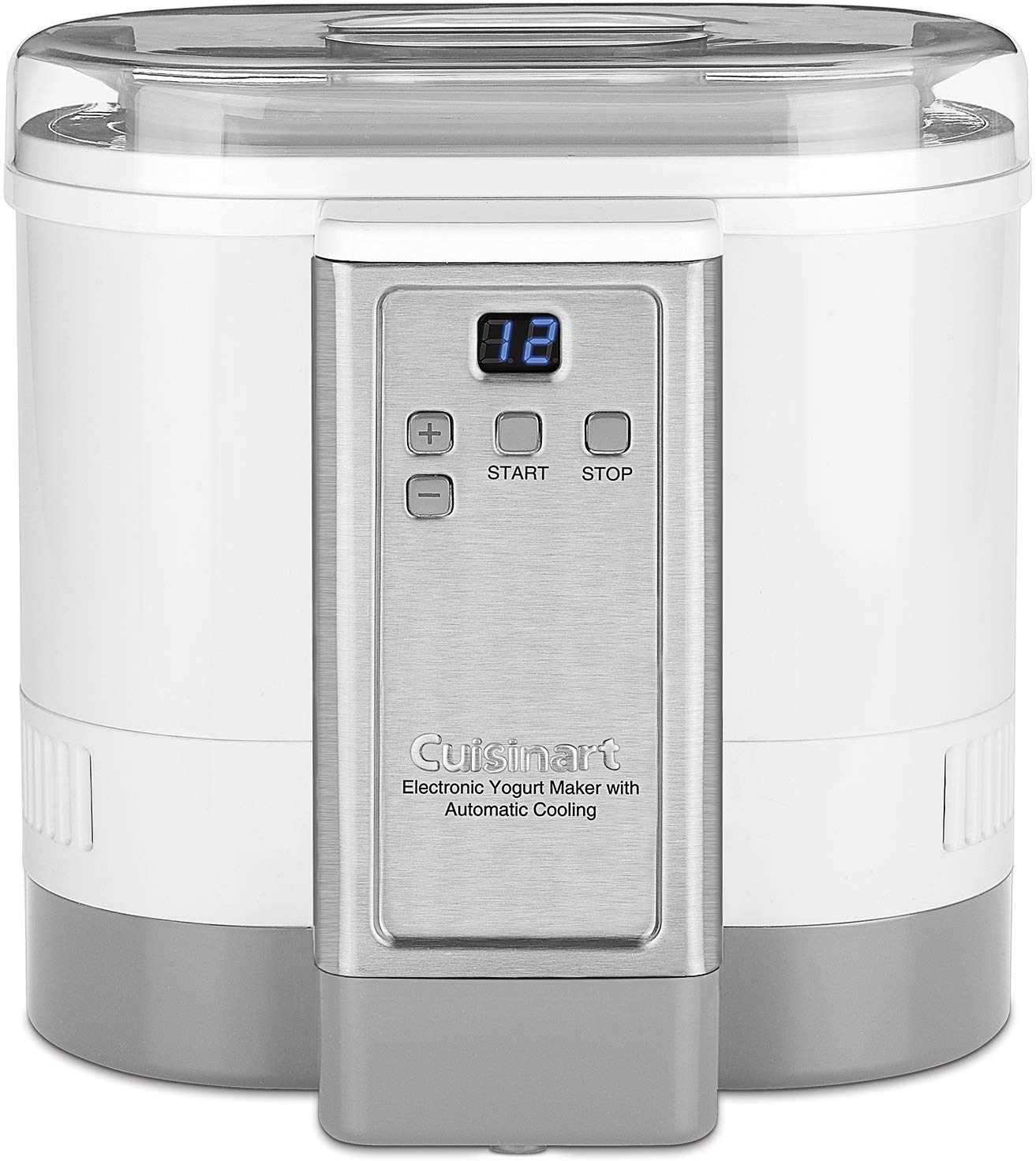 Stylish and modern, Cuisinart CYM-100 Electronic Yogurt Maker is the best representative among yogurt makers at the moment. Consumers who would like to switch to the right food and natural products can accurately evaluate the device from the best side.
You mix all your ingredients – milk, yeast, fillers and more – and then leave all the work to Cuisinart CYM-100 Electronic Yogurt Maker. The result is immediately chilled, so you can try a cool product almost immediately after cooking.
The yogurt is produced in a 50 oz container, which is quite a large family size portion. Yogurt lovers can add various fruits, sweeteners, as well as unsweetened additives in the form of greens and spices.
Cuisinart CYM-100 Electronic Yogurt Maker will help you prepare various sauces, soups, as well as standard additives to muesli or granola. Thanks to the modern style, you can place the yogurt maker right on the tabletop or counter, and the stainless steel will always look great.
You may also like: 7 Best Nut Milk Maker Reviews
2. Dash Greek Yogurt Maker Machine with LCD Display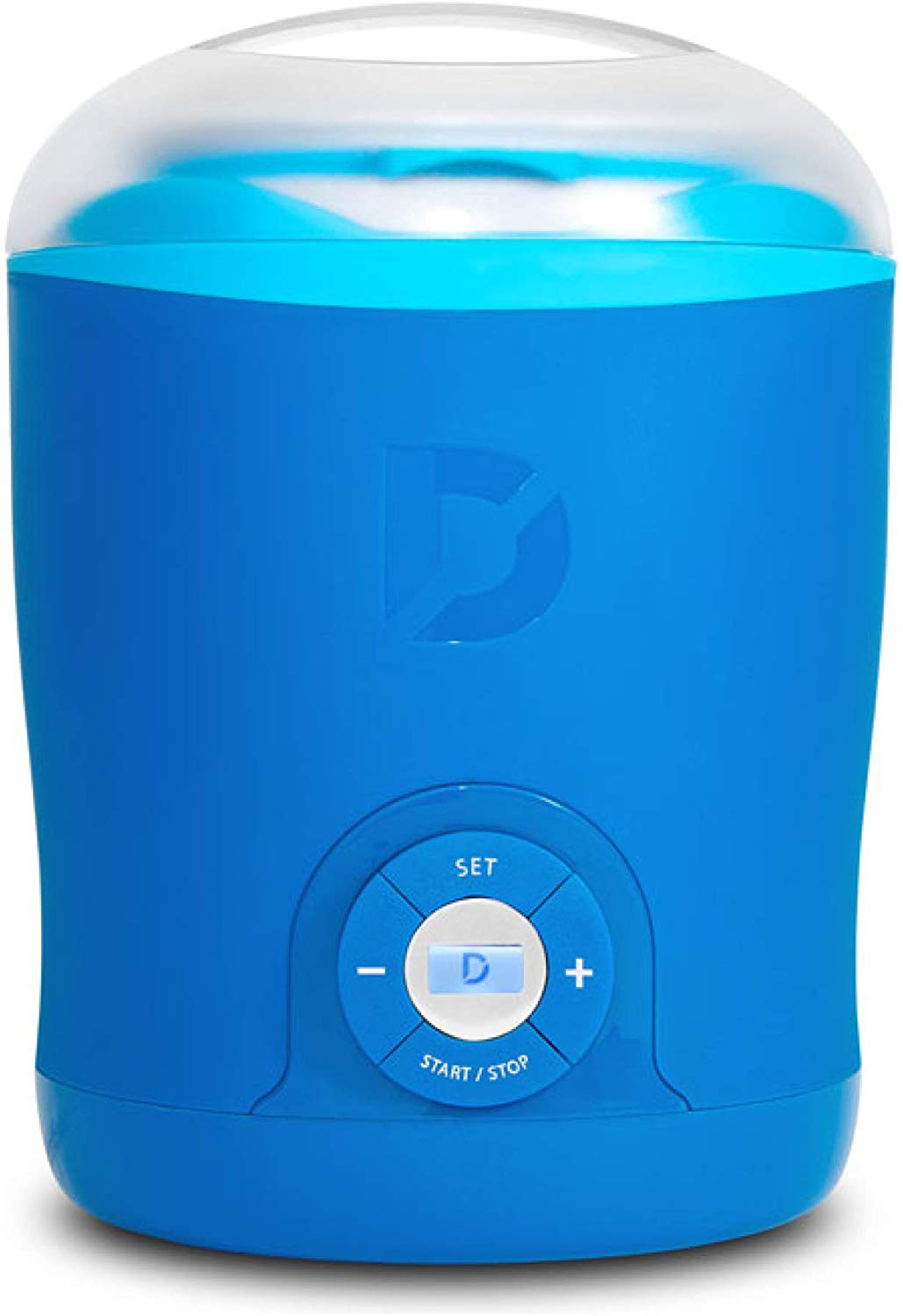 For fans of nearly manual cooking, there are also great options. The Dash Greek Yogurt Maker Machine is more suitable for those people who like simpler devices.
This yogurt maker weighs only a little – about 2 pounds and also takes up a minimum of space in your lockers. If you do not yet live in your own house or if you do not have a large area in the kitchen, it is a great option.
It only takes you 5-10 minutes to get ready for yogurt production, and the fermentation itself takes all night. You just load and mix all the ingredients, leaving them overnight at the Dash Greek Yogurt Maker Machine.
In the morning you will be waiting for the perfect Greek yogurt with no extra liquid, which will be poured into a separate container. It is the basket with the sieve that helps Greek yogurt lovers to get an incredibly thick product.
It's worth noting that you can make only 1 taste of yogurt at a time. That is, lovers of variety and taste can not always get different results in one night. In case you would like to try making yogurt yourself, Dash Greek Yogurt Maker Machine will be a budget and affordable option.
3. Euro Cuisine YM80 Yogurt Maker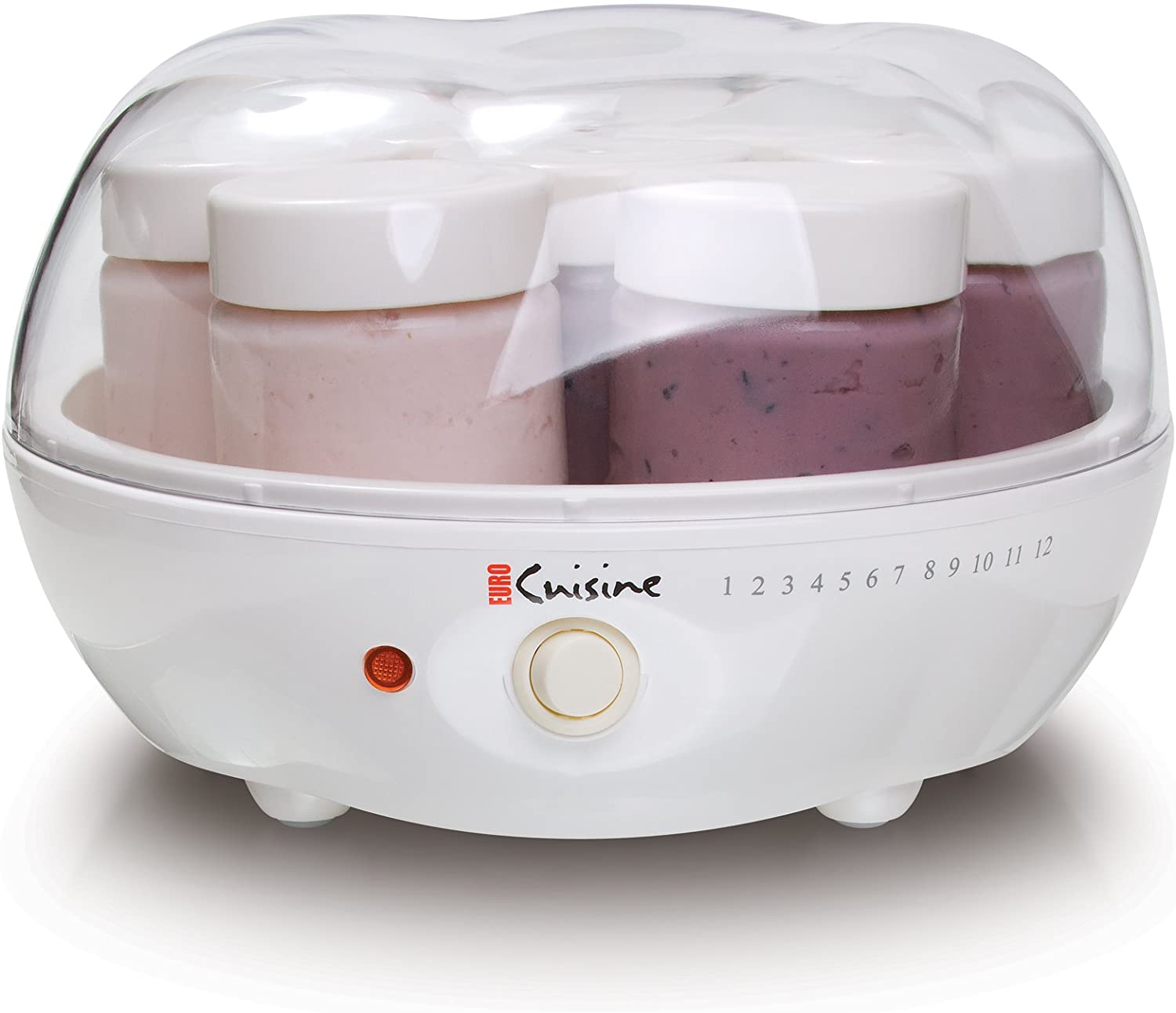 Would you like to get the perfect product right at home? Euro Cuisine YM80 Yogurt Maker is designed so that you can enjoy your favorite flavor of yogurt without fuss and excessive preparation.
This fully automated device will do all the fermentation work, and you just have to wait for the finished result. The device has a special light indicator that will show you when your yogurt is ready. There is also a timer that allows you to track how long the fermentation will last.
Depending on how thick Greek yogurt you need, you set the mode of operation. Euro Cuisine YM80 Yogurt Maker will give you the result you need in 6-10 hours. You also control the fatness, sweetness, and taste by yourself with the ingredients.
It is possible to produce 7 portions of yogurt with different tastes at the same time, as the set includes 7 portions of 6 ounces each. The taste of Greek yogurt that you will get as a result will be much better than yogurts with fruit fillers from the supermarket.
4. Yogourmet 104 Electric Yogurt Maker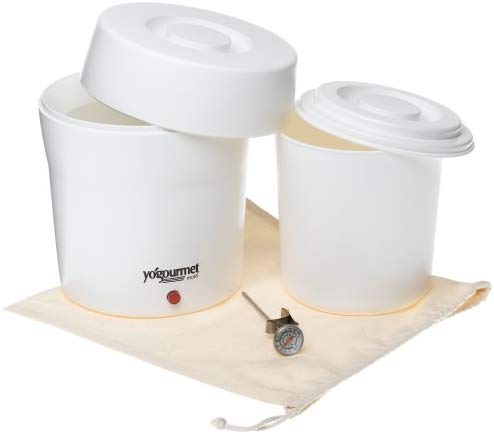 The Yogourmet 104 Electric Yogurt Maker is another device for preparing large quantities of yogurt. The device is universal and has an incredibly simple design, which will be dealt with by even the most unfamiliar person.
To prevent your yogurt from souring earlier, the Yogourmet 104 Electric Yogurt Maker offers a specially sealed lid on the container of the device. This way, the resulting product will retain its naturalness and quality for longer.
To create Yogourmet 104 Electric Yogurt Maker uses a whole system of water baths, which keep the temperature for milk fermentation. If you've made Greek yogurt before, you know that the milk temperature plays an important role in adding fermentation.
Included with the Yogourmet 104 Electric Yogurt Maker is an accurate thermometer, which will not allow you to make mistakes in the cooking process. Additional internal containers are also included.
This allows you to start cooking a new batch of Greek yogurt even while you still have the product. By the way, with the Yogourmet 104 Electric Yogurt Maker, you can even make cheese – the manufacturer adds instructions and a special bag for cooking it.
You can also check: 7 Best Cooking Creme Brulee Torches Reviews
5. Euro Cuisine GY60 Greek Yogurt Maker with Stainless Steel Strainer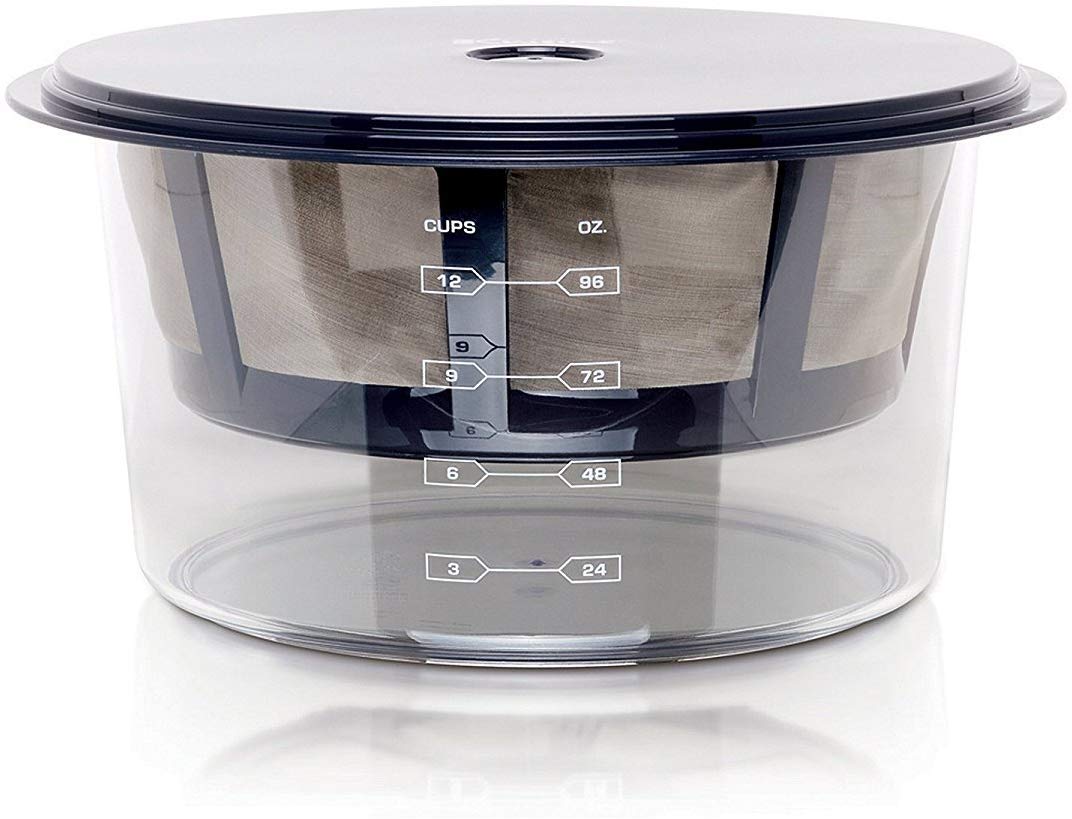 If you look at the Euro Cuisine GY60 Greek Yogurt maker for the first time, you will not realize that this is the easiest and cheapest device possible.
The appearance of the yogurt is quite stylish, and the combination of glass and steel is perfect for any kitchen. If cooking Greek yogurt is something special and domestic for you, then this device will make you happy. You can watch the process in a glass container.
By the way, Euro Cuisine GY60 Greek Yogurt maker will be a good purchase even if you already have a regular yogurt maker. The point is that you may not always like the result of the yogurt maker's work – the product can be too liquid.
In this case, you can easily use Euro Cuisine GY60 Greek Yogurt maker and bring the yogurt to a perfectly thick consistency. All the serum will be in the container and the mesh will leave a perfect thick product.
This method is also suitable for preparing cream cheese, mascarpone and curd cheeses and much more. The plastic lid of the device retains all odors so that your yogurt will not be soaked in the smell of steak from the fridge. Make Greek yogurt yourself at home without using harmful additives!
People who are used to the taste of sweet shop yogurts may not know what you are giving them at first. If you are such a person, then buying a yogurt maker may be the first step towards reducing the amount of sugar in your diet.
First of all, understand how much yogurt you want to produce and how often you will do it. Choose the model that best suits your needs, and also make fresh yogurts for you every day if necessary!
FAQ for greek yogurt maker buyers
1.
What volume is better to count on for yogurt preparation?
Each model of yogurt maker is designed to produce a certain volume of product each time. Some family models can create 6-8 glass yogurt cans in 1 cycle. It should be noted that such a home natural product spoils very quickly and can become unusable in 2 days.
If you have purchased a large model, do not load it completely every time – otherwise, you risk just losing the whole product in two days.
2.
Is it safe to ferment the product at home?
Yogurt appliances are considered completely safe for cooking food at home. For the resulting yogurts to be of high quality, it is better to use only quality and fresh ingredients, as well as to keep them clean at all times.
To prevent excess bacteria from getting into the fresh food, we recommend that you disinfect the device after each cycle. In this way, you will avoid the old product getting into a new one and prolong its shelf life.
3.
What is better – single portions or a common large fermentation container?
If you are a fan of variety, it would not be best for you to eat the same yogurt every day. When you want to prepare yogurts with different fillings, you can easily make them in an individual portioned container.
A large container is convenient for those people who make a single meal for the whole family. A large portion of one yogurt is also more suitable for different recipes and dishes.
4.
What is the difference between regular yogurt and Greek yogurt?
The way Greek yogurt is made is different from the way standard natural yogurt is made. After fermentation, you will need to remove excess liquid through a cloth or filter.
The serum will be removed, and you will still have a product of a sufficiently dense consistency – something between the curd and yogurt.
With this consistency, the taste of natural yogurt is still preserved, but you can still eat it as a separate dish even without fillers.