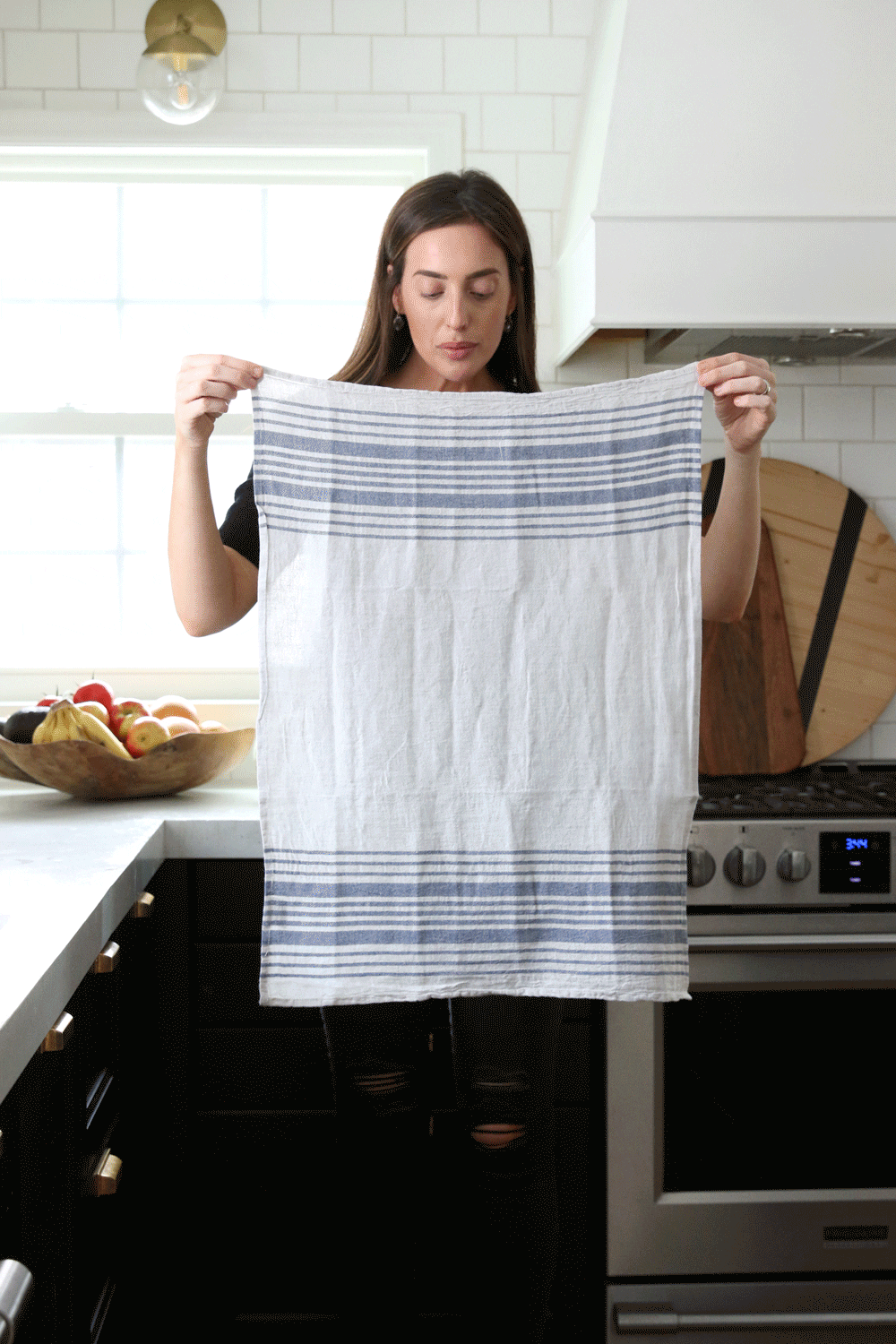 You won't be surprised if you hear that the kitchen towel is one of the most important things in the kitchen. Since the kitchen is the place that tends to become dirty faster than other rooms, it's not news that we wash something there much often. We wash dishes, cutlery, cloth, sponges and so on… At least you wash your hands before eating, right?
That's why you constantly need a towel in your kitchen, and not even one. Normally, the optimal number of kitchen towels that you should have is 3 or 4. One is for your hands, one is to replace others while they are being washed, and one for polishing the dishes.
Of course, these are only the very basic types of towels that you might have.
If we dig deeper into this topic, then there are towels for wiping the liquid, disinfecting towels, towels for hot dishes and so on. In general, all these are usually made of linen, terrycloth, and cotton.
And while cotton towels are known to be the top-quality and the most expensive ones, towels made of terrycloth are admitted to be the best absorbent.
Because of all there reasons, the choice of kitchen towels was always huge. It's easy to get lost in such a variety. Of course, the design is important but don't forget about the quality and always check out the materials. To help you to choose the optimal set of kitchen towels, we compiled the article down below.
Our Top Pick Kitchen Towel
| The Pioneer Woman Fiona | | |
| --- | --- | --- |
| | Bright and effective, they will become a decoration of every kitchen | Check Current Price |
Other great kitchen towels
1. Liliane Collection 6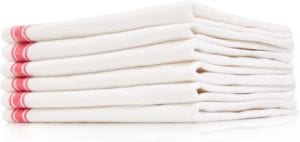 The most optimal set of towels to go for when you think about the kitchen. It is incredibly affordable and it gets the job done.
There are several versions of the sets of this product on Amazon and the price is lower than $10.
The design is classic, so for those who are looking for crazy prints – it's not your choice.
They're lightweight, absorbent, and machine-washable for easy cleaning. You can even customize the color of lines, and choose to buy them in aqua, eggplant, pebble, or spice color instead of red. As we can see, it's one of the most popular items in this category on Amazon which means it stands out for something good.
Many customers note that the color on the towel is very resistant and it stays the same even after several times as the towels were washed. This feature you can find not that often in the kitchen towels, unfortunately. The towels are made of cotton.
You may also like: 7 Best Kitchen Mats Reviews
2. Sticky Toffee Cotton Terry Kitchen Dish Towel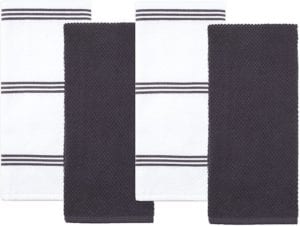 If you have read the introduction carefully, you could find out that the towels made of fiber are the best absorbents. These items are just the type. They will remove the liquid faster than cotton. Moreover, this type of towels is perfect for drying the dinnerware without leaving scratches or streaks behind.
And really, the main feature of these towels is that they are quite versatile. You can use them to dry the liquid, to wipe plates or just to put on your table before serving it. The towels have dim colors, so all the stains and dirt are not so visible, which allows to keep them unwashed for a longer period of time.
When you're buying them, there are more than 10 variants of color patterns to choose from. Durable and affordable, this set can become a good present for a wedding or housewarming.
3. Fecido Classic Kitchen Dish Towels with Hanging Loop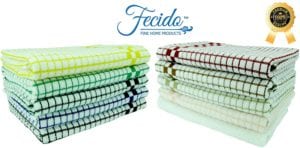 In this set, you will find the towels of the bigger size. They are nice to have in your kitchen when you need to clean a big mess. They are made of cotton and ultra-absorbent, measuring 19-by-27-inches. It's convenient to wipe the bigger plates or trays with them or just put on the table as the table cloth.
Customers appreciate the high quality of these towels. An interesting fact about them is they're produced in Europe. Another cool bonus is that they come in a variety of colors and fun patterns. If you're looking for towels to add brightness and note of fun to your kitchen interior this is a good option.
They're sold in the set of 2,4 and 10 towels. They're a little bit more expensive than previous ones, but that can be explained by their bigger size.
4. The Pioneer Woman Fiona Floral Kitchen Towels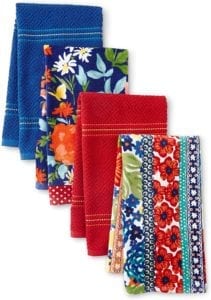 This is an option for those who like bright and eye-popping patterns. It is by far the best decorative towel set on the market. The mix of red and blue create a beautiful composition that will become the decoration of your kitchen interior.
In addition to their playful look, they're made of a cotton and polyester blend that's durable enough for everyday use. The standard set here including 4 towels, and if you explore all the options on Amazon, you will find those in a countless variety of patterns. According to customers' reviews, the quality is more than good.
However, be ready they are going to cost more than regular kitchen towels with simple patterns.
5. Utopia Kitchen Flour Sack Dish Towels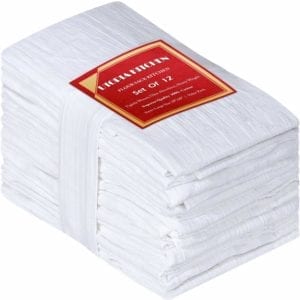 On the opposite of the previous set, this one is for those who want to buy a lot of practical kitchen towels at an affordable price. But don't look at the name, these towels are not actually made of flour sacks.
Rather, the material consists of thin cotton threads for a super lightweight towel that's ideal for drying glassware and hands – or even for use as a cheese strainer. This impressive set of 12 towels from Utopia Kitchen is made of 100 percent pure ring-spun cotton with a diagonal knit for style.
Moreover, you can easily wash them in the machine. They are lint-free and maintain their absorbent properties even after several times after being washed. This is a true investment (even though at such an affordable price it's hard to be called that) that will serve you an extra-long life.
These towels are also a great decision who wants to switch to a more environmentally friendly lifestyle. With this set, you don't have to use paper towels anymore. Moreover, with these towels, you can remove the stains from other fabrics – just apply some cleanser on it, layer it on the stain, and it should be transferred to a towel.
6. DEARTOWN Bamboo fiber Kitchen Towels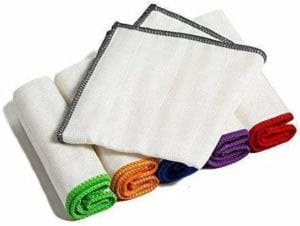 In order to add more variety to our list, we have included even the towels made of bamboo. But hold on thinking that they're here just for a check. In fact, these are very effective as absorbent, maybe even better than cotton. In addition to that, they're more environmentally friendly.
Made of 100 percent bamboo, the sustainable towels are soft, quick-drying, and incredibly versatile. You can use them to absorb anything from water to oil thanks to their naturally strong pore structure, which also makes the towels great for stain removal.
Moreover, unlike other types of materials, like cotton and fiber, bamboo is known for its anti-bacterial properties. It can even repel insects, mites, and odors. The set is available in two versions on Amazon. Considering the price, they have the same range as all the standard towels.
You can also check: 5 Best Luxury Kitchen Faucets Reviews
7. Mainstays 12 Pack Terry Kitchen Towel Set in Solid and Stripes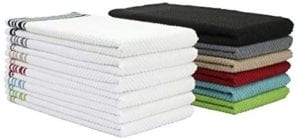 Another remarkable set of towels that is worth being mentioned on this list. This is the most optimal variant for those who want to get the most out of the least budget. If you divide the price for the number of towels in the set, you'll realize that you pay around $1 for one item.
The set contains six solid towels and six coordinating striped ones, all made of two-ply ring-spun cotton loops. Logically, they're highly practical, so they can be washed in a machine, and their thick terry cloth material is ideal for absorbing water and other liquids.
There is nothing too special about this set – but that's how they picture the perfect kitchen towels – inexpensive, good quality and practical. As a bonus, there are towels of different colors.
FAQ for kitchen towels buyers
1. Is it true that kitchen towels collect lots of bacteria? 
Well, it is, since we're talking about the kitchen with organic foods. The number of bacteria depends on what you're using the towel for and the type of food you eat. If you're using your towel to wipe liquids and dirt, keep in mind that a lot of harmful bacteria can gather on that – wash it at least once a week.
For families with no vegetarian diet, the risk of gathering bacteria on towels is higher, since those species, incubated from the meat, can be transferred onto the towel. Even if you use your kitchen towel only for drying out your hands it is recommended to wash it in the machine at least once in two weeks.
2. Can I wash kitchen towels with bath towels?
Yes, all in together at 95. You can wash towels (bathroom or kitchen), tea towels, kitchen cloths, and bedding altogether. Always wash them on a hot wash and maybe put a little bit of disinfectant in the wash too if they seem grotty.
3. How many kitchen towels should you have?
As it was stated before, the optimal quantity is 3-4 towels in the kitchen. It's not obligatory, just remember that there should always be another clean towel available in the kitchen.
4. Are dish towels sanitary?
Dish towels are a necessity for maintaining a sanitary space, whether for drying your hands and dishes or cleaning up spills on the counter. However, with all the dish duty, household chores, and major kitchen tasks that these absorbent towels provide, they also serve as an ideal breeding ground for bacteria.
5. Why do my towels stink?
Well, remember that the wet and dirty towels are always the perfect ground for bacteria breeding. That's the most frequent cause why your towel stinks – because it has the bacteria on it. Unfortunately, sometimes this smell isn't removable even by regular washing.
It means that mold cells occurred on it. To remove them you need to try to put the towel (after washing) under the sun rays or sry in an extremely dry conditions. Also, wash it with harsh disinfection detergents, such as chlorine.