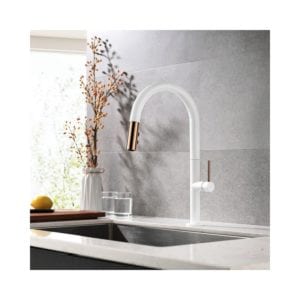 It's no wonder that we tend to pay extra attention when it comes to organizing our kitchen space or designing its outer look. Every piece of furniture seems to be important as everything adds up to the atmosphere your kitchen is about to transfer.
In addition to that, we always want to give our interior some luxury elements and feelings, so it would add lavishness to our lifestyle. At the same time, too many luxury elements can have the opposite effect and make your dwelling look gaudy. By adding luxury aspects to small, but significant parts of it, such as kitchen faucets, you'll avoid that problem.
And within these terms, picking up the most suitable kitchen sinks and faucet seems to be especially important, as this is what we use more often than anything else in the kitchen. These days you'll find various types of faucets, both budgetary and pricey luxury faucets.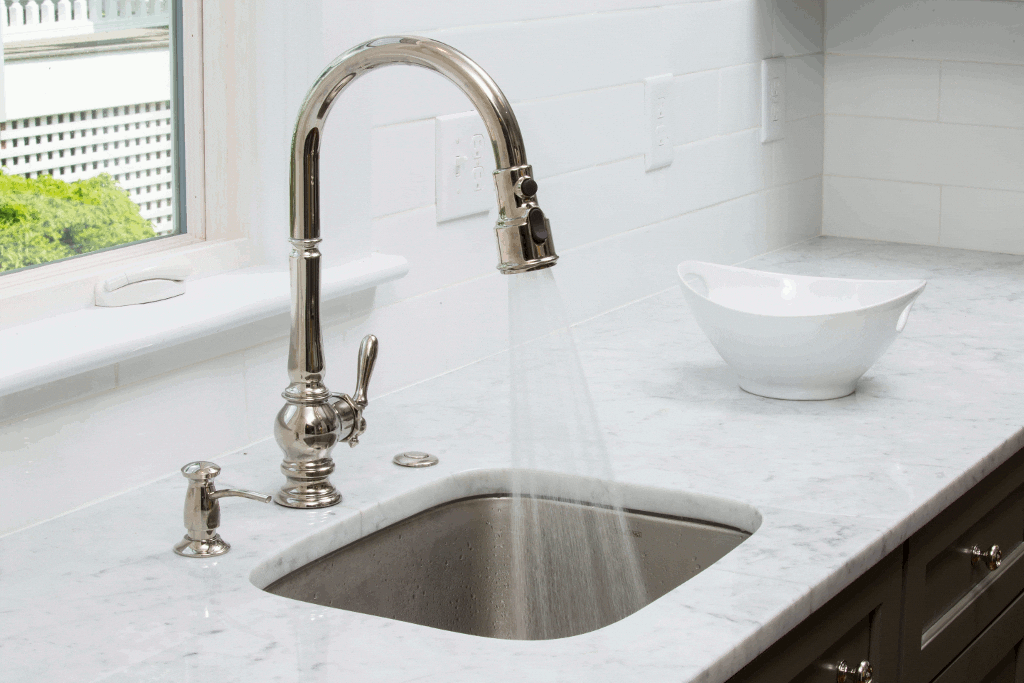 You can choose from pull-down kitchen faucets or pull-out ones. Pull-down faucets have tall necks, detachable spray heads, and long hoses. And pull-out faucets are quite similar to the earlier mentioned, except they have shorter spouts, which make them suitable for smaller kitchens.
Kitchen faucets are also categorized according to their control designs. So, you will be able to choose from single-handles and double-handles styles. In this article we aimed to review 5 best luxury kitchen faucets, considering the pros and cons to come up with the worthy to pay for and to install in your kitchen options.
Make sure to look through all the reviewed variants and you will definitely find something that you were looking for in your kitchen.
Our Top Pick Luxury Kitchen Faucet
Kitchen Faucet by Gappo

Excellent design
Easy to install
Easy to maintain
High-end materials

Check Current Price
Other great luxury kitchen faucets
Image
Product
High Arc Kitchen Faucet by WEWE


3 various modes
Nickel covering
Easy to maintain

Check Current Price
Stainless Steel Kitchen Faucet by AXOR

Check Current Price
Starck luxury kitchen faucet by AXOR


Tall
Can be repositioned
Covered with chrome

Check Current Price
Pull-Down Kitchen Faucet by Arofa


Ceramic valve
Easy installation
More affordable

Check Current Price
1. High Arc Kitchen Faucet by WEWE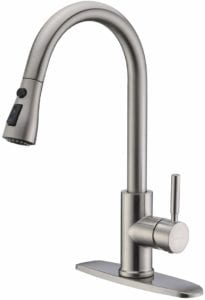 This faucet will definitely give you this top-notch experience while washing, cleaning and during all the other tasks that people usually do in the kitchen. It offers 3 different modes, which you can easily switch between each other: stream mode, spray mode and pause mode. You can do that by pressing only two black buttons.
It's not only extremely comfortable but also makes it easier to save water due to the pause mode, which you can use whenever you do the washing up. Besides, this faucet is pretty easy to install. Pull-down hose and water line hose are altogether preinstalled.
You can easily install the faucet all by yourself within just half an hour time with guided instruction. Follow the given below link to find the installation advice on the product description page.
It is less shiny than ordinary stainless steel faucets due to brushed nickel covering. But this feature is definitely not a minus as it makes the faucet look even better. The outer design is fascinating, the corp is quite sturdy and the quality proves to be high.
The material is resistant to corrosion and rust. No complicated cleaning is needed here, simply wipe the surface with a cloth. Designed to last, this faucet will serve you for years, making the meal prepping process easier and more enjoyable. And the price is pretty reasonable, comparing to other faucets of similar characteristics.
You may also like: 7 Best Pedestal Tables Reviews
2. Stainless Steel Kitchen Faucet by AXOR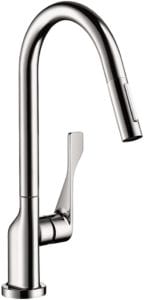 This product is designed by AXOR, a company that is known to be a trendsetter. Working to advance the product line, the company representatives take part in key international design and sanitary trade fairs, as well as design competitions and exhibitions.
Their faucets are known to be easy for installation and durable serving. Besides, the innovative elements and high-end materials are a big part of AXOR products. It has a decent reputation on the market. All the items are produced in Germany.
The faucet is approximately 16 inches tall. So keep it in mind, if you have a small sink, this way it may look a bit bigger than needed. It has two spray modes, laminar and needle. The swivel range goes up to 150 degrees. The material of the surface is designed to resist corrosion and tarnishing.
If you value authentic design and elegance in home utensils, this faucet may be the option for you. It looks sturdy and elegant at the same time and will surely give your kitchen a dreamy and glowy look.
This variant is much more expensive than the previously reviewed faucet, but if it's not an issue for you, give it a try and enjoy the high performance of this product.
3. Starck luxury kitchen faucet by AXOR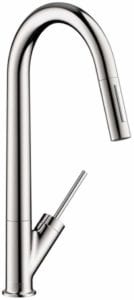 Another worthy variant by AXOR. We've already mentioned the faucet by this company earlier. This product is more expensive and has extra advantages to offer, so let's briefly look through them. It's about 17 inches tall and unlike the first model, the handles can be positioned at the right or at the left, according to your personal preferences.
Because of the height, make sure there's enough room above the sink to easily place the faucet. It is also easy to set up and you will find everything needed for installation included in the order, no extra details needed. Those who are into simplicity and elegance will certainly appreciate the design of this faucet.
The model looks contemporary and pretty minimalist, this type of design will never go out of fashion. It will look good in any kitchen. It is super sturdy and solid, you won't have to deal with the loosening of the parts after a while or with problems with leakage.
It doesn't contain plastic details and is covered with chrome. You can switch between usual spray or shower spray. This faucet is quite expensive and it is worth the price. If you were looking for a faucet of the highest quality, that will serve you for many years.
4. Kitchen Faucet by Gappo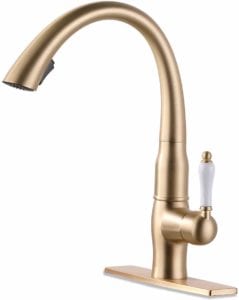 This stylish faucet comes in two colors: gold finish and oil-rubbed bronze. Both colors look decent and expensive, so if you were planning on refining your kitchen space, take a look at these models. The design looks rich and elegant.
Just as some of the earlier reviewed variants, this faucet is easy to install. You will be able to do it yourself within a short period of time. The surface also prevents corrosion and dirt from sticking onto it.
The temperature and flow rate you control, obviously, with a handle. The faucet is equipped with 20 inches pull-down sprayer. The sprayer makes the washing process much easier and efficient. Use it whenever you have to rinse anything. The sprayer easily returns into its original place due to an enhanced mechanical retraction system.
The handle has a ceramic part and a ceramic cartridge. The nozzle is made of silicon. We have nothing bad to say about its quality, so you will surely like having this faucet in your kitchen. And the price is pretty reasonable for such a worthy variant, so there are many reasons to check that out.
You can also check: 7 Best Kitchen Towels to Buy
5. Pull-Down Kitchen Faucet by Arofa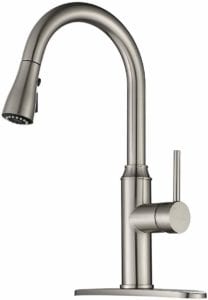 This faucet is another worthy to consider variant, especially if you find yourself on a budget. This is the cheapest options on this list. The model has a ceramic valve and all connector parts are made of metal to provide durability and efficient performance. It comes in three different neutral colors.
The installation won't be complicated either. The guided instruction is included in the order to help you install the faucet by yourself. The height is 16.4 inches, so it will be quite comfortable to wash and rinse big pots and cookware.
It is also equipped with a pull-down sprayer and an optimized retraction system to help the sprayer get back without extra effort. The faucet also offers different flow regimes to enhance your experience. The buttons to switch between the regimes are on the surface.
In spite of being cheaper than other options, this faucet has all the necessary features you might've been looking for in a kitchen faucet. And different colors to choose from give this model an extra bonus. The nickel faucet looks simple and decent, the matte black is sturdy and neutral, while the gold faucet looks luxury and elegant.
All in all, it's a great variant that seems to be durable and reliable. For its price it delivers a really decent quality of work, so you can choose this faucet for the kitchen, bathroom or any rooms where you need it.
FAQ for luxury kitchen faucets buyers
1. What should I look for in a quality kitchen faucet?
It may sound surprising, but sometimes the external look isn't the thing. The functionality, materials, and durability are more important. Your faucet can be made of gold, but does it make sense if it doesn't work?
Moreover, the item shouldn't be too expensive. Yes, investing some sums of money into things like this is important, but do you want to pay $1000 just for a faucet? Most of the people, even those who have money, would definitely decline an option like this.
Also. watch the spout height and reach. These two factors will determine the convenience of the faucet.
It's not a rule, but it's better to choose ceramic valves. Other types of valves are usually drip-free for years, but they can't match the long-term reliability of ceramic.
Choose a finish that matches nearby cabinet hardware, towel bars, etc. Mismatches look bad. If you plan to replace existing hardware, your choice of faucet finishes is wide open.
If you want to switch from two handles to one, you have to think about the number of holes in the sink. Most sinks have three holes: one for the hot handle, one for the cold and one under the spout. Some single-handle faucets include a cover plate to hide the extra holes. But some don't, so check the label. If you currently have a "widespread" bathroom faucet with two handles far from the spout, you can't switch to a single-handle model.
Two-handle faucets have a stylish symmetry that suits many bathrooms, especially traditional ones. But in practical terms, single-handle faucets are much more practical.