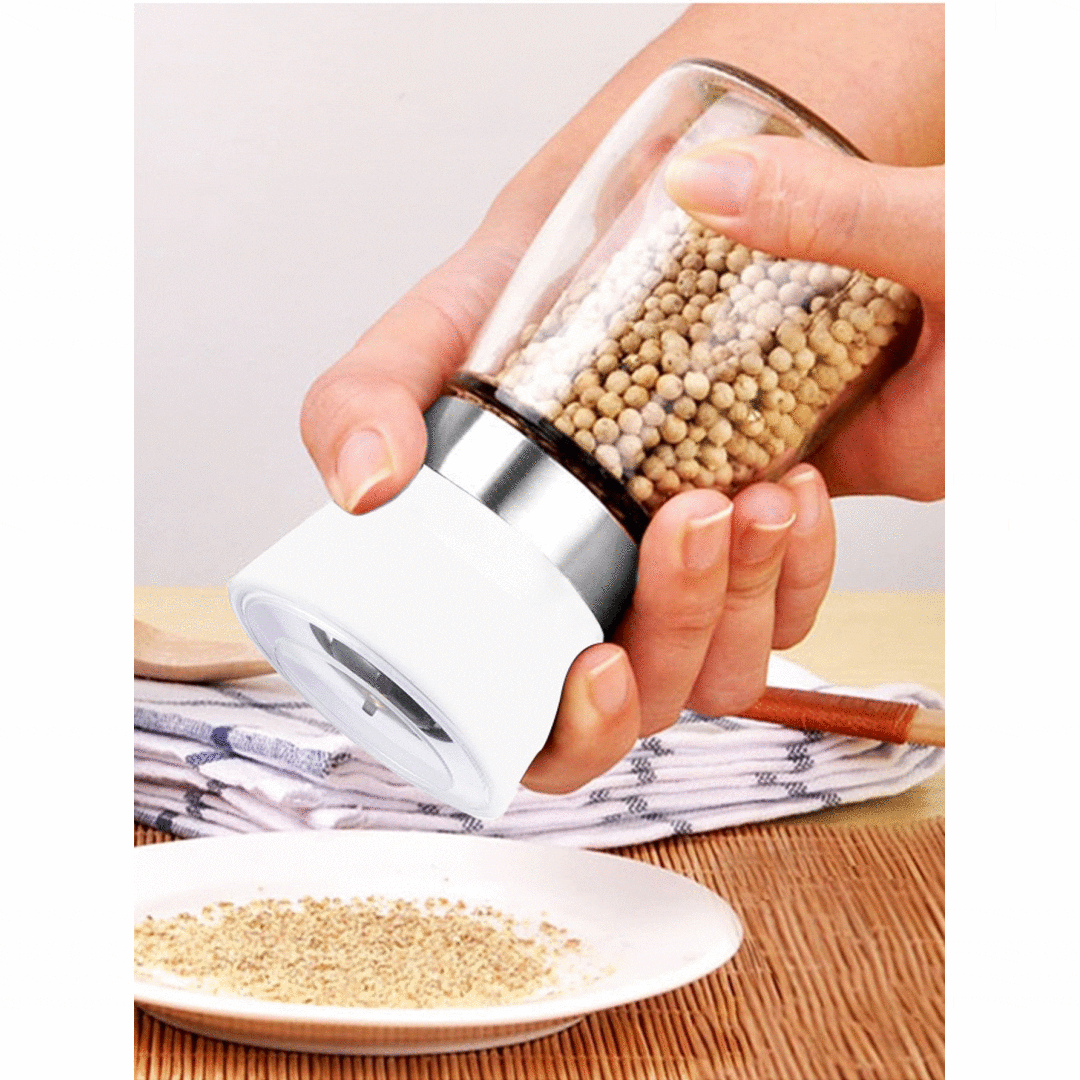 The pepper might seem so insignificant, but actually, it's one of the main elements in almost any dish. Remove the pepper from your meal and you will see how different it will taste. And if the places around the world, where the salt is extra popular, may vary, then pepper is absolutely accepted and loved everywhere.
With this, you can make your dish extra spicy in Korean style. Or you can just sprinkle a little bit on your steak in best American traditions.
Moreover, there are no bad effects known that affect your health in any bad way. Pepper can turn the most simple and boring dish into something full of flavor.
Just a few twists of the wrist will help you to get the best aroma and flavor. They can be found in all sorts of shapes, sizes, and colors. They have different grinding mechanisms, various capacities and can work either on batteries or be manual. In this list, you will see which peppermills are the best on the market so it will be easier for you to choose one.
Our Top Pick Pepper Mill
Cole & Mason Lincoln

Holds salt and pepper at the same time
Easy to use and refill
Affordable

Check Current Price
Other great pepper mills:
1. OXO 2154200

The first feature that distinguishes this item from all the other peppermills is that here the grinding mechanism is placed not at the bottom of the peppermill, but on its top. It is actually very smart detail of the design since this way you won't spill pieces of pepper each time you bring the pepper again.
On the side of the grinder, you can see the leverage that allows grinning. It's easily adjustable and you can add the pepper to anywhere, for example, quickly switch to coarsely ground pepper to coat your steak, and then choose the size fo pieces for each dish.
The overall design is also not bad and looks sleek and modern. Besides, the transparent body lets you see how much pepper is left inside the peppermill. When you need to refill it, you will see that there is nothing easier – you will simply need to unscrew the top of the grinder – and fill in or fill out the contents.
By the way, you can fill this peppermill not only with pepper. You can put salt in there, or other spices. You can mix them all together and get a nice personal mix that will bring a unique flavor to your dish. So its versatility its another advantage.
Its ceramic grinder is non-corrosive and it won't absorb flavors or odors. You can use this peppermill for all the types of dishes – obviously. The only disadvantage of it is that there is no big difference between its settings and not all of them perform well sometimes.
You may also like: 7 Best Garlic Keeper Reviews
2. Peugeot 32470 Paris Chef u'Select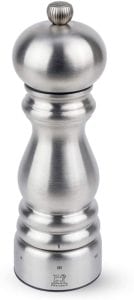 For those who want to have a luxury element even in their peppermill, this item is a decent choice. It will become the decoration for any table because of its sleek design and stainless steel materials it looks so beautiful on any kitchen. Along with that, it is efficient and adjustable.
Moreover, the item is easy to clean – you can either wipe it with a cloth or put it into the dishwasher – it's all possible and safe. There are 6 different settings to choose from, each one of a different size, from small to large, so you're in total control of the grind.
As you can guess by the name, these Peugeot peppermills are made in France and each item is tested before it goes on sale. By the way, this peppermill is available in 3 various sizes. It has a lifetime guarantee and 5 years guarantee of the exterior.
In general, it's a real gem of the peppermills industry, but only true fans will appreciate it. The reason for that is the price of this item, which will make all the people, who are just looking for an easy-to-use regular peppermill pass this one by.
3. Peugeot 25601 Olivier Roellinger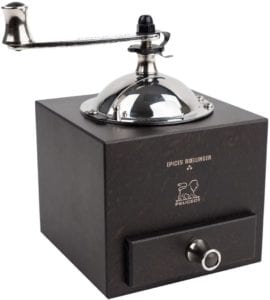 And since we started all this theme with luxury peppermills, let's pay our attention to another pearl by Peugeot company. This peppermill doesn't look like any of the previous ones – but that's the idea, it's not an everyday easy-to-use tool, it's the elegant decoration for high-end kitchens.
For those who have money and want to add the retro charm to their table this item will be perfect for buying. As you can see, it works in a little bit a different way, however, this device is still working well.
It is also convenient to use if you need a certain amount of pepper for a specific recipe. It's easy to adjust the coarseness of the grind to your preference. Refilling is easy as well.
Overall, of course, this is the signature item by Peugeot and it could become a real gem for any table and restaurant. At the same time, it's the most expensive item on our list and even more than the previous one, it will find only its specific buyers.
4. OXO 1188400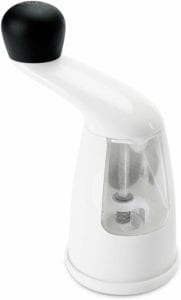 You can say that brands repeat themselves on this list, but there is nothing to do when those brands are manufacturing the best items in this industry. Here we have another great peppermill by OXO which is also a budget choice.
Along with that, it has all the necessary features you might need. You will be surprised how much pepper it can store and how simple it is in usage, and the transparent glass n the mill shows you the leftovers. Another small bonus feature of it is that it is easy to open and take several whole peppers when you need them.
The crank is easier to operate when you need a large quantity of pepper than a twist top that can be a little tiring. Moreover, with this item, you have an option just to grind the pepper inside the mill without sprinkling it onto the food, which is quite a rare feature.
Besides, you won't mess up your kitchen with the bits of pepper since this device has a special mechanism that allows you to keep everything in control. It's made of ceramic and ceramics is a reliable material for kitchen appliances. Thus, you can try ceramic cookware.
Or, just like in the case with the first item by OXO that we had on this list, you can add different ingredients like salt and grind them as well. The only drawback of this peppermill is that it has a pretty small size, so be ready that you will have to refill it quite often.
5. Cole & Mason Lincoln Duo Salt and Pepper Grinder Combo

Considering the design this item looks like the most standard peppermill. However, the main advantage of this model – it is a simple tool that performs its functions well. If you're looking for a peppermill that will be practical and will serve you a long life then this is a nice option to go for.
Another feature that distinguishes it from all the other peppermills presented on this list is that this one is filled both with salt and pepper, which add another score to its versatility. Just like an ideal peppermill, it works super simple so any user can handle it.
When you need to refill wither pepper or salt, you just open the entire grinding mechanism. The latter is made of acrylic which means it is transparent so you can see how much of each species you have left.
Compared to similar peppermills on the market, even those by OXO, this model can seem a little pricy. However, it has one of the best rankings by customers who appreciate its durability and reliability.
6. Zassenhaus Speyer Pepper Mill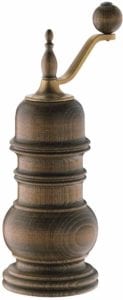 Another unusual item on our list. Even though some people might argue, but an unusual peppermill is an element that can add that special old-fashioned charm to your kitchen design, so who not to get something special! In the case of this item, we have something very classic, evoking old-world craftsmanship and high-end steakhouses.
At the same time, it has the element of a retro design, making it look like it was made, for example, a century ago in Europe. Therefore, it can explain the high price of this element. It's made from solid beechwood, lathe-turned, and operates with a metal crank.
And inside in the best modern traditions, it has the ceramic grinding mechanism with a warranty of 25 years, so you can be sure about the quality of this item. You will find the leverage can be adjusted to 6 different sizes of cutting, so you'll have just what you need, from fine to coarse.
Refilling is also simple – you need to unscrew the knob and remove the top. By the way, unlike the similar model by Peugeot, this one is more or less affordable – which is another advantage of this peppermill. The only thing here is that the grinding mechanism might be a little bit difficult to use and you'll need to get used to it.
You can also check this: 50 Must-have kitchen gadgets
7. Latent Epicure Battery Operated Salt and Pepper Grinder Set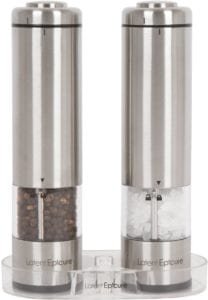 For those who are not into all the retro-stylish things and prefer to go step-in-step with time, there is an excellent peppermill by Latent Epicure. All in all, this pair look quite futuristic and interesting, but it doesn't mess up with its functionality.
Probably, the most exotic feature of this product is that it has an LED light so you can even light up your dish to see how much of a product you have added to it. As you can see this is a set of two grinders – for salt and pepper.
As a bonus, there is a holder for these two is included, so you'll never lose one. Coarseness can be selected using a knob that you will find on the bottom of the grinder, and the items are easy to refill. Another essential fact to know here is that they work on batteries, so keep that in mind before buying.
And, one more, rechargeable batteries are not recommended. The only dangerous aspect here that you should be concerned about – because of their materials they can get corroded, so it's recommended to wipe them with special chemicals.
FAQ for pepper mills buyers
1. What is the main feature I should look for in a peppermill before buying? 
The easiness of use is the key. It is fine when you have a nicely designed peppermill made of top-quality materials, but let's be honest, does that all make sense when you are struggling with such a tiny element as pepper? In this case, you would probably replace even the peppermill made of gold with a regular, but practical one. So, yes, easiness in usage is the key.
2. How often will I use the mill? 
It depends only on your preparations. But it's likely that you are going to use it quite often if you really think so thoroughly about buying even such a small tool for your kitchen.
3. Is it difficult to refill the peppermill? 
Actually, it should be easy. Beware of those complicated mechanisms that require a university degree just to open and refill them – there is a big chance that it will break soon.
4. Do pepper mills wear out?
Everything depends on the material. Because of that, it is not recommended to buy cheapest peppermills. If the burr itself is made of steel that is case-hardened, that means that it's tempered and treated with a high-carbon material to make it extra hard and sharp.
Also, pay attention to what the manufacturer says about the item – the part that has the least warranty or doesn't have it at all will wear out first.
5. Is there a difference between salt and a pepper grinder?
The primary difference between a salt mill and a pepper mill is the mechanism used to grind the spices contained within them. Here we will introduce the most 3 common materials: ceramic, stainless steel and carbon steel. Peppermills tend to be made of either stainless steel and, less frequently, carbon. Salt mills, on the other hand, are made from ceramic.