Vacuum sealers have long ceased to be something special in home kitchens. People who want to improve the quality of their food, do something in advance or just keep their food fresh a little longer are thinking about buying this device. Vacuuming is an advanced technology that helps to extend the shelf life of your food. How do you achieve this?
Food is placed in a plastic bag, which is designed for use with Vacuum sealers. The air is then completely evacuated and the bag is sealed. In this way, the food inside is completely closed and cannot be exposed to bacteria or oxygen. This also prevents smells from mixing in the refrigerator during storage.
There are several types of Vacuum sealers – domestic and industrial. Among them, there are two sizes of Vacuum sealers – handheld and desktop. Hand-held Vacuum sealers are not the most practical option and have low suction power.
It is also possible to note universal models, which can work not only with food but also with clothes and much more. Of course, for home use, it is better to buy non-specialized Vacuum sealers. We decided to tell you about 7 best Vacuum sealers that you can use at home.
IMAGE
PRODUCT
FoodSaver FM5200

Equipped with dual heat sealing strips, it's to reach an optimal vacuum level and airtight seal.
Check price

VacMaster VP215 Chamber Vacuum Sealer

Silent and powerful thanks to the rotary oil pump.


Check price

NutriChef Vacuum Sealer

Lightweight and compact which can be placed on any kitchen counter top with stain-resistant housing .


Check price

Avid Armor Vacuum Sealer Machine

Tested quality for use in restaurants, industrial, by outdoors-men & women, professional & home processing and sous vide vacuum cooking.


Check price

Weston Pro-2300

It's the perfect tool for preserving your prized catch or preparing your garden vegetables for freezing, Fits a variety of bag sizes.


Check price

NESCO VS-02

Fully automatic, one touch operation, and automatic shut off.


Check price

GERYON Vacuum Sealer

The most budget-friendly and practical option for home use and food preparation.


Check price
1. FoodSaver FM5200 2-in-1 Automatic Vacuum Sealer Machine with Express Bag Maker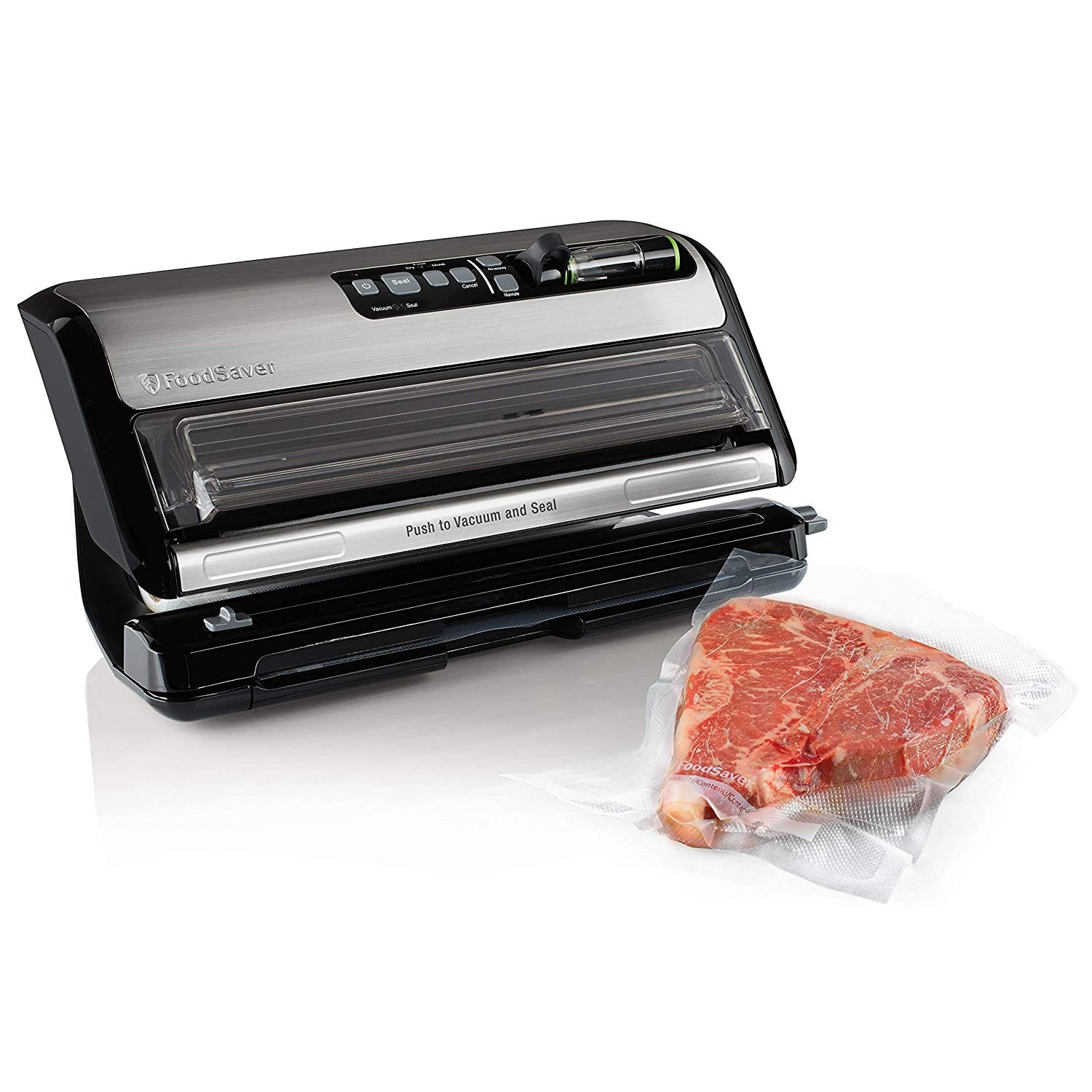 FoodSaver is a company that has been producing Vacuum sealers for a long time. They have their own customer base, who are happy to buy all new products produced by the company. One of the new improved versions of Vacuum sealers is FoodSaver FM5200, which, according to the manufacturers, reduces the number of stages and time for vacuuming.
In the case of FoodSaver FM5200, there is a convenient window, which allows you to control the place of bag sealing. This allows you to do everything as carefully and losslessly as possible. The FoodSaver FM5200 also handles the pickling and canning process perfectly.
The device automatically detects the moisture level and switches to the desired operating mode. You will not lose a drop of juice when packing, for example, meat. If, on the contrary, you want to remove all the liquid and air from the bag, the FoodSaver FM5200 will collect all the overflow liquid in a separate pallet, which you can then quickly clean.
The only thing that can cause you any problems in the process of installing a new bag. You will need to insert it into the device itself, have a little fun bringing it to the installation line. You can already provide the FoodSaver FM5200 with everything else.
You may also like: Weston vs FoodSaver vacuum sealers comparison
2. VacMaster VP215 Chamber Vacuum Sealer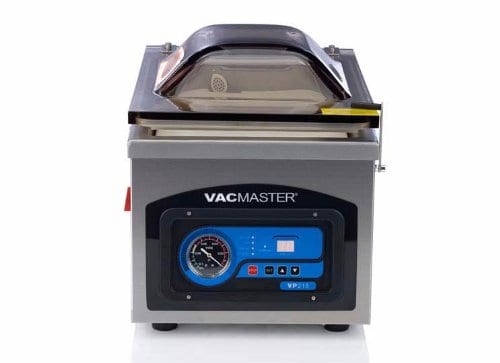 If you stick to your diet plan – for example, if you freeze meat, vegetables, and fish beforehand – you will definitely need a food sealer. By choosing from the many models on the market, you will need to conduct a fairly serious analysis of your needs. So, for example, you may come across models with oil pumps. Such a device is VacMaster VP215, which is perfectly suited for home use and can be found in the kitchen cafes and restaurants.
VacMaster VP215 has a rotary oil pump, which extends its service life and ensures quiet operation. There's no need to be afraid of oil mechanisms; you only need to change the oil once a year or even less, but you'll get an incredibly quiet device.
The entire process is presented step by step on the accompanying vacuum sealer papers. VacMaster VP215's vacuum sealing time is limited to 35 seconds – usually a much shorter process. You can stop it with a special button. VacMaster VP215 is perfect for extending the shelf life of products that contain sufficient moisture.
The device will not "dehydrate" them, but will preserve all the properties. Also, you will not have to wait for some time between bags: you can perform many operations in a row. It should be noted that VacMaster VP215 weighs quite a lot, so it will be hard to lift it every time.
3. NutriChef Vacuum Sealer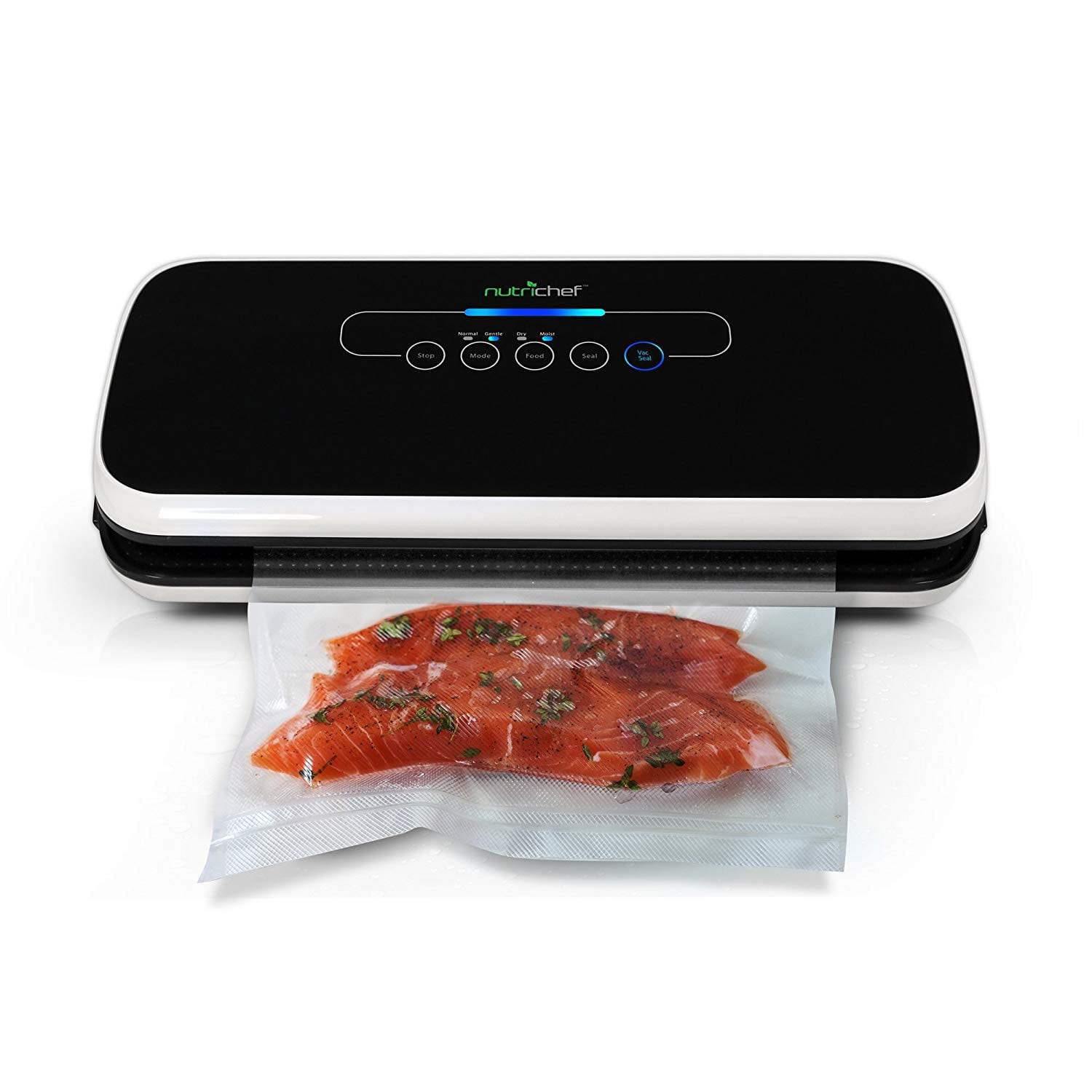 NutriChef can be placed even in the smallest kitchen, as it does not take up much space. The body of the vacuum sealer is made of a special material that does not absorb stains or random drops or liquids. NutriChef sucks all the air out of the bags, preserving the aroma and taste of the food. At the same time, you only make one-touch – the rest of the work can be provided to the device.
The bags that are included can be reused – especially if you just prepare the food in advance. When vacuuming, you will need to choose which type of product you are sealing – dry or wet. NutriChef will depending on this, do the whole process without damaging the food in the bag.
In addition to vacuuming, the device allows you to simply seal the bags, which is also sometimes necessary. The buttons on the device are incredibly sensitive, so the whole sealing process is very easy for you. Remember to clean the vacuum sealer sometimes, so your products won't get bacteria on them and your NutriChef will last even longer.
4. Avid Armor Vacuum Sealer Machine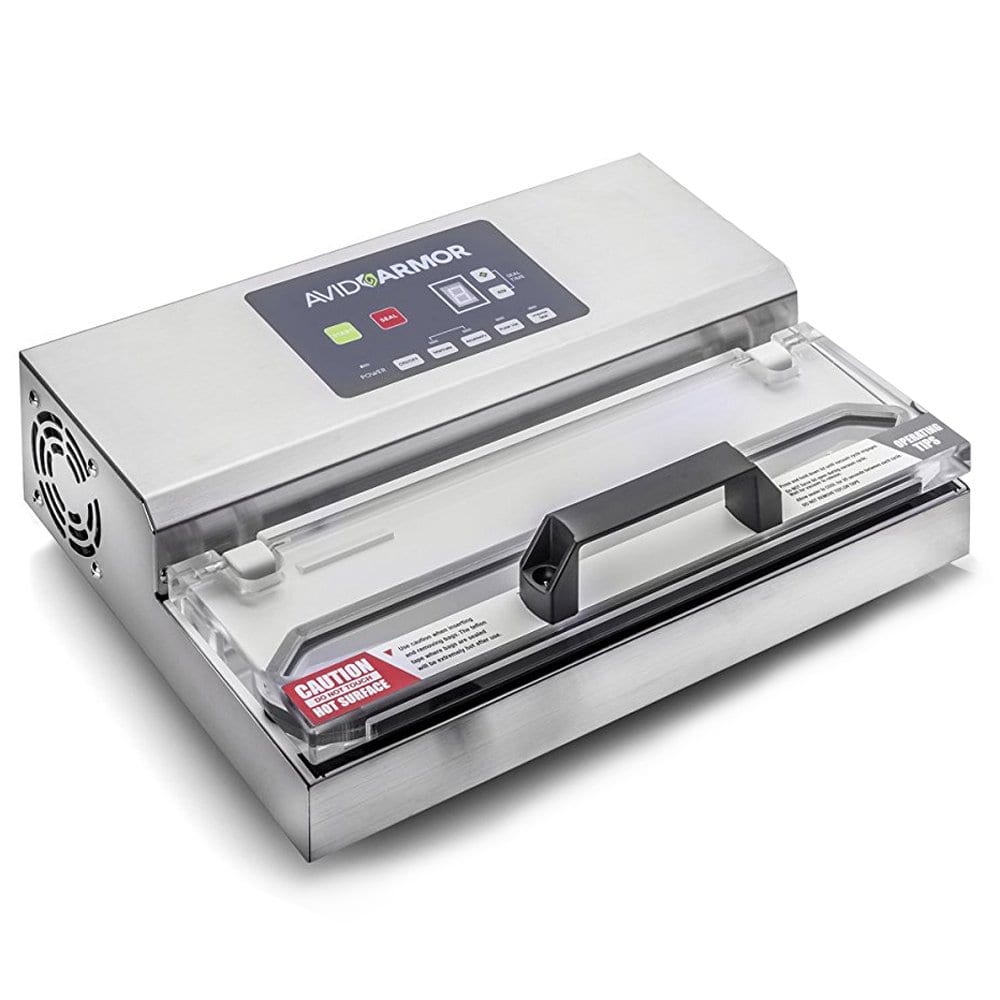 If you've previously encountered vacuum sealers, you know it's impossible to seal another warm meal. All manufacturers say that everything needs to be cooled down before it can be sealed – even if you are cooking for a week. With Avid Armor you simply do not have such problems! It works perfectly with both cold and warm dishes, without keeping you waiting.
Because some products do not require complete vacuuming – for example, bread or cheese – you can turn on the custom function. You will decide for yourself at what point to complete the process in order not to spoil the product quality. Avid Armor can be used literally everywhere and for any purpose. even for Sous Vide cookers.
The device perfectly handles the marinating process and can also be installed in the kitchen of any restaurant. It is worth noting that you can easily learn how to use the Avid Armor, which will significantly reduce the risk of unsuccessful vacuuming.
Sealing here can be controlled by the user, which is also a measure of convenience. The Avid Armor comes with several spare parts that you can change on your own – you won't have to pay extra for minor maintenance.
5. Weston Pro-2300 Commercial Grade Stainless Steel Vacuum Sealer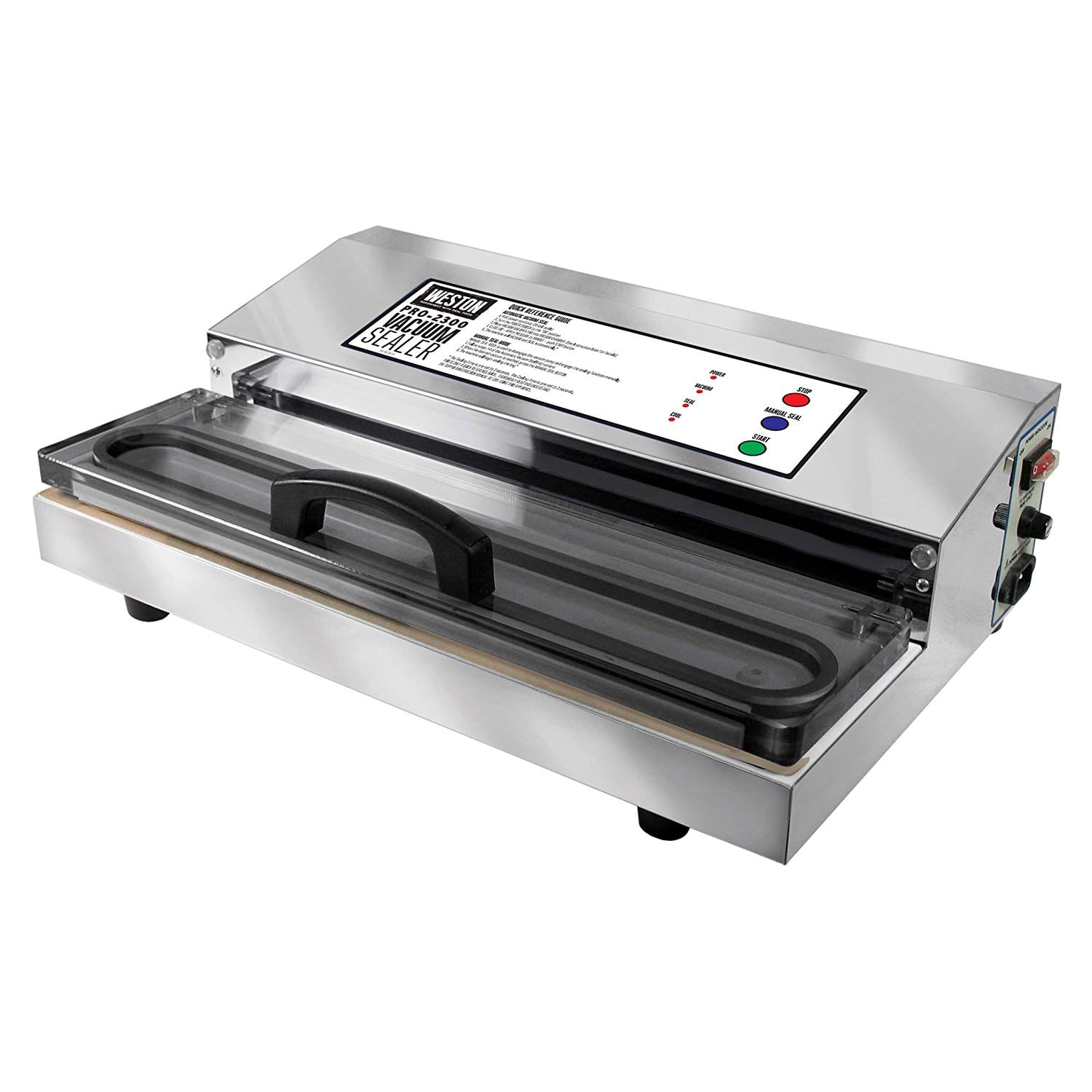 Weston Pro-2300 can be rightly considered one of the most powerful vacuum sealers on the market. It is heavy enough and has impressive performance characteristics. The speed is provided by a double piston pump, which speeds up the process compared to other vacuum sealers. With Weston Pro-2300 you can use vacuum bags of completely different sizes depending on the products you are sealing.
The engine of Weston Pro-2300 is equipped with a cooling system, which allows you to work literally without interruptions for a long time. You can also adjust the degree of product sealing yourself – for example, by packing something tender or soft.
Despite all its power, Weston Pro-2300 is easy enough to use and practically all you need to do is click on the start. Also, a significant advantage of this model is the ability to seal oil products – and not all sealers can cope with this.
The sealer in Weston Pro-2300 works for glory, as it can work even with oil in a sealing zone. It can be said that the device fully justifies its price.
6. NESCO VS-02, Food Vacuum Sealing System with Bag Starter Kit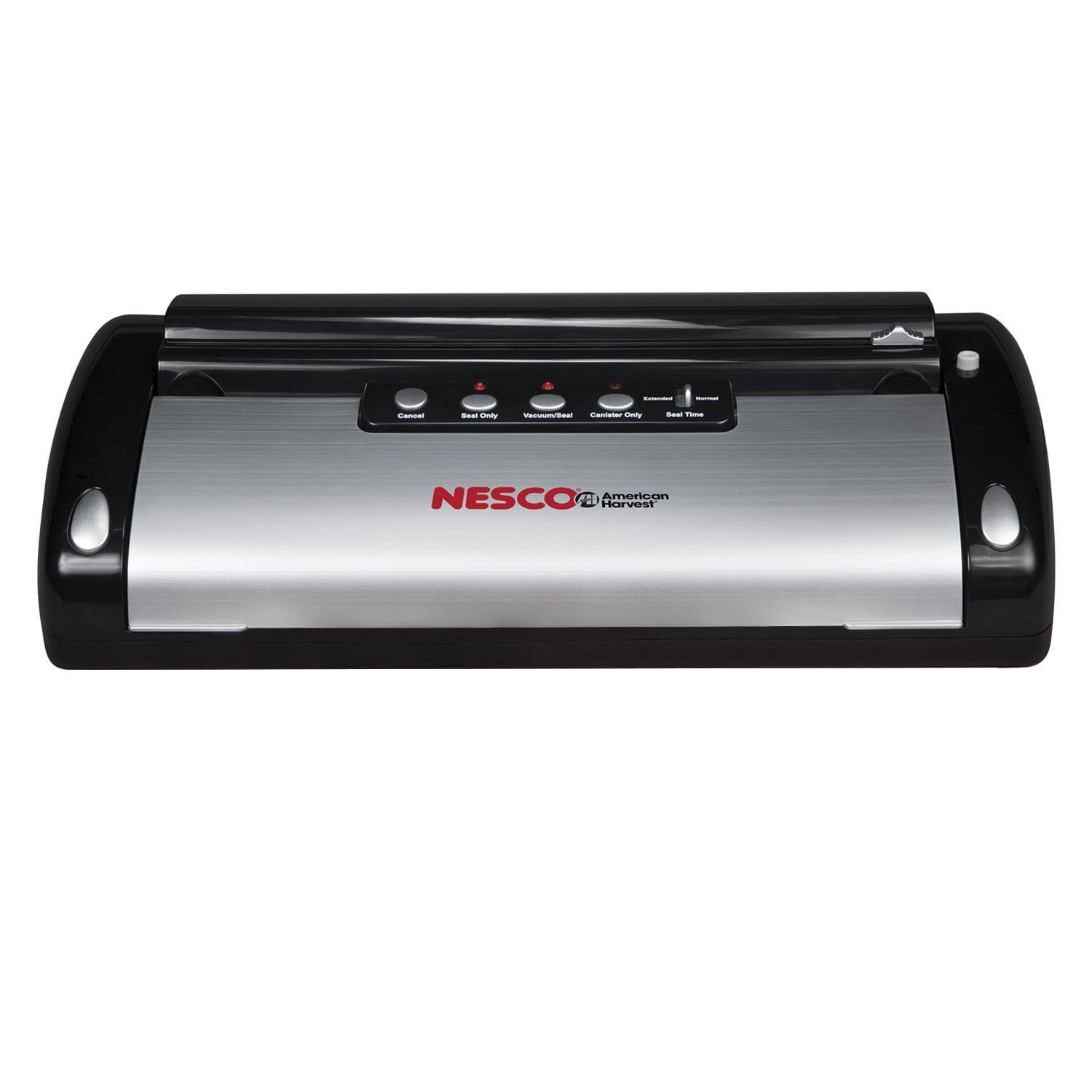 If you are not used to touch control system or you are looking for something as a gift for adults, NESCO VS-02 may become your favorite. Instead of the currently popular sensors, the device retains buttons that automate the sealing process.
All the work is done with just one click, and the vacuum sealer switches itself off when the work is finished. You can determine by the indicators whether NESCO VS-02 is currently in operation or not.
As with many other devices, you can control the degree of product sealing in NESCO VS-02 by yourself. It's worth talking about the right bags for the job, too. The new device comes with several at once, but it is definitely not enough for long term use.
Inside the bag sealer itself, there is a place where you can mark only a small amount of prepared plastic. The size of the bags is limited to 11.8 inches in width. When working with products containing liquid or marinade, NESCO VS-02 is just as good, but it is worth noting that excess moisture will damage the device. It sucks out the liquid, and you'll need to clean the pump and vacuum chamber later on.
You can also check: 7 Best Food Dehydrators Reviews
7. GERYON Vacuum Sealer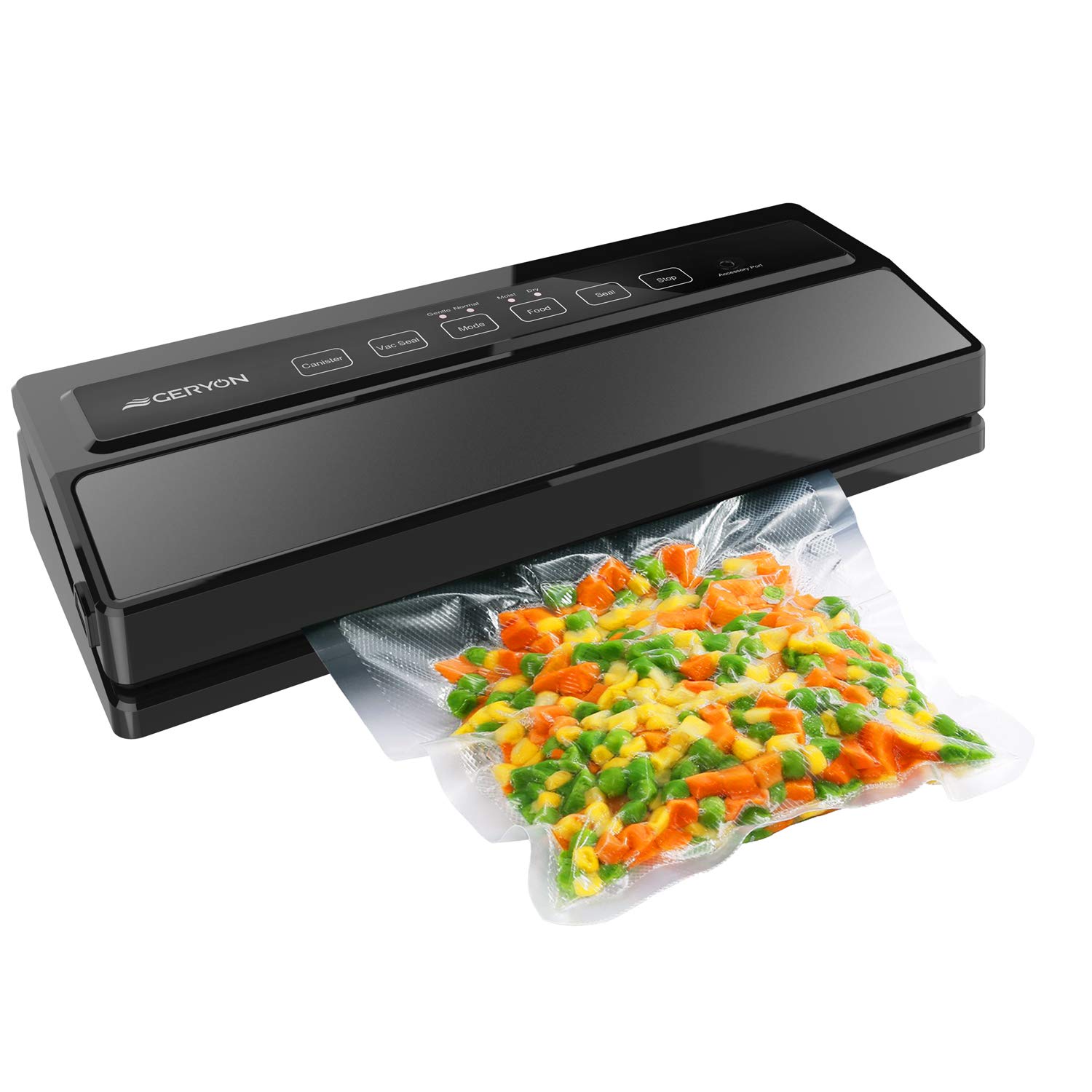 GERYON is the most budget option that can also meet the needs of consumers. This machine will save not only your time but also your money – after all, you will not spend much on a home vacuum sealer.
You can also save money on food – just buy a lot of products in bulk, and GERYON will extend their shelf life. For ease of use, GERYON has LED indicators and touch screen control.
The cost of the device is shown on its equipment. With GERYON you will not get a year's supply of bags or anything else. However, you will be able to find bags of this brand in many stores and will not have the problem of finding additional parts.
GERYON does not take up much space, works quietly and quickly, and maintenance is easy. For example, you can simply lift or remove the top cover to clean the vacuum sealer. The device can be transported even when it is disassembled – you can easily reassemble it yourself. GERYON perfectly seals the food exactly as you need it.
FAQ for vacuum sealer buyers
1.
What can a vacuum sealer do?
The main task of a vacuum sealer is sealing. Devices actually seal objects inside a plastic, pumping all the air out of them. The edges of the plastic bag are immediately sealed so that the air cannot get inside again.
In vacuum bags, products and other items practically do not change their properties and do not dry out – as there are no bacteria on their surface and there is no place for moisture to evaporate.
2.
What can I vacuum with this device?
The range of applications for a vacuum sealer is incredibly large. Not only can you prepare products for yourself and your family – for example, sandwiches for work or freshly sliced vegetables – but you can also make semi-products for long-term storage and frozen vegetable mixes.
In addition to foodstuffs, the vacuum sealer can significantly increase the capacity of your closet or suitcase: by storing things in bags and getting rid of the air, you reduce their volume. The perfect suitcase picker!
3.
How long can I store my food after I vacuum it up?
The shelf life depends on the storage conditions and freshness of your food. For example, raw fish and meat steaks can be stored in the refrigerator for up to 10-12 days and in the freezer for up to 1 year.
Vegetables in cooked form can stay fresh for up to 3 weeks, and other cooked dishes for up to 2 weeks. In the frozen form, the period of food increases several times. In this case, the dishes will not lose their properties or smells.
4.
In what case should I not buy a vacuum sealer?
If you are not ready to buy packing consumables all the time, it will be a useless purchase for you. If you use the product all the time, you will need special bags and sealing containers.
For example, vacuum sealers with oil pumps also require periodic maintenance and oil changes. If it seems too expensive for you, it is definitely not worth buying.
Depending on your needs and requirements, you can customize your device yourself. In order to select the correct mode of operation, you will still have to read the instructions yourself or study the Vacuum sealers yourself a little more.
Marinating, sealing, and much more – you decide for yourself what you need at a given time. As a home helper, we recommend that you choose a model that will not be a big expense for you to buy but will be able to perform several functions at once. We hope that our article has helped you choose and now you know exactly what you need.