An omelette maker is a kitchen electrical appliance designed for cooking omelets and eggs.
There are two fundamentally different designs of these appliances:
Horizontal

The horizontal omelette maker is a double-leaf construction that looks like a waffle iron or a tortilla maker. It is a small frying pan with high edges divided into two or more sectors.
From above, it is covered with a lid of similar parameters. Under the bottom sash there is a heating electric tan.
Vertical

The vertical omelette maker is an even more compact device, the working form of which is made in the form of a cylinder with a bottom, but without a lid.
It is heated by an electric tan or heating spiral, preparing the eggs filled inside. The result is an omelette that looks like a small roll.
Horizontal omelette maker
The use of horizontal omelets is the most controversial issue. Manufacturers claim that their appliances make the omelet airier. In fact, with the right level of skill, it is possible to get a similar dish on an ordinary frying pan.
For this reason, even with a great love for omelets in the morning, buying such an appliance may be absolutely unnecessary.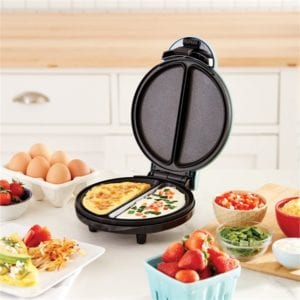 Also in case of daily cooking of this dish for a big family, it is much more convenient to do it on a large frying pan than on a small omelette.
Still, you can't be absolutely categorical saying that a horizontal omelette maker is completely useless. There are cases when such equipment will be quite desirable in the kitchen.
For example, when preparing an omelette for breakfast for one or two people, the use of an electrical device will be more convenient. The fact is that such an omelette will not need to be turned for even cooking.
It is enough just to mix all the ingredients, pour them into a heated device. Then spot the time and go to the kitchen to the device at the moment when breakfast needs to be removed from the plates.
Also note a certain versatility of horizontal omelets, with which you can cook a fairly large number of dishes.
The small size of the horizontal omelette maker allows you to cook very little in one load. Besides, the resulting dishes will always have the same shape. The productivity of such devices is very low.
Vertical omelette makers
About the use of devices of vertical type, about them, disputes inexpediency of application arise much less often.
The matter is that such devices give the chance to receive omelets and eggs frozen in a rather unusual form which cannot be reached on a frying pan.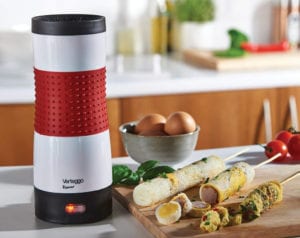 Such devices take up very little space. Externally, they resemble a small thermos, which can be placed even on the smallest shelf.
The duration of omelette preparation in vertical omelets, after heating and pouring eggs, is usually about 2 minutes. Such devices consume little energy because they have a power of only 200 W.
In case you need to cook a lot for a family of two adults and 2-3 children, such an omelette maker will be inconvenient.
Using this device allows you to cook very unusual omelets. As their filling can be used the whole sausage. It is also possible to place inside the cylinder of the device slices of ham twisted in a tube, and it is then filled with eggs placed with spices.
Similar devices can be used for other dishes. Volumes of cooking do not allow to make a stock of dishes, but it is very convenient to use such omelets for cooking a single snack.
The vertical omelette maker is more difficult to wash. Although it is equipped with a non-stick shape, it is still made in the form of a cylinder. Especially for washing, a brush comes with the device.
Also, when using vertical omelets, it is necessary to use wooden skewers, around which the omelets are baked. The skewer allows you to remove it, and it looks very interesting when serving a dish.
There is a short instruction on how to make a delicious omelette at home with this device:
It is worth noting the simplicity of the design of the omelets. Unlike other kitchen electrical equipment, they have no temperature change function. The omelette is simply plugged into a socket and immediately heated.
In separate devices on the case can be provided with a duplicate button to turn on and off. This allows you to control the power of the device without removing the cord from the socket each time. After power is supplied, the mold is heated up.
A special light indicator lights up when the device reaches the required temperature level. After that, the appliance can be used for its intended purpose.
The omelets are deprived not only of a temperature regulator but also of a timer. For this reason, the cooking time must be checked personally. Otherwise, the omelette will be baked until it burns.
Vertical omelets have a certain automatism, but not at all manufacturers. After cooking in their cylinder, the omelette roll is raised.
This happens under the influence of steam, pushing out the dense omelette almost half. This is a signal that everything is ready and the dish can be taken away.
The lack of sophisticated electronics in the device makes it quite budget-friendly. This makes it much cheaper than other types of electrical kitchen equipment.
This is the best model among omelette makers:
Our Top Pick
Electric Vertical Egg Cooker



With this great vertical egg cooker you can make an omelette perfectly every time. Combine different ingridients to make an excellent egg roll. 

Check Current Price
Other excellent omelette makers:
IMAGE
PRODUCT

lijunjp Automatic Multifunctiona Egg Roll Maker

This omelette maker is made of enviromental friendly stainless steel. It will help you to make egg roll in a short period of time. 

Check Current Price

Holstein Housewares HH-09125007R Omelet Maker

This horizontal omelette maker is a perfect tool to cook the breakfast for the whole family. 

Check Current Price

Electric Automatic Egg Roll Machine

This automatic egg cooker will allow you to prepare an unusual roll. The inner surface is made of non-stick coating. 

Check Current Price

QYY 100W Vertical Omelette Egg Roll Machine

This model is made of stainless stell. With it, you can cook delicious egg rolls. The volume of the device can hold two eggs. 

Check Current Price

Jzenzero Egg Roll Maker

With this vertical omelette maker you can enjoy egg treats like never before. This model has marvellous design. 

Check Current Price

Egg Roll Machine

The cooking process with this omelette maker lasts no more that two minutes. It comes with the rubber coating that will help to avoid burns. 

Check Current Price
Electric Vertical Egg Cooker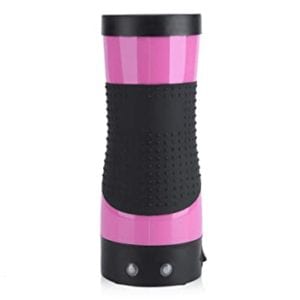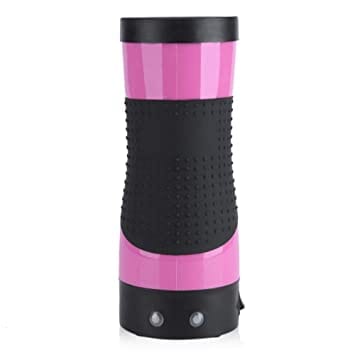 This omelette maker comes in a compact box of bright colors. The box shows the ready-made dishes and the device itself "in action".
Visually, the omelette maker gives the impression of a very well-made device. The plastic looks quite high quality.
Silicone insert on the case not only performs the function of thermal insulation.
But also prevents the device from slipping out of hand when carrying.
The omelette maker is controlled by a single switch located on the back of the device. There are two bulbs on the front side.
The red light turns on while the device is being heated, and the green light means that the omelette maker is heated to the operating temperature.
The omelette maker is accompanied by a large enough color brochure, which includes 32 recipes.
In the instructions, you can find information on how to use this gadget properly, as well as the rules of care for the omelette maker.
Before first use, it is recommended to plug the device into an outlet and let it warm up for at least 10 minutes. Then, after cooling the omelette maker, it should be washed with detergent.
In this case, the preparation for the first use is considered complete.
As for the daily care, it is quite standard. The outside of the omelette maker should be cleaned with a damp cloth, and the inside should be cleaned with the brush supplied.
The use of other appliances is undesirable, as they can damage the non-stick coating.
You may also like: 7 Best Egg Topper Reviews
lijunjp Automatic Multifunctiona Egg Roll Maker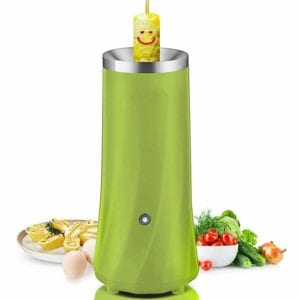 This model of omelette maker is notable for its reliability and versatility. The body of the device is made of non-heating plastic.
For stability on a tabletop, the device is equipped with rubberized legs. The work surfaces are non-stick protected.
If you are indifferent to amazing and unusual things – this vertical omelette maker for you.
Just pour one or two eggs in this glass, and in a few minutes, you will get a delicious and hot "sausage" of eggs.
If you want to diversify your morning quick snack, add to the eggs vegetables, mushrooms, ham cut into slices.
While you are going to work, the vertical omelette maker will cook breakfast in 5 minutes. All you have to do is pour the eggs inside, and then get the omelette and eat it.
The power of this model is 220W. For the device used in the home, this is enough. With such an omelette maker in 20-30 minutes, you can prepare dishes for breakfast or dinner for a family of 2-4 people.
In one cycle 2 servings are prepared. The compact device of the classical model will help the hostess to please her household with omelette and other delicacies.
This vertical device has a non-stick coating, so the omelette will not get stuck inside the "glass". It is compact and can be quickly washed with a special brush that comes with it.
The case doesn't heat up during cooking, so you won't be able to get burned by unsuccessfully grabbing the omelette in a hurry.
Holstein Housewares HH-09125007R Omelet Maker
This is another model of the classic form – good quality and performance. It has a power output of 640 W.
Two servings are prepared in one cycle. The case of the device with thermal insulation is supplied rubbed legs.
There is a light indicator, a compartment for cord storage. The working surfaces are protected with non-stick coating. This device is comfortable at work.
This omelette will make cooking breakfast fast and easy. The double-sided frying pan allows easy turning of omelets, frittatas, and sandwiches. So breakfast will look beautiful while remaining evenly cooked on both sides.
With the double omelette pan, it is easy to make a real airy Italian frittata or the perfect omelette. This omelette maker is made of high-quality aluminum for even cooking. The two-level handle stays cool during cooking.
To keep the coating longer, we recommend washing the pan with a soft sponge and soapy water, without using abrasive cleaners. Do not use the hard side of the sponge unnecessarily.
Do not leave the frying pan for long periods of time by pouring it in with water – this is bad for the non-stick coating.
After washing, it is advisable to wipe the frying pan with a paper towel or leave it on fire for a minute to allow moisture to evaporate.
Electric Automatic Egg Roll Machine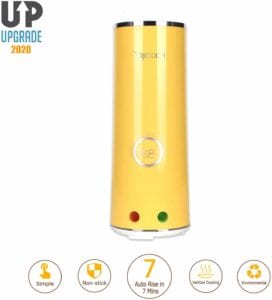 This model of omelette maker is arranged in the same way as the above-described devices.
Not distinguishing itself by its special performance, it has several comfortable details.
For example, it is a latch of the sashes that holds them tightly when cooking.
When roasting baked goods, the upper lid can be raised by steam without fixing it, which is not safe.
The specially shaped latch also allows you to place the storage unit in an upright position so that it takes up less space on the shelf.
This is a brand new appliance that will help you prepare an original egg dish in minutes. We all like to eat scrambled eggs, omelets, twisted eggs or soaked.
Now your favorite dishes will be much more original and delicious because the egg toaster is available for everyone who regrets.
This device will cook eggs of any kind, all you need to do is choose a recipe and start. It is a very common product, which is healthy, rich in protein, and not caloric.
For those who care about the usefulness of their diet, such a device will be practically necessary.
This model looks like a large thermos mug. But you can't drink from it. But, it is necessary to eat from it. The device will help you make breakfast, lunch or dinner in minutes.
All you have to do is load all the necessary ingredients inside and press a button.
This omelette maker has a special cylindrical container, in which you can insert a wooden stick, and make eggs on a stick.
Using this model you will definitely not get your hands dirty. There is not always time for long cooking, so this device will definitely save you from it.
You end up with a delicious snack, and you don't have to wash too much. All you have to do is wipe the omelette maker or wash it slightly under running water, remembering to disconnect it from the power supply.
QYY 100W Vertical Omelette Egg Roll Machine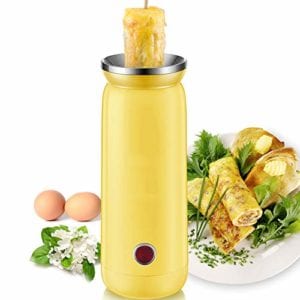 Cylindrical devices win over the classic creative method of cooking but lose out in performance. Thus, the power of this popular among users model is 210 W.
To not only surprise but also to feed seven delicious meals, the hostess will need 20-30 minutes.
As for the direct omelets, this omelette maker will help you at the highest level. She makes them airy, beautiful and incredibly tasty.
There are two ways to make them. In both cases, you have to prepare the egg mixture, beat it well.
Then, for the first option, you must first pour the forms half, put inside the stuffing (ham, cheese), and then add them to the top. In the second case, first place the ingredients intended for the filling inside the molds.
On top of them, pour the liquid base of the omelette. In both cases, the result will be excellent. It will be able to delight both the external appetite and taste.
This device is extraordinarily beautiful in its appearance. The design of its case impresses with refinement, elegance of style. The coating is shiny. The color is red with original white decorative elements.
Inside, this omelette maker is lined with a non-stick coating, which saves oil and makes the purification process much easier. Nonstick coating helps to cook faster and better. Thus, you can also use nonstick cookware.
The stability of the omelette maker on a horizontal surface is ensured by the widely spaced rubberized legs.
The upper cover is equipped with two indicators. The red lights up when the unit is connected to a power supply and the green activation is a readiness indicator.
Jzenzero Egg Roll Maker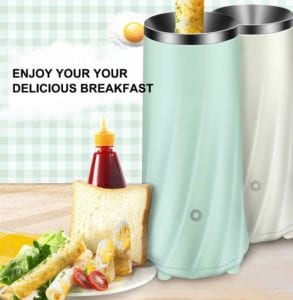 This omelette maker is an interesting kitchen appliance that will cook breakfast in a few minutes.
The vertical omelette is shaped like a cylinder with a cooking chamber inside.
The body is made of strong silicone coating and the inner chamber is made of non-stick coating.
This appliance is equipped with a heating element and heats food from all sides.
It comes with accessories: brush for cleaning, 5 skewers, spatula. This model in this appliance does not stick and is cooked with the smallest amount of oil.
If you want to surprise your guests or to prepare an interesting breakfast, you will not need much time. Take a few eggs, sausage or any other filling and start cooking.
Inside the omelette maker, there is a special tube in which you can pour eggs, or insert a pork or beef sausage. You can experiment with the device for a very long time.
You will always get a unique dish with unique flavor qualities. Create egg tubes, rolls, mugs and so on. You can add spices, vegetables – everything will be prepared to the highest level.
After using the omelette maker, wipe the inside of the device gently with a soft sponge so as not to scratch the non-stick coating. It is strictly prohibited to use a metal ruff for cleaning.
The instructions tell to use the appliance only for its intended purpose. You should not leave it on in the kitchen if there are children unattended by adults.
You can also check: 5 Best Electric Tortilla Maker Reviews
Egg Roll Machine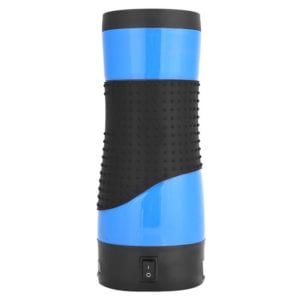 This vertical omelette maker is made of impact-resistant food plastic and equipped with a silicone gasket.
The non-stick inner coating prevents the food from sticking. The manufacturer offers its customers a choice of colors in the range.
This device has a compact size and looks like a high narrow mug.
To cook, you need to break the eggs into the cavity of the omelette maker, insert the wooden sticks that are included in the set, and wait for the egg-roll to rise.
You can also chop bacon, insert sausage, add vegetables and greens in the straw. Then you will get another, no less interesting and original dish.
Wooden sticks in the eggs can be avoided. Then you'll have to get it out using kitchen tongs.
Light and comfortable breakfast can be made in just 5-6 minutes, without dirtying the kitchen, dishes or hands. On vacation outside the home, this model will be a real helper.
Instructions insist that you clean the above-mentioned appliance well before the first use. The fact is that the factory is checking the device, so it may leave oil particles on its surface.
Under no circumstances should the device be submerged in water.
Under no circumstances should the device come into contact with a tablecloth and plastic. Always place the device on a dry and clean surface. If this surface is sensitive to high temperatures, use a special stand.
The inside surfaces of the product should not be touched by hands immediately after cooking, as they can be too hot.
FAQ for omelette maker buyers
How long does it take to make an omelette in such an appliance?
On average, 5-6 minutes. You can find more detailed information in the instructions for your device.
What else can I cook in the omelette maker?
Ham and mushroom omelets, cheese and ham omelets, banana pancakes, chicken omelets and much more.
How many eggs can I add to one omelette?
For one serving, use one egg. For two people, add two more eggs. But, do not use more than 5 eggs for one omelette.
Can I fry eggs in an omelette maker?
Yes, you can use the omelette maker to cook fried or scrambled eggs.