Everyone dreams that delicious food will appear in your kitchen by itself. There are often many nuances to cooking – you have to watch the time, the stages of cooking or even fry each ingredient separately.
We are ready to tell you about the easiest way to prepare food (of course, in addition to ordering delivery or take-away food) – you just need to buy a multicooker! A multicooker is a great way to minimize your time in the kitchen, but also to get great dishes for dinner or lunch.
All you need to do is put the right ingredients inside and run a specially selected program. The result will be astonishing: not only will the food be tasty, but it will also be healthy, because you cook it at home, rather than ordering a fat pizza.
While multicooker is cooking in your kitchen, you can sleep, mind your own business or clean up your apartment. You can even set up breakfast preparation at a certain time so you can sleep longer. We've found 7 of the best multicooker options that won't disappoint you.
IMAGE
PRODUCT
Instant Pot Duo Crisp 11-in-1



Combination of multiple devices in one.




Check current price

Instant Pot Duo 7-in-1

One of the most popular and sold Instant Pot.



Check current price

Ninja OP101 Foodi 7-in-1

Perfect cooking of fries and glazed meat with no extra fat.



Check current price

Cuisinart MSC-600 3-In-1 6-Quart Multi-Cooker

Large and functional multicooker with large display.


Check current price

Mueller UltraPot 6Q Pressure Cooker Instant Crock 10 in 1

Ability to prepare 2 dishes at once.


Check current price

Crock-Pot 2100467 Express Easy Release

Daily use for unusual dishes for 5-7 people.


Check current price

Yedi 9-in-1 Total Package Instant Programmable Pressure Cooker

Possibility of manual personalization of time and food preparation parameters.


Check current price
1. Instant Pot Duo Crisp 11-in-1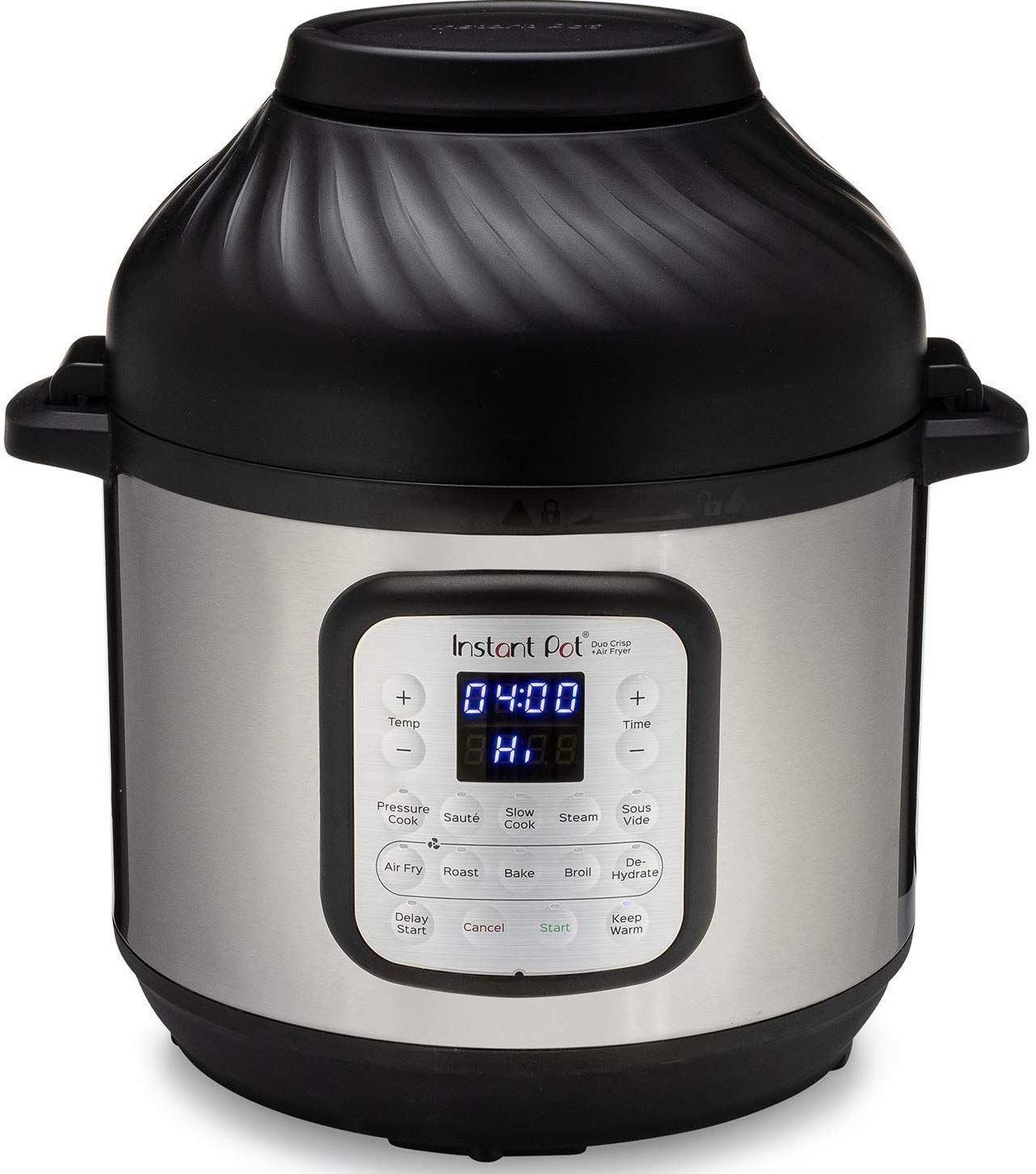 There's a reason we put the Instant Pot Duo Crisp 11-in-1 on the 1st place in our top. This device combines 11 different functions, for each of them you would have to buy a separate device.
Fryer, sautée, steamer, sous-vide, roast, baked goods and much more – just 11 smart programs that will do all the work for you. Of these, 6 have a "wet" cooking method, 5 have a "dry" one.
If you have previously used a multicooker and have not received, for example, a crispy crust when roasting, then with the Instant Pot Duo Crisp 11-in-1 you will no longer face the same problem. The device provides a golden crust, which will keep all the juiciness of meat and vegetables.
By the way, after frying, you won't need to wash the device for long – you can simply load a bowl into the dishwasher. Imagine cooking absolutely all your meals with just one pan – sounds fantastic, doesn't it? The Instant Pot Duo Crisp 11-in-1 will give you the best instant cooking experience.
You may also like: 7 Best Food Steamers Reviews
2. Instant Pot Duo 7-in-1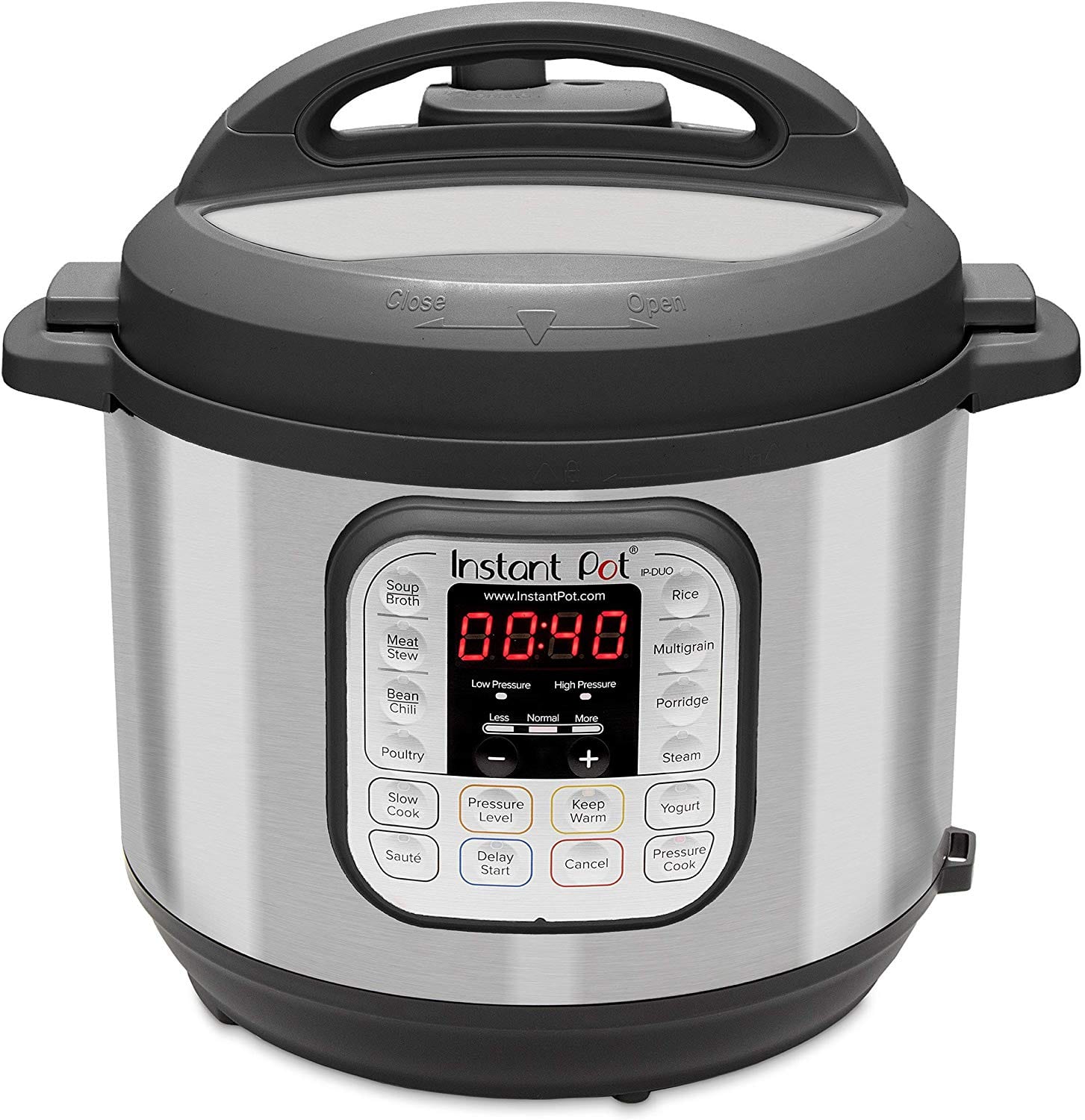 Another model developed by Instant Pot. It is a slightly simplified model that combines 7 devices instead of 11 – pressure cooker, steamer, yogurt maker, a saucepan and several other devices. The cooking process can be accelerated by more than 50% compared to the standard technique, and the result will be no different (perhaps even better).
In total, Instant Pot Duo has 14 different cooking programs based on original recipes – these can be both desserts and main meat dishes. The company has even developed its own application, which contains all recipes with instructions.
It's worth a little talk about the bowl. It is made of stainless steel and is easy to wash in the dishwasher. The bottom has 3 layers of material, which extends the life of the multicooker. Also, Instant Pot Duo has a security system that protects the device from breakage.
3. Ninja OP101 Foodi 7-in-1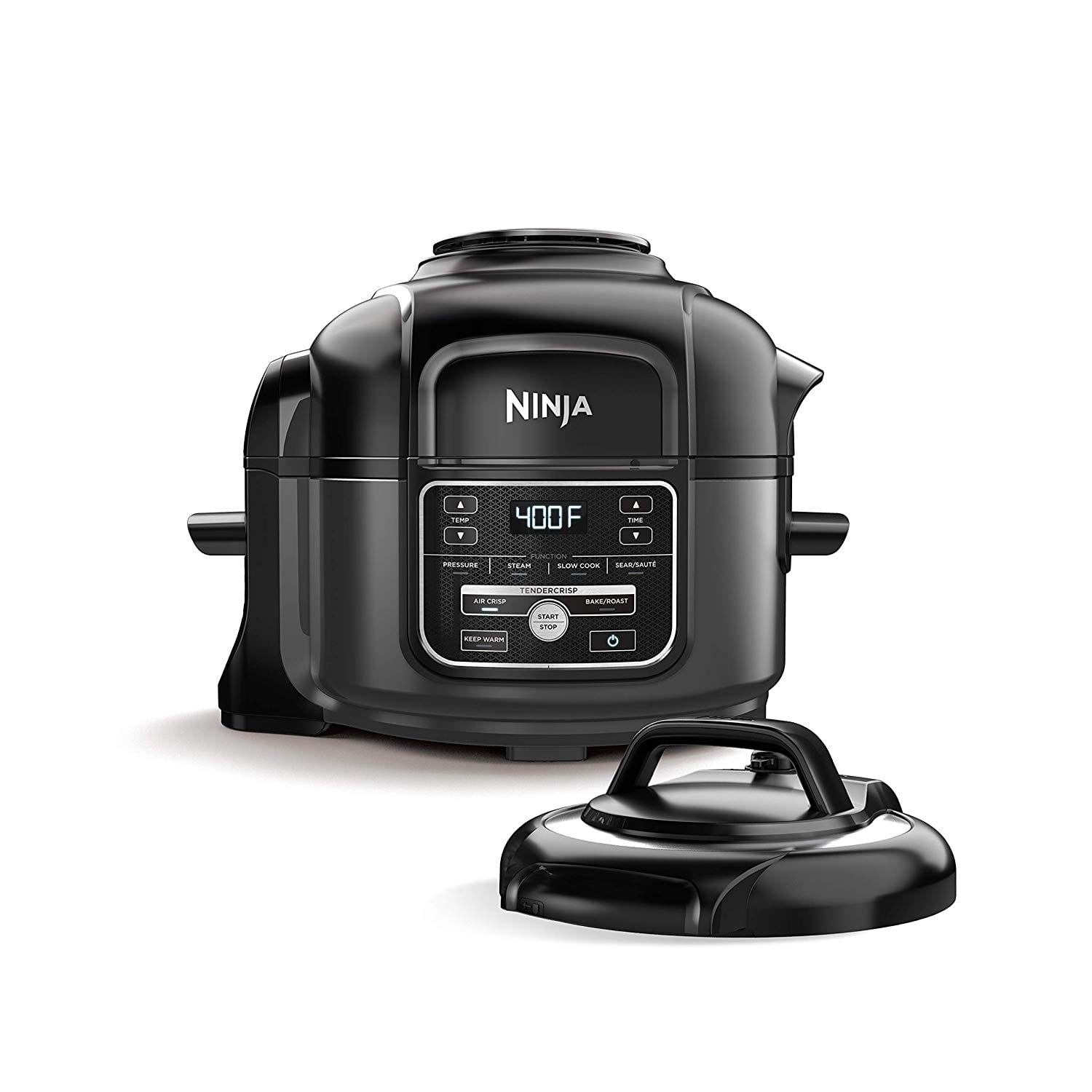 Because of the widespread reports of the harm caused by french fries, fried ribs, and other fried dishes, we deprive ourselves of our favorite food or try to limit it. What if we say that you can now make any dish in the fryer with a 75% fat reduction? We think you'd be happy. So we want to tell you about Ninja OP101 with an air fryer function.
In addition to the frying function, you can also use the accelerated pressure cooking function – working in this mode reduces cooking time by 70% compared to traditional methods.
The inner bowl is non-stick and durable, and the accessories are perfect for use in your food. For example, you can perfectly glaze the meat even in the sticky and sweet sauce using the aero-fryer grill. Ninja OP101 allows you to prepare food directly from the freezer – pork steak is simply loaded into a multicooker bowl with a little water.
4. Cuisinart MSC-600 3-In-1 6-Quart Multi-Cooker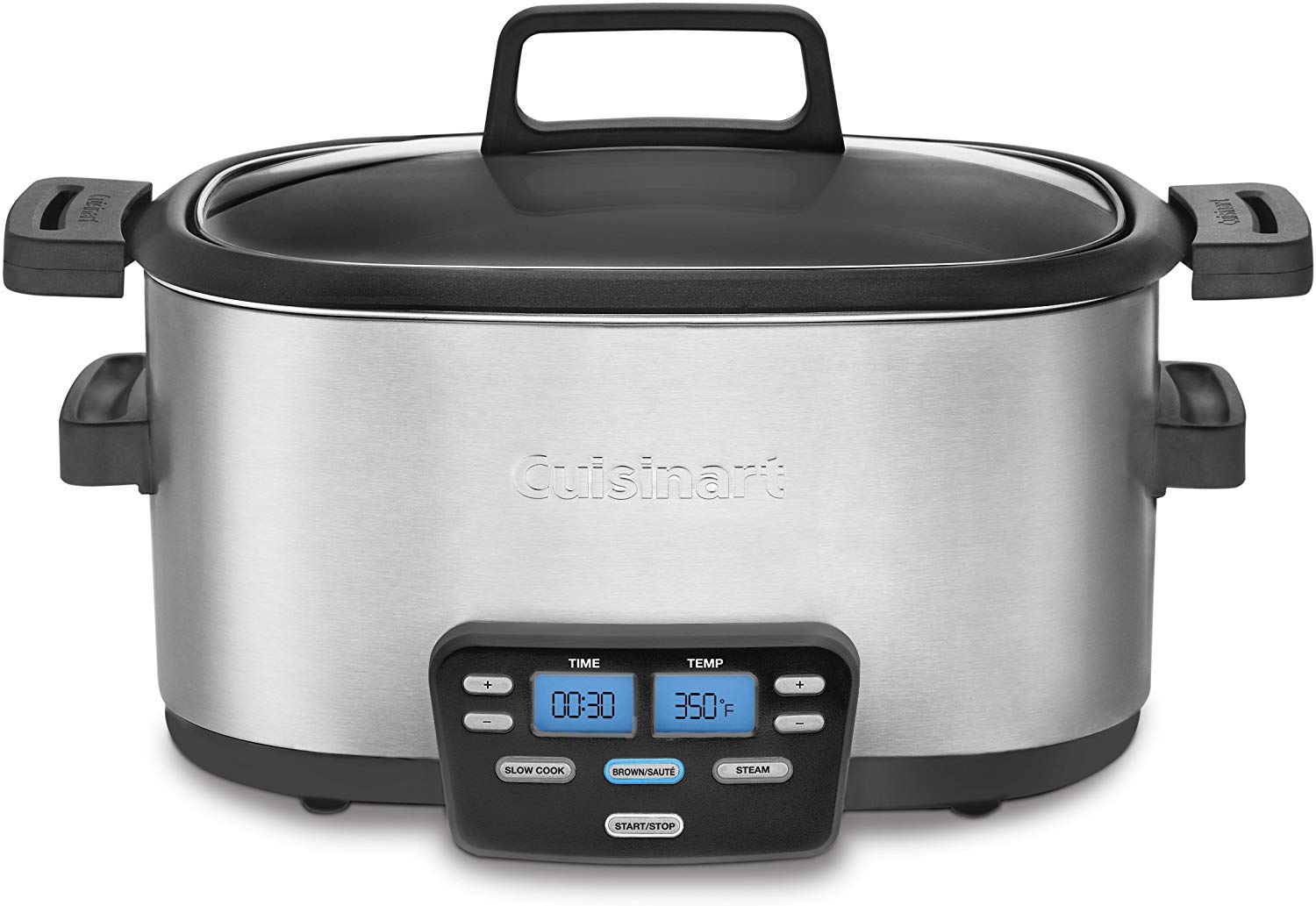 The Cuisinart MSC-600 doesn't look quite standard for a multicooker. It has a rectangular shape, which makes it more convenient to place the device in your kitchen.
There is a large display at the end of the multicooker, which shows all the settings and cooking modes. All the parts with which the food interacts are removable and can be easily cleaned from leftovers.
With the multifunctional device, you can delight your family with different dinners every day. Brown the ingredients in the Cuisinart MSC-600 and then start the slow cooking function – then the result will simply amaze you.
Once you've finished cooking, it will automatically start to keep your food warm so you don't run into cold food. It's worth noting that the Cuisinart MSC-600 has a long heat retention period, but there is no delayed start timer.
You can simply set the slow cooking mode and then maintain the temperature. If you've planned to eat fresh breakfast every day with the multicooker, it won't be ideal for you. Otherwise, it's just great.
5. Mueller UltraPot 6Q Pressure Cooker Instant Crock 10 in 1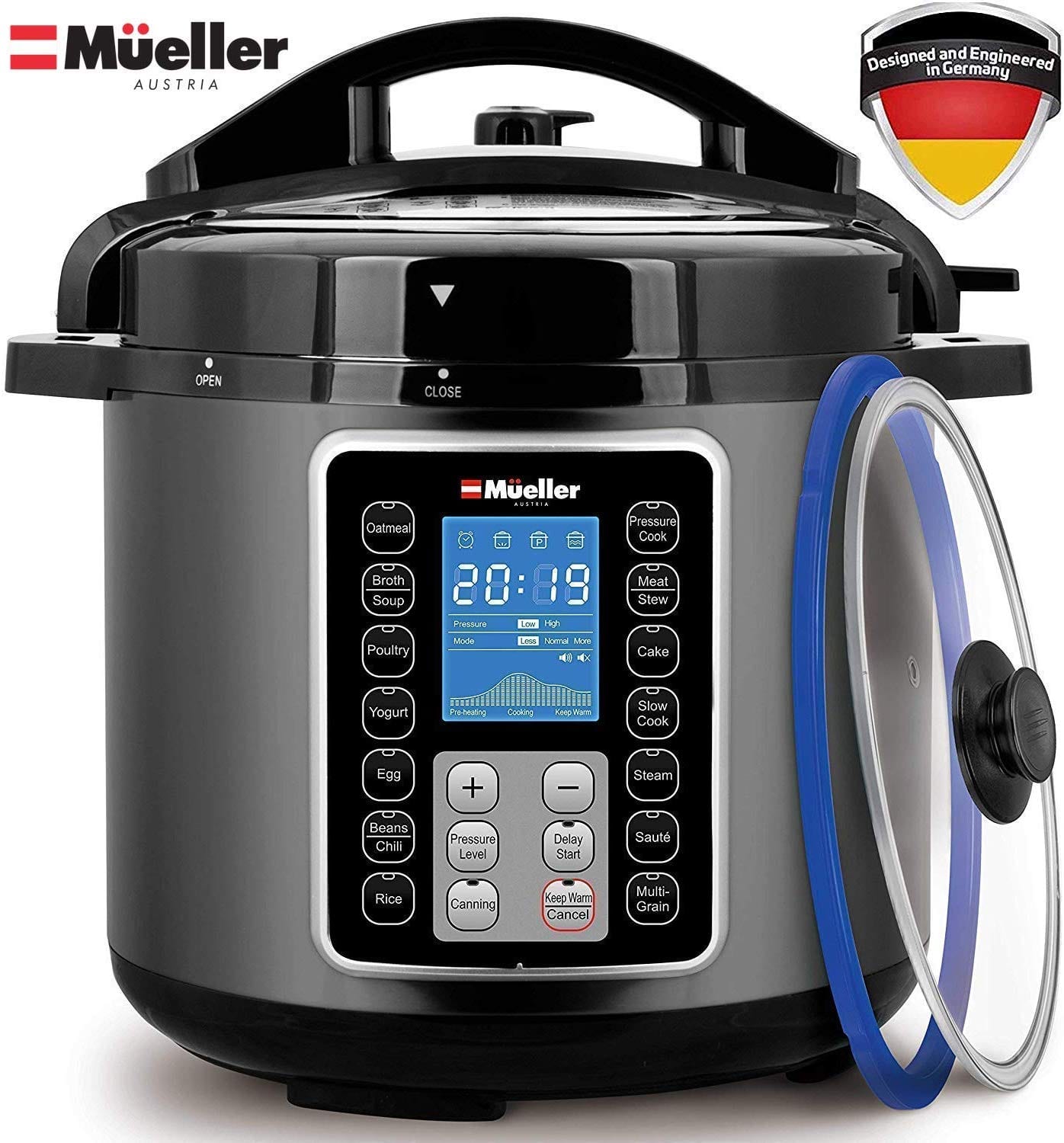 Would you like to cook 2 dishes at once? Or do you want to start cooking both chicken legs and rice as a side dish at the same time? In that case, you should pay attention to the Mueller UltraPot. This set includes a bonus Steam Basket, which makes cooking your dinner even easier. All bowls and meshes are coated in stainless steel, which gives all the details durability.
With its functions, the Mueller UltraPot replaces 10 kitchen appliances such as egg pressure cooker, rice cooker, yogurt maker and others. Although you can take recipes from the cookbook, you can also prepare your own personal culinary masterpiece.
Even if you've already had an unpleasant experience with the Mueller UltraPot before, you'll really be surprised. Perfect white rice, crispy chicken and succulent meat, even boiled eggs of the right quality. You should just try it a few times and you will fall in love with it.
6. Crock-Pot 2100467 Express Easy Release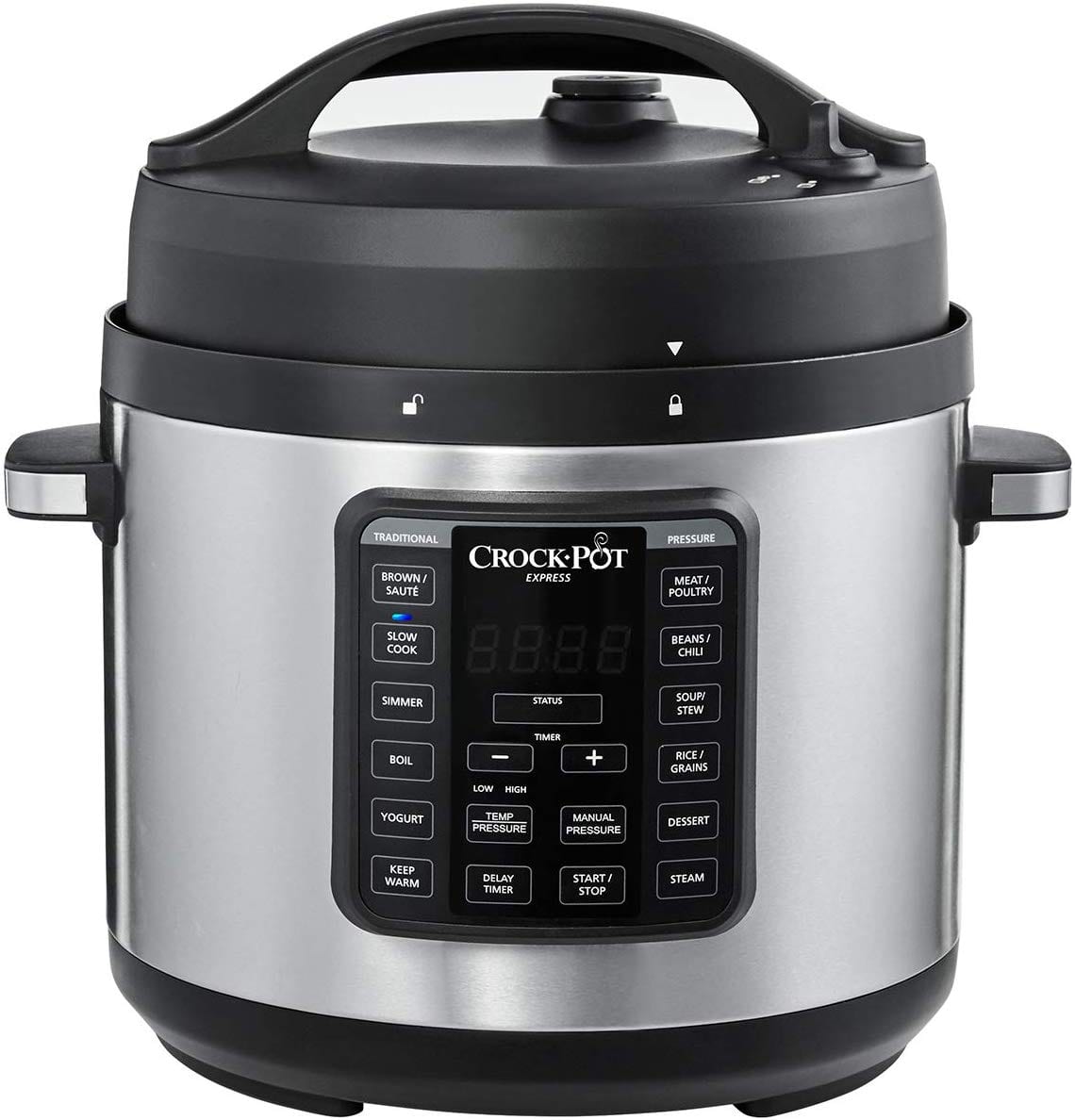 If you have 5-7 people living in your house and you have to make family dinner all the time, Crock-Pot will be your faithful assistant. A bowl of multicooker can hold 6-7 servings of any dish, and the function of keeping warm will not let the food cool even a few hours after it is cooked.
With 13 ready-made cooking programs, you will be able to prepare the most interesting and tasty dishes that you couldn't cook before due to uncertainty about the result.
In Crock-Pot, you can even create delicate sauces that will only decorate the already prepared dish. There is even a separate special program for them. Regardless of the bowl size, Crock-Pot has the same functionality in different versions.
The best thing about the device is its versatility and non-stick coating, which prevents your food from getting spoiled. It's worth noting that if used carelessly, the thin non-stick coating may come off, so you should clean the bowl carefully after cooking.
You can also check this: 7 Best Pressure Canners Reviews
7. Yedi 9-in-1 Total Package Instant Programmable Pressure Cooker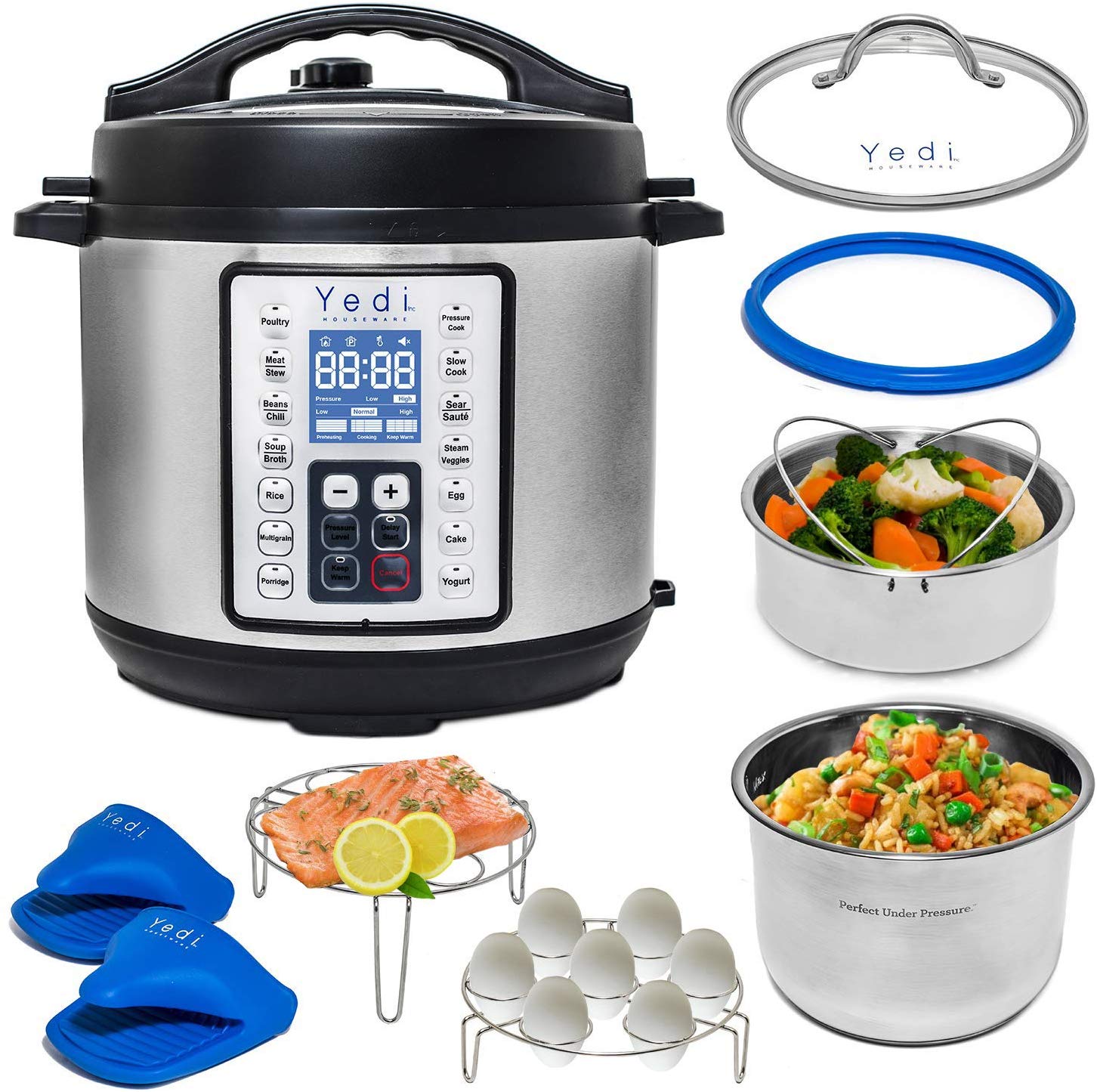 Cook in less than half the time with the Yedi! It speeds up the process and simultaneously steams and cooks in a multicooker bowl – the unit comes with an additional grid for cooking 2 dishes at once.
All parts are made of stainless steel and look great, as well as have a long service life. If you encounter any problems – the Yedi will give you a refund if it happened within 2 years from the date of purchase.
The Yedi has 15 cooking programs, which you can set with just one touch of the screen. You will be able to manually edit cooking times and details – if you want to do something special with your food.
The cooking kit includes a few extra details such as an egg stand or a rice paddle and other items. Protective elements will keep the Yedi safe for a long time, and intelligent locking sensors and pressure protection will keep the unit from unexpected breakdowns.
Cooking will be a simpler process for you. Especially the purchase of a multicooker will be a great purchase for single people or people who do not like to cook. You no longer need to take take-away food for dinner, order pizza delivery or snack from the vending machines – now you can always cook any dish at home.
There's almost no need to take care of the multicooker – all you have to do is wash it and put it to work. Also, this device will save you space in the kitchen – instead of a few pots and pans, you will only use it.
FAQ for multicooker
1.
Will the tastes and smells of the ingredients be preserved?
Cooking in a multicooker is no different from your own cooking on the stove. It may even be healthier than the standard oil and fat roasting. By regulating the steam and electronically monitoring the cooking process, all the ingredients will retain their flavors as well as the useful trace elements.
2.
Is the bowl inside the multicooker safe to use?
If you are afraid that you will get harmful substances or toxins into your food over a long period of time, you may forget about it. The inside of the bowl is coated with a layer of Teflon or ceramics and contains no harmful substances.
Even long cooking periods – such as quenching – do not destroy materials or release toxins. Teflon and ceramics also prevent your food from getting burned during cooking.
3.
Can I make baked goods in a multicooker? Will it be the same as in the oven?
Although almost all models have a baking mode, the result can be a little disappointing. This mode is activated as follows: the device maintains a certain temperature for a long time, which is how the products are processed.
In comparison to cooking and other modes, you do not need to add water. Due to the higher temperature, all ingredients are ready, but you will not be able to get a crispy browning on your pie or muffin. On the other hand, multicookers are perfect for baking biscuits!
4.
What is the difference between "delaying start" and "keeping warm"?
These are two completely different functions. Delaying start means starting the cooking process at a certain time. For example, you can load all the ingredients for breakfast from the evening – milk, oat flakes, and sugar – and get the food ready at a certain time.
Keeping warm is designed for a fairly short period of time (up to 3-4 hours) and is convenient to use if you have dinner with your family at different times. Also, keeping the heat more energy consuming than a delayed start.